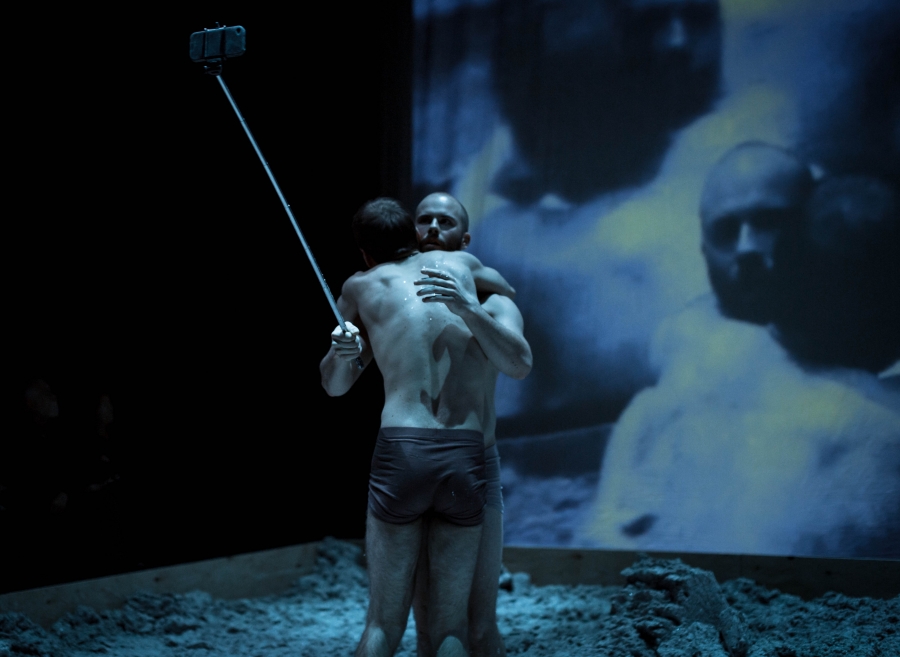 Dust & Smoke
MARCH 22. 23. 24 | 7:30PM
MARCH 25 | 4PM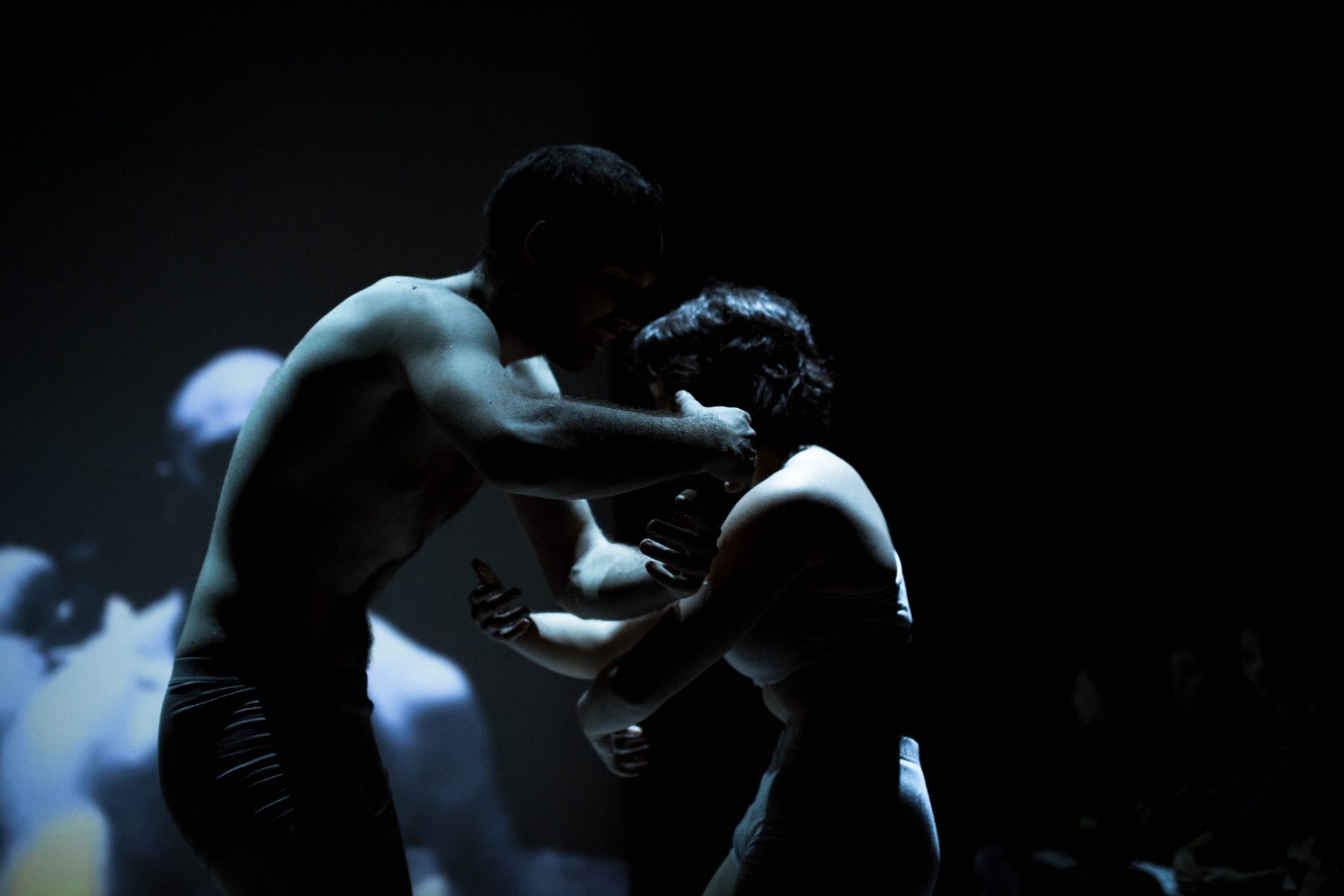 Carcasse
Castel Blast [ Olivia Sofia / Léo Loisel / Xavier Mary / Guillaume Rémus ]
40 minutes
In this experience that lies somewhere between a museum visit and a theatrical performance, you are invited to wander around an accumulation of ash-gray micro-particles. Amidst this organic matter in a state of decomposition, five fragile bodies are learning once again how to live. The slowness of the performers' gestures incites contemplation. A live video feed manipulates and deforms our perception of the events. You are drawn into a state of post-traumatic shock. Time is suspended. Once the dust has settled, how can we all unite to survive an episode of immesurable violence?
Choreography, direction, scenography and music Castel Blast (Olivia Sofia, Léo Loisel, Xavier Mary, Guillaume Rémus)
Performers Léna Demnati, Myriam Foisy, Laury Huard, Sovann Rochon-Prom Tep
Choreography assistant and performer Charles Cardin-Bourbeau
Video design Gabriel Corbel
Sound integration David Dupaul
Lighting designer Étienne Fournier
Dramaturgy Chloé Gagné Dion
Costumes Aurélie Marcoux
Following the terrorist attacks in Paris on November 13th, 2015, we found ourselves numb with shock, possessed by a feeling we could not define. We had the need to exchange, not only to listen to each other but also to be physically together. We have shared this feeling with others, which has brought about our assembly as a community and as a generation, and opened a wider reflection tied to our understanding of the world and our society.
Starting with this and an impression of deep and urgent moral crisis, we want to create a space where we the ultimate need to be together, to be human, can exist without being named.
This research is based in the reactions that our bodies and spirits can express following physical or psychic violence — a shock such that our being reacts despite itself, instincts deregulating and taking precedence.
Guillaume Rémus is studying digital music at Université de Montréal in 2014 when he composes his first original score for dance, a piece titled Avant les gens mouraient for (LA)HORDE collective. The following year, he is introduced to Olivia Sofia, Léo Loisel and Xavier Mary, who ask him to compose the music for Ma(G)Ma, a multidisciplinary performance where the spectator is submerged in an ambiophonic soundscape. The show is presented at Espace Libre in 2016. This piece ultimately laid the foundation for Castel Blast. Their first project as a collective, Carcasse, is created during a residency (You Are Here, LA SERRE – arts vivants) in December 2015. Since then, they collaborate on different pieces (Décalogue at OFFTA, Rembrandt est mort) and continue to work on many projects. In a quest to broaden the materials he experiments with, Guillaume participates in numerous creative projects both on and for the stage. He is currently working with composer and percussionist Etienne Côté on a performance piece called Diptyque where classical and electronic music converge. One of his notable collaborations is the creation of an original score with Sabrina Jolicœur to be played alongside an art installation titled Fibre & Néon at the FOFA Gallery in Montréal (2015, 2017).
Xavier Mary founded Castel Blast with Olivia Sofia, Léo Loisel and Guillaume Rémus when he graduated from the Set and Costume Design program at the National Theatre School. Leveraging all forms of media, the collective created Ma(G)Ma, an immersive experience for 40 performers (Zone Homa, 2015, and Espace Libre, 2016), and Décalogue 10 at Jardins Gamelin (OFFTA, 2016). They are currently working on Carcasse, a project they conceived back in 2015 during a 15-hour residency (You Are Here, LA SERRE – arts vivants). Xavier Mary is presently working as a set designer on a number of productions with different companies, namely Productions Menuentakuan on Là où le Sang se mêle (playwright: Charles Bender, Théâtre Denise Pelletier, 2018) and Petit Théâtre de Sherbrooke on Minuit (playwright: Lilie Bergeron, Théâtre Léonard Saint Laurent, 2017). Some of his recent works for the stage include La Cloche de Verre (playwright: Solène Paré, Prospéro, 2017), Antigone au Printemps (playwright: Frédéric Sasseville-Painchaud, Théâtre Denise Pelletier, 2017), Je Crois? (playwright: Benoît Rioux, Prospéro, 2017), L'île aux Sabots (playwright: Normand Chouinard, Théâtre du Double Signe – Sherbrooke, 2016) and Muliats (playwright: Xavier Huard, Théâtre Denise Pelletier, 2016). Passionate about dance, Xavier Mary dedicated his Master's degree to the concept of space in Nouvelle danse québécoise. It is with this in mind — as well as his openness to multidisciplinary forms — that he considers the theatrical space.
Olivia Sofia, an École de danse contemporaine de Montréal graduate, is an artist who engages her creativity through conversation and reflection. Her favourite themes are the human condition and our relationship with others and nature. Drawing inspiration from her fears and delusions, Olivia shares this raw material with the Castel Blast collective to kick-start the exploration process and create universes that go beyond the scenic space. Creators often call upon her services (Mélanie Langlais/Stamina, Flamant Création, Thomas Duret, Thomas Leblanc, Les Tricheuses) as a movement consultant or to delve deeper into the artistic process. Olivia has also been a member of Ateliers LA SERRE – arts vivants since her residency with Castel Blast during the You Are Here festival (Théâtre Aux Écuries – Carcasse).
Léo Loisel first makes his mark as a creator when he graduates from the Acting program at the National Theatre School in 2015. That same year, his debut play Ma(G)Ma features a cast of over thirty dancers and performers in a church basement during the Zone Homa festival. Driven by the desire to broaden his artistic vision, he founds the multidisciplinary collective Castel Blast with Olivia Sofia, Xavier Mary and Guillaume Rémus. He is then invited for an artist residency at VHS. His creativity brings him to collaborate with numerous emerging artists as an outside observer and a playwright. As a performer, he participates in Caroline Laurin-Beaucage and Martin Messier's latest production. As an actor, he continues to participate in numerous cinematographic projects. His work with Castel Blast has become a priority. Since the collective's first piece during You Are Here in 2016, Léo is investing his energy into creating as a group. They are given carte blanche for the Décalogue Series and for the opening night of the OFFTA in 2016. The following piece they work on is Ma(G)Ma, which is presented at Espace Libre as the season opener in 2016. The collective will pursue its work at Le Théâtre Aux Écuries as an incubator project for 2018–2019.
Charles Cardin-Bourbeau completes his training in contemporary dance at The School of Dance in Ottawa. He performs with the company Ottawa Dance Directive, working with choreographers like Tedd Robinson, Yvonne Coutts, Noam Gagnon and Andrew Turner. He has also danced for O Vertigo. He joins Compagnie Marie Chouinard in 2016.
Passionate about new technologies and immersive universes, Gabriel Corbel is a creative developer who seeks to create unique experiences. After having co-founded the indie game developers collective West Indie Collective, he studies transmedia. An École des Gobelins graduate, Gabriel creates immersive and interactive installations displayed during Montréal's Nuit blanche and in Canadian museums.
David Dupaul-Chicoine receives a bachelor's degree in Digital Music from Université de Montréal in 2015. His studies give him the opportunity to conduct extensive research in sound spatialization, more specifically in ambisonics. Creating immersive soundscapes has been his motivation throughout his career as a sound designer and it is exactly what he is exploring with his different projects. In 2016, he develops the sound installation About About Bananas for the ArtNum exposition. He also works as a co-designer and on audio integration for the play Ma(G)Ma, created by Castel Blast. Recently, he began a collaboration with Mathilde Loslier-Pellerin for a contemporary dance piece. He designed a particular soundscape for her piece Métacarpe as part of the residency LA SERRE – arts vivants at Théâtre Aux Écuries. In the music field, David mainly works with Jesse Mac Cormack. He also collaborates with many artists as producer and sound engineer (Laura Babin, vuu, Ambroise, Frenco).
Originally from France, Léna Demnati begins her professional training in contemporary dance at the Conservatoire National de Lyon. After graduating with distinction, she completes her training at the École de danse contemporaine de Montréal, where she works with many renowned choreographers and is promoted in 2015. Since then, she has been selected to take part in several training courses that have confirmed her passion for the complexity of movement and especially for floor work (Deltebre 2016 and 2017 with Wim Vandekeybus and Akram Khan, Springboard Danse Montréal 2016 with German choreographer Johannes Wieland and dancers from the company Hofesh Shechter). She is also a founding member of the interdisciplinary group Las Padrinas, and recipient of the Sofia Borella's scholarship in 2015 and 2016. Léna works as a freelance performer with several choreographers in Montréal, including Mélanie Demers (La Meute, OFFTA), David Albert-Toth (the HALVES project), Jason Martin (Entitey), Léo Loisel and Olivia Garon (Ma(G)Ma in 2015 and at Espace Libre in 2016), and Léa Tremblay Fong (Interlope in 2015, Insomniac in 2016 and 2017). To broaden her artistic palette and quench her perpetual thirst for movement, Léna continues her exploration of contemporary dance in Europe.
Sharing, communicating, helping; these are the keywords that motivate Myriam Foisy and keep her focused on health sciences and contemporary dance. Stimulated by many humanitarian experiences overseas and her strong convictions, she questions art, its reach and influences. Myriam graduates from the École de danse contemporaine de Montréal in 2014 and receives the Sofia Borella grant. Today, she is a member of the collective S'Enfarger with Anne Cormerais, Marie-Ève Dion and Jean-Benoît Labrecque, and a dancer for the Black Hole, Castel Blast, and Chloé Bourdages-Roy. In 2016, she performs at OFFTA, Espace Libre, Quartiers Danses festival, the Fringe Festival, and Tangente.
Laury Huard graduates from the Conservatoire d'art dramatique de Montréal in 2015. He meets outstanding artists such as Denis Marleau, Carl Béchard, Catherine Vidal and Yves Morin. Shortly after graduating, he works with Alice Ronfard as part of MythMaker's playback. For the past two years, his experiences have been multiplying and getting more diverse: he fiddled with theatre for young audiences last summer with the show Les galoches du bonheur; this winter he was part of Another Brick in the Wall presented at the Opéra de Montréal; and he also collaborated on several occasions as a dancer-actor with the collective Castel Blast. This summer, he will present throughout the province a street theatre show, L'Orchestre du grand Kung-Fu Braque, a collective creation by the young company La ruée.
Sovann Prom Tep, aka Promo, grew up immersed in Montreal's breaking community. He becomes a member of the Sweet Technique group, with whom he participates in many competitions over the years, further developing his talents. To date, he has chalked up over thirty victories and is frequently invited to participate in competitions around the world, either as a participant or as a judge. His passion for the mastery of the body spurs him to enter the École de danse contemporaine de Montréal in 2011.  Since then, he has worked with Animals of Distinction, Castel Blast and RUBBERBANDance Group. He presented his first choreography at the 100Lux Festival in 2017. Sovann continues to refine his approach through the different workshop he teaches.
Dans l'idée de ne plus être ici
Hugo Dalphond
40 minutes
Take a deep breath as you enter the smoke-filled room. The walls have disappeared, but you still feel the presence of your sentient body as the floor vibrates under your feet from the booming score. Free to move at will, lie down, or be still, you have ample time to navigate this mysterious landscape and position yourself alongside the other visitors. There is a dramaturgy of shadows, appearance and disappearance, and occasional explosions of blinding, colourful lights that punctuate an otherwise contemplative environment. It is hope, trepidation, the waiting, and the perception of faces that lie at the core of the experience. This is art as refuge, as a radical place for togetherness.
A project by Hugo Dalphond
Creative team Erin Drumheller, Laurie-Anne Langis, Ravenna, Francois Richard, Alex Trahan, Mathieu Arsenault, Anne-Sara Gendron
Dans l'idée de ne plus être ici begins a work cycle on the scenic space and its potential to become a refuge where it is permitted to experience the world through unusual sensorial modalities. Taking into consideration that the everyday space impoverishes our way of being together by imposing a stressed and cartesian rapport with our environment, the art space wants, on the other hand, to affirm itself as an exceptional space that espouses instead a sensitive and intuitive rapport with the world. Instead of the head's capacity to analyse, it is the sensitive body and its rapport to the immediacy of what is lived that are the elements through which meetings occur. The project is then birthed from a rather simple question: in what way do we unfold the notion of co-presence through a meditative and corporeal experience of the space?
Hugo Dalphond questions the synergy between body, space and light by elaborating and building scenographic devices made to initiate meetings. It is principally by making spectators and performers coexist within the same space and by modulating their perception of that very space that he creates alternative sensorial experiences. This becomes a reason to engage in different qualities of co-presence, and thus to be made conscious of our interactions and our rapport with others. Since 2015, he tackles these questions in a PhD that takes light installation and the spatial opportunity it offers to rethink our collective states as its subjects. As well, he collaborates as a lighting designer and director of scenography on various projects in theatre and dance (Projet Hybris, Daina Ashbee, Collectif La tresse, Andre Pena, Anne-Flore de Rochambeau, Claudia Chan Tak).
Formed as an actor at the UQÀM Graduate School of Theatre (2013), Alex Trahan is also interested in dance, accumulating experiences through various courses. Since 2016, he assists director Anthony Venisse on Les Minutes Complètement Cirque. Author, director, and co-founder of two companies – La Fratrie and Le Théâtre de la botte trouée – Alex multiplies creative projects.
Erin Drumheller is initiated to the arts through classical music as a child. In 2011 she graduates from the École de danse contemporaine de Montréal and works with various choreographers, including Serge Bennathan and Lucie Grégoire. Her piece Far From Nowhere, created in collaboration with Kim Henry, is presented as part of Zone Homa and Festival Vue sur la Relève. Circus then enters her life and since 2014 she performs mostly aerials in Canada, Germany, and the USA. As well as having often had her musical capacities integrated into the projects she has been a part of, Erin also continues to perform as a violinist for various special events.
Graduating with distinction in 2012 from the École de danse contemporaine de Montréal, Laurie-Anne Langis collaborates right away with many established and emerging artists. She cumulates collaborations, dancing for Sasha Ivanochko, Marie Béland, Lucie Grégoire, Bettina Hoffmann, Manon Oligny, Ricardo Dal Fara, Patricia Gagnon, Hugo Dalphond and Anne Sara Gendron. She also studies and works with with directors, playwrights and choreographers in Europe to improve her practice of Kalaripayattu, the Indian martial art. In Montréal, she continues to create and perform with Marilyn Daoust under the name of For Fauve. We can see her as well in the critically acclaimed solo [ID] Double, choreographed by Louis-Élyan Martin. She choreographs and performs alongside director Audrey-Anne Bouchard. Together they are developping a new methodology and creating a dance-theater immersive performance for a blindfolded audience and people with visual impairments.
Ravenna is a multicultural gypsy who has forged a diverse career by following her passions from Europe to North America. She studied literature at La Sorbonne and film at U.C.L.A, and attended workshops at the Isadora Duncan Foundation, the Royal Shakespeare company, the Guildhall School of Drama and recently with Benoît Lachambre. As part of a playwright collective sponsored by the Arts Council of California, her work has been showcased in over 10 productions. In Montreal, she participates in projects such as the North American premiere of World of Interiors by choreographers Ana Boralho and Joao Galante. She also performs her work, which ranges from a rap about death to a manifesto about the sexual life of tomatoes, to the delight of drunk but delighted audiences. Though she hates winters, she is thankful to Tangente Danse for giving her an incentive to get out of hibernation and participate in this project.