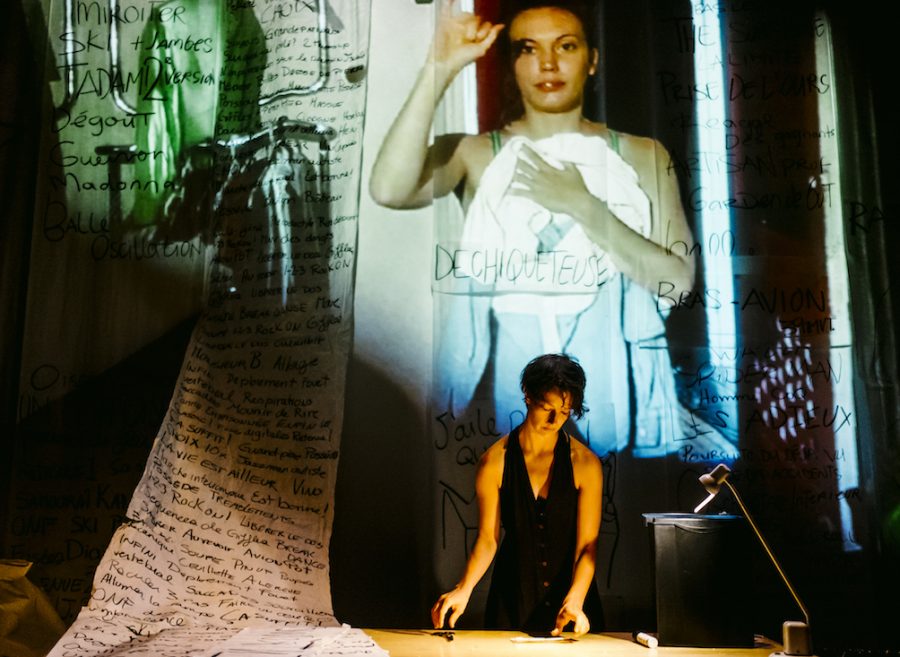 Du doute des uns + Exister encore
JANUARY 28. 29. 30 | 7:30 PM
JANUARY 31 | 4 PM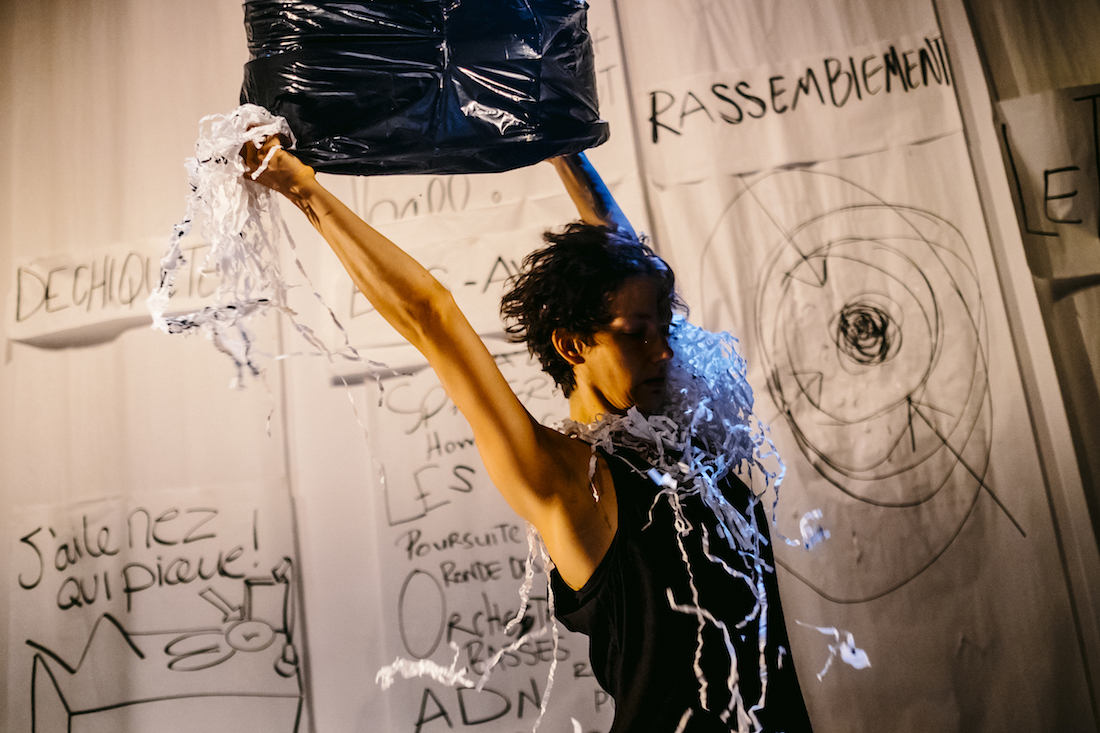 Exister encore
Maryse Damecour
40 minutes
EXISTER ENCORE grew organically out of a process that collected 331 movements from 179 people over one year. The result is a meditation on individual life in a society where hyperactivity is veering toward full-blown collective ADD. How can we find fulfillment outside ourselves and also just be? EXISTER ENCORE explores the hinterland where cohesive identity breaks down, plumbing the multitudes contained in every individual. Is there an immutable, untouchable core where human identity resides?
A solo performance. An androgynous, ageless, untethered protagonist losing their sense of singularity and searching for existence with exaggeration, humour, and lust for life.
Performer, choreographer, and co-director Maryse Damecour
Video conception Sylvio Arriola
Understudy Eve Rousseau-Cyr
Rehearsal director Christine Charles
Dramaturgy  Laurence Brunelle-Côté
Sound design Mériol Lehmann
Lighting design Philippe Lessard-Drolet
Production assistant Ariane Thibodeau
Today we construct our identities buffeted by the powerful pressure and flux of consumer society. Unrelenting stimulation pushes us to constantly redefine how we fit into our ever-changing environment, while our interior lives become increasingly tangled. This roiling postmodern interiority is precisely what my work explores.
Over several years and multiple creations I have developed a movement vocabulary to express the disordered multitude of human states of being. I coined a new word, gestétat, to denote the place where movement (geste) meets state of being (état). Born of a rigorous and far-ranging process of creative exploration, gestétat encompasses such aspects as gaze, tension, space, rhythm, initiation, and the ever-present subtext. Like a collagist I assemble disparate gestétats into an unpremeditated, oneiric whole.
My choreographic practice brings together these elements like the squares of a quilt to create a multi-textured, socially and philosophically probing body of work.
Maryse Damecour completed a diploma at École de danse de Québec (Quebec City) in 2009 after a degree in sociology from Laval University. Since 2008 she has been a fixture in contemporary dance and theatre as a choreographer, dancer, and performer, both in her native Quebec City and on tour in Montreal, Halifax, and the United States. She enriches her practice by drawing on other disciplines, most recently biomechanics and somatics, to cultivate a distinctive movement vocabulary of rare precision. Her background in science and philosophy is fertile soil where her work's socio-political interrogations take root. Maryse's work across disciplines is part of an ongoing inquiry into the rich multiplicity of human condition and identity. She challenges notions of unified, definable identity by showing the multiple personalities that dwell in a single body just as multiple meanings inhabit a single movement. Working by accretion, her dance oscillates between movement and memory, questioning the solidity of the very ground we walk on.
Du doute des uns
Ariane Boulet, Gabriel Vignola, Laurier Rochon / Je suis Julio
30 minutes
Can doubt be manufactured ? Is there an answer to be found in the absurd, arbitrary intertwining of bodies, projections, texts, and music ? In the confusion of one's solitude, the familiar and the foreign coalesce into one. A live adaptation of the interactive web piece doubting.us.
Creation Ariane Boulet (Corps et voix), Laurier Rochon (Numérique), Gabriel Vignola (Musique)
Performance Andréa de Keijzer, Joannie Douville, Diana Leon, Chi Long, Lael Stellick
Mentor et dramaturge Line Nault
Rehearsal Director Georges-Nicolas Tremblay
Urban dance choreography Arthur Wilfried Kamara
Lighting design David-Alexandre Chabot
Technical conception Eduardo Ruiz Vergara
Costumes Julie Tymchuk
Du doute des uns is a live adaptation of doubting.us, an interactive web piece created by Laurier Rochon in 2010. The original piece superimposes loosely coupled texts and images in a way to generate doubts in the viewer's mind. By adding moving bodies, voices and music, Ariane Boulet and Gabriel Vignola, in collaboration with Laurier Rochon, aim to investigate the product of these mediums and explore the intricate relationships they create with each other. A string of difficult questions follows: why is the world as it is? How can we make it differently? Randomness hides in the most unexpected places, ready to pounce and alter one's path, to make memorable, unforgettable, unescapable, incomprehensible.
Since graduating in 2009 from the UQAM with a BA in dance, Ariane Boulet has been an interpreter for over a dozen choreographers. In 2015, she primarily invests in the work of Hélène Langevin (Bouge de là), Aurélie Pedron and Georges-Nicolas Tremblay. She is co-founder of the company Je suis Julio, with whom she has generated since 2010 twelve works that include performances, films and in situ shows, both as a performer, creator, co-creator. As part of her research into what the work has to offer to the other, she completed in 2014 a master in dance and cared about creating within the public health care context. This was an experience that launched the questions that followed her since then : the importance of faith, doubt, encounter, landscape, in the discovery of the singular body as well as a collective body.
Gabriel Vignola moved to Montreal after I completed a degree in classical guitar at Alma College in 2004. From this moment, his growing interest for popular music and electronica brought him to play in many different bands active within the Montreal scene. Already working as a guitarist, composer and electronic musician, he quickly began working as a sound designer, firstly for short movies, including Raz de Marée, produced and directed by Bernard Roberge, which has been part of the official selection of the Montreal World Film Festival. Subsequently he began design work for contemporary dance, in particular for the 2009 free choreography show, part of the BA in dance offered by Université du Québec à Montréal (UQAM). He then began to work with Je suis Julio as a musician. At the same time, he has been completing an MA in literature at UQAM with the financial support of the Social Sciences and Humanities Research Council of Canada and the Fond de recherche Société et culture du Québec. His research interests include the representation of the growing tension between the ecological crisis and the national interest in literature in Quebec and America.
Digital artist from Montreal, Laurier Rochon has completed an MFA from the Piet Zwart Institute of Rotterdam (Networked Media) after a BFA in Computation Arts at Concordia University. His work highlights the absurd, complex and difficult relationship we have with machines we often hardly understand, but depend on for political, economical and social advancement. The production of a guide for dictators ("Dictator's Practical Internet Guide to Power Retention"), a lying chat program ("The Listener") and an internet-connected deodorant docking station (iamclean.org) have been shown in North America and Europe. He is also member/developer for Chokepoint Project in Amsterdam, fighting for essential freedoms in the digital realm.
Andréa de Keijzer is a choreographer and photographer born in Mexico City, raised in Costa Rica and based in Montreal. Her work has ranged from films, to black box performances, to community rituals, to participatory dance parties, to workshops, to, most recently, a business that sells things that are not things. Her most recent projects involve This, myself, one after another (2015), This ritual is not an accident(2015), Ozone Tear, Nuclear Thyroid (2013-2015), The Self Love Ball (2011, 2012) and Le cerf, ou moi qui cède à l'espace (2013), a dance film directed by Ariane Boulet. In 2012, Andréa de Keijzer co-founded Je suis Julio, a multidisciplinary production platform.
Chi Long comes from a far away land. Her favourite dessert is pavlova, which was created by an Australian chef for Anna Pavlova, the famous ballerina who performed in her country many years ago. When Chi was 5 years old, her dream was to dance before the queen of England, just like Pavlova. Unlike Pavlova though, she has not yet had the chance to dance for the Queen, nor has she been immortalised as a dessert. In her 25 years of career she has danced mostly for the Canberra Dance Theatre, O Vertigo Danse, and Compagnie Marie Chouinard. She now works as a freelance artist, and appeared most recently in Goodbye by the company Mayday.
Born in Mexico, she completed her studies at Cuba's National Ballet School and the Royal Conservatory of The Hague. Diana Léon danced professionally with the National Dance Company of Mexico and is now part of Les Grands Ballets Canadiens. Diana has performed works by Jirí Kylián, Ohad Naharin, Stephan Thoss and James Gregg, among others, as well as many ballets from the classical repertoire. She is also an emerging choreographer and is the director of her company Vías. She also collaborates with Quantum Collective.
Lael Stellick has been performing in Montreal for many years as a performer, actor and dancer as well as developing as a choreographer. He pursued his dream of being an actor after graduating from John Abbott College Theater Program while being in various films, music videos and theater pieces. Lael started to develop his theatrical physicality, which led him to study at the Concordia University dance program. Since then Lael has pursued his dance carrier and has worked for numerous choreographers and companies such as PPS Danse, Parts+Labour Danse, Sasha Kleinplatz, Lara Kramer, Marie Beland, and Virginie Brunelle to name a few. Lael has been choreographing recently while collaborating with various artists on projects Division (2011) and Breakaway (2012) and is currently developing two other collaboration projects for 2016-17, Moving Picture and La Valse Masculine as well as slowly developing his passion project Waiting for some time in the coming years.
After graduating from UQAM in dance with a speciality in interpretation, in 2009, Joannie Douville obtains a certificate in developmental psychology. The following year, she joins Dave St-Pierre Compagny to create Foudres. While trying to find those for whom dance has meaning, she begins working with Bouge de là Company (young audience) and Corpuscule danse (integrated dance). In 2012, Joannie Douville alongside with Ariane Boulet, Andréa de Keijzer and Gabriel Vignola, creates the Je suis Julio Company, a multidisciplinary creative platform whose the mission is to change the world (one person at a time).
With a background in theatre and visual arts, Georges-Nicolas Tremblay has worked as a dancer, actor, director and choreographer in shows ranging from musicals to cabaret to experimental theatre. Upon moving to Montreal, he worked with Hélène Blackburn (Cas Public) for six years, which allowed him to dance on different stages around the world. He has since worked with many choreographers such as Harold Rhéaume, Caroline Dusseault, Alejandro De Leon, Louise Bédard, and Estelle Clareton. He is currently dancing in the latest creations of Sylvain Émard, Ce n'est pas la fin du monde, and working with Isabelle Van Grimde since 2014. He's also doing a master in dance at UQAM, in which he's studying dance dramaturgy and the role of the dramaturge.
A lighting designer by trade, David-Alexandre Chabot holds a great deal of interest in exploring concepts of dramaturgy and conventions of the theatrical arts. His work has been shown across Canada, namely in Montréal, Québec, Ottawa, Vancouver and Toronto as well as internationally in Paris, Marseille, Reims and Queretaro, to name but a few. He is a frequent collaborator of Nini Belanger's and Projet Mu, for which he penned the lighting design for Endormi(e)s, Vipérine et Beauté, Chaleur et Mort, the latter of which earned him a Cochon d'or award for Best Lighting Design.