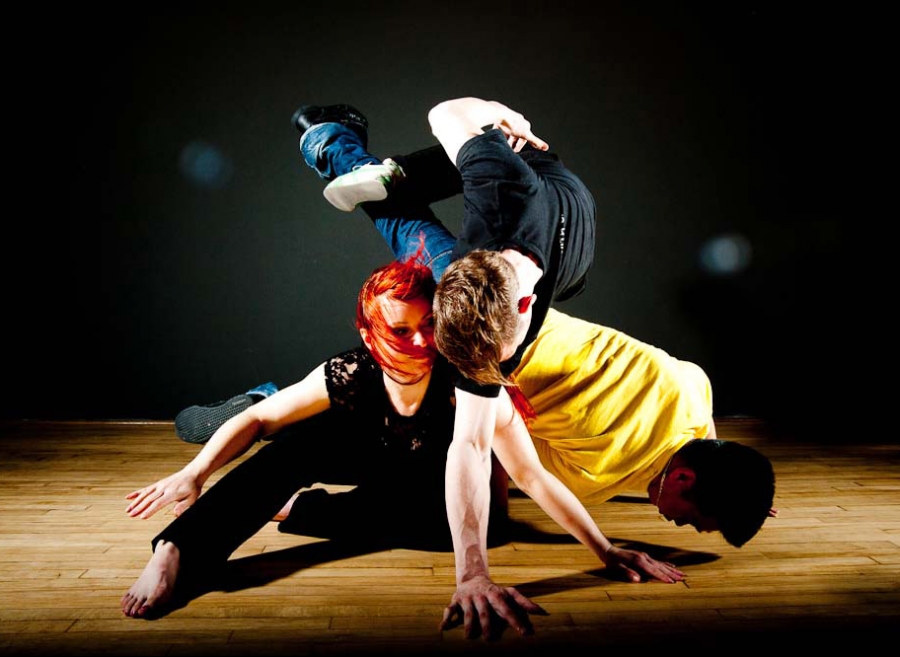 Densité d'un moment + The calm before…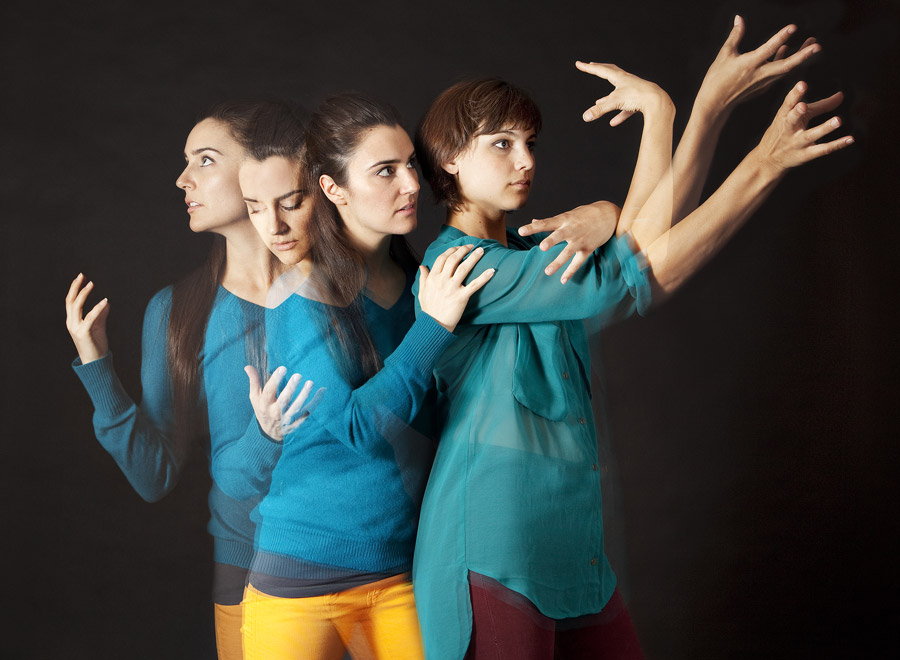 Densité d'un moment
Emily Honegger & Geneviève Gagné / FloorRider&Tonik
30 minutes
A moment can be a dense thing. Some emotions speed time up. Others slow it down. One event experienced by two individuals can feel completely different for each depending on their individual history and hopes. What if we could freeze time and dissect a dense, complex moment shared by a group of individuals? Through their complex baggage of contemporary and urban dance forms, FloorRider&Tonik lead a group of 6 dance artists to express the dynamics at play when we dissect a moment, change our perspective, hold it up to the light and rotate it. Sculptural lighting and tailored sound define space and time, oscillating between both mathematical and organic expressions of patterns on the rhythmic and visual planes.
Choreographers, Performers: Emily Honegger & Geneviève Gagné
Performers: David Albert-Toth, Joe Danny Aurélien, Jean-François Légaré, Julie Tymchuk
Composer: Jacques Poulin-Denis
Lighting Designer: Paul Chambers
Rehearsal Director: Sophie Michaud
Through their choreographic partnership FloorRider&Tonik, Emily Honegger and Geneviève Gagné create a fusion of contemporary dance and urban dance forms putting the accent on an explosive, articulate and fluid physicality. Dynamic, powerful partnering is at the base of their choreographic signature, supported by an attention to musicality as found in urban dance styles. The notion of cinematographic illusion is a main source inspiration for the choreographic duo. In this piece they will play with the expression of time passing, in condensing speed, or suspending weight, sometimes giving the impression that we can defy gravity through movement. FloorRider&Tonik have surrounded themselves with a team dancers of similar interests and physical potential in order to maintain a certain authenticity through the fusion of dance styles.
Geneviève Gagné
Dancer, choreographer and teacher, Geneviève Gagné completed her BFA in contemporary dance at Université de Québec à Montréal (UQAM) in 2005. As a freelance artist, Geneviève has worked with Solid State (Helen Simard & JoDee Allen) Victor Quijada, the Cirque Eloize, Lucie Grégoire, Normand Marcy, Marie Béland, Sasha Kleinplatz and Lynda Gaudreau. In 2007 she began exploring the fusion of break dance and contemporary dance. She choreographed Action/Inversion, a duet with Raul Guevera (Bboy Foreverfresh). In the same year she began her choreographic collaboration with Emily Honegger: FloorRider&Tonik. Geneviève teaches at the Cégep St-Laurent dance department, and has been a member of Les Imprudanses since 2004.
Emily Honegger
After graduating from L'École de danse contemporaine (LADMMI) in 2005, Emily pursued training in urban dance styles such as Bgirling (breakdance), house, popping, and locking. Her extensive training in ballet, martial arts, contemporary dance, contact improvisation and urban forms influence and inform Emily's movement language and choreographic style. In 2008 Emily joined choreographic forces with Geneviève Gagné founding FloorRider&Tonik danse. Together they have created the pieces Lancer du nain, Alter-ego, Free Fluid Feminine, Hello Piano and Foreign One. Their work has been presented in Montreal, Ottawa, Quebec City and Los Angeles. FloorRider&Tonik is presently immersed in a new creation: The Density of a Moment which will première in fall 2013. As a performer, Emily has collaborated with choreographers Hélène Langevin (Bouge de Là : L'Atelier and ô Lit), Victor Quijada (Rubberbandance Post Hip Hop Project), Lynda Gaudreau (Compagnie de Brune IN LIMBO), Audrey Bergeron (Cirque Eloize & Tout Inclus), Milan Gervais (Auto-fiction) et la compagnie Corpuscule Danse. Also an avid freestyler and improviser, Emily has been a member of Les Imprudanses since 2007, and was awarded the title of star player in 2010 and 2011. Emily's creative interests are now extending to the screen with her recent short dance film Drawing Blank.
David Albert-Toth
David Albert-Toth was an avid Hip Hop dancer, choreographer and teacher before earning a BFA with a major in contemporary dance from Concordia University. Eclectic artistic encounters have led David to perform throughout Canada, the US, and Europe, collaborating with Lemieux-Pilon 4D-Art and Peter Trosztmer, Dominique Porte, Victor Quijada, Milan Gervais, Emily Gualtieri, Emmanuelle Calvé, Alejandro de Leon, FloorRider&Tonik Danse, David Pressault, Patrick Lloyd Brennan, Isabel Mohn and Ismaël Mouaraki. He has collaborated with directors and interdisciplinary artists Miguel Medina (Rhizome Films), Josh Usheroff (BlackBox Productions), Jason Rodi (Nomad Media), Julie Favreau, and most recently with Kondition Pluriel for the unveiling of the 360º sensorially immersive space La SATosphere at the Société des Arts Technologiques de Montréal. In 2009, David presented High-Definition Memory in RubberbanDance Group's Post Hip Hop Project at Place des Arts in Montreal. In 2010 he began a co-choreographic collaboration with Emily Gualtieri. Since founding PARTS+LABOUR_DANSE their works The Calculated Risk Project (2010) and La chute (2010/11) have toured around Quebec, Ontario and New York. Their newest work, In Mixed Company, will be presented in Montreal in 2013.
Joe Danny Aurélien
Self-taught since 1996, Joe Danny Aurélien (Bboy Dingo) developed his eye for movement and excellent comprehension of the human body through his deep interest in the art of Breakdance. Founding member of the bboy crew Red Mask in 1999, Joe Danny has won multiple breakdance battles such as War is War in 2003, 2004 and 2005. He was invited to battle in the Red Bull competitition King of the Ring in 2005 and 2006 (a solo bboy battle inviting the top 32 bboys in North America). Dingo produces the annual event Who's Hungry? which has become a mainstay event for the bboying community in Montreal. In 2002 Joe Danny decided to expand his dance vocabulary by participating in a creation with Rubberbandance and began a mentorship with Victor Quijada, performing with the company until 2011. Since opening up to the contemporary dance world, Joe Danny has collaborated with Nadine Thouin (Go-On Productions 2005) Jean Léger (Opéra de Montréal, Aida 2006), Helen Simard and JoDee Allen (Solid State: Take it Back 2006 and Breakdance for Solo Cello 2009) aswell as Emily Honegger and Geneviève Gagné (FloorRider&Tonik: Foreign One 2011).
Julie Tymchuk
Julie Tymchuk graduated from L'École de Danse Contemporaine de Montréal in 2012. She is currently performing within the company "Bouge de là" (Hélène Langevin) in the newest creation, "Ô lit." Julie has also participated in a new creation with choreographer Katia-Marie Germain (Concordia University) in her piece entitled "Aube" presented during the 2012-2013 Tangente program. In the winter of 2013, thanks to a scholarship offered by the Office Wallonie-Brussels, Julie was able to further her contemporary dance training in Europe, attending workshops with renowned teachers such as Loïc Perela (Scapino Ballet Rotterdam), David Zombrano, Jos Baker and Mok Jung-Hun (Peeping Tom), Fatou Traore (C Company B) Intensive Gaga (Ohad Haharin ) Shechter, Anton Lachky (The Slovaks), Dominique Duszynski (Pina Bausch's Dance Theater), Benjamin Lamarche and Claude Brumachon (Brumachon Lamarche). Julie was also invited by the company Michèle Noiret (Bruxelles) to sporadically observe their creative process of the new play "Hors-Champ".
Jean-François Légaré
Jean-François Légaré acquired a BFA in interpretation and creation at Université de Québec à Montréal (UQAM). As a performer, Jean-François began his career with Ginette Laurin for the project Kosmogonia which was presented at La Cité de l'énergie in Shawinigan in 2001. In 2004 he participated in the European tour of JOE, a choreography by Jean-Pierre Perrault. Since 2005 he has collaborated with the choreographers of Soeurs Schmutt in their pieces Blouskaille Olouaize, Ganas de vivir,and Petits Pièces de Poche, Grandeur Naturewhich toured the Maisons de la culture in Montreal, and Colima in Mexico. Jean-François has collaborated with Kate Hilliard for her piece Beside Me (2008), Sylvain Émard for Le Très Grand Continental as a professional performer an teacher (2011), and Hélène Langevin in the production Old Thomas and the Little Fairy (2007-2011) and The Studio (2009-present) in the company for young audiences Bouge de Là.
Sophie Michaud
Sophie Michaud's career as a dancer began parallel to her Bachelor's degree in dance at Université de Québec à Montréal. Parallel to her emerging performance career, she worked in dance education and contributed to the realization of dance shows and events. After ten years of investigation in the dance milieu, Sophie's interest in movement was renewed when she came into contact with the role of Rehearsal Director. With the aim of better defining her role as "outside eye ", she chose to juxtapose her practice with higher education, and completed a master's degree in dance. As a freelance artist, her work has evolved as movement coach and artistic collaborator alongside established and emerging artist for the last fifteen years. She has participated in various projects directed by choreographers such as Hélène Blackburn, Roger Sinha, Hélène Langevin, Pierre-Paul Savoie, Manon Oligny, Marie-Claude Poulin and Lucie Grégoire (to name a few).
Paul Chambers
Paul graduated from John Abbott College in the Professional Theatre Program, specializing in Design. Thereafter, Paul becomes an artist in residence at FACE school for 2 seasons. Soon after he begins designing lighting for theatre and dance productions. From 2008 until 2013 Paul is Technical Director at Tangente. He also collaborates with Studio 303 teaching lighting design workshops for artists. Paul works mostly with emerging choreographers. Working on innovative productions is a priority for him. In addition, he is currently enrolled part time at Concordia University in their Visual Arts program (specialization in Sculpture). In his free time Paul enjoys touring new Quebec dance productions to the far corners of the globe.
Jacques Poulin-Denis
Jacques Poulin-Denis is a craftsman of the stage. Composer, choreographer, director and performer, since 2004 he undertakes projects that blur the boundaries between the disciplines of dance, music and theater. He creates works that are humanistic and uncanny. By gently knocking the spectator off center, he puts forth the strength within the vulnerability of the characters he brings to life. In 2009, he founds the creation company Grand Poney that has become the foundation of his interdisciplinary projects. His work has been shown in Montreal, New York and San Francisco, France, Italy and Korea. Gently Crumbling (2011), Practices (2009), Domestik (2009), Cible de Dieu (2009), The Pencil Project (2008) and DORS (2007) are the pieces that constitute his repertory. As a composer, he has released two albums under the Ekumen banner and has composed sound scores for more than a dozen dance and theater productions. He has created music for choreographies by Boyzie Cekwana, Katie Faulkner, Eric Kupers, Ginette Laurin and Mélanie Demers and for plays directed by Philippe Cyr, Philippe Lambert, Denis Marleau and Denis Rouleau. A close collaborator of choreographer Mélanie Demers, as a composer and performer, he has been active with her company Mayday since 2006. Winner of an Isadora Duncan Dance Awards, San Francisco in 2004 and a Saskatoon Area Theater Award in 2009, Jacques Poulin-Denis was also nominated for a Dora Award, Toronto in 2008 and an Opus, Montreal in 2010.
The calm before...
Malgorzata Nowacka / The Chimera Project (Toronto)
20 minutes
The Calm Before… starts with a question: How to escape the present moment? To find the symbolic exit from the present, the protagonist must face seven fears, progressing through an intense labyrinth of the subconscious. Inspired by the need to escape an oncoming metaphoric storm where inner strength must be summoned in the face of deep seated fears, this radical new work is charged by the clash and blend of hip hop, contemporary and improvisation. Furious kinetics and theatricality, The Chimera Project's trademarks, reach new heights in this visceral heroic journey with a cast of three sensational dance artists: This work was developed drawing on the cast's unique movement vocabularies with elements of hip-hop, contemporary dance, and imrovisation blended into the furious kineticism and theatricality choreographer Malgorzata Nowacka's is known for.
Choreography: Malgorzata Nowacka
Performers: Malgorzata Nowacka, Brendan Wyatt, Lee Pham
Outside Eye: Jo Leslie
Lighting Design: Sharon DiGinova
Music: Dave (Serious) Yan / Malgorzata Nowacka
"I seek to create contemporary physical dance theatre creations that are potent and electrifying. The balance and struggle for power, gender tensions and the human tendency towards error and self-destruction fuel my thematic explorations which always aim at discovering redeeming qualities of our nature. I'm drawn to the innate contradictions that exist in our lives – that which is right can be viewed as wrong from a different angle. That which is ugly can be beautiful. We crave serenity, but it is conflict and struggle that feeds our stories and the exhilarating feeling of being alive. On every level of creation I develop contrasting elements of movement, lights and sound, which create a rhythm of heightened tension. Through engaging with art, societies realize their identities and visions, and I hope that The Chimera Project contributes something meaningful to that process." – Malgorzata Nowacka
Malgorzata Nowacka
Award winning choreographer and dancer Malgorzata Nowacka is a professional dancer, educator and the founding Artistic Director of The Chimera Project and the "bad girl" (The Globe and Mail) of contemporary dance. Uncompromising and unconventional, Malgorzata Nowacka founded The Chimera Project in 1999 and the company burst onto the dance scene with hyper-physical creations. Searching for a kinetic language that conveys emotional intensity, her works explore spontaneity while fearlessly tapping into urgent, contemporary, gritty themes. Under her artistic direction The Chimera Project continues to flourish on the Canadian dance scene. Born into a family of artists in Warsaw, Poland, Nowacka studied visual arts with her parents and is a graduate of the Ontario College of Art and Design (Toronto) which informs the strong visual, cinematic, aspect of her creations. Her dance training includes The School of Alvin Ailey Dance Theatre (New York, NY), Bengt Jörgen's The School of Classical and Contemporary Dance (Toronto), and with Elizabeth Langley (Montreal). Nowacka created over 15 critically acclaimed works described as "most exciting" and "most original in Canada" (The Globe and Mail) and have garnered accolades such as Top 10 performances of the year in The Globe and Mail, Toronto Star, NOW and FASHION. Her recognition also includes best of International Dance Festival (Toronto, 2005), the Paula Citron fFIDA Award, Toronto Emerging Artist Award, the Most Fearless Change of Direction Award, (Globe and Mail 2008), Dance Ontario Commission and the Chalmers Award (Ontario Arts Council). Her creations were showcased in some of Canada's most prestigious contexts, including the Canada Dance Festival (Ottawa), DanceWorks Mainstage series (Toronto), Dance Victoria (Victoria), and Dancing on the Edge (Vancouver). In 2010 Nowacka was invited to create a full length ballet, ICARUS, for Ballet Jörgen Canada which has toured nationally since. Nowacka's works were awarded three Bravo!FACT film commissions for I can almost, directed by Gregory Nixon, You're It directed by James Cooper, and I'm right behind you, directed by Jeff Nesker, all screened at festivals worldwide. Nowacka is a featured choreographer n Philip Szporer and Marlene Millar's Moments in Motion, part one and two, a documentary highlighting the most promising dance artists in Canada Malgorzata Nowacka continues to perform as a featured dancer with The Chimera Project, and has also worked with numerous choreographers and companies including Motus O Dance Theatre, Bageshree Vase, Jack Shi of Little Pear Garden Collective, Kathleen Rea, Ballet Espressiovo, and Rebecca Todd. As an artist in touch with the "disaffected youth zeitgeist" (The Globe and Mail) she is a sought-after educator who has taught and choreographed in high schools and universities including Ohio University, Ryerson University, McMaster University, and Earl Haig.
Brendan Wyatt
Brendan Wyatt as born in rural Saskatchewan. He started dancing at the age of four and later spent nine years training at Canada's Royal Winnipeg Ballet and The School of Toronto Dance Theatre. A prolific performer, Wyatt has created and performed in numerous works by several companies and choreographers nationally and internationally. Wyatt has been a core collaborator for The Chimera Project (since 2004), ProArte Danza (2006) Dreamwalker Dance Company (2008) BoucharDanse (2009), and blackandblue dance projects (2010). In 2008, he was a founding member of The Dietrich Group with Director/Choreographer DA Hoskins and dance artist Danielle Baskerville. The Group was created as a platform for the creation and production of multidisciplinary dance works. In 2010 he was the recipient of a Dora Mavor Moore Award for his performance in this time, an aldheid production by Heidi Strauss. In 2011, Wyatt was nominated for outstanding choreography with Andrea Nann for their full length evening Beside Each Other. With The Chimera Project he has been part of the creation process of Drawing the Line or The Hidden Spot (2004), Crossroads (2005), You're It (2005), Keep All Sharp Objects Out Of My Way (2006), The Hidden Spot (2008), Blood (2009), and The Calm Before… (2011).
Lee Pham
Lee "Lethal" Pham wears many hats: b-boy, artistic director, entrepreneur and actor. Known in the b-boy community as "Lethal", he is a fifth generation member of the world-renowned b-boy crew, The Supernaturalz. He is a part of Toronto-based contemporary dance company The Chimera Project and dance collective Christian dance movement, EPO. He has proudly represented Canada on stages across the world. He passionately teaches breaking and is determined to positively engage communities at a global level. He is also the co-founder and co-artistic director of the not-for-profit organization Break It Down, and spearheaded successful partnerships with Toronto District School Board, Harbourfront Centre and York University. He is also the co-owner and manager or international marketing organization Back to the Underground, with clients such as Red Bull, Cadbury Adams, Molson and R-16. His recent endeavour, acting as "Eddie" from the cast of TV show Millions and as "Len" in Toronto premiered dance-theatre production Enter the Shadow: The Life of a B-boy. He is very excited to be working with such a talented cast and to personify "The Shadow" in The Calm Before… Check out his work at www.leepham.ca .
Jo Leslie
Jo has contributed to over 100 shows in dance and theatre as choreographer, movement director, dramaturge, director and coach. Recently she has worked with Rubberbandance group, Robin Poitras and Kitchenband Productions and coached on 'The List' (Nightwood theatre). Her many theatre credits include the National Arts Centre, Caravan Theatre in BC, regional theatres and The Stratford Festival, where she was also company movement coach. From 1990 2001 Jo was principal movement teacher at The National Theatre School. She continues to teach movement to actors and theatre skills to dancers. She co founded STUDIO 303 and the vernissage performance series in Montreal and is a dance writer. Jo recently moved to Toronto from Montreal where her last project was with performers with disabilities; Paroles dans le vent. Upcoming projects include dramaturgy for The Dietrich Group at World Stage and assistant director/movement for a new opera in Sweden.
Sharon DiGenova
Sharon DiGenova, Lighting Designer/Production Stage Manager, began her career (a very long time ago) in a Broadway touring house in Massachusetts. She has since worked in numerous capacities in a multitude of disciplines – touring internationally to more than 350 cities (several times over) in over 30 countries throughout North & South America, Europe, Australia, Asia and the Far East. She has collaborated with scores of artists and companies including The Royal Winnipeg Ballet, Desrosiers Dance Theatre, Ronnie Burkett Theatre of Marionettes, Circus Orange, Esmeralda Enrique Spanish Dance Company, and from 1997-07 was resident Technical/Lighting Director, Production Stage Manager and Designer for Canada's internationally acclaimed Holy Body Tattoo. Sharon has recently launched a new company called Holly's Hope, which produces fundraising events for animal welfare organizations. She is a full time animal rights advocate / activist and part time volunteer at Toronto Animal Services. She has been collaborating with The Chimera Project since 2009.
Dave Yan
Like all good hip-hop, Toronto's DJ Serious has risen from the underground to find success by the light of day. Following up on several acclaimed 12" singles, his critically acclaimed LP, Dim Sum (Audio Research/Headless Heroes/Sound King Records, 2000), a Juno Award, and a European tour, Serious maintains his status as one of Canada's premier hip-hop producers with his sophomore release, Cold Tea (audio research/maple music, 2006). In addition to contributing to Juno award winning records (Choclair, 2003), running his ongoing radio show on CIUT 89.5 FM (Stylistik Endeavors) and displaying his skills at any one of his many dj gigs, DJ Serious, is a member of a new-school jazz/funk band, The Quartertones, and still has had time to create a well-rounded album that is sure to become a classic hip-hop record in the tradition of fellow beat-makers Jay Dilla and Pete Rock.