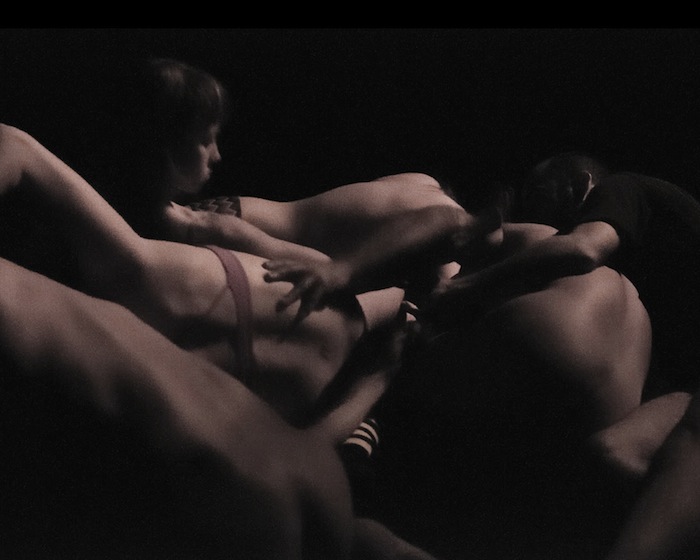 Dark Meaningless Touch + m/Other
Dark Meaningless Touch + m/Other
Benjamin Kamino
120 minutes
Dark Meaningless Touch – towards a space beyond togetherness
"Only as broken up does the image appear." (Judith Butler, "Bracha's Eurydice", page X from The Matrixial Borderspace, Bracha Ettinger. University of Minnesota Press. 2006)
The corporeality of this dance is located at a crossing between watching, listening, feeling, and waiting. A physical practice of dark-meaningless-touching rustles slowly though the space, itself a dance in which all participate – a simple action of lying as if awaiting sunrise.
In this post-imaginary site, the stars will descend… we will feel the dance.
m/Other – towards a dance beyond love
"Pretty pictures of mommies and babies must be expunged from the reader's imagination at this point." (Griselda Pullock, "Femininity: Aporia or Sexual Difference", page 15 from The Matrixial Borderspace, Bracha Ettinger. University of Minnesota Press. 2006)
Son and mother dance together engaging a practice of dark-meaningless-touching. This dance is a research towards the reconstruction of the corporeal conditions of pre-birth: mother and son touch in a dark space towards a communicative touch that might pre-exist linguistic impositions on togetherness.
Creation and performance Robert Abubo, Amanda Acorn, Paul Chambers, Ellen Furey, Benjamin Kamino, Gabby Kamino, Jesse Orr, Timothy Rodrigues, Simon Portigal, Christopher Willes
Audio installation (tactile sound floor) Christopher Willes in collaboration with Ben Kamino, Paul Chambers, Jesse Orr, and Timothy Rodriguez
Dark Meaningless Touch original music and sound environment (16-channel spatial diffusion) Christopher Willes
m/Other music Symphony No.3 Op. 36, Henryk Górecki
m/Other live diffusion/mix Christopher Willes
Special thanks Bracha Ettinger, Ame Henderson, Tim Kamino, Romy Lightman, Michael Trent, LUFF art + dialogue, Long Winter, the Canada Council for the Arts
Amanda Acorn is a Toronto-based performer, choreographer, and teacher. A company artist with Dancemakers since 2010, she has collaborated and performed in Adaptation Project, loveloss, and Hi-Fi: Rumschspringe. Independently, she has performed and developed works with Susie Burpee, Helen Husak, Lady Janitor, Keaja d'Dance, Andrea Spaziani, Heidi Strauss, and Cara Spooner, among others. Her solo works, you/me/us (prologue) and multiform have been presented in Toronto, Ottawa, and Calgary. She has created in residence at Hub14 and Dancemakers in Toronto, and Earthdance (USA). Passionate about advocating for the status of the artist, she is the co-founder of the grassroots organization the Toronto Dance Community Love-In and is a member of the board of directors for the Canadian Alliance of Dance Artists – Ontario Chapter. She is a graduate of the School of Toronto Dance Theatre's Professional Training Program and has participated in professional development projects in Vienna, Amsterdam, Berlin, and Genoa, Italy.
Robert Abubo has been a member of Dancemakers since September 2008. Abubo worked with Le Groupe Dance Lab from 1994 to 2006, under artistic director Peter Boneham. As an independent dance artists, he has worked with Tedd Robinson, Louise Lecavalier, Sylvain Emard, Lynda Gaudreau, Shannon Cooney, Bill James, Luc Dunberry, Winnpeg's Contemporary Dancers, Heidi Strauss, Kate Hilliard and Dana Gingras. Abubo's own choreographic works have been presented by the Canada Dance Festival, Tangente, Dancer's Studio West, Kaeja d'Dance, Nuit Blanche (Toronto), CanAsian Dance Festival and The Toronto Love-In. Abubo graduated from David Moroni's class of the Royal Winnipeg Ballet School's professional division.
Paul Chambers is a Montreal based set & lighting designer. Collaborating on new works has always been a priority for him. Teaching workshops has also been an important part of his development as an artist and mentor. At Studio 303 he teaches a yearly lighting design workshop for artists. From 2008 until 2013 Paul is Technical Director at Tangente: Laboratoire de Mouvement Contemporain. As a visual artist in 2011, Paul begins producing his own body of work with Division and then the 2012 Project Breakaway. Both multidisciplinary collaborations with dancers, musicians & designers. Paul works with light, metal, wax, print and found objects to create sculptures & Installations. In 2013 along with fellow designer David Alexandre Chabot, they create CHA a collaborative design company aimed at creating design based works.
Ellen Furey is an invested, multidisciplinary artist working in both Toronto and Montreal, Canada. She is a member of Dancemakers and freelances with Daniel Léveillé Danse, Susanna Hood, Nicolas Cantin, Fréd Gravel, Montréal Danse, Adam Kinner, Simon Portigal, Benjamin Kamino, Stéphane Gladyszewski, Paula de Vasconcelos, Marten Spangberg. She is a part of the independent art initiative, Emotion Garage. Ellen leads her own practice of making and performing and is passionate about critical discourse; she actively employs criticailty in her endeavours in order to position herself within the contemporary art machine. Of late, she uses DIY methods in creation and experiments with subverting the conventional ratio of rehearsal to performance in dance-making. Consequently, her latest work Performing Performance or Practising Performance occurs as a series of one-off spectacles where she books and performs shows with little rehearsal or forethought without desire for repeatability, functioning on only very basic resources, making – of the performance – a practice. Her work has been presented in both Toronto and in Montreal in intimate venues and galleries. Ellen was a DanceWeb participant in Vienna, Austria as a part of the ImpulsTanz International Festival in 2014.
Benjamin Kamino is an artists living and working between Montreal and Toronto. His work has been shown in Austria, Brazil, Canada, Mexico and the United States. Through the embodiment of cultural, critical, and philosophical theory, his work is a continuous research into performance as a site where ethical positions can be put into question. Aside from making choreography, Kamino maintains his practice as a dancer by engaging in contracts with Independent choreographers as well as Dance companies most notably, Peggy Baker Dance Projects, Ame Henderson, Michael Trent, Sasha Kleinplatz and Virgil Baruchal. Kamino holds a BFA in Dance for the Tisch School for the Arts (NYU), and is currently a curator at Dancemakers Centre for Creation (Toronto).
Gabby Kamino is an independent dancer and choreographer. Her works have been performed throughout Canada, the United States, and Europe. She has presented two major works at Ffida to critical acclaim, and her show The Story, in collaboration with PBJ, was named one of the top ten dance events by NOW Magazine in 1998. She is one of the three original graduates of the University of Waterloo Dance Program and also holds a B. Ed. from University of Toronto. She has worked with Judy Jarvis, Til Thiele, Lawrence Gradus and Milton Myers. In 1975, Gabby joined the faculty of the University of Waterloo as lecturer and Artistic Director of the Repertory Dance Company and also co-founded her own company Dance Plus Four. During this time, she was a World Team Choreographer for the Canadian National Figure skating Association and Olympic Competitors. Gabby is a recipient of several awards, most recently from the City of Kitchener / Waterloo.  She is currently creating works for Ballet Creole and PBJ Dance Projects and she teaches dance at Etobicoke School of the Arts.
Jesse Orr is a graduate of the Theatre and Development BFA at Concordia University, where she specialized in design and community arts. She is an insatiably multi-disciplinary and collaborative artist, incorporating design, curation, performance, puppetry and activism into her theatre practice. As a designer & builder Jesse has recently worked with Climate Justice Montreal, Veronica Classen, Clea Minaker (Mtl), Cathy Stubington (BC), David Solnit (SF), and Great Small Works (NYC). Her current projects include The Flying Box puppet theatre, Projet Porte Parole's Mind the Gap speakers series, and the experimental performing object cabaret Café Concret.
Simon Portigal [(1987, Calgary, Alberta) trained at LADMMI and P.A.R.T.S.] has been working in Canada since 2011. Since that time he has worked and performed, nationally and internationally, with Chad Dembski, Public Recordings/Ame Henderson, Phin Performing Arts/ Lisa Phinney Langley, Andrew Tay, Sasha Kleinplatz, Adam Kinner, Zoja Smutny, Ellen Furey, Dancemakers/Michael Trent, Marten Spangberg (SE), and Nestor Garcia Diaz (BE/ES). In 2012, he was commissioned to make a work for the Reykjavik Dance Festival alongside Vedis Kjartansdottir, Inga Huld Hakonardottir, and Louis Combeaud. In 2014, he was commissioned to collaborate on a work with visual artist Brendan Fernandes, composer and arranger Minna Rhee Choi, and pop musician Tom Krell (How to Dress Well) which premiered at the Berliner Festspiele's Foreign Affairs Program 2014 in Berlin. Alongside his work at Dancemakers, he is currently working independently on projects with Adelheid/Heidi Strauss, Amelia Ehrhardt and Emotion Garage.
Tim Rodrigues earned his B.F.A in Contemporary Dance from Montreal's Concordia University. He was awarded Contemporary Dance Prize in 2005 and then completed the Lighting Specialization Program at the National Theatre School of Canada in 2006. Tim was the choreographer and featured performer for musician Ghislain Poirier's music video Don't Smile it's Post Modern (2005). Aside from his lighting designs, he has worked with an array of companies in Montreal including Studio 303, RubberbanDance Group and the Just For Laughs International Comedy Festival. He is currently a Stage Supervisor for the Department of Performance Production at Concordia University. Notable Designs include; "RubberbanDance Group's Post Hip-Hop Project" (Dir. Victor Quijada with various chors.) at la Cinquieme Salle du Place Des Arts; "1976" (Chor. Dana Michel) ), "Now I Got Worry" (Chor. Andre Turner), "All the Ladies" (Chor. Sasha Kleinplatz ) & "On Power and Permission" (Chor. Andrew Tay) at Espace Tangente, "Everything Was Beautiful and Nothing Hurt (Chor. Dorian Nuskind-Oder) at the Studio Hydro-Quebec and most recently "UnRelated" (Chor. Daina Ashbee) at the m.a.i in October of 2014.
Christopher Willes is based in both Toronto and Montreal. His work moves across music, performance, the visual/audio arts with a particular interest in the material (corporeal) and social nature of sound and listening. He has created chamber and large ensemble concert music, performance/installation works, sound-walks, and audio works for public spaces. His most recent projects include a neighbourhood specific audio art project (Listening at the CLGA, The Rhubarb Festival, 2014), and a large ensemble concert work *blow/draw/drift, the Music Gallery, 2014). He works often within performance, dance, and theatre creating audio scenographies, and in a dramaturgical role including collaborations with Public Recordings, Urban Vessel, Small Wooden Shoe, Dancemakers, Benjamin Kamino, Soft Matter, Suburban Beast, and Adam Kinner. He received his BA in music at the University of Toronto and holds an MFA from the Milton Avery Graduate School at Bard College (Annandale-on-hudson, NY).
Special thanks to