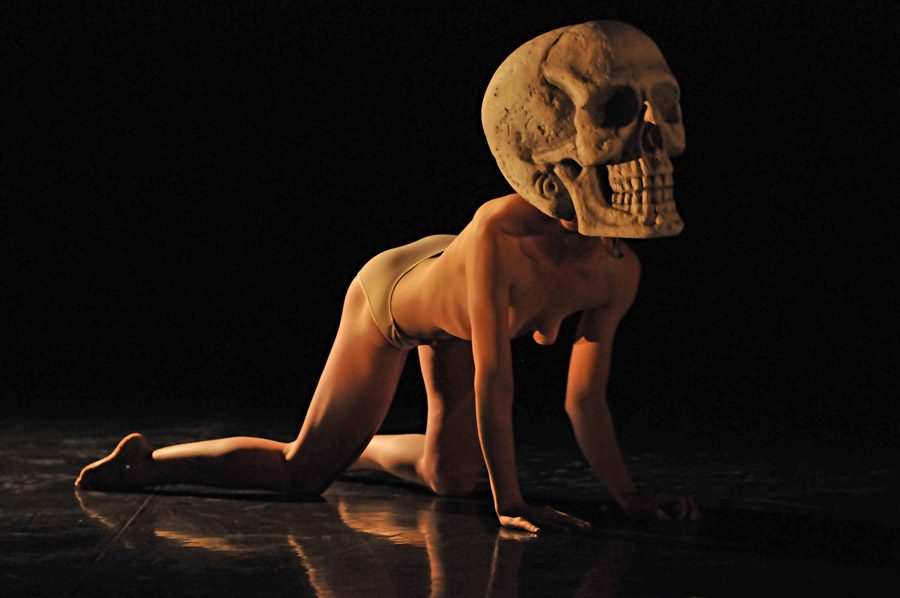 CYCLe 2 + Coming and going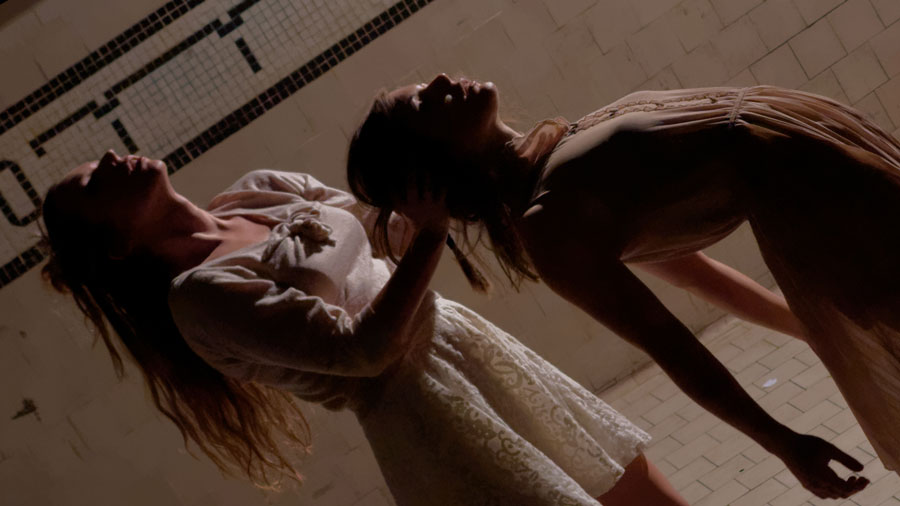 Cycle 2
Kimberley de Jong
40 minutes
CYCLe is an abstract vision of the human life cycle at varying stages. Connections are made between the phases as well as the relationships we create within our lives be it mother, child, lover. We are dependent as a child, as we grow this dependency is still present but it transforms and we exchange the roles of dependency with our lover. The cycle has no clear beginning or ending; it is a continual morph through repetition of something strangely familiar. In our subconscious minds are we connected to the life that precedes us, and when we are old and dying do we revert to the child within?
Choreographer : Kimberley de Jong
Performers : Brianna Lombardo and Nathan Yaffe
Lights : Caroline Nadeau
Accessories and costumes : Marilène Bastien
Music : Alva Noto and Ryuichi Sakamoto
Created in residency at Studio 303
The idea for CYCLe was born from a connection I made between the visual illustrations of Ruth Gwily's book Cycle and my experience witnessing my grandmother's death while my daughter was just under one year old. I was very interested in the physical similarities of young and old as well as the emotional dependency of both these phases.During my creative process I took something very aesthetic and minimal, like the images from Ruth's book and combined this with the very real experience of growth and getting old, exploring our interpretations of them. I wanted to investigate this aspect of dependency that we have throughout our lives, in varying degrees, but nonetheless make the connection between for example the dependency of a child and later, that of a lover. I used circularity as a tool for composition as well as this idea of the cycle: where things repeat themselves but always a little differently.
Kimberley De Jong
Kimberley de Jong travaille en tant que danseuse pour La Compagnie Marie Chouinard depuis 2006. Elle a participé aux créations de « Orphée et Eurydice » – 2008 et « Mouvements/Henri Michaux » – 2011. Elle travaille actuellement comme directrice de répétition pour la compagnie. Avant d'habiter à Montréal elle a dansé pour Itzik Galili à Groningen, aux Pays Bas. Kimberley a passé un été à Tel Aviv, Israel, 2008, grâce à une bourse de développement pour étudier le mouvement « Gaga », parmi la Compagnie « Batsehva », directeur Ohad Naharin. Elle est intéressée par le continuum, avec Linda Rabin, Montréal, QC, en tant que moyen d'augmenter le mouvement et la création en soi. Elle a enseigné la danse créative à l'école "Arts Umbrella", Vancouver, B.C. et "Body Remix", répertoire de Marie Chouinard au Springboard 2010, Montréal QC. Kimberley est devenue mère en 2009. Elle a continué à voyager et à danser professionnellement, mais elle s'intéresse aussi à poursuivre sa carrière dans la chorégraphie. Elle a organisé des "jams" mensuelles pour des artistes divers à Montréal, la recherche et l'échange personnelle avec d'autres professionnels étant sa motivation pour ces "jams".
Nathan Yaffe
Nathan Yaffe studied at Purchase College in New York. Since 2007 he has resided in Canada and danced with Le Groupe Dance Lab in Ottowa followed by working with Helene Blackburn, Kate Hilliard, Sasha Kleinplatz, Hélène Langevin, et Georges-Nicolas Tremblay. Nathan also works on his own creations in visual arts and dance video.
Brianna Lombardo
Brianna Lombardo, a native of Toronto completed her professional training at the School of Toronto Dance Theatre. Upon leaving the program she received a Chalmers grant to study with various artists at ImPulsTanz in Vienna. As an independent dancer she has worked in Toronto with Michael Trent and Matjash Mrozewski and in Montreal with Isabelle Van Grimde and Jean Pierre Perreault before joining O Vertigo in 2004. Brianna has recently made the jump to re-enter the independent community and since has been working with Melanie Demers MAYDAY, Jacques Poulin-Denis, Frédérick Gravel GAG, Caroline Laurin-Beaucage and Martin Messier. In addition to and equally inspired she has been teaching repertoire from O Vertigo and Mayday as well as improvisation and interpretation classes.
Marilène Bastien
Graduate in scenography at the Saint-Hyacinth Cegep, then in interdisciplinary studies in the Fine Arts Faculty, Concordia University. Marilène designs and conceives set designs, costumes and accessories in theatre, circus art and dance. She has designed for dance choreographers such as Ginette Laurin, Chantal Caron, Tony Chong, Manuel Roque, Lynda Gaudreau and Marie Chouinard.
Coming and going
Stéphanie Morin-Robert / pour corps et lumière / for body and light
40 minutes
Explores the interface between darkness and light, form and imagination: meditative stillness, then moving shapes, whispered words and the light catching only the ghost of a body as it flashes past
Multiple dancers lit by a single sometimes moving light source. In darkness, spoken word and music create and project direct on your imagination. The dancers are colour, beauty, motion and touch, intimacy and solitude.
Conception and choreography : Stéphanie Morin-Robert
Music and spoken word : Ian Ferrier
Performers : Marie-France Jacques, Allison Burns, Marie-Pier Gilbert, Alexia Martel, Linnea Gwiazda 
Dress rehearsal director : Audrey Rochette
Lighting designer : Angeline Saint-Amour
Created during a residency at the Théâtre Mainline
Poets speak; dancers move.
We use both spoken and body language to communicate our desires, ideas, feelings. The two languages help us interact and exchange with others, in everyday life, and in performance.
Spoken word is choreography for an imagined world. Movement is a way to pronounce and punctuate the body.
Dancers don't exist to mime a story. They create a story with movement. Poets don't need dance to illustrate their imagined worlds. They create image though words.
So where do these two elements meet?
A work where spoken word and dance truly intersect requires room for both. They exist in an atmosphere created by the spoken word and music, adding breath through movement, carrying it to places only dance can go.
The third element is light: light as a paintbrush, creating form and the darkness around it. Light becomes the tool that sculpts the body. Dancers respond to light as if it was a force: sometimes attracted, sometimes repelled. Light may fall on a body in quiet meditation, or catch only the shadow…A moving arm, a neckline, bodies swinging through light, bodies apart or in contact.
pour corps et lumière / for body and light is a project about the intersection of these elements. By focusing on the pure emotional resonance of each, it asks each to tell its own story.
Stéphanie Morin-Robert
[email protected] Multidisciplinary artist Stéphanie Morin-Robert graduated both from Cégep de Drummondville with a DEC in dance (2008) and Concordia University with a degree in Contemporary Dance (2011) where she was titled the most outstanding graduate underlining her successful run as a Fine Art student. Stéphanie is the choreographer, artistic director and administrator for the company pour corps et lumière/for body and light (a collaboration with musician/spoken word artist Ian Ferrier) creating pieces that are intimately inspired by the memory, imagination, strength and fragility of the human body. After a creative residency at L'arrêt de bus (Montreal, Québec) and at the Main & Station (Parrsboro, Nova Scotia) Stéphanie is presently continuing to develop her work at MainLine Theater (Montreal, Québec), where she is has been artist in residence since September 2013. In Montréal, her work has been presented at the St-Ambroise Montréal FRINGE festival, Bouge d'ici dance festival, Mile End Poets festival, Carmagnole festival, Canadien Spoken Word festival and Phénomena festival. With 40 confirmed performances in Montréal (QC), Ottawa (ON), Saskatoon (SK), Edmonton (AB), Victoria (BC) and Vancouver (BC) the company is currently planning a tour starting in February 2014 with a new show titled COMING AND GOING, that will be premiering at Tangente. Stephanie recently joined the DIRTY FEET podcast team as a co-host and is also a collaborating member of the multidisciplinary improvisation collective BODY SLAM directed by Greg Selinger.
Ian Ferrier
[email protected] In the course of over 400 shows in Canada, Europe and the United States, Ian Ferrier has quietly become one of the most important voices in the North American performance literature scene. A poet and musician, his most recent CD project—with the trance/improv music group Pharmakon MTL—mixed whispered and sung vocals, multiple guitars and drums into an absorbing voyage. Ferrier has released a CD/book Exploding Head Man (Planete rebelle 2004) and two CDs, What Is This Place (Bongo Beat 2007) and To Call Out in the Night (Bongo Beat 2011). Ian currently creates and performs spoken word and music with the dance company pour corps et lumière/for body and light. He is the founder of the record label Wired on Words, of the Mile End Poets' Festival, of the online magazine LitLive.ca and of Montreal's monthly Words & Music reading series, now in its 14th year.
Marie-France Jacques
[email protected] In 2008, Marie-France Jacques finished a double diploma in Dance and Human Sciences at the Cégep de Drummondville, QC, Canada. She studied briefly at the Ottawa School of Dance, Ont., Canada, and came back to Montreal to continue her training as an interpreter at the School of Contemporary Dance of Montreal. She was trained by, among others, Marc Boivin, Sophie Corriveau, Jamie Wright, Amy Shulman et Anne Lebeau, and explored the choreographic worlds of Daniel Léveillé, Marie Chouinard and Jean-Pierre Perreault. Since May 2012, she has been an interpreter for the company Maribé-Sors de ce corps in the piece Vie et mort de l'élégance, which was presented in September 2013 at the Jeux de la Francophonie, in Nice, France. In 2013, she performed in Made of Meat, created by Kati Bélanger, presented at the Montreal Fringe Festival and in Rouge Mékong, by the Lebowitz collective, presented at the Société des Arts Technologiques de Montréal. She currently works as an interpreter for the project pour corps et lumière/for body and light, by Stéphanie Morin-Robert. In 2013, the project participated in a residency program at the Main & Station in Passborro, Nova Scotia, Canada and is presenting the outcome of its work at Tangente in 2014. In addition to dedicating herself to interpretation, Marie-France is devoting herself to creation and teaching.
Allison Burns
[email protected] Allison Burns is an enthusiastic member of the performance art industry in Montréal. She is a dancer, choreographer, producer and podcast host. She graduated from Concordia University with a degree in Contemporary Dance with distinction in 2010. Allison began dancing for choreographer Stéphanie Morin-Robert in 2012. Recently, Allison's collaboration with the band FASTER had her choreographing and performing the show FASTER Presents: The Elephant in the Room, which won the FREEBIE Award at the 2013 Montréal Fringe Festival. An extended version of the show was presented at the Espace Freestanding Room in December 2013. Allison is currently the Associate Artistic Producer of the Bouge d'ici Dance festival, and has been involved with non-profit organization since it's inception in 2007. Allison has produced and co-hosted the dance podcast, Dirty Feet, which is a part of the No More Radio network, since founding the podcast in 2012. She was also a co-founder and producer of the Montréal independent collective, Inertia Productions, which ran productions in fringe festivals across Canada (Montréal, Ottawa, Toronto and Edmonton) from 2008- 2010.
Marie-Pier Gilbert
[email protected] Marie-Pier completed her training in contemporary dance at The School Of Dance in Ottawa. Over the last few years, she has participated in some Ottawa-based projects such as Dancing In The Streets (2010,2011), Dance By Youth For Youth (2012) with Peter Boneham as a mentor. She also continues to dance for the choreographer Caroline Barrière, in the pieces Rue St-Honoré (2010) and Le p'tit Bistro. After her formation in Ottawa, she settled down in Montreal. There, she performed in A Cautionary Tale of Punch Drunk Love (2011) and Running for Home (2013) by Heather Lynn Macdonald and was also a dancer in the piece Made of Meat (2012) by Kati Bélanger. Marie-Pier's first collaboration with Stéphanie Morin-Robert was as a dancer in the piece Eeny-Meeny-Miny in 2012. From there she became a part of Stéphanie's company pour corps et lumière/for body and light in January 2013. Since then, the project has benefited from many platforms such as Nuit Blanche-Arts Matter, l'Arrêt de Bus, Carmagnole and Phénomena festivals, and also a creation residency in Parrsboro, Nova-Scotia. She is really excited to have the opportunity to continue the development of pour corps et lumière/for body and light for the Tangente performances in February 2014 and for their Canadian tour that will start a few months later.
Linnea Gwiazda
[email protected] Linnea Gwiazda earned a Bachelor of Fine Arts with a major in Contemporary Dance from Concordia University in Montréal (2013). As a choreographer and interdisciplinary artist she works with contemporary dance, performance, video, installation and photography. Her work has appeared at the Metro Theater (Victoria B.C. 2010), The St-Ambroise Montréal FRINGE Festival (2011), Montréal En Lumière (2012), Eastern Bloc (2012), RURART: art contemporain en milieu rural (2012) and The Art Matters Festival (2013). As a dancer, Linnea has performed for stage, video and film in British Columbia, Quebec and Nova Scotia. Linnea began working with Stéphanie Morin- Robert in 2011, and has been a dancer for pour corps et lumière/for body and light since its inception in early 2013. Recently, Linnea has also worked with Ingrid Bachmann on The Hybrid Bodies Project (2013).
Alexia Martel
Alexia Martel completed her dance training at L'École de danse contemporaine de Montréal (EDEMTL) in May 2012. After graduation, she worked with Isabelle Boulanger's company, La Grande Fente, on the creation of "Fente-toi", which was presented at Tangente in the fall of 2012. She also participated in Accès Danse and Vue sur la relève with this company. Alexia met the univers of Patricia Gagnon in 2013 and danced in her new creation "Nos quatre vies en croix" as well as in an encore presentation of "Des cops et des taureaux" for the Zone Homa Festival. In 2013, she work with Marie Béland (Maribé sors de ce corps) for the piece "Vie et mort de l'élégance" which won the silver medal at its presentation in the Jeux de la Francophonie in Nice, France. Her collaboration with Marie Béland continued with "Figures de silence" a co-production with EDEMTL presented at Espace la Risée in Montreal. Alexia is currently working with La Grande Fente on new work for their 2014 season.
Audrey Rochette
Since her studies at L'école de danse contemporaine de Montréal (Ladmmi), Audrey Rochette danced for Lucie Grégoire (Festival TransAtlantique – 2011), Isabelle Boulanger (Maison de la Culture Maisonneuve – 2011, Tangente – 2011 and 2012, Vue sur la Relève – 2013 and Festival Accès Danse – 2013), Rosie Contant (Studio 303 – 2012), Bruno Dufort (La Chapelle – 2013) and Geneviève Caron-Ferron (Bain St-Michel – 2013). She also participated in the SIX MIL ANTENNAS film-shoot by Johnny Ranger (Société des Arts Technologiques – 2011) and So certain I was, I was a horse by Émilie Serri (Festival du Nouveau Cinéma – 2011). She is currently working for La Grande Fente (Isabelle Boulanger) and is also involved with Nébuleuse in Rosie Contant's project. As a creator, her work POROS (2010) was presented at Festival Zone-Homa. CAKE (2012) was selected for Danses Buissonnières at Tangente and for the Bouge d'ici dance festival in January 2014. IN VITRAUX (2013), was a research project she directed specially for the graduates of l'École Nationale de Théâtre du Canada, and it was selected and presented at the closing ceremony of the Zone-Homa festival. Her solo work A Rift in the Wall, was presented at Phenomena in October 2013. Most recently, Audrey has joined For Body And Light as rehearsal director for Stéphanie Morin-Robert's piece, titled Coming And Going that will be presented at Tangente in February of 2014.
Angeline St-Amour
Angeline is a Montreal based Lighting Designer, Technical Director and Stage Manager. A graduate of the National Theatre School of Canada's Production Program, Angeline has been working and touring with Dance and Theatre companies within Montreal and across Canada. Recent credits include: Seeds(Crows Theatre & Projet Porte Parole), The Medea Effect (Talisman Theatre), and Peter Pan (St-Joseph Stage Prophets). Angeline is thrilled to be working with this incredible group of artists, and looks forward to more collaboration in the future.