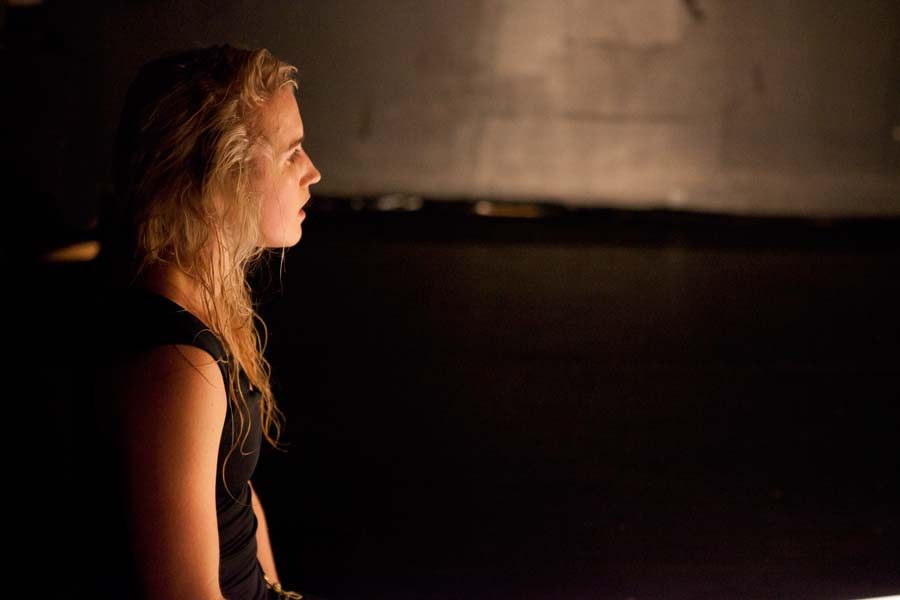 3 X 3 X 3 | Halifax – Québec – Montréal tour
Falling off the page
Jacinte Armstrong (Halifax)
28 minutes
Falling Off the Page is a work of contrmporary dance inspired by Japanese Calligraphy. In this duet, we follow the transformation of the dancers' bodies and breath from contemplative to vibrantly expressive. The dancers are simultaneously calligraphy and calligraphers, brush and ink on paper, leaving behind traces that are both ephemeral and concrete. Beginning with stunning original films that close-up on brush and ink on paper, Falling Off the Page takes place in a realm where the physical and spiritual collide.
Choreography: Jacinte Armstrong
Performers: Jacinte Armstrong, Susanne Chui
Music: Sageev Oore
Dramaturge : Don Rieder
Cinematography: Jeff Wheaton
Costumes : Rachael Grant
Choreographic Mentor : Denise Fujiwara
Calligraphy Mentor : Sarah Cox
This piece began with practicing Japanese calligraphy with Sarah Cox. I enjoyed the meditative process of setting up the space and preparing all the tools: brushes, ink, and various beautiful papers. Then there was the connection of breath and body to the brush and its hairs as we painted the ink onto paper. I was surprised to find what made a "nice line", and what didn't, and that you can't control the brush, you have to work with all the hairs and the ink on paper to dance with it! I then set out to create a collection of short films and a live performance piece that would express the process of doing calligraphy, with its sometimes contemplative and sometimes energetic outcomes. Through the Kinetic Explorations Program, I developed the choreography and experimented with dance on film. Mentor Laura Taler came from Ottawa to work with me on the piece, and I collaborated with local cinematographer Jeff Wheaton to shoot the beautiful films of Susanne and me practicing calligraphy. In November of 2010, Denise Fujiwara came into the studio, and helped bring more finesse to the choreography, and truly inspired us to transform into the wind and water of calligraphy. We also studied calligraphy with Master Teacher Kaz Tanahashi, who showed what it's like to have a calm, direct, and expressive hand. In the final stages of the piece we worked with Don Rieder as a dramaturge to completely bring it to life and to the stage.
Helen Simoneau
Jacinte Armstrong
Jacinte Armstrong is a Halifax-based dancer ,choreographer, improvisor and teacher. She trained at Halifax Dance, and went on to study at the New World School of the Arts in Miami, FL. She was the recipient of the inaugural Diane Moore Creation Scholarship, awarded by Live Art Dance Productions in 2007, and Kinetic Studio's Explorations Scholarship in 2010. Jacinte is a co-founder of both Verve Mwendo Dance Company and SiNS (Sometimes In Nova Scotia) dance, and has worked with Cory Bowles, Susanne Chui, Veronique MacKenzie, Ruth-Ellen Kroll Jackson, Gwen Noah, Rachel Franco, Barbara Mavro Thalassitis (Brussels), musicians Dani and Sageev Oore, and Halifax's Zuppa Theatre Company and Secret Theatre (Dustin Harvey). Recent performances include the Canadian premiere of Thomas Lehmen's Schreibstuck (DOTE Vancouver '10), as well as works by Daelik, Sara Coffin, Tedd Robinson and Lisa Phinney. Jacinte made her first film about Pilates (which she loves), through AFCOOP's One Minute Film scholarship, and a dance film through a scholarship at the Centre For Art Tapes. She is an Artist-in-Residence at Halifax Dance, and member of the Canadian Alliance of Dance Artists.
Susanne Chui
Susanne Chui is Halifax–based contemporary dance artist. Moving fluidly between dancing, choreographing and improvising, Susanne collaborates with a range of dancers and musicians to create unique dance works. The recipient of the 2012 Dianne Moore Creation Schloarship, Susanne collaborates regularly with Jacinte Armstrong, Lesandra Dodson, Gwen Noah Dance, Verve Mwendo, Mocean Dance Company, Phin Performing Arts,as well as with SiNS (sometimes in Nova Scotia) Dance, a collective she co-founded in 2005 with Jacinte Armstrong and Sara Coffin. From 1999-2007 Susanne was based in Toronto where she attended the School of Toronto Dance Theatre. A founding member of Tilt: sound + motion dance company Susanne had the pleasure of performing works by some of Canada's finest choreographers including, Robert Abubo, Marie-Julie Asselin, Bill Coleman, Lesandra Dodson, Deborah Dunn, Sasha Ivanochko, Sharon Moore and Heidi Strauss. Independently Susanne also danced for many Toronto-based choreographers and worked extensively with Yvonne Ng with whom she toured to Singapore in 2005. Susanne is a company-in-residence at Halifax Dance and a member of the Canadian Alliance of Dance Artists.
La petite mort
Maryse Damecour (Québec)
27 minutes
La petite mort begins with two dancers, a man and a woman, isolated in discrete worlds. Proof that as human beings we are essentially alone? We watch a meeting take shape with considerable effort and violence. Exhausted, with nothing left to lose, both follow their own distinct dramatic thread, coming together repeatedly and often, seemingly, by accident. Maryse Damecour's overwhelming, violent, and highly theatrical choreography is anchored by Mériol Lehmann's soundscape, equal parts sound and noise, melody and ambience. Brice Noeser and Véronique Jalbert blur the line between dancing and acting, inhabiting multiple physical and psychological states with a frantic energy reminiscent of the animal struggle to survive. Death, desire, fear, atavism—La petite mort cuts a wide thematic swath but always circles back to one fundamental question: Is solitude inherent to the human condition?
Choreography : Maryse Damecour
Dancers: Véronique Jalbert, Brice Noeser
Music : Mériol Lehmann
Lighting designer : Luc Vallée
Consulting dramatist : Laurence Brunelle-Côté
Costumes : Daphnée Lemieux-Boivin
Rehearsal manager : Sonia Montminy
Maryse draws on her theatrical experience to mine the creative potential of multiple subtexts. In La petite mort, she rises to the challenge of creating a choreography where meaning and images share the stage. The process began with fundamental concepts, death and desire. Secondary themes emerged, subtending the choreography. The dancers work was a sort of "physical translation," interpreting the chosen themes with their bodies. Every action or physical state was associated with a keyword. The task, then, was to assemble these elements, enriching each idea by layering on strata of meaning. For example, the woman responds to commands—"straddle" or "give birth" or "die burned at the stake by the inquisition"—and faces the challenge of combining these disparate notions into a unified series of movements. The focus of the choreography shifted from dance to theatre. At all times the dancers must bring as much subtext as possible to bear. The piece is constructed through the accretion of meaning, to overwhelm spectators and shake them out of their passivity by forcing them to choose where to focus their attention.
Maryse Damecour
Maryse completed a diploma in dance at École de danse de Québec (Quebec City) after studying sociology at Laval University, where her interests included the construction of identity. Since graduating she has worked in dance and physical theater with directors and choreographers of diverse styles and backgrounds such as Daniel Bélanger (Code universel), Harold Réhaume (Le fils d'Adrien danse), Hanna Ab Del Nour (Théâtre de l'Urd), Jean-Philippe Joubert (Lucy), and Emmanuel Jouthe (Cinq humeurs). As a choreographer, Maryse has never stopped examining the fundamental questions of human existence, especially identity. Does any one of us really have a single, unique, and definable nature? Her work showcases multiple personalities within a single body and plural meanings in a single movement. Working by accretion, her dance shifts between movement and memory, questioning the solidity of the very ground we walk on. Maryse's last project impressed both audiences and critics, with very different versions presented in two cities—STAG 1 in Montreal and STAG 2 in Quebec City. The Canada Council for the Arts awarded her a grant to pursue her work with a brand new creation, La petite mort.
Pale water 1ère partie
Dorian Nuskind-Oder / Delicate Beast (Montréal)
10-15 minutes
Pale Water, Dark Sea is a solo in two parts; a double portrait exploring the dualities of surface and depth, of image and experience, of the mundane and the mysterious. Created in collaboration with visual artist Simon Grenier-Poirier, the dance unfolds in two distinct environments, one bright and one dark. Pale Water (Part One) takes its inspiration from the porcelain surface of an egg, the anonymous beige of a waiting room, and the plastic flesh of a mannequin. A dancing body pushes against formal constraint and blushes with the effort.
Choreographer and performer: Dorian Nuskind-Oder
Lighting : Dorian Nuskind-Oder, Simon Grenier-Poirier
Sound design : Simon Grenier-Poirier
Costume design : Lauren Semeschuk
Rehearsal manager : Lauren Semeschuk
Standing in front of a body of water, we experience it as a massive and impenetrable surface. However, if we move closer and shift the focus of our eyes, that opaque surface suddenly becomes transparent; our perspective shifts and the water reveals a depth that was previously concealed. The creation of this new solo began with the question of how a dancer's body, like a body of water, can also demonstrate these qualities of surface and depth. When I watch a dancer, I can either focus on the physical presence of her body (her flesh and bone), or I look through this surface in search of associations, symbols, and concepts. I am interested in this shift of perspective, and how my attention moves from the surface of a situation to its depth and back again. Contextualizing elements like sound, lighting, costume and the performance space itself, can drive my attention to one side or the other, as can the intention with which a dancer approaches her movement. I have also noticed how duration, repetition, rhythm and stillness can provide the space for a change of perspective. Working in a solo format, I've begun to explore how to use these tools to create a work which encourages a constant shifting in point of view. In doing so, I'm studying the act of looking itself, how we choose to look at a performer, and how I, as a performer, invite an audience to look at me.
Dorian Nuskind-Oder
Originally from New York City, Dorian Nuskind-Oder is a performer and choreographer based in Montreal. She completed her BFA in dance at New York University-Tisch School of the Arts, where she was a recipient of a National Merit Scholarship. In Montreal, her choreography has been presented by Tangente and Studio 303. Upcoming engagements include Piss in the Pool 2012, and touring to Halifax, Quebec City and Nottingham, England. Dorian co-founded Delicate Beast in 2009 as a platform to support ongoing creative projects in both Montreal and New York. Over the past two years, the company has been offered creation residencies by Circuit-Est, Studio 303 and the Concord Summer Stages Festival (Massachusetts).
Simon Grenier-Poirier
In addition to being a musician, Simon is a visual artist focusing on photography and land art. Having completed a DEC in electro-acoustic recording, he is currently pursuing a BFA in Fine Arts at Concordia University. Simon has also recently completed a European tour with the Montreal-based band, Automelodi.