National and international networks
Tangente has developed collaborations and partnerships across Canada, North and South America, Europe, and Asia. More than fifty choreographers and companies from here and abroad have benefited from choreographic exchanges and tours.
At the national level, Tangente cofounded the CanDanse network, a forum for discussion and networking that now counts forty members across the country. Tangente is also a member of La danse sur les routes du Québec.
Internationally, Tangente has developed relationships with the Arab world during the 2018 edition of the On Marche de Marrakech festival and the 2017 and 2019 editions of the Beirut International Platform of Dance.
Tangente's attention is particularly turned to places where emerging contemporary dance is quasi-forbidden and sometimes even dangerous to practice.
Interstices: the Montréal-Jerusalem choreographic exchange project
This three-year choreographic exchange project between Jerusalem and Montréal was initiated in 2015 by way of conversations between two artists-curators: Elad Schechter, director of c.a.t.a.m.o.n Jerusalem, and Dena Davida, then curator at Tangente.
Tangente and c.a.t.a.m.o.n share mutual interests that foster cross-cultural artistic exchange and offer support to emerging and mid-career choreographers. Their work also helps to create opportunities for advancing dialogue and understanding between countries and societies.
Coming from Québec and Jerusalem, they are particularly attuned to the importance and richness of cultural identity and history as a predominant narrative in their artistic visions, as their communities struggle to define their place in the wake of globalism. Interstices therefore aims to set up activities to foster encounters, sharing, writing, and studio exploration between Jerusalem and Montréal artists, and to encourage visits of the city and its artistic and cultural spaces. The exchanges are necessarily influenced by each city's artistic, political, economic, and social differences.
Tangente and c.a.t.a.m.o.n are happy to initiate opportunities for dialogue between artists who come from a variety of cultural backgrounds.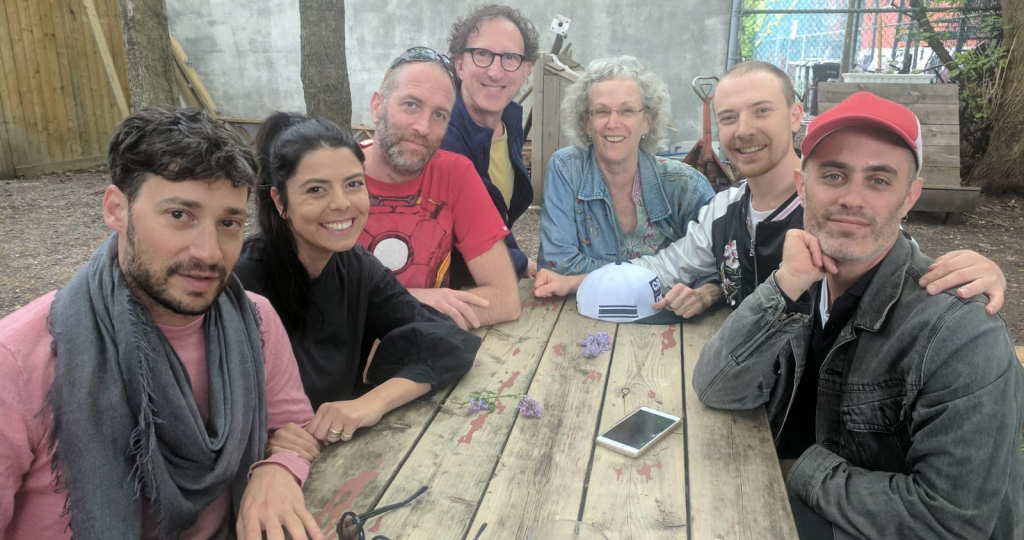 Interstices
---
The participants
Jerusalem: Or Ashkenazi, Ruby Eidelman, Ido Feder, and Sophia Krantz.
Montréal: Jason Martin, Suzanne Miller, Dorian Nuskind-Oder, Philip Szporer, Andrew Tay, and Nate Yaffe.
Timeline
June 2016: Elad Schechter and Dena Davida visit each other's cities with the financial support of the Consulate General of Israel in Montreal.
2017-2018: a two-week expedition is held in each city with the eight participants. Visitors are accompanied by their hosts as they follow a schedule based on their interests.
2019: some artistic proposals are put forward thanks to the work of c.a.ta.m.o.n and its partners, as well as the financial support of the city of Jerusalem. They include choreographic studies and collaborations, public presentations, essay publication, retreats, seminars, and much more.
About Elad Schechter
Elad Schechter, who launched c.a.t.a.m.o.n Dance Group, also founded a cooperative space to house several artistic organisations and created a local dance festival, where Montréal artists are invited to present their work.