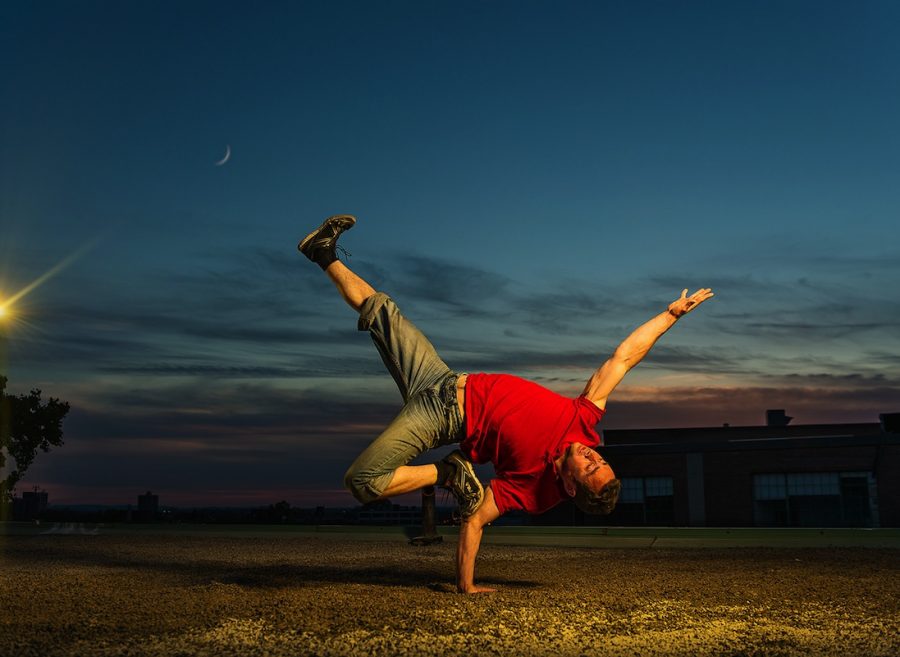 Vital forces
Hip-hop infused choreographies that embrace literature, philosophy and spirituality
DECEMBER 1. 2. 3 | 7:30 PM
DECEMBER 4 | 4 PM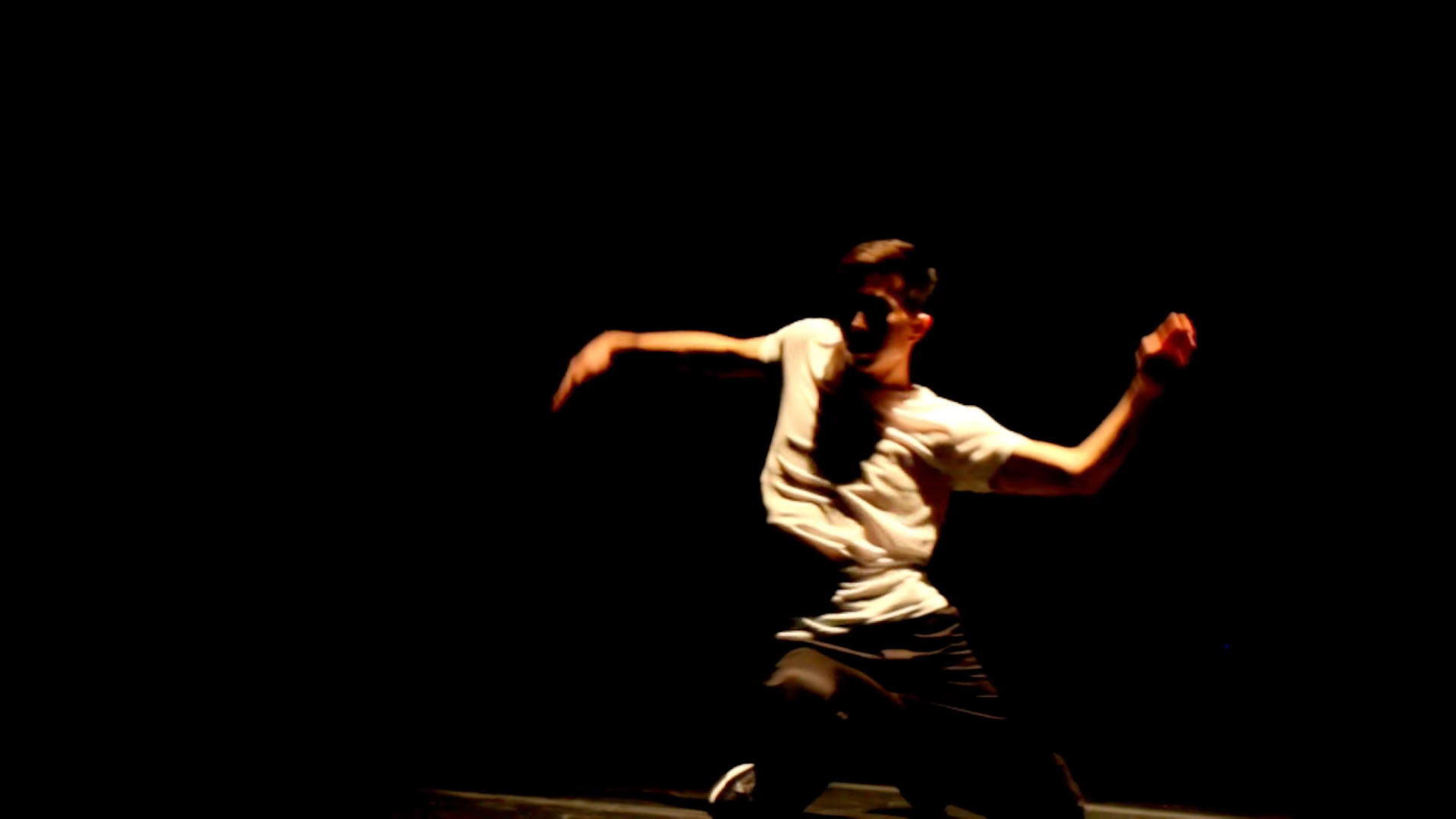 WHEN THE CLOCK STRIKES ME + ONE DAY SOONER + ALBEIT
Greg "Krypto" Selinger
30 minutes
He harnesses the spectacular power moves of break dance by exhausting his physical strength and exploring his limits of bodily contorsion. But this seasoned creator-performer shuns bravado for its own sake, preferring a sincere investigation into the intricate connections between prose, movement and the deeper meanings of life on earth. By brainstorming and bodystorming in search of resonant movements to embody the hip-hop poetry of Saul Williams and his own written texts, this futurist seeks to share with us some of the Big Ideas from the fields of quantum physics and the philosophy of consciousness. Can we reverse the aging process? What steps can we take to assure that our species thrives throughout eternity? Words fly and reverberate joyfully throughout his body. We laugh and we ruminate. He transforms himself, leaping, contorting, and exploding in an acrobatic virtuosity. Can a dance performance bring us to see the world with new eyes?
Choreographer and performer Greg "Krypto" Selinger
Lighting design Sophie Robert
When the Clock Strikes Me is an attempt to dutifully share a quote that inspires me. With countless beautiful words competing for our attention each day through social media, and our attempts at verbal communication, I wanted to use the medium that I know best to help make Saul Williams' words resonate. I had been wanting to present this poem for a long time, and the 100Lux hip hop festival first gave me the opportunity (and pressure of a deadline!) which helped make it happen. Most of the piece was created by reciting the text over and over again while improvising movement. I would feel how different sentences affected my mind and my body. Victor Quijada had danced a Saul Williams poem years before I had, so I turned to him to see if he would be willing to coach me on the work. He challenged me to take apart the text line-by-line and to analyze choices that would often reappear from one improvisation to another.
Gregory 'Krypto' Selinger's physical feats and eclectic style make him a staple of the breakdance scene. His explorations of the untapped possibilities of bboy vocabulary continue with exponential velocity. Inspired by breakdance pioneers, Gregory has interpreted for Solid State Breakdance Collective and choreographed the trio Still Milking the New Sacred Cow under the mentorship of Victor Quijada. His duet Vague with Gélymar Sanchez won a Studio 303 Flexi-Prize. His autobiographical danced monologue A Piece of: My Heart (Breaking) has been presented in Montreal, Quebec City, Ontario, Germany, and Mexico. In 2015, he interpreted for The Dietrich Group's award-winning piece This is a Costume Drama. He is currently interpreting for Alias Dance Project and is directing a solo for breakdance legend Jacob "Kujo" Lyons, which will be presented at the MAI Theatre in May 2016. He is also the founder of the interdisciplinary improvisation collective Body Slam.
IN YOUR PRESENCE : INJOY + LABYRINTH + ABSOLUTION
Daniel Wook Jun & Abdel-Hanine "Abnormal" Madini
30 minutes
His Korean name means "to make light." Wook is the choreographic and existential mission of this keen dancer. This is dance as a form of worship, seeking to bring both performer and audience onto the wavelength of some form of higher power. On stage, the dancer's electrified body is transformed into a vessel for the exploration of worship, through which his dancing takes us on an intense spiritual quest to find truth, peace, and freedom. Combining a mystical animalistic essence with the street dance elements of waving, popping, animation and gliding, his idiosyncratic dancing proposes an interplay of robotic and organic movements. This virtuosic, physically challenging choreography is shaped within vivid pools of light, punctuated by powerful voices and energized by an eclectic mix of sounds ranging from gospel to trap. A transcendent experience awaits spectator-witnesses to the cypher that is InJoy.
Artistic director, choreographer and performer for InJoyDaniel Wook Jun
Co-creators for Labyrinth Daniel Wook Jun, Abdel-Hanine "Abnormal" Madini
Performers for Labyrinth Daniel Wook Jun, Abdel-Hanine "Abnormal" Madini
Performers for Absolution Abdel-Hanine "Abnormal" Madini
Lighting designer Benoit Larivière
A Korean artist with a culturally eclectic upbringing, Daniel "Wook" Jun came to Montreal in 2007. Here he found and nurtured his roots as a dancer, an artist, and an entity. What started as a budding flame of fascination (or calling perhaps) quickly developed into a fun hobby, then a form of therapy, an obsession, and ultimately a visceral exercise in self-discovery and expression. His particular attraction towards "Popping" delved him deeper into its art form and culture. Daniel was part of the local popping crew, "Chaos" from 2009 to 2015, went through the furnace of the ROKMC from 2010 to 2012, and graduated from McGill University in 2014. Since then he has worked with Cirque du Soleil, numerous national and international festivals, and PRIUM – a street dance company under the direction of Handy "Monstapop" Yacinthe. His Korean name means "to make light"; and it is precisely the mission of WOOK.
Abdel-Hanine Madini – also known as Abnormal – was born in 1993 from Algerians parents. He has been dancing since childhood, but in 2010 he discovered the dance styles of Popping, Robot, and Animation. It was love at first sight. Since then, he has made a name for himself in the Montréal urban dance scene. He was the finalist in the popping category of the Bust A Move competition in 2014. He has won the "La Preuve" competition in Popping in 2014 and 2016. He has worked several times with Cirque du Soleil, including for Macy's Thanksgiving Parade and the Cirque's 30th Anniversary. For him, life is a process the aim of which is to seek and acquire knowledge in order to grow. Dance is his starting point.
In 2009, after 15 years in IT, a choice as to be made, keep working in the same field after a massive layoff or work daily with passion. Benoit Larivière chose the path of passion and signed up for a stage technician program. Throughout the projects, small and big, he found his way in lighting design. 2014 is the beginning of collaborations in theatre and the creation of the lighting designs for the Passerelle 840, from the dance department of Uqam. Since he works with Tentacle Tribe, Ebnfloh, Monstapop, 100Lux, Andrea Pena and the theatre company Les écorchés vifs.