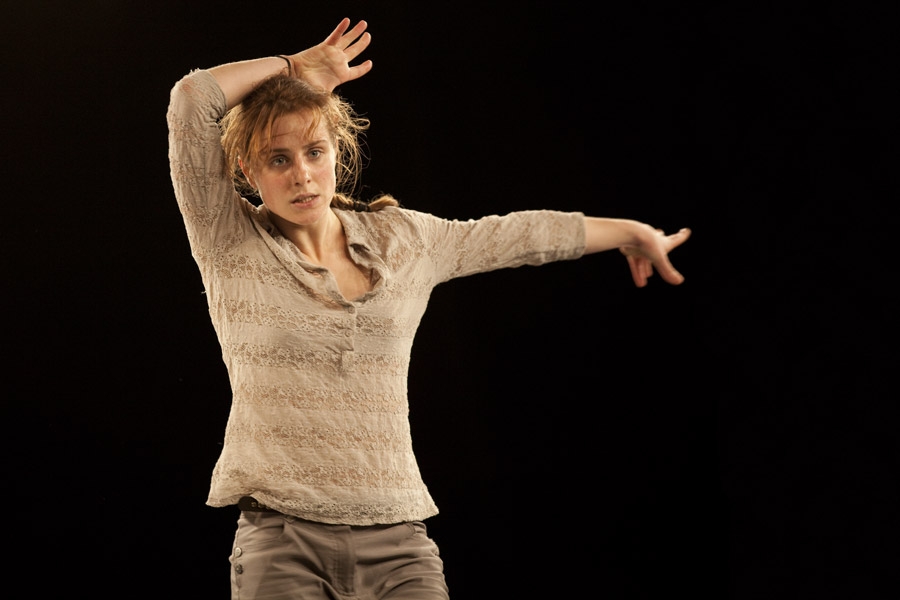 Valse en trois temps – solo + Oriri
Valse en trois temps - solo
Christian & François Ben Aïm (France)
15 minutes
On a classical music theme, Christian & François Ben Aïm put into perspective artistic disciplines, this time between contemporary movement and classical music. This solo will be questioning notions of abstraction and fluidity of the body in space. The choreographical act is emphasized here, proposing a moment of aerial dance, when the soul lets itself goes and travels with its body.
Performer : Aurélie Berland
Lights : Laurent Patissier
Musical arrangements : Jean-Baptiste Sabiani
Coproduction : Théâtre de La Madeleine – Scène conventionnée Troyes
Aide à la création : Conseil régional de Champagne-Ardenne
Soutiens : La Menuiserie, fabrique artistique du pays de Briey (résidence de création), ARCADI dans le cadre des plateaux solidaires, l'Atelier de Paris – Carolyn Carlson, Centre national de la Danse.
The company receives a financial support of the Ministry of Culture of France (compagnie chorégraphique conventionnée), of the Région Ile-de-France (la Permanence Artistique et Culturelle et de l'Emploi tremplin) and of the Conseil Général du Val-de-Marne (l'aide au fonctionnement). The company received the support of the Office franco-québécois pour la jeunesse (OFQJ) for this show.
This solo is an extract of Valse en trois temps, Choregraphic creation composed by three short forms : a solo, a duo, a trio. Exploring the heteroclite universe of the choreographers : between dance, circus, plastic arts and music, more than previous pieces, the Ben Aïm brothers have been working on the poetry of gesture, and on physical involvement. Nevertheless, this time, the poetry will invent itself for all kinds of places, outside theatres, and in original and new dance places.
Their intention is to propose a new piece which interacts the most directly towards the spectator : proximity with the audience, no black box, few scenic effects. It is meant to meet with different audiences, a first approach to contemporary dance for some, a discovery of the trans-disciplinary universe of the company for others.
Christian & François Ben Aïm
The work of Christian & François Aïm Ben explores different faces of our humanity: memory, commitment, observation of everyday life, dreams … After spending two years in Montreal, they created the company in 2000 CFB 451, located in the Val-de-Marne, near Paris. Today, fifteen pieces, from the solo to 10 dancers have been created. If their choreographic research, close to some parts of the dance-drama finds its inspiration in different worlds such as the poetry of Gaston Miron, photographs by Josef Koudelka or parts of Bernard-Marie Koltes, they also develop an original writing mixing dance with other disciplines such as video, poetry, music, theater or circus. Valse en trois temps in 2010 or L'Ogresse des archives et son chien created in autumn 2011 is an opportunity for them to continue their work of co-directors. Their choreography requires both committed bodies and detached emotions. Christian and François Ben Aïm have developed an expressive language that allows ample scope for the performer to interpret their choreography. The interplay between dance and text as well as between dance and music is a touchstone for them.
Aurélie Berland
Aurélie Berland trained at contemporary dance CNSMDP where she graduated in 2006. She then works mainly with Daniel Dobbels in : L'Insensible déchirure (2006), L'Epanchement d'Echo (2007), Danser, de peur (2010), Effectif réduit (2011), Six danseurs en quête d'auteur (2012) and in the solo Les yeux blonds (2008) and Rencontre informelle (2010). Since 2011, she studies notation of dance movement, Laban system at CNSMDP. In 2013, she danced for Christine Gerard in In Vivo at the Georges Pompidou Centre. She joined Christian and François Ben Aïm since 2007 in Amor Fati Fati Amor (2007) Resistance au droit (2010) and Valse en trois temps (2010).
Oriri
Sarah Dell'Ava
25 minutes
ORIRI is the Latin root of the word 'origin,' meaning to birth, to rise, and to jump out of.
Many beings walk, nest, germinate, rise, jump.
Tapping of palms, sheep bells, vibrating strings, rocks that resonate.
ORIRI is an exploration of the cyclicality of time and the attention paid to every micro-second of movement.
Choreography : Sarah Dell'Ava
Performers : Karine Bouchard, Alex-Ann Boucher, Annabelle Chouinard, Dena Davida, Sarah Dell'Ava, Geneviève Dussault, Nicolas Filion, Ilya Krouglikov, Sachiko Sumi, Gabrielle Surprenant-Lacasse
Music (tanbur) : Pooria Pournazeri
Lighting : Hugo Dalphond, assisted by Anne-Sara Gendron
Photography: Orion Szydel
This project has been supported by the Programme d'aide aux artistes en danse (PAAD) of the dance department at UQAM.
Work in the studio was guided by two principles: "there is a time for everything," and "there is no time."
Ecclesiastes 3.4:
"There is a time for everything…a time to be born and a time to die, a time to plant and a time to uproot, a time to kill and a time to heal, a time to tear down and a time to build, a time to weep and a time to laugh, a time to mourn and a time to dance, a time to scatter stones and a time to gather them, a time to embrace and a time to refrain, a time to search and a time to give up, a time to keep and a time to throw away, a time to tear and a time to mend, a time to be silent and a time to speak…nothing can be added to it and nothing taken from it… All go to the same place. "
Marguerite Yourcenar
"Accept that this being or that, whom we loved, is dead. Accept that they are only one among millions of dead. Accept that they, while living, had their weaknesses, their baseness, their mistakes, that we try in vain to recover pious lies, partly out of respect, partly pity for them, largly pity for ourselves, and out of the vainglory of having only loved perfection, intelligence, or beauty. Accept the independence of the dead, do not chain them, the poor shades, to our living movement. Accept that they died before their time, because there is no time…"
Sarah Dell'Ava
Born in Switzerland, Sarah Dell'ava was trained in dance at the Atelier Danse Manon Hotte/Compagnie Virevolte (Geneva, 1995-2006), a company for young dancers/creators. After finishing her bachelor's degree in dance at UQAM in Montreal, she proceeded to complete a master's degree and then immediately delved into an ambitious research-creation project, exploring the link between visual arts in dance by reaching back to the origins of movement itself (2012). Refining a choreographic language that is rooted in the inner being, since 2008 Sarah has participated as often as possible in the butoh-inspired workshops of Jocelyne Montpetit. As a performer, she takes pleasure in collaborating with artists whose work inspires her, including les sœurs Schmutt (À travers la pared, 2013-14), Geneviève Caron-Ferron (Tout est dit, il ne reste rien, 2012), Emmanuel Jouthe (Ecoute pour voir, 2009-13, MW, 2012 Proximité Variable, 2013), Manon Oligny (Boire le bouillon de onze heures, 2009; Où est Blanche-Neige,2013) et Maryla Sobek (Taller : Objet-vêtement, 2010). Her own projects seek to generate movement through sensations coming from inner essence, while bringing dancing bodies and graphic matter together in a dynamic exchange that incites confrontation as well as collaboration (Dans les carnets, 2010; Dans les plis, 2011). Sarah also enjoys teaching dance, playing her accordion, drawing, painting, and Corsican polyphonic singing. www.sarahdellava.org