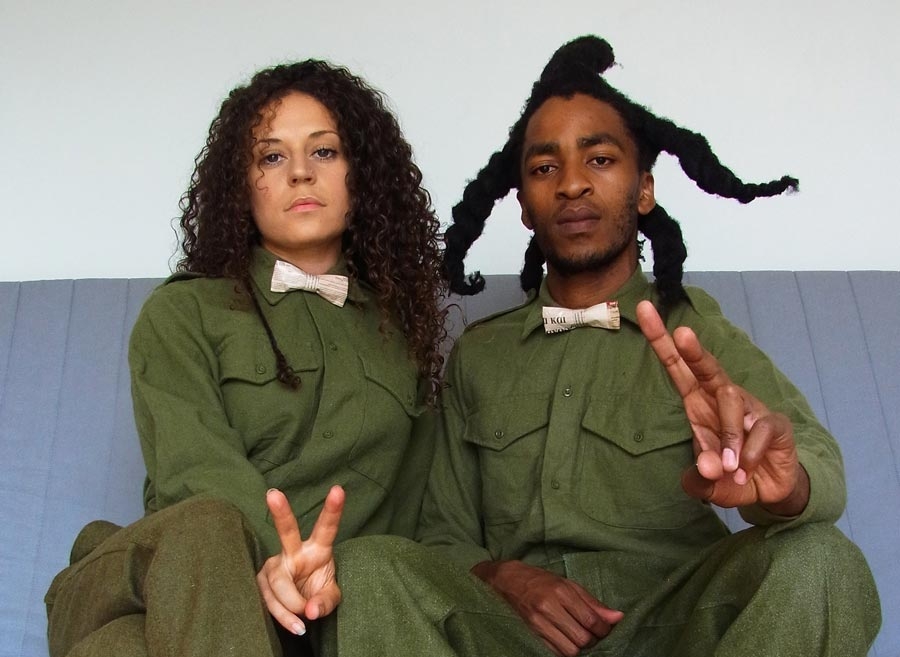 Tikvahthemba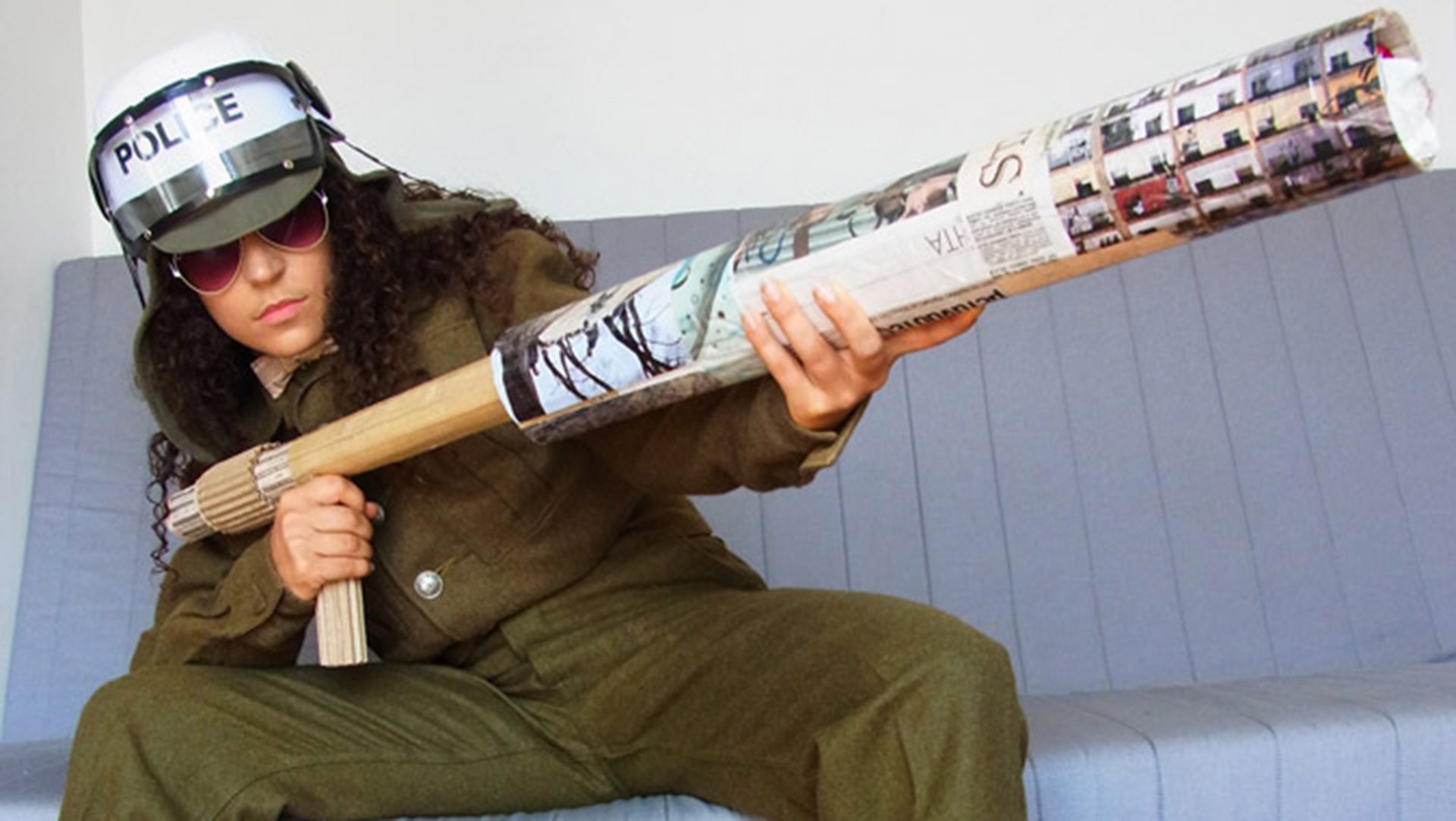 Tikvahthemba
Pamela Schneider & Sifiso Seleme
50 minutes
TikvahThemba is a public performance that questions the powers that be. Why are Violence, Power and Fear the nouns projected by those in control; those who make the decisions that dictate our futures, those we are supposed to trust? It relays a message from the grass roots, emulating the power and transforming the nouns into those of Hope, Love and Respect. TOGETHERNESS. Performed by "Soldier of Peace" personae, the dance embodies the images of power through authoritarian movement vocabulary, combined with street-style movement. Both choreographers/performers have a foundation in street-dance that emerged out of the oppressed youth: Pantsula, a post-apartheid resistance dance and lifestyle for black youth in South Africa, and Breakdance, thus the movement vocabulary itself has an underlying significance. Driven by bold striking images, fashionably polished with witty humor, contrasted with politics expressed from the perspective of the ground-populace, Sifiso and Pamela have created multidisciplinary interventions that encourage dialogue and actions amongst viewers and participants.
Concept, choreography, performers, videographers, costumes designers, set Designers, music composition : Pamela Schneider & Sifiso Seleme
Lighting designer : Rasmus Sylvest
Presented in collaboration with Pop Montréal
Sifiso and Pamela met at Vienna's ImpulsTanz Festival in the summer of 2012, where they were instantly inspired by each other's work, creative methods, vision and aesthetics. Initiated by the potential to participate in an International Peace Day event, they began their creative discussions by skype. Both feeling an urgency to take it further, they took a leap meeting in Athens, where they were graced with the generosity of local artist, Kostas Tsioukas, who provided them with a residency space in which to create. It quickly became clear that their combined backgrounds of opposite extremes enriched their partnership; complementing one another's work and knowledge base. Sifiso's roots in guerilla-performances combined with Pamela's practice in commissioned large-scale public works, brings about a unique balance that is expanding their outreach, as well as each other's perspectives. Their first performance piece, TikvahThemba, so far performed in the streets of Athens and Israel, continues to evolve. The piece premiered at various International Peace Day happenings in Israel, Sept 2012.
Pamela Schneider
Pamela Schneider of Montreal, Quebec is a co-founder and creative force behind Moment Factory, the multimedia Arts and Entertainment Company. Combining her education in social-sciences with an interdisciplinary degree in video, dance, sound and electronic arts, Pamela has established a solid reputation as a professional dancer/choreographer and multimedia visionary with a talent in designing high-impact shows and interactive experiences. Some of her most celebrated projects include co-directing the virtual environment for Madonna's Superbowl performance (2012), multimedia design/direction for Arcade Fire's "Summer into Dust" at Coachella (2011), creating/integrating the Interactive video and technology for Nine Inch Nails' "Lights in the Sky" World Tour (2008), assistant choreographer for Shakira and Wycleff – "Bamboo" at the FIFA closing ceremony in Berlin (2006), and writing and directing "Mosaika": the Sound & Light show (presented every night on Canada's Parliament (summer 2010-2015). In the summer of 2012, she wrote and directed a Cirque du Soleil show: "Les Chemins Invisibles – chapter 4 – The Pixel Frontier", integrating 40 circus acrobats/extreme sports athletes/urban-contemporary dancers and musicians into an immersive environment with interactive video projections and technologies. True human connection and involvement through positive energy exchange with the cast, crew and audience are her paramount experiential objectives. Her involvement as a co-founder, choreographer and dancer of Solid State Breakdance Collective, Perpetual Productions Performance Collective, and Nest: Art Space and Gallery, initiated her as an accessible contributor within the community and to this day, she strives to maintain an innovative grass-roots spirit. She is currently onto her next mission defying new grounds as an innovator of a nighttime destination, which harnesses technology and creativity to evolve human interactions…
Sifiso Seleme
Sifiso Seleme grew up in Meadowlands, Soweto/South Africa. His family is multicultural Zulu, Tswana, SeSwati and Pedi. He was trained in dance by various artists, such as Mxolisi George Khumalo, Sello Pesa and Carlos Pez . Sifiso performed in countries like Germany, Belgium, Mozambique, Nigeria, Morocco, Greece, Israel and South Africa. Sifiso was mentored by the highly acclaimed late South African choreographer Mxolisi George Khumalo. He currently heads a programme called Politics of this country are like fish & chips, engaging through public performances with current South African issues. In 2012, Sifiso was invited to create his new solo work Extra Ordinary at a residency at the Tanzfabrik (Berlin). Sifiso also teaches pantsula and fly low technique in Soweto. Subsequently, he was invited to teach pantsula at the ImPulsTanz Festival in Vienna in July 2012. Interested in mixing dance and visual arts, Sifiso was also trained as a photographer at the Market Photo Workshop. He is also a designer and has his own clothing range called Africanism13.