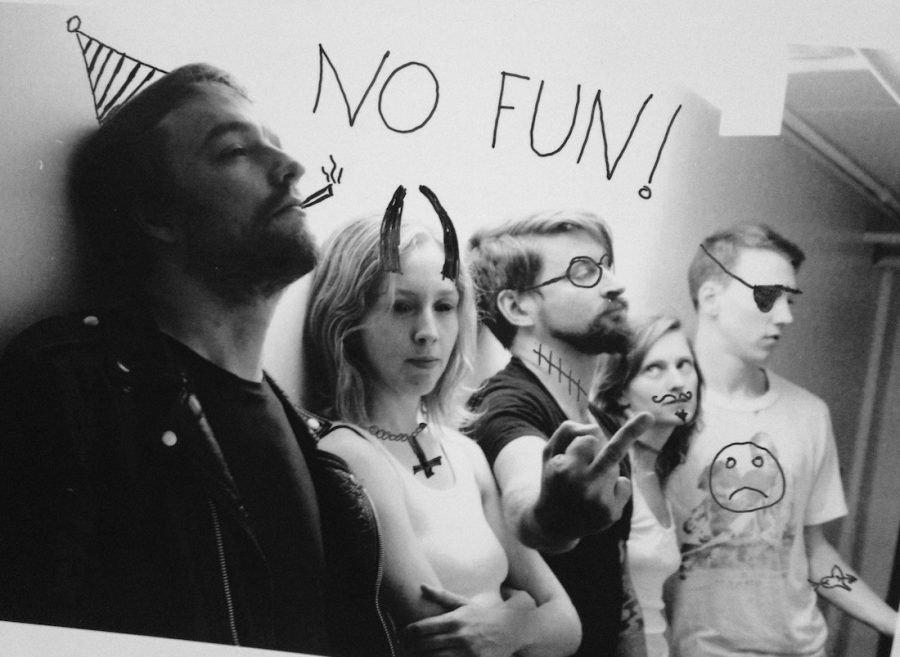 The trouble with reality + NO FUN
SEPTEMBER 17. 18. 19 | 7:30 PM
SEPTEMBER 20 | 4 PM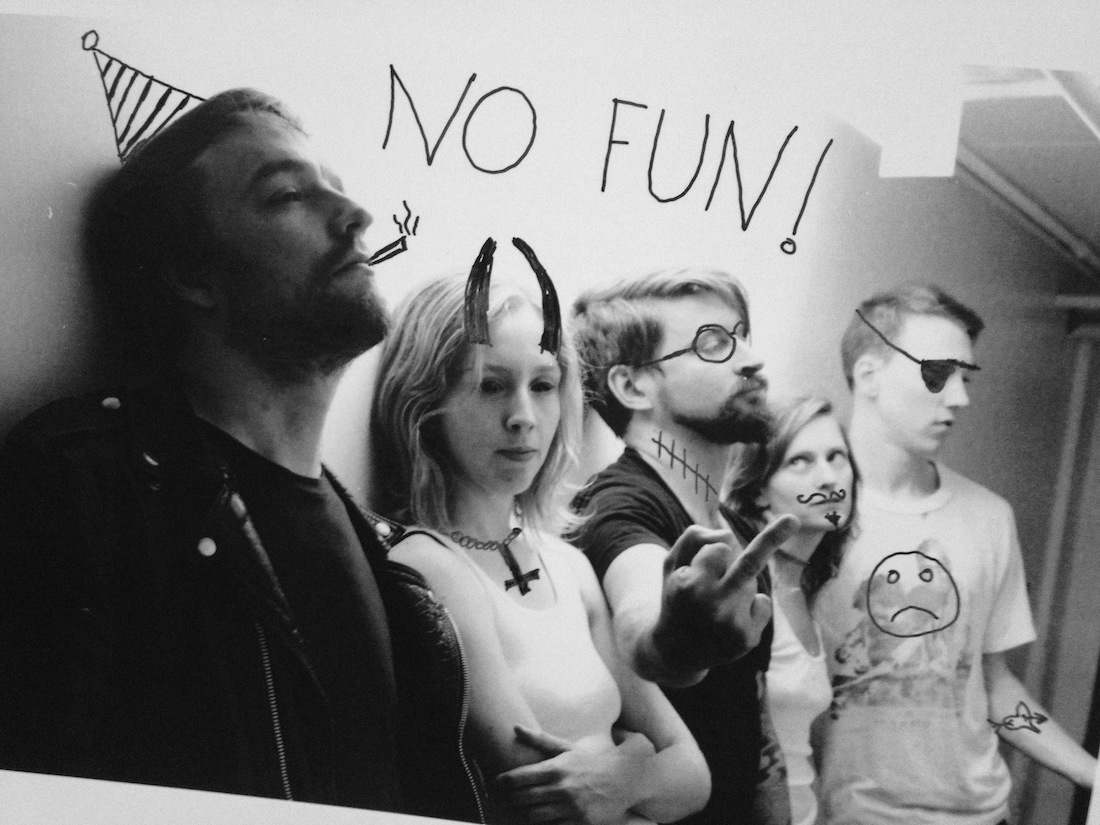 The trouble with reality
Karen Fennell & Jackie Gallant
35 minutes
Contemporary dance meets rock 'n' roll in this hybrid performance experiment that uses absurdity and humour to probe the slippery natures of identity, authenticity, and success. Exploring and exposing their real and imagined selves, Karen and Jackie play with performance codes to challenge our expectations, all the while putting on a good show.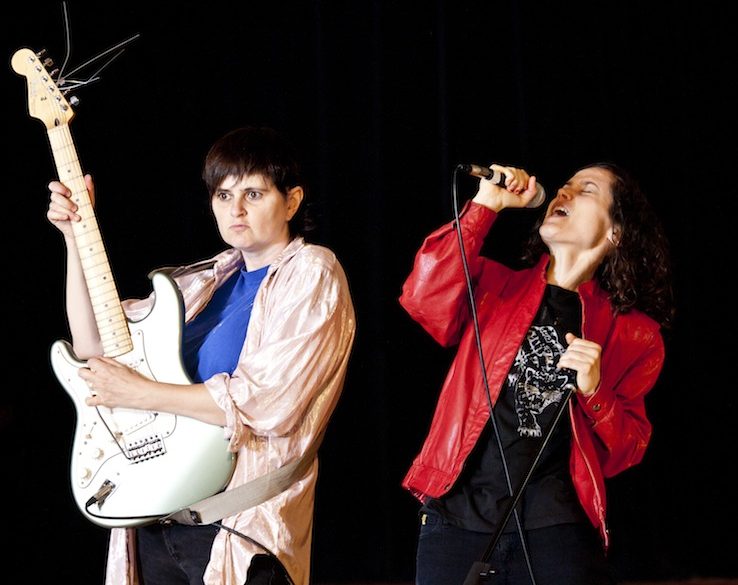 Creation and performance Karen Fennell, Jackie Gallant
Outside eye Sarah Williams
Born of an inclination that they would have fun working together, the trouble with reality developed through an extensive process of Karen and Jackie talking, laughing, singing, working, playing, and occasionally crying together. Nearly two years into this collaborative practice, K and J have found that they can usually harmonize, and occasionally even find themselves thinking the same thoughts at the same time. Despite their wildly different training and backgrounds, these two self-professed introverts have found that they share not only a lot of common interests and artistic inspiration, but an intuitive sense of timing and connection that translates into an exciting performance dynamic. Rigorous and thoughtful in their investigations, Karen and Jackie seek to constantly challenge each other's as well as the audience's expectations, using absurdity and humor to blur the lines between truth and fiction, reality and fantasy, the spectacular and the mundane.
Karen Fennell is a contemporary dance artist originally from Newfoundland, and now based in Montreal. Driven by a passion for movement, a love of performing, and a fascination with the human condition, she has pursued a double-career in interpretation and choreography since graduating from the contemporary dance program at Concordia University in 2007 (BFA). As a dancer, she has had the privilege of working on a diversity of projects with choreographers Dana Gingras, Sasha Kleinplatz, Susanna Hood, Maria Kefirova, Erin Flynn, Eroca Nicols, Allison Nichol, and Peter Trosztmer, among others. As a choreographer, her own short works have been presented on a variety of stages in Montreal, Quebec City, and Halifax. Since 2013, she has collaborated regularly with musician Jackie Gallant, and their interdisciplinary co-creations have been presented in Montreal (Phenomena Festival, Edgy Redux, Short & Sweet, Words & Music), and in Toronto at the 2015 Rhubarb Festival. In addition to her work as a choreographer and dancer, Karen produces and hosts the open performance night, So You Think That Was Dance? at Mainline Theatre, and is a certified instructor of the GYROTONIC® and GYROKINESIS® Methods.
Jackie Gallant is a musician and performer who composes, improvises, creates and performs for dance, video and film. She began her musical career as a drummer for several Montreal rock groups. Since then she's toured nationally and internationally with everyone from La La La Human Steps to Lesbians on Ecstasy. As a sound designer and composer she has worked with, among others, filmmaker Roy Cross, video artists Nelson Henricks, Nikki Forrest, and Dayna McLeod and choreographers Julienne Doko, Eddie Ladd, Sarah Williams, and Martin Bélanger. She has also frequently composed for and performed in the work of choreographer George Stamos (Reservoir-Pneumatic, Husk, Liklik Pik, Ephemeron, Essaim, Nunounon). Recently she collaborated with actor/director Marie Brassard, Sarah Williams and video artist Sabrina Ratté on the dance/theatre piece Moving in This World that premiered at Usine C and was presented in Madrid in November 2014. As a solo artist, she creates sound and video work and performs sample based improvised sound pieces using electronic drums and other instrumentation. This fall, in addition to collaborating once again with dancer/choreographers Karen Fennell and George Stamos, she will also be composing and directing a pop opera as part of the Phenomena festival.
No Fun
Helen Simard
35 minutes
Loud. In your face. Sexual but not sexy. A show that laughs in the face of failure, reaches out and strangles people, and doesn't take itself too seriously. Three dancers. Four musicians. One giant wall of movement and sound.
WARNING: This show contains coarse language, awkward silences, rock 'n' roll rhythms, and absolutely NO FUN.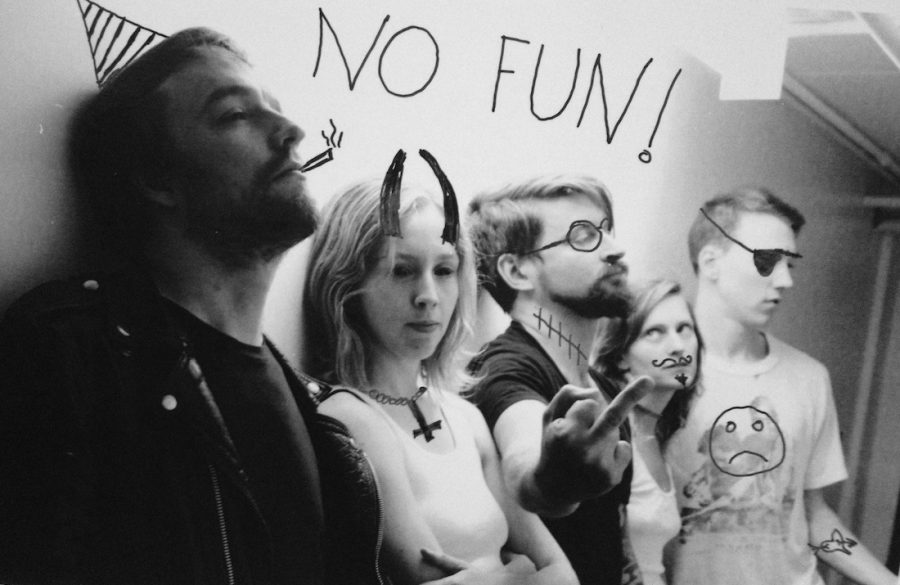 Choreography Helen Simard in collaboration with the performers
Performed by Stéphanie Fromentin, Sébastien Provencher, Emmalie Ruest and Alexandre Chavel, Rémy Saminadin, Roger White, Ted Yates (Dead Messenger)
Artistic consultant George Stamos
Scenography Loic Woehrel, Helen Simard,
Dead Messenger
Lighting designer Benoit Larivière
Thanks to the Programme d'aide aux artistes en danse of the Département de danse de l'UQAM.
In collaboration with POP Montréal.
I'm someone who wants to do something very strong and uncompromising, that I believe in and have a vision of. I want that very badly…
But at the same time, I'm the kind of a person who doesn't always have the skills or ability to do whatever that is. So in the process of creating NO FUN, many strange things happened…
For a show like this? We wouldn't rehearse. No. Because then it wouldn't really feel to me like what we actually do, you know?
So we just come in and do it.
And sometimes that's fun. But sometimes it's confused, vague, undefined, and tense.
And I think if it's tense, it's maybe because… we have to make it tense.
Because otherwise, some director or technician or critic or funding body would be telling us what to do.
But I can't think about that.
To tell you the truth, when it comes to my art, I'm not the kind of person to think nothing about anything. Or anything about nothing. I have no opinion on you, on anybody, or anything.
I really haven't the extra time to have opinions… Or to think too much.
Montreal-based choreographer, dancer, and interdisciplinary contemporary performer Helen Simard holds a BFA in contemporary dance from Concordia University (2000), an MA in dance from Université du Québec à Montréal (2014), and is currently pursuing a PhD in étude et pratique des arts (study and practice of arts) at UQAM. From 2000 to 2012, she was co-artistic director, co-choreographer, and interpreter for Solid State Breakdance, with whom she participated in the collaborative creation of nine choreographic works, which toured around Quebec, Canada, and Europe. Since 2011, she has taken inspiration from rock 'n' roll aesthetics, as well as the beauty of failure and the absurdity of everyday life to create acts of physical poetry that are at times honest and intimate, and at times aggressive and difficult to understand, but which always seek to erase the boundaries between dance, music, and physical theatre. She has presented her solos and group pieces at Squiggfest in Toronto (2006, 2007), the Genderbent Cabaret in Winnipeg (2008), the Guelph Contemporary Dance Festival (2015) and at Tangente (2010), Piss in the Pool (2011, 2013), Short and Sweet (2010, 2012, 2014), le Théatre Mainline (2012, 2014), la Piscine Théâtre (2013, 2014), Quartiers Danses (2014), Festival Phénoména (2014) and Cabaret Tollé (2015) in Montréal. Helen is currently a member of the Body Slam interdisciplinary improv collective, and has worked as an interpreter for a number of dance and theatre companies, including: Les Néos (Théâtre néofuturiste); Les Flip Femmez; Ahérosol; Marta Marta House of Pride; Wants and Needs; Tusket Dance; and Cirque du Soleil's special events department. She has also worked with Tenticle Tribe, Greg Selinger, and Mathieu Leroux as a rehearsal director.
Stéphanie Fromentin is a French-American dancer and choreographer living in Montreal. She developed her artistic versatility in creation and interpretation studying contemporary dance at Concordia University where she obtained her BFA degree with distinction in 2004. She obtained her MA in dance in the summer of 2014 from UQAM, where she was honored as the recipient of the Pierre Lapointe scholarship for academic excellence in 2011/2012, and worked as a teacher's assistant in 2013 and 2014. Stephanie has presented her own works in Montreal, Toronto, New York, Paris and Grenoble. She has danced for Helen Simard, Parts+Labour_Danse, Wants&Needs danse, Daina Ashbee, and other independent choreographers in Montreal. Her current research shows commitment towards explorating of time and presence in performance.
Sébastien Provencher completed his degree in contemporary dance at UQAM in 2013. He has danced for choreographers such as Emmanuel Jouthe, Manon Oligny, Andrée-Anne Ratthée, and Helen Simard. Sébastien has also a strong interest for creation, and has choreographed a number of short works, including Enactive Mind (2012), Serait-il impossible de vivre debout (2013), and Ne m'en excuse pas/ (2013). His work has been presented at Quartiers Danses and Vue sur la relève in Montreal and the Festival Universitaire International de Danse et des Arts du Movement in Lyon, France. Sébastien also has a degree in occupational therapy from the Université de Montréal.
Emmalie Ruest (BA UQAM, 2001) has had the opportunity to work and train with choreographers such as Deborah Dunn, Manon Oligny, Ginette Laurin, Manon Oligny, and Katya Montaignac. She also collaborates regularly with Karenne Gravel in an on-going collaboration through their collective Dans son salon. The duet created three pieces: Et si tu n'existais pas variations (2010), Parce qu'on sait jamais (2012) and Fin de party (2013). Their work has been presented at several venues, such as: Zone HOMA (2011-2013), OFFTA (2013), Festival Accès danse (Châteauguay, 2012) and Dance Matters, (Toronto, 2012). Emmalie has also worked as a supporting performer in the show Soak by Caroline Laurin-Beaucage (2012), and has danced for Manon Oligny in the project Où est Blanche-neige? since the spring of 2012. She also appeared as a dancer in the films Aurore 2 (2013) and Alarm songs (2014). At present time, Emmalie is an active collaborator as interpreter for Helen Simard.
Dancer, choreographer, educator George Stamos is known in for his trans-disciplinary creations that are at once physically dynamic, funky, intelligent and playful. Over the past twenty years his works GoGo Condition, Schatje, White Man Dancing, Monday, croque monsieur, Reservoir-Pneumatic, Husk and Liklik Pik have received the acclaim of audiences and critics alike. George is also known as a versatile dancer who has collaborated with numerous prominent choreographers including Benoit Lachambre, Sara Shelton Mann and Zab Maboungou. His training is rooted in postmodern dance techniques as taught at The School For New Dance Development in Amsterdam, where he graduated in 1993, the knowledge gained through working with master choreographers and 10 years of experience as a go-go dancer in his formative years in Toronto, London, Amsterdam and NYC.
Rémy Saminadin began his musical career by playing "gwoka", the traditional percussive instruments of his home country, Guadeloupe. He joined his first Guadeloupian folk band at the age of 16, playing gwoka and drums. In 2003, he decided to leave his island in order to study in Lyon (France), where he explored new musical territories. He was accepted to the Conservatoire National de jazz in Lyon in 2008, where he would deepen his technical proficiency and theoretical knowledge as a musician. There, surrounded by talented peers and inspiring teachers, he began to experiment as a composer. In 2011, Rémy moved to Montreal in search of new influences and hungry for new musical explorations. He has collaborated and performed with artists such as Body Slam, Helen Simard, Greg Noel, Future Flight, and Electrophazz, to name but a few.
Loic Woehrel is a certified electrotechnician who specializes in large-scale stage performance. He has worked as a lighting technician, chief electrician, video projection chief, and chief LED technician, and has toured the world with internationally renowned artists such as Kanye West, Jay-Z, Beyoncé, Kylie Minogue, Justin Timberlake, and Cirque du Soleil.

Dead Messenger
Alex Chavel is an awesome bass player who didn't send his biography on time. He's just that kind of guy.
Roger White is a musician, songwriter, composer, producer and performance artist. He is the lead singer and guitarist of Montreal based power pop/space rock band Dead Messenger, with whom he has worked with the likes of Jordon Zadorozny (Hole, Blinker The Star) Jace Lasek (Besnard Lakes, Patrick Watson) and Aaron Holmberg (The Sadies, Tragically Hip). Roger acted as composer for Montreal based Solid State Breakdance from 2006 – 2009, creating music for Take it Back (2006) and Breakdance For Solo Cello (2009) Roger is a member of the Body Slam collective, and has also performed in works by Helen Simard, Sasha Kleinplatz, and Alexis O'Hara.
Ted Yates is a songwriter, composer, and musician from Montreal with 19 years of experience having played his first professional show in the winter of 1994. During his career, he has worked in a variety of styles including hip-hop, reggae, funk and electronic music, but primarily rock and roll. He has recently branched into teaching music for beginners. Ted continues work in writing, recording, and performing music and dance.