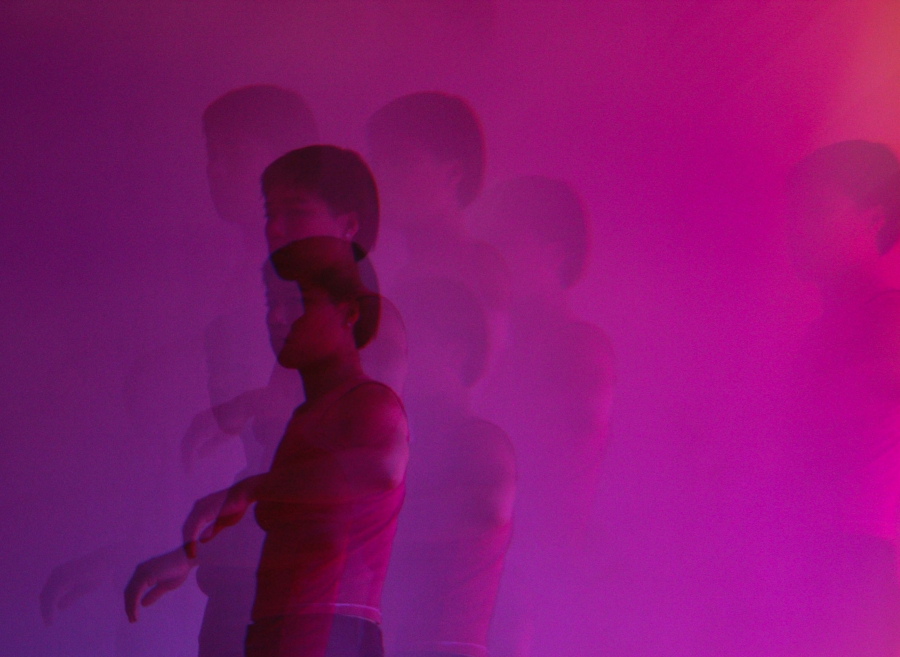 Technologies of Contemplation
FEBRUARY 8. 9. 10 | 7:30PM
FEBRUARY 11 | 4PM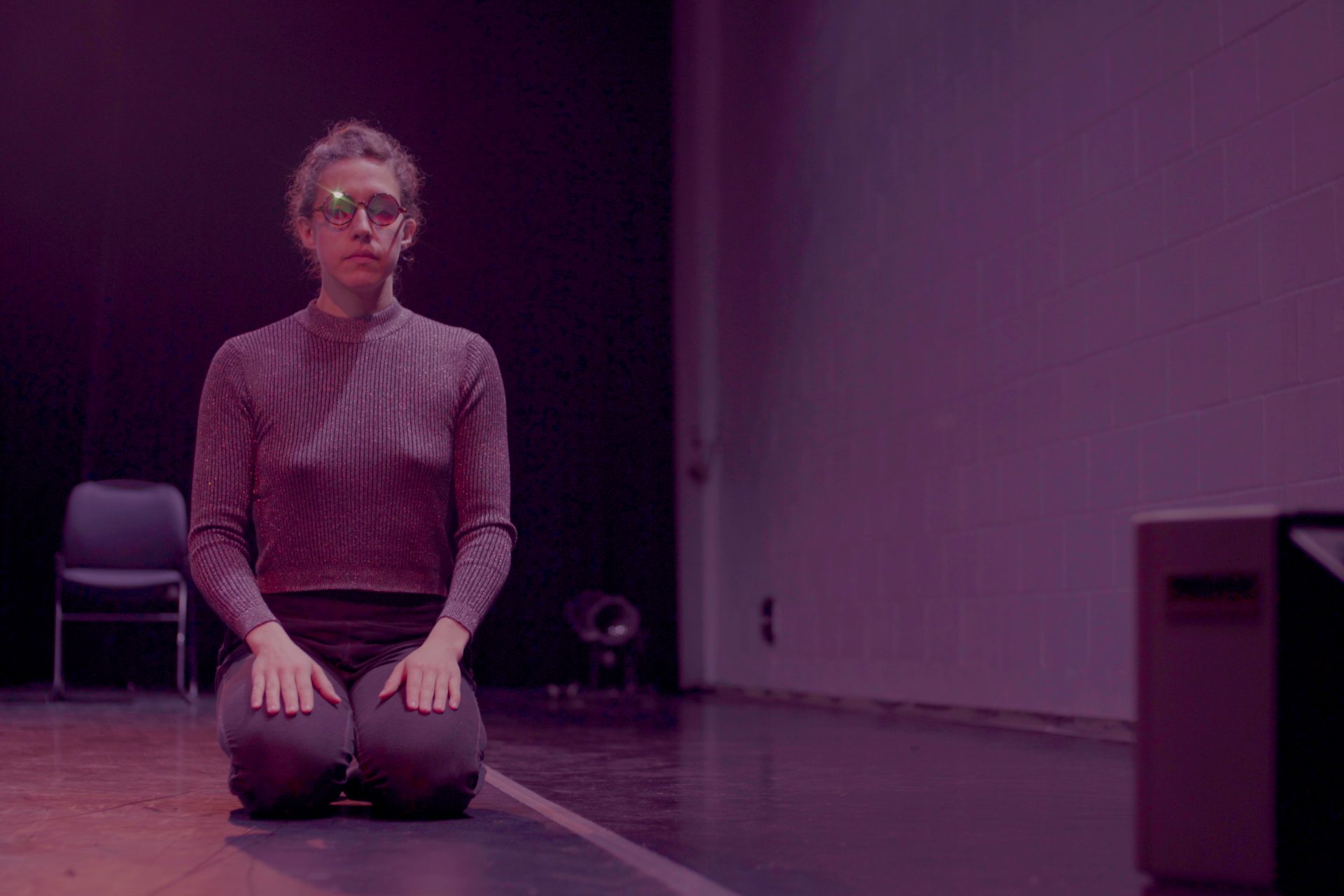 Èbe
Sarah Bronsard & Patrick Saint-Denis
35 minutes
Èbe is born out of a desire to stage phenomena beyond our grasp, yet that still influence and guide us. Inspired by the movement and sounds of a chorus of accordion-robots – as if extra-human lungs – the piece explores tides, their incessant and vital fluctuation evoking a deep breath. The performer synchronizes her movement phrases with the instruments to examine the communicative dimension of breathing. She investigates the cracking and rubbing noises emitted by the accordions, nourished by the traces that the flamenco tradition has inscribed deeply in her body. A metaphoric question emerges: what is revealed when the tide goes out?
Choreographer and performer Sarah Bronsard
Audio art and robotics Patrick Saint-Denis
Lighting designer Hugo Dalphond
Rehearsal director Ginelle Chagnon
Artistic advisor Myriam Allard
Èbe is a collaboration developed around an interactive set design composed of a choir of five accordion-robots in dialogue with the dance. The project was born out of a desire to stage phenomena bigger than us, which impregnate and orient us beyond our individual interrogations. Starting form the accordions' movement, the piece develops around the tide's relentless and vital fluctuation, like breath, which became our poetic anchor. Following the metaphor of what appears when the tide retreats ("ebb" means the water returning to the sea), we explore what is under the audible surface. The sound construction of the piece therefore explores all the sounds produced by the accordions, other than the notes, to reveal what sustains the robotic instrumental playing. Likewise, we explore sounds that are not usually put forward in flamenco dance. The tidal phenomenon also translates into the breathing of the accordions tuning the dancer's breath, rhythms and gestures evoking the ebb and flow, and a musical composition feeding on sea shanties, flamenco singing and boat sounds transposed to the accordions. The project has benefited form residencies at Corps Chorus, Studio 303 and Département de danse de l'UQÀM, and received support from the Conseil des arts et des lettres du Québec and from Jeunes mécènes investis pour les arts.
Sarah Bronsard is a choreographer and artist based in Montreal. She found her prolific ground in dance after a career as a painter in search of wider horizons in visual, digital and electronic arts. Through various musical, robotic and choreographic collaborations, her work is rooted in flamenco dance, playing with rhythm, intensity, contrast, and codifications. In her practice, she seeks to reveal the invisible. Dance is the medium she prefers to explore that which is seen, in spite of ourselves, by both the audience and the performers. Since 2012, her works 4kg, Ce qui émerge après (4kg), and En attendant le pick-up have been presented mainly in Québec, but also in France, Italy, Wales, and the Netherlands. She is currently completing a master's degree in dance at UQÀM around the interaction between musicians and dancers on stage.
Patrick Saint-Denis is a composer working mainly in sound art and interactive scenography. His works range from video installation to large-scale automated machinery. He performs regularly in Montréal and abroad, either in concert, exhibition, or dance format. He is a course lecturer in audiovisual composition and physical computing at Université de Montréal since 2010.
Kaléidoscope
Kim-Sanh Châu
30 minutes
Midway between dance and installation, this performance is a colorful and sensorial voyage in which bodies reveal their subconscious and fleeting dreams. The dancers navigate through various geometric positions with a gentle physicality, evoking imaginary dream-like landscapes. Spectators slip into a foggy and surreal universe with the help of kaleidescopic glasses whose lenses multiply images and alter their coloring. With this work, the choreographer materialises and opens up her synesthesic realm of color, music and emotion. It is pale pink, purple with Persian blue and gold accents. The body is infinitely reproduced. And then, it disappears.
Choreographer Kim-Sanh Châu
Performers Ariane Dessaulles, Melina Stinson
Sound designers Chittakone Baccam, Michel F. Côté
Video artist Guillaume Vallée
Dramaturge Daina Ashbee
Lighting Jon Cleveland
Part performers Katherine Ng, Maud Llorente, Nhung Hungvo
Glasses Future Eyes
I have always been fascinated by the body's geometry. Having studied mathematics, it has played an important role in my creative process. My interest shifted towards a more sensitive and distilled body approach in recent years, having been inspired by artists with whom I have collaborated (Benoît Lachambre and Mary St-Amand Williamson, among others). Kaléidoscope is the result of these two parts of me merging.
My research of multiplication started in 2014, while working with digital video projection. In 2016, I started using a kaleidoscope tube as I wanted to work with a simple tool/material. I then chose kaleidoscope glasses (conceived by Brent Paul Pearson) since they are anchored in the rave and electronic dance music cultures, which compliment the essence I wanted to capture through Kaléidoscope. For me, the kaleidoscope object is visual, experiential and political.
The choreography was created with dancers Nhung Hongvo (Dancenter, Vietnam), Katherine Ng, Ariane Dessaulles, and Maud Llorente (La Serre / OFFTA). With the performers, I explored different states of half-sleep and dream, looking for a physical transposition of surrealism. The idea was to create a body language that could bring the public into states of contemplation, with the freedom to multiply the image or not.
Kim-Sanh Châu is a choreographer, dancer and curator based in Montréal. Trained in dance at UQAM, she also holds a master's degree in finance. Her choreographic research evolves around the concept of structures, exploring the delicate corporeity which lays in their interstices. Her work was presented at Quartiers Danses, MAI, Accès Asie, Europe Meets Asia in Contemporary Dance festival (Vietnam) and RAW Art Space (Malaysia). Kaléidoscope benefited from a residency at La Serre / OFFTA and was presented at Beyond Baroque (Los Angeles, USA) before its Canadian premiere at Tangente in February 2018. Châu is also very involved in screendance creation, where she collaborates with Camille Jemelen, Ray Lavers and Guillaume Vallée. Her collaborative works have benefited from residencies at PRIM, Vidéographe, VideoMovimiento, and Muong Studio; and have been presented in Canada (Montréal, Toronto, Whitehorse), Italy, Colombia and Vietnam. Châu has also been curating a screendance event at Studio 303 since 2017.
After studying at UQAM's Theatre Department, Ariane Dessaulles continues her studies in contemporary dance, completing her specialization in choreography in 2014 (BA, UQAM). In 2015 she presents her piece CONVENTUM at Zone Homa festival and then begins working on two solos, OUTSKIN (2015) and Struwwelpeter (2016), before returning to a group piece with TOPO (ZH 2017). In parallel with her choreographic activities, she continues regular training as a dancer through workshops and daily classes. Those become the occasion to experiment with Catherine Gaudet, Manuel Roque, Guy Cools, Peter James, and Axis Syllabus and Fighting Monkey techniques. As a dancer, she collaborates with Kim-Sanh Châu, Chloé Bourdages-Roy, Kim L. Rouchdy, Karine Théorêt, and Lorenzo De Angelis. Since 2014, she works with the Fondation Jean-Pierre Perreault.
Hazy Montagne Mystique (Chittakone Baccam) develops a sonic universe of organic sounds (field recordings, cassette tape manipulations, and amplification), analogue sounds from vintage/modular synthesizers, and others from effects pedals that he uses as is or that are modified by him. Drawing on his training as an experimental sound artist, he creates a unique sonic language by tinkering with a mixture of original and invented sounds. The result is vivid music that he sees as sonic landscapes, lunar atmospheres or meditative sounds conceived for underwater breathing. Hazy Montagne Mystique presents an experimental symphony inspired by the relationship between South Asian culture and his experimental practice developed here. He collaborates with many experimental runaways from his collective and also with visual artists like Guillaume Vallée. He creates sounds inspired by his universe, written in symbols and codes, to make the listener travel towards an impossible imaginary dream. He follows his dream, teaming up with artists sharing the same vision.
Experimental filmmaker, video artist and independent curator, Guillaume Vallée graduates from Concordia University with a Major in Film Animation and an MFA in Studio Arts – Film Production option. He's interested in alternative forms of moving images and in analogue forms as a way of considering the direct interaction between different mediums. His work is an exploration of materiality within the creative process. In an attempt to create a more complex relationship with his subject matter, Vallée makes use of cross-medium forms that range from camera-less techniques to optical effects and glitch to video feedback, resulting in expended & hybrid pieces. His audiovisual performances have been shown in various festivals (MUTEK, O.F.N.I., FICFA, WUFF…) and his experimental films and videos has been screened internationally. His short film Le bulbe tragique won Best Canadian Work at WNDX. He's also the co-founder & programmer of Ibrida*Pluri Festival along with Sonya Stefan & Samuel Bonony. Vallée is completing a PhD in Études et pratiques des arts at UQAM.
Originally from Calgary, Alberta, Melina Stinson is a movement performer and creator based in Montréal. Since graduating from the École de danse contemporaine in 2009, she has enjoyed working across Canada and internationally with a variety of choreographers and companies such as Bouge de Là, Carré des Lombes, Gabrielle Martin, Human Playground, Laura Kramer, Lost and Found, Manon Oligny, and WooMeMyth. This year, she is creating and performing in Montreal with Catherine Lafleur, Dorian Nuskind-Oder, Kim Sanh Châu, and Sarah-Eve Grant-Lefebvre; and with Theatre Junction in Montréal, Calgary, and Brussels to create the third work in their SuperNova trilogy. Since 2012, Melina has also been developing a personal practice that focuses on the creative body in a spontaneous, non-productive context.  Since 2016 she has been training second-year students at EDCM, where she continues to discover the mysterious and fascinating ways of the creative, physical human being.
Michel F. Côté is active among many ensembles, including the following two: Vulgarités, Quatuor Minéraliste. He created about thirty albums here and there, with her or him. As a composer for the performing arts, he has collaborated on more than a hundred creations. He likes dance and dance likes him. Along with Catherine Tardif, he is co-artistic director of the dance company Et Marianne et Simon. He likes writing the word dance: in this short biography, he has managed to write it five times. He is also a regular columnist for esse. Dance again.