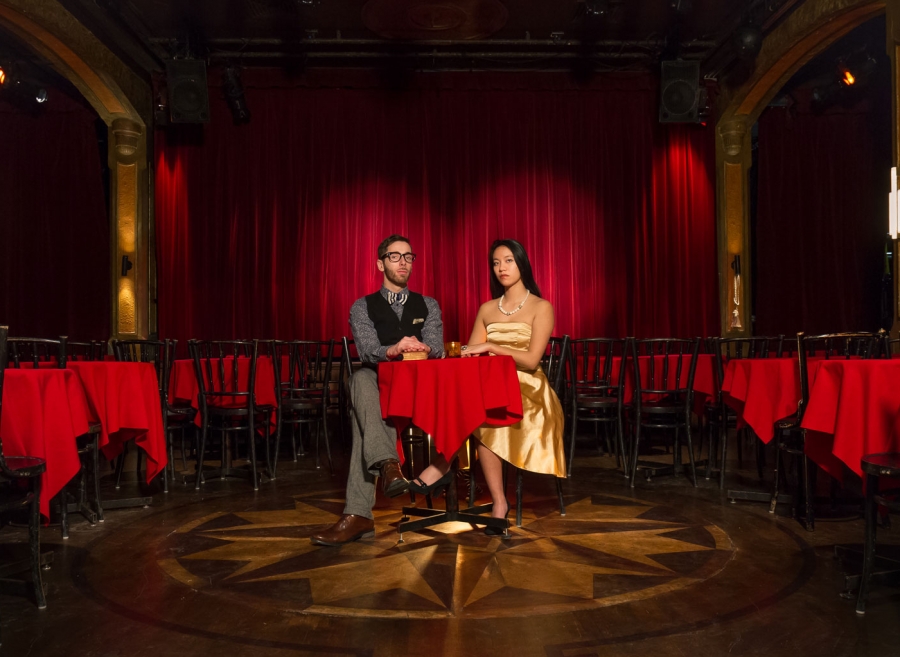 La soirée du Lion : Money, Glam & Nostalgie
Choriste & le band maison
Vanessa Bousquet
30 minutes
Choriste & le Band Maison is a complete immersion in a groovy and contemporary universe. Some invested, wavy, sensual bodies, rhythmically decorticated with precision. A popular culture from a pasted time with an actual touch. Pretty dress, red polished nails and «soul» through the hips. Get caught to the game…
Choreography :
Vanessa Bousquet avec la précieuse collaboration des interprètes
Performers
Vanessa Bousquet, Marie-Michèle Poissant, Audrey Rochette 
Music
Félix Petit 
Light
Julie Basse 
Rehearsal director and artistic advisor
Rosie Contant 
Costume assistance
Marie-Laurence Rock
I really wanted to see some movements and created a work that became a physical experience in itself. I wanted some disarticulated bodies, resonant of groove, receivers and communicators of rhythmical pulses. I wanted to offer a moment of pause for the brain and gave some physical reactions to the public.
The question of rhythm is felt everywhere in my work. Rich in nuance and complexity, it became the base element for this creation. Musicality and rhythm of every gesture bring a specific element of composition in the work of bodies; in their shapes, volumes and relation with others. The musical work of Felix Felp Petit is also essential and nourishing for the process. His music become a real partner and reminds us that groove is only a question of sensation. We approached the choreographic composition like a musician; building Choriste as a musical concert and not only like a dance proposition.
Vanessa Bousquet 
Vanessa Bousquet graduated from the dance department of the Cégep de Drummondville in 2006 and from Concordia University (2009) in Contemporary Dance. During her BFA, she was a part of several artistic projects with the collective Ionic Space and the multidisciplinary artist Shermine Sawalha. Co-founder of the dance company Bordels Associés, she presented Congestion artérielle à l'index (2009) at Tangente during the St-Ambroise Montreal Fringe Festival. She participated in the event Zone Homa in 2010 with her own work Pulsation Corrigée at Maison de la culture Maisonneuve. She presented Choriste at festival Quartiers Danses (September 2013) and Échantillon during the last edition of Danses Buissonnières at Tangente (December 2013). After studies in cultural management (HEC Montréal, 2012) Vanessa become director of production for La 2e Porte à Gauche and she is actually working in situ dance as a member of Atypique – Le Collectif.
Félix Petit 
Félix Petit also known under the name FELP works in general around sound. Machines, Sax, Pads, &/or everything susceptible to produce sound. He deforms, reforms, cuts and puts together in the idea of proposing a particular sound material. Félix recently graduated from Université de Montréal (2012) in saxophone jazz and he is actually reconnecting with his old demons (hip-hop, ambiant, groove, soul). Actual member of Les Guerres de l'Amour, Félix evolves through his own project FELP and was member of JMC Project. He is collaborating with dance project, in particular with Atypique – Le Collectif (Question d'aplomb with Louis Beaudoin de – la Sablonnière 2012), with Marie-Pier Bazinet (Géométrie pour corps et movement 2011) and with Vanessa Bousquet (Choriste & Échantillon 2013).
Marie-Michèle Poissant 
Marie-Michèle Poissant graduated from Cégep Montmorency in dance with great distinction (2007). She pursued her training at EDCMTL (École de danse contemporaine de Montréal) where she graduated in 2010. She worked with Ted Robinson, Sarah Bild, Pierre Lecours, Sasha Ivanochko, Ginette Laurin and Roger Sinha; some really important choreographers in her formation. In 2011, Marie-Michèle danced for the company Carpe Diem in the piece Cinq humeurs of Emmanuel Jouthe. She also participated at the event Zone Homa in the piece Mes osselets en étaient saturés by Élise Bergeron and worked with Vanessa Bousquet on Échantillon presented during Danses Buissonnières at Tangente en 2103. Her interest for arts and health brings her to practice Qi-Gong and she got also trained in mime at Omnibus. Since 2011, she has a certificate in massage therapy and she is specialized in treatment of dancers and athletes.
Audrey Rochette 
Audrey started studies in dance and human science at Cégep de Drummondville and went to École de danse contemporaine de Montréal in 2008. She also studied with Meg Stuart, Aglaïa Romanovskaia and Yoshito Ohno, wich greatly mark her artistic development. Professionally, she dances for Lucie Grégoire, Isabelle Boulanger, Rosie Contant and for many projections, including SIX MIL ANTENNAS of Johnny Ranger and with Émilie Serri for Festival du Nouveau Cinéma (2011). On the other side, Audrey is interested by creation and focuses her research toward performance, interdisciplinary and theater in dance. She presented CAKE at Tangente, during the Danses Buissonnières in December 2012, and at Zone Homa in August 2014. Audrey received the grant Sofia Borella by École de danse contemporaine de Montréal.
Cash : de l'or en duo, une danse de droite
Claudia Chan Tak and Louis-Elyan Martin
30 minutes
After exploring the theme of nudity in contemporary art, Claudia Chan Tak and Louis-Elyan Martin are now dealing with money in the dance milieu with seriousness, arrogance and a touch of sarcasm. The duet leaves its nudist Happy Hour for a chic and dressed evening. In search of the profitable formula, they present a right wing dance in which all the elements are put together on stage to make the piece lucrative. At once economical, political and artistic, CASH is a vision of the actual condition of the contemporary dancer.
Choreographers and performers
Claudia Chan Tak, Louis Elyan-Martin 
Soundtrack
Nans Bortuzzo 
Photos
Alexandre Donato 
Graphic designer
Elian Mata
Pragmatic about the reality of their status as relative newcomers to the dance scene, Claudia Chan Tak and Louis-Elyan Martin are facing the same issues as their peers: write grants, seduce investors, pay collaborators, convince producers, but also pay the rent and eat.
Deep down, the big conundrum is finding how to create, without notoriety nor money, to gain notoriety and money! While developing and re-affirming their duet's unique personality, Claudia Chan Tak and Louis-Elyan Martin hope, through the creation of this satiric and shameless piece, to find the perfect recipe to become rich and famous!
Claudia Chan Tak 
As an emerging artist, Claudia Chan Tak has been involved in dance, performance and video for a few years now. Her studies are proof of her multidisciplinarity. She graduated in intermedia/cyberarts from Concordia University with distinction, then from Université du Québec à Montréal in contemporary dance where she was awarded the William Douglas scholarship. Within the Montreal scene, her work has been featured in numerous art events (Tangente's Danses Buissonnières, Festival OFFTA, Festival Toxique Trottoir, Zone HOMA and Short&Sweet). Throughout her projects, she explores the animal world and playfulness, as well as the possibility for dance to become documentary, an idea she is working on in her upcoming thesis project.
Louis-Elyan Martin
Born in France, Louis-Elyan Martin studied English literature and history and obtained a master's degree in 2008. The same year, he started a bachelor's in contemporary dance at Concordia University. He continued his training at l'École de danse contemporaine de Montréal, from which he graduated in 2012. Throughout his artistic trajectory he has moved toward dance theatre and performance art, for which he has particular affection. In August 2012, he joined the company O'Vertigo. In December 2013, he presented his first co-creation with Claudia Chan Tak Naked and Raw: Nudist Happy Hour during Danses Buissonnières_Classe 2013 at Tangente.
Et si tu n'existais pas, variations
Karenne Gravel et Emmalie Ruest / Dans son salon
30 minutes
Et si tu n'existais pas, variations is about two young ladies creating dance and poetry in the dust of their parents' basement. With a lot of will and not many technical resources, they present to the world a selection of variations from the famous song of the great romantic French singer Joe Dassin. With this show, Dans son salon brings together dance and popular art in a theatrical and humoristic way, adorned with sequins. Et si tu n'existais pas, variations brings the public toward a reflection on their own relation to art and asks the philosophical and poetic question "and if the other did not exist…"
Choreographers
Karenne Gravel, Emmalie Ruest 
Composer
Nicolas Des Alliers 
Rehearsal directors
Marijoe Foucher, Liane Thériault 
Artistic advisor
Manon Oligny 
Lighting design
Julie Basse
Dance collective Dans son salon (DSS), has developed a dance where self-mockery is used to criticise the conventions that model social life. It presents a humoristic vision of dance, unafraid of ridicule, that is shown through choreography, quality of movement, and staging. Their choreographic world is feminine, voluntarily naïve, and definitely not in line with reality. Their artistic research centers on the nonsense present in our daily lives, which can be sly and even harmful. Why do we choose to endure certain absurdities in our lives? Enigmatic human behaviour is definitely a source of inspiration for the duet. Furthermore, the work of the collective is inspired by exoticism and kitsch – artefacts that automatically attract the eye, imagination and senses. DSS is fascinated by kitsch in an anthropological and artistic way as much as it wants to understand this phenomenon. As such, the collective questions and analyzes its own aesthetic tendencies to understand its desires and deep-seated instincts.
Karenne Gravel 
Karenne Gravel holds a BA in contemporary dance from UQAM. She is fascinated by the relation between time and the value of things, as well as by the relation established between live art and its public. After finishing her studies, Karenne performed as a part of in situ events like Où est Blanche-Neige ? by Manon Oligny and Out Of Grace by Lynda Gaudreault. In the last year, she also had the chance to work with Sarah-Êve Grant Lefebvre on the film Aurore 2 by Vincent Olivier and Guillaume Lambert, with Katya Montaignac and with Bal[let] de rue elles. In 2009 she and Emmalie Ruest created what would become Dans son salon. Their projects for 2013-2014 consist of exploring and creating dance videos from the kitsch universe of DSS. Besides her work with the collective, Karenne dances with various young artists, including Lilianne Moussa, Jade Marquis and Félix-Antoine Boutin.
Emmalie Ruest 
Emmalie Ruest holds bachelor's in danse from UQAM where she received the William Douglas prize (2011). She was invited, in 2012, to choreograph a Bal moderne for La 2e Porte à Gauche. It was during her studies that she met Karenne Gravel, with whom she created the collective Dans son salon. The two girls were also invited to choreograph and dance for the band Misteur Valaire, at the International Jazz Fest of Montréal (2011). During winter 2012, Emmalie was invited to be a supporting performer in Soak by Caroline Laurin-Beaucage. And since spring 2012, she has danced for Manon Oligny, in the project Où est Blanche-neige? She also had the chance to participate as a dancer in the film Aurore 2 (2013) by Vincent Olivier and Guillaume Lambert, and she participated in Dominique Sirois's most recent video art project, Alarm songs (2014). Emmalie currently dances for Helene Simard and Geneviève Jean Bindley.
Nicolas Des Alliers 
Nicolas Des Alliers is a music writing graduate of Université de Montréal's Faculty of Music. Since 2012, he has been working on a second degree, this time in music performance on classical guitar. Since 2011, he has been present on the contemporary dance scene, composing most of the music for Dans son salon's choreographies. He performs his own concerts, generally at the Université de Montreal's Faculty of Music. In January 2013, he played at a fundraising concert organized by the Kinesis Santé health clinic for the benefit of the community organization l'Ancre Des Jeunes. Alongside his career in composition and performance, Nicolas teaches guitar and works as an educator at the Montreal Science Centre, where he has the opportunity to share scientific knowledge with young people.