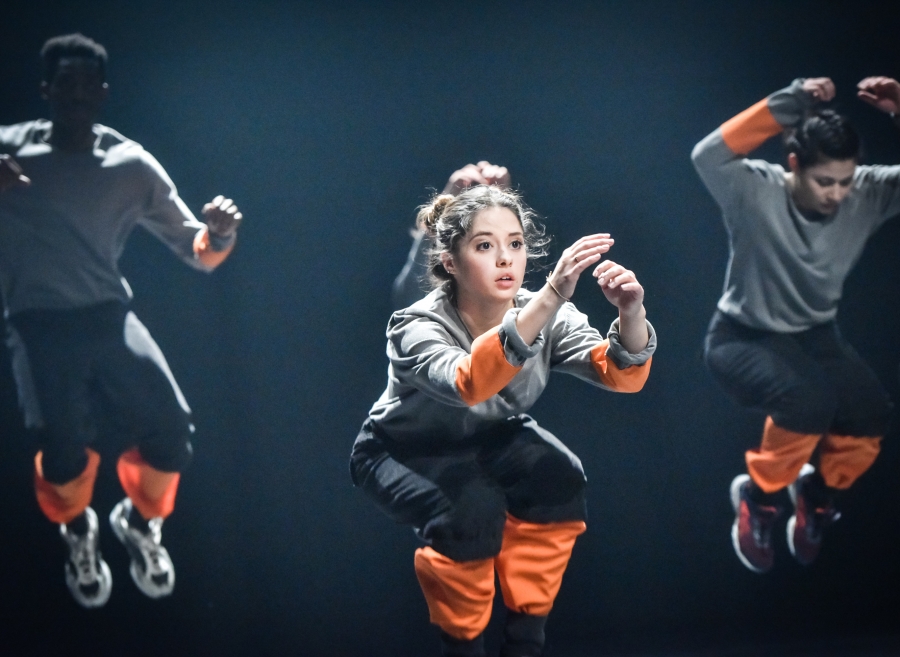 Show of the École de danse contemporaine de Montréal graduates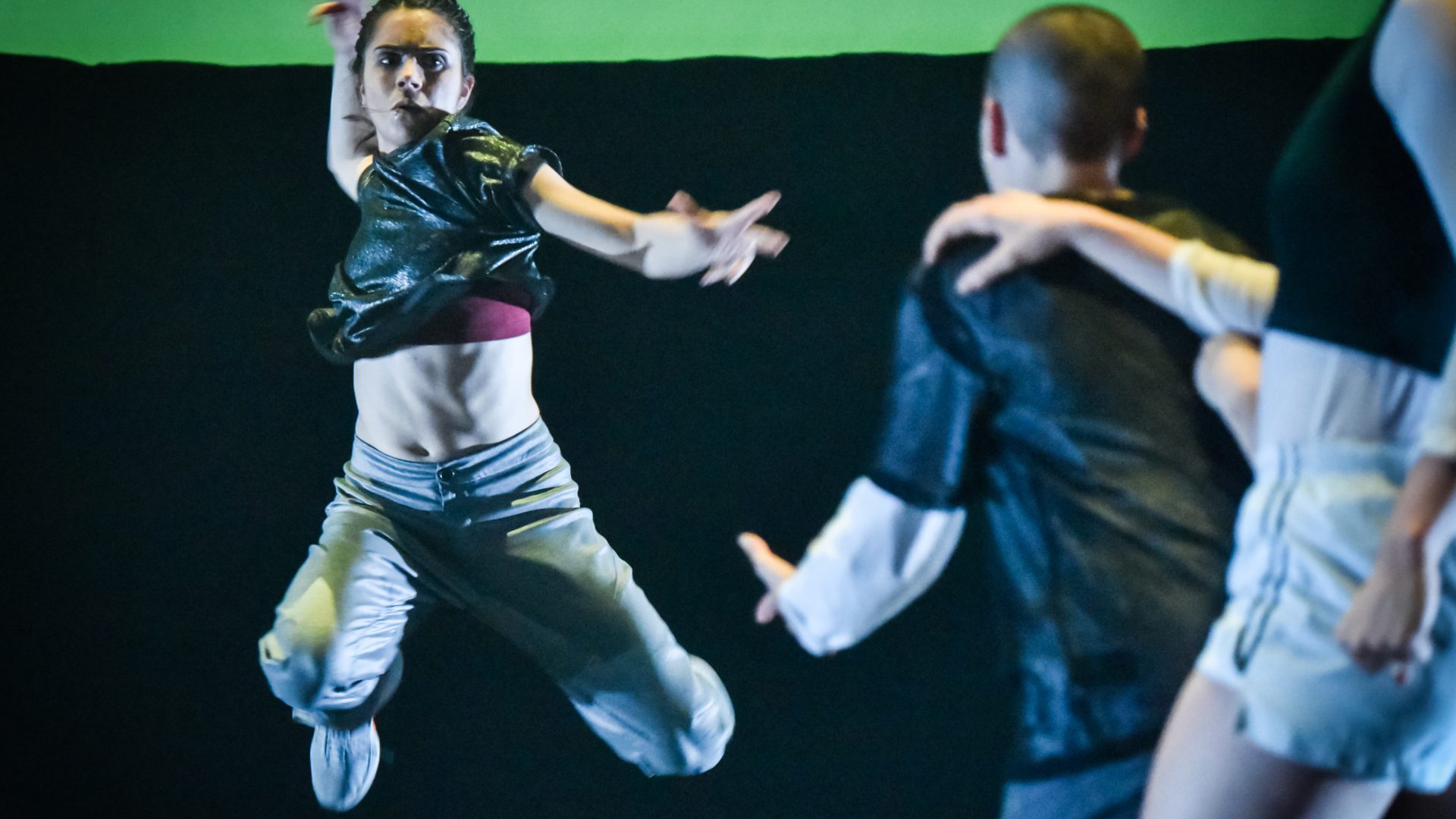 Les danses de mai, Opus 2018
Mélanie Demers, Edouard Hue, Manuel Roque
105 minutes
After three years of intensive training, the graduating students of the École de danse contemporaine de Montréal will perform for one last time on the occasion of Les danses de mai, Opus 2018. Artistic and program director Lucie Boissinot has invited choreographer Mélanie Demers to remount one of her major works, and Edouard Hue and Manuel Roque to present pieces.
Artistic director Lucie Boissinot
Rehearsal director Hélène Leclair
Lighting design Thomas Godefroid
Costume design Angela Rassenti, Jonathan Saucier
Choreographies Mélanie Demers (excerpts transmitted by Anne-Marie Jourdenais), Edouard Hue, Manuel Roque
Performers Jasmine Bouchard, Alexandra Caron, Laurent Chalifour, Nimikii Couchie, Yakhoub Dramé, Pamela Gomez Widman, Pénélope Gromko, Mathilde Heuzé, Caroline Namts, Thibault Rajaofetra, Raphaëlle Renucci, Silvia Sanchez, Cassandra Soenen, Flora Spang, Marilou Théberge
A multidisciplinary artist, Mélanie Demers founded her own company, MAYDAY, where she explores the strong connection between poetics and politics. A socially engaged artist, she has taught dance in Kenya, Niger, Brazil and Haiti. The harsh reality of the developing countries challenged her understanding of the role of art in society. It was in that perspective that she created Les Angles Morts (2006), Sense of Self (2008), Junkyard/Paradis (2010), Goodbye (2012) and MAYDAY remix (2014). And lately, WOULD (2015) won the CALQ Prize for best choreography of the 2014-2015 season. In 2016, Mélanie Demers began a new creation cycle with Animal Triste, which was presented at the Agora de la danse for the opening of the Wilder Building, and Icône Pop. Recently, she was invited to work as a guest choreographer at the Skånes Dansteater (Malmö) and at OperaEstate Festival (Bassano). To date, her works were presented in some thirty cities across Europe, America, Africa and Asia.
Edouard Hue started his dance training at the Conservatoire à Rayonnement Régional d'Annecy, before joining the Ballet Junior de Genève. He then principally worked for the Hofesh Shechter Company and the choreographer Olivier Dubois. During his career, Edouard Hue has also danced with Damien Jalet, James Wilton, Foofwa d'Imobilité, Giuseppe Bucci, Joszef Trefeli… In 2014, he creates the franco-swiss Beaver Dam Company. Its first creation is the duet Murky Depths, presented internationally. The choreography won several awards. In 2016, Edouard Hue, along with Beaver Dam Company, officially became a resident choreographer for three years at the Auditorium de Seynod – Scène Régionale in France. In 2017, Edouard Hue is supported by Pro Helvetia – Swiss Cultural Foundation, for his work as a choreographer. The foundation provided him with mentoring by Olivier Dubois for his piece Meet Me Halfway, as well as choosing him to participate in several dance seminaries in Lausanne, Montréal and Singapore and meet international dance professionals. In addition to his choreographic activities, Edouard Hue gives workshops around the world about his work, and collaborates with pre-professionals dance schools. Since February 2017, he has worked on re-creations of his piece Into Outside for different structures and specific events, as Architanz in Tokyo and also for the Ecole de danse contemporaine de Montréal.
Anne-Marie Jourdenais has been working in Montreal's dance milieu for twenty years. A performer at first, she slips into the worlds of Marie-Pascale Bélanger, Julie Boisvert, Mélanie Demers, Jacques Poulin-Denis, Harold Rhéaume and Tassy Teekman. Then, working with the eyes slowly takes over working with the body, and she becomes a rehearsal director. Over the years, she shares questions, advices and intuitions with Mélanie Demers, Alan Lake, Ginette Laurin, Manon Oligny, Marie-Claude Rodrigue and Dave St-Pierre, amongst others. Fascinated by everything that the body can feel and express, Anne-Marie devotes a large part of her time and energy to the practice and teaching of Qi Gong.
Aside from an exciting and diverse career as a performer for several dance companies such as Marie Chouinard, Dominique Porte, Peter James, Sylvain Émard Danse, Fortier Danse-Création, and Daniel Léveillé, Manuel Roque is also choreographer and created RAW-me (2010) and Ne meurs pas tout de suite, on nous regarde (2012) with Lucie Vigneault. In 2013, he founded Cie Manuel Roque and presented Project In Situ at Montréal's Place des Arts. Then Data has been presented at Usine C, and at FTA 2014 before an international tour. During 2014-2015 season, Manuel is participating to Migrant Bodies, an international research project where he created Matière Noire (2015). He also choreographed Aurora for the Ecole de danse contemporaine de Montreal students (2015). The quartet 4-OR (2015) was presented by Tangente and Parcours Danse. In 2015, he benefited from a two months creative residency at La Fabrik Potsdam. Thanks to the financial support from CALQ, he was also nominated Bearer of Hope, the same year, in the annual selection of the prestigious Tanz Magazine. His latest solo, bang bang, is presented in Lyon, at FTA 2017 and in Paris at Festival June Event where he received the Best Choreography Price from Les Prix de la Danse de Montréal 2017. His creative universe focuses on the contemporary languages breeding, on the meeting of a kinesthesic virtuosity and the research of an upstanding presence. Revolving around the notion of contemporary human condition, his work aims to open consciousness and to propose sensible, poetic and genuine artistic propositions.