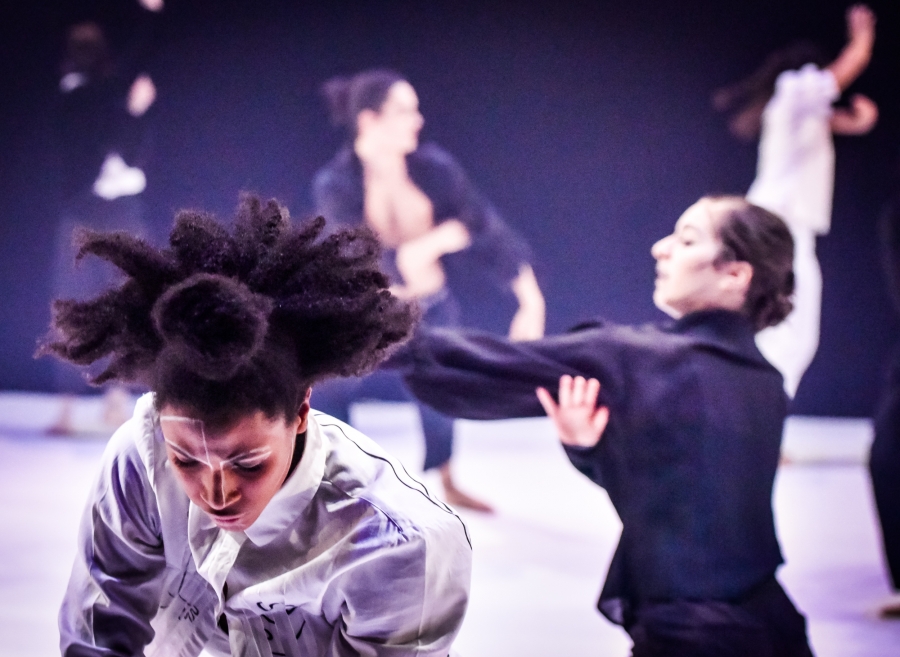 Show of the École de danse contemporaine de Montréal 1st- and 2nd-year students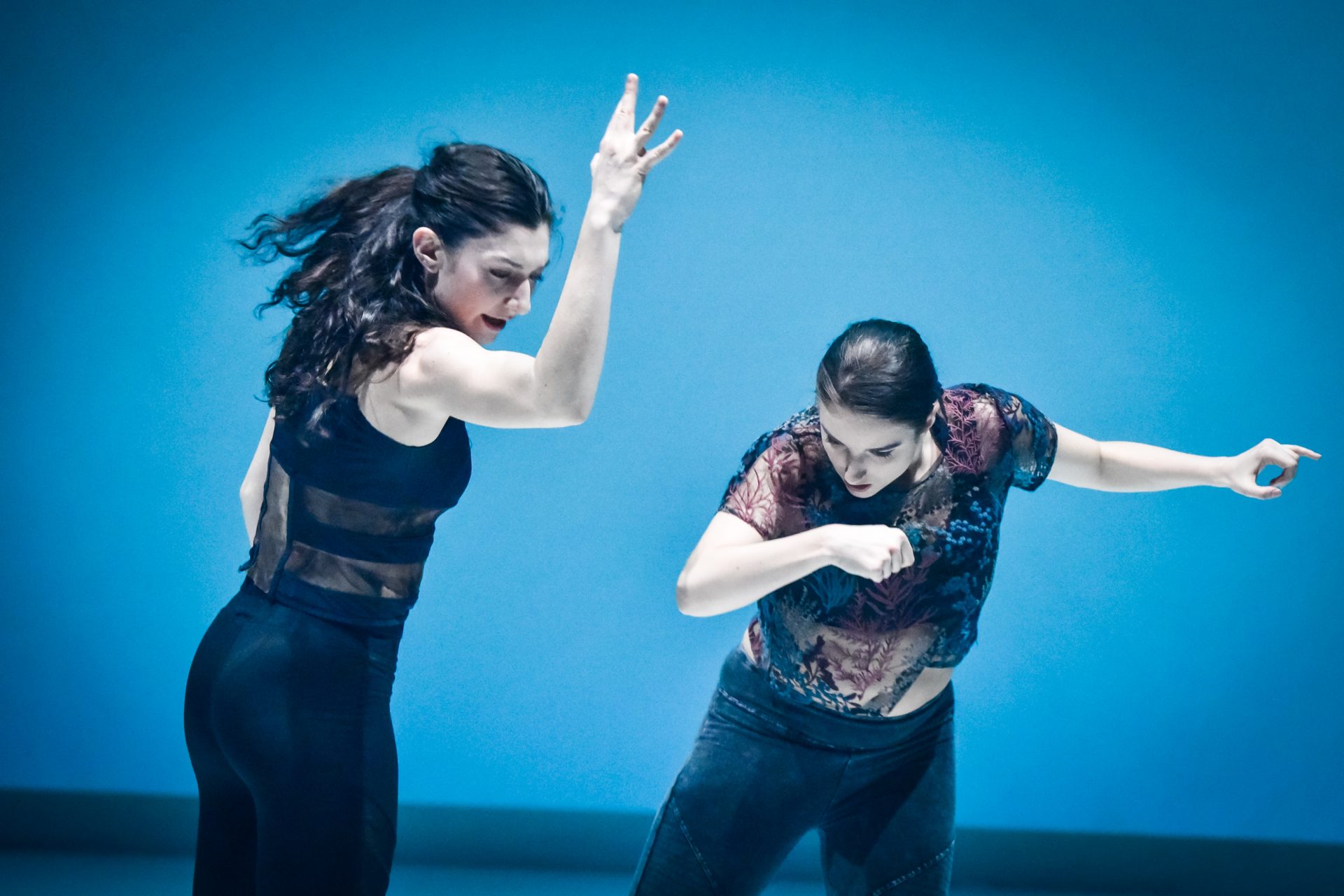 Les danses à deux temps
Marc Boivin, Ginette Laurin, Catherine Tardif
90 minutes
L'École de danse contemporaine de Montréal presents the show entitled Les danses à deux temps, featuring first- and second-year students.  For the occasion, artistic and program director Lucie Boissinot has invited choreographers Ginette Laurin (repertoire transmitted by Audrey Bergeron), Marc Boivin, and Catherine Tardif to create pieces for large groups.
Artistic director Lucie Boissinot
Rehearsal directors Tassy Teekman, Christine Lamothe
Lighting design Anne-Marie Rodrigue Lecours
Costume design Ève-Lyne Dallaire, Sarah Dubé, Noémi Paquette, Lindsay Westbrook
Choreographies Ginette Laurin (excerpts transmitted by Audrey Bergeron), Marc Boivin, Catherine Tardif
Performers
Second year Chanelle Allaire, Catherine Ally, Rodrigo Alvarenga-Bonilla, Éloïse Bastien, Madeleine Bellefeuille, Solène Bernier, Nora Côté, Jade Dussault-Lapointe, Constance Gadan, Simone Gauthier, Rafaelle Kennibol Cox, Cheline Lacroix, Lucie Lesclauze, Brian Mendez, Mathilde Mercier-Beloin, Abe Mijnheer, Lorena Salinas, Audrey Thériault, Leah Tremblay
First year Camil Bellefleur, Christophe Benoît-Piau, Sophie Carl, Julianne Decerf, Philippe Dépelteau, Louise Gamain, Benjamin Harvey, Lauranne Heulot, Luce Lainé, Aaricia Laperrière-Roy, Maude Laurin-Beaulieu, Alexandre Leblanc, Tiffany Leclair, Marie Levêque, Joanie Michaud, Amanda Petropoulos, Marie-Maxime Ross, Valentin Rosso, Molly Siboulet-Ryan, Alexandre Smith, Angélique St-Pierre, Alicia Toublanc
A graduate of the École de danse contemporaine de Montréal (2005), Audrey Bergeron has danced in various Montreal productions such as Loops by Ismaël Mouaraki (Destins Croisés), Vieux Thomas et la petite fée and L'atelier d'Hélène Langevin (Bouge de là), Jabbarnack, La couleur du gris and Rue Fable, Omnibus's physical theatre productions. She was a member and impro-movement team leader of the league Les Imprudanses. From 2013 to 2016, she danced for the world-renowned company O Vertigo. She recently toured the Netherlands with Tierra, a production of Jens van Daele's Burning Bridges in collaboration with Ginette Laurin. As a choreographer, she has, among other things, participated in the series Danses Buissonnières at Tangente, Festival Quartiers Danses, Bouge d'ici, Zone Homa and Vue sur la Relève and was invited to create a work for second-year students of the École de danse contemporaine de Montréal. Her choreography Pixels (2015) was presented in Montreal, Toronto, Avignon and Düsseldorf, Par le chas de l'aiguille (2016) at Place des Arts' Cinquième Salle, in the program of Danse-Cité et Verso (2016) in Catania (Sicily), Italy, followed by a creative residency at Scenario Pubblico choreographic centre. She has also participated in video-dance creations, which have been included on the programs of several international events.
Dancer, improviser, teacher, Marc Boivin begins his dance career at Le Groupe de la Place Royale in Ottawa under the directorship of Peter Boneham and in 1985 joins Ginette Laurin and her newly formed company O Vertigo Danse, touring extensively throughout Europe and North America. Since 1991 he has worked as an independent dancer, performing among others for Louise Bédard, Mélanie Demers, Sylvain Émard, André Gingras, James Kudelka, Jean-Pierre Perreault, Dominique Porte, Tedd Robinson, Felix Ruckert, Pierre-Paul Savoie and Catherine Tardif and since 2007 in some of his own works, R.A.F.T. 70, Impact and Une idée sinon vraie… In improvisation, it is mainly alongside Andrew Harwood, Diane Labrosse, Peter Bingham, Chris Aiken et Helen Walkley that his practice is developed. Affiliated with L'École de danse contemporaine de Montréal since 1987 Boivin regularly guest teaches and choreographs in schools and professional organizations across Canada. He has been president of the Fondation Jean-Pierre Perreault since 2006, presided the board of the RQD (Regroupement québécois de la danse) from October 2010 to October 2014 and sat on the board of the Montreal Arts Council from 2005 to 2010. In 1999, Marc Boivin was awarded the Jacqueline Lemieux Prize by the Canada Council for the Arts, and in 2014 the Dora Mavor Moore award for outsanding male performance, for his interpretation in the duet WOULD, performed with Kate Holden, choreographed by Mélanie Demers.
With more than 50 works in her name and an international reputation, Ginette Laurin is one of the leading lights in Canadian contemporary dance. Ginette received training in gymnastics, modern dance and ballet, making her a soughtafter performer when she began her career in the 1970s. She founded her company O Vertigo in 1984 and immediately began building a career by creating compelling choreographies, including Chagall, La Chambre Blanche, La Vie Qui Bat, luna, Passare, Onde de choc and her latest creation, Thirst. Ginette also creates choreographies for other companies, including The Rite of Spring for the Ballet de Lorraine, and shares her knowledge as a professor and conference speaker in Canada and abroad. In 2016, the company will adopt a new artistic direction with the inauguration of the Centre de Création O Vertigo, whose mission is to support creation in dance.
Catherine Tardif has been a choreographer and active performer in Montreal's dance and theatre scene since the early 80's. Focusing on her work as a dancer, she has danced for Fondation Jean-Pierre Perreault, Carbone 14, Le Carré des Lombes, Cas Public, as well as Fortier Danse Création and Montréal Danse, where she was also guest choreographer. Her choreographic work has been presented in Europe, the United States and Canada. She also has several theatrical collaborations to her credit; among other things, she was co-designer and dancer for Ex Machina, directed by Robert Lepage. She is executive director and co-artistic director of the company Et Marianne et Simon, which was created in 2001 with composer Michel F. Côté. Among the company's recent creations, Le Show Poche and Mobilier mental were presented at the Festival TransAmériques in 2009 and 2017, and 6,3 Évanouissements at Agora de la Danse in 2014. Et Marianne et Simon is one of the member companies of Circuit-Est, a choreographic centre. From July to December 2003, Catherine was the recipient of a residency grant for the Studio du Québec à Paris. Since then, among other things, she has danced for the multimedia company kondition pluriel. In June 2007, she directed the show Glam for National Circus School graduates, which was presented at Tohu. Since the fall of 2002, she has been a regular lecturer at the Université du Québec à Montréal.