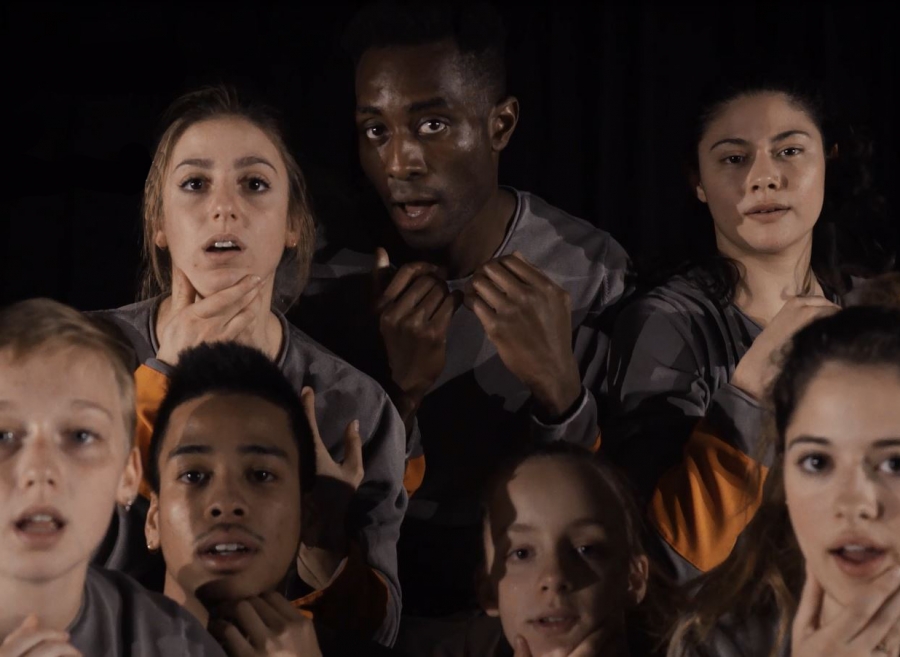 Show of the 3rd year students from EDCM
DECEMBER 13. 14. 15. 16 | 7:30PM
Cru d'automne
Lucy May, Jacques Poulin-Denis, Helen Simard
105 minutes
Drawing on her prolific creativity, the young choreographer Lucy May takes the spectator for a stroll through a Jodorowskian universe, where politics, the world, music and stars collide. Based on the performers' inner and relational labyrinths, Ascendants is a powerful piece imbued with involved poetry.
Rooted in body music, 20 412 pas pour la paix by Jacques Poulin-Denis presents variations on a body percussion theme. Throughout the transformations suggested by the choreographer, the obvious and the imaginary reconcile, producing various organic and psychological impressions.
For the 14 graduates, Helen Simard has recreated the surreal and decadent Idiot(s), presented at La Chapelle earlier this year. This rock trance features rough movements, furious sounds and absurd texts inspired by the legendary musician Iggy Pop.
This show is not recommended for children under 12 years old.
Artistic direction Lucie Boissinot
Rehearsal director Hélène Leclair
Lighting design Karine Gauthier
Costumes Sarah Dubé, Jonathan Saucier
Choreographers Lucy May, Jacques Poulin-Denis, Helen Simard
Performers Cassandra Ascalon-Soenen, Jasmine Bouchard, Alexandra Caron, Nimikii Couchie, Angélique Delorme, Yakhoub Dramé, Pamela Berenice Gomez Widman, Pénélope Gromko, Mathilde Heuzé, Caroline Namts, Thibault Rajaofetra, Raphaëlle Renucci, Silvia Sanchez, Flora Spang Marilou Théberge
Lucy M. May is a contemporary dance artist, teacher, and writer for The Dance Current based in Montréal. In recent years, Lucy has developed choreographic work for screen, paper, site-specific locations, and the stage. Currently she is developing performances that ask how geo- and bio-social environments thread their way through human movement (Vivarium; Esemplastic Landing; reaching over a brink of darkness, folding open to a starlight trepanation). She imagines her moving body as a meeting place, where theories and conversations find confluence with what is local, sensual, or tactile. Lucy was a member of Compagnie Marie Chouinard for seven years, and dances independently with Margie Gillis, Alejandro De Leon, Sasha Kleinplatz, and choreographers based in her native province of New Brunswick. She dances to wonder after what binds micro to macro, macro to micro. Lucy is a graduate of l'École de danse contemporaine de Montreal and Codarts in the Netherlands.
Jacques Poulin-Denis is a composer, choreographer, director and performer. Undertaking projects that blur the boundaries between dance, music and theater, he creates humanistic and uncanny works that are both sensorial and thought provoking. To gently knock the spectator off center, he puts forth the strength within the vulnerability of the characters he brings to life. Counting over twelve different productions, Jacques Poulin-Denis' work has been seen in over twenty cities across Canada, as well as in the United States, Europe and Asia. An associated artist of La Chapelle Theater in Montreal between 2012 and 2016, he was awarded a two month residency in Berlin during the Tanz Im August Festival, as well as several choreographic research periods in Montreal, Victoria, Vancouver, Bassano and Seoul. He develops an interdisciplinary approach to creation, which he regularly teaches through workshops and master classes. He is a close collaborator of choreographer Mélanie Demers and has been active with her company, Mayday, as a composer and performer since 2006. Jacques Poulin-Denis is the winner of an Isadora Duncan Dance Awards, San Francisco in 2004 and a Saskatoon Area Theater Award in 2009.
Helen Simard is a Montreal-based choreographer, dancer, rehearsal director, and dance researcher. From 2000 to 2011, she was co-artistic director, choreographer and performer at Solid State Breakdance, with whom she participated in the collaborative creation of nine choreographic works that toured around Quebec, Canada, and Europe. Since 2011, she has worked as an independent choreographer, she draws inspiration from punk rock aesthetics and live music, creating several interdisciplinary solos and group works: On the Subject of Compassion (2011), Last Song: Live Version (2013), NO FUN (2014), Twenty One Angus Young (2014), and Mouvement sans/100 manifestes (2014). In 2016, she collaborated with the Montreal rock band Dead Messenger, directing the music videos for their singles In the Dark and Master Plan (co-directed by Liane Thériault). Helen holds a BFA (Concordia, 2000) and an MA (UQAM, 2014) in contemporary dance, and is currently pursuing a PhD in Études et pratiques des arts (study and practice of arts) at UQAM.