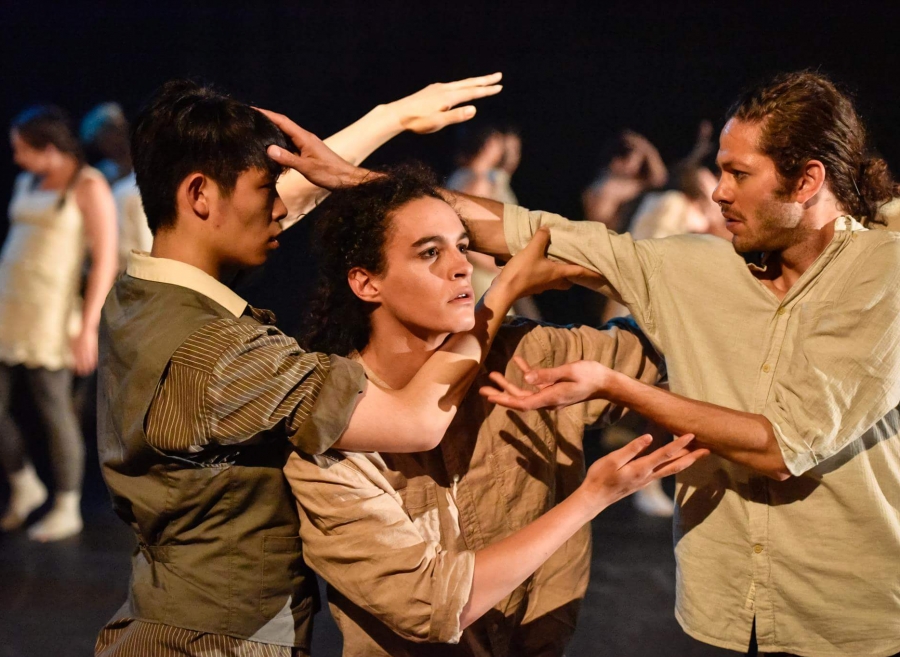 Show of the 2nd year students from the EDCM
DECEMBER 6. 7. 8. 9 | 7:30PM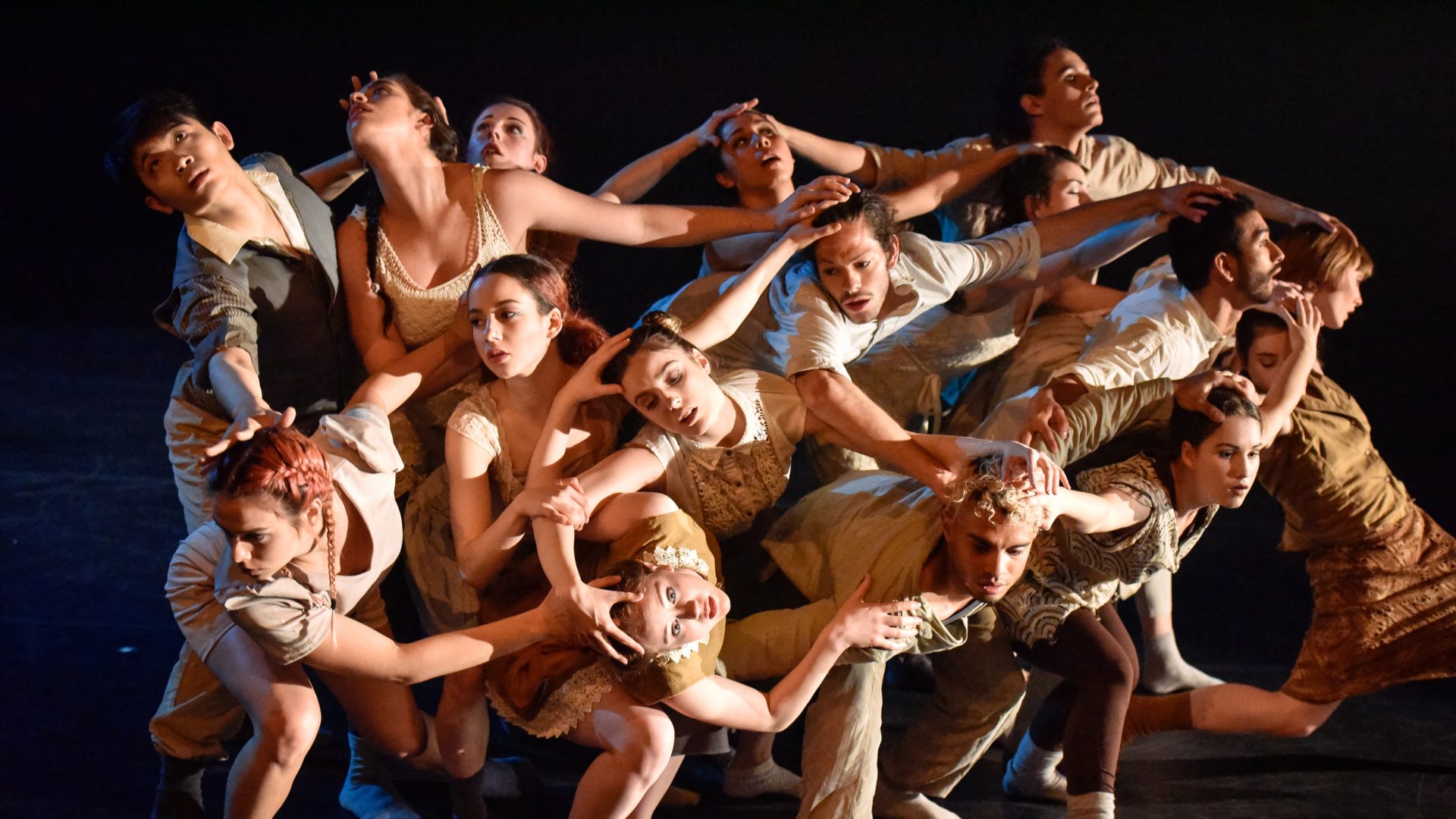 Les danses de la mi-chemin
Darryl Tracy, Edgar Zendejas
70 minutes
Inspired by his two practices, Toronto choreographer and neuro-physiotherapist Darryl Tracy has created limbic, a work initiated by the fight or flight or freeze body reflex. The result of meticulous and faceted design, the piece reflects on the way we appear and disappear in this world.
Douce plainte, by Edgar Zendejas, reinterprets a few verses by the Spanish poet Federico Garcia Lorca through movement. From this precise and fluid choreography, consisting of agreements, oppositions, festivities and combats, emerges a new poetic but solemn society.
Artistic direction Lucie Boissinot
Rehearsal director Tassy Teekman
Lighting design Karine Gauthier
Costumes Ève-Lyne Dallaire, Laurence Gagnon
Choreographers Darryl Tracy, Edgar Zendejas
Performers Melanie Abbruzzese, Angel Acuña, Chanelle Allaire, Rodrigo Alvarenga-Bonilla, Madeleine Bellefeuille, Solène Bernier, Nora Côté, Jade Dussault-Lapointe, Constance Gadan, Simone Gauthier, Rafaelle Kennibol Cox, Cheline Lacroix, Lucie Lesclauze, Brian Mendez, Mathilde Mercier-Beloin, Abe Mijnheer, Lorena Salinas, Zebulon Simoneau, Audrey Thériault, Leah Tremblay, Xiaolong Xu
Darryl Tracy is a Toronto-based independent dance artist (choreographer, interpreter, teacher and producer). He is a senior faculty member at the School of Toronto Dance Theatre and as a dancer has created many roles by most of Canada's leading choreographers. He and Heidi Strauss were co-artistic directors of four chambers Dance Projects from 1998-2006, commissioning duets from choreographers like Conrad Alexandrowicz, Sarah Chase, Marie-Josée Chartier, Yvonne Coutts, Lesandra Dodson, Sylvain Émard, Julia Sasso and their duet created by Italian-based company Deja Donne garnered them a nomination in performance for the prestigious Dora Mavor Moore Award. He was part of the company Sylvain Émard Danse in Montreal for over 4 years dancing and touring in Émard's Temps de chien. In the past 4 years, Tracy was also a company member of Mocean Dance (Halifax) and Chartier Danse (Toronto). He has created over 24 of his own works through commissions and self-produced productions. Most recently, he has choreographed for Connection Dance (NB), l'École de Danse Contemporaine de Montréal, The School of Toronto Dance Theatre, Park Avenue Dance Company (New York), The School of Contemporary Dancers (Winnipeg), Kenny Pearl's Emerging Artist Program (Toronto) and The School of Dance (Ottawa). Recently, most of his work have been site specific installations and have been seen at Rhubarb Festival and Nuit Rose. He was nominated for the K.M. Hunter award in 2013. He also works part time as a neurological rehabilitation physiotherapist.
Mexican-born Edgar Zendejas danced for Ballets Jazz Montreal (BJM), Hubbard Street Dance Chicago and Giordano Jazz Dance. Mr. Zendejas' work won him commissions with BJM, Jacob's Pillow, Cedar Lake Contemporary Ballet, DanceWorks Chicago, Luna Negra Dance Theater, NorthWestDanceProject, Ballet Hispanico, State Street Ballet, Eisenhoward Dance, Santa Barbara Dance Theatre and Richmond Ballet. He is a winner of the Hubbard Street 2 National Choreographic Competition in 2010 and a finalist of the GENESIS competition with Milwaukee Ballet. He was also honored with the Outstanding Choreographer Award from Youth American Grand Prix in 2012. Zendejas explores new areas of choreographic collaboration with the National Circus School in Montreal as creative director. He also collaborates with Starlight Circus in Switzerland, Franco Dragone Productions, C:Lab and Cirque du Soleil as artistic consultant. This year, Zendejas celebrates the 10th anniversary of Ezdanza, a company dedicated to artist's freedom of expression in contemporary dance.