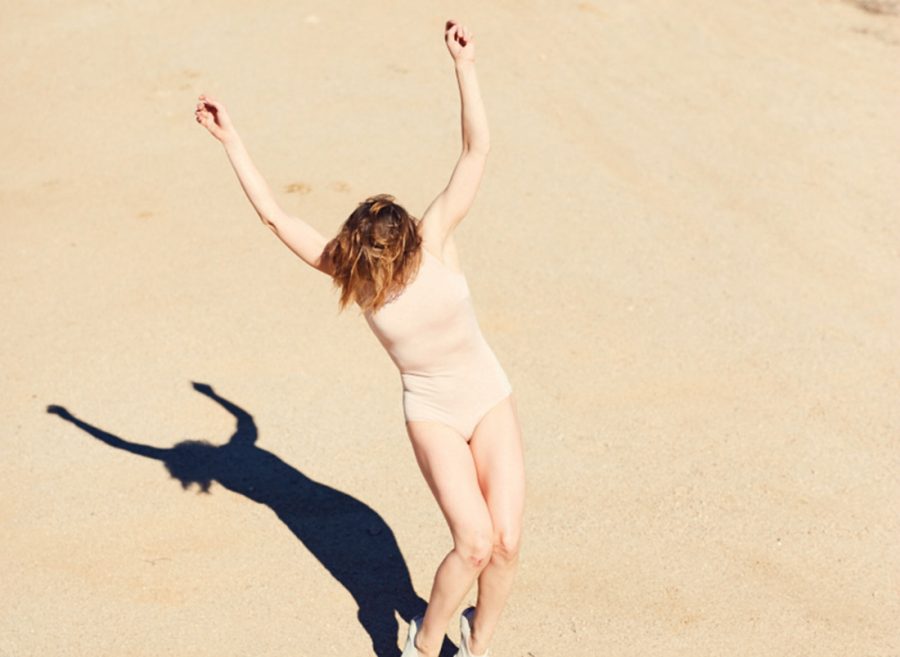 Sensorium
From deep inside the dancers' bodies, movement that sharpens the senses and evokes poetic reveries
MARCH 23. 24. 25 | 7:30 PM
MARCH 26 | 4 PM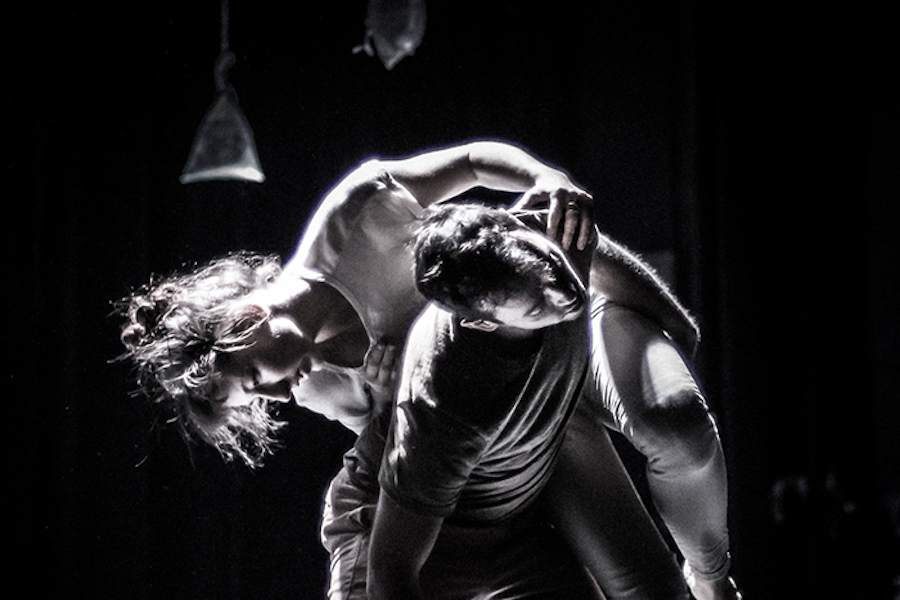 Aisthesis
Josiane Fortin
30 minutes
This is, above all, a composition about sensation. How does sensation make sense? Breathing together, sometimes with eyes closed, the two dancers are united in a "single shared body" but without physical or eye contact. Silence gives way to fluid guitar sounds and electronic organic compositions, darkness to subdued and textured lighting. We stand around and among them within the black box stage space, a proximity that enhances our ability to feel as they do, to release rationality and give in to sensation. French uber-dance theorist Michel Bernard provides the philosophical ground for this dance research, with his idea of a "fictive kinesphere" by which he means the poetic and energetic, malleable aura that surrounds the space around the dancers. This choreography also embraces his concept of a sensitive and intimate receptivity that he calls "chiasmatic" in which we mutually together touch each other lightly, listen, feel, witness, and breathe. Seeking sensation.
About 7 pupilles de feu : "The dancers do perform with a pleasing sensitivity and openness to one another, creating conversational duets and trios. […]"
Heather Stewart, Bloody Underrated, 2012
Choreographer Josiane Fortin
Performer Antoine Turmine, Myriam Tremblay-Quévillon
Artistic advisor and rehearsal director Emmanuelle Bourassa-Beaudoin
Lighting design Benoit Larivière
Aisthesis has benefited from the Programme d'aide aux artistes en danse of the Département de danse of UQAM.
The choreography Aisthesis is inspired by three concepts, namely : chiasma,sensation and imaginary, which are from the "fictionary theory of sensation" of the French philosopher Michel Bernard. Two dancers, Myriam Tremblay-Quévillon and Antoine Turmine, and a rehearsal director, Emmanuelle Bourassa- Beaudoin, have accompagnied the choreographer in the creative process, which echoes the researches done by Josiane Fortin during her master's degree in dance at UQAM. Together, they sought and investigated a work of sensations, in which the interiority, the feel, and what gives birth to the movement, take a more important place than formalism. In Aisthesis, the dancers meet in a sensitive exchange, as two solitudes, two interiorities that share the same spacetime, but they never look at each other directly or touch the other dancer. A sensory listening, of another kind than visual or narrative communication, is established between them. The dancers seek to overflow their body boundaries by exploring an open and unlimited corporeality that is not formal, sexual or stereotyped. The "fictive kinesphere", i.e. the poetic aura that surrounds the dancers, stretches with a certain malleability and ductility. Reciprocally, the choreography Aisthesis invites the spectators to enter a sensitive, intimative and chiasmatic mode of receptivity, through a dance to listen, to feel, to witness in the darkness, to effloresce, to breathe…
Josiane Fortin completed a bachelor's degree in dance (choreographic profile) at UQAM in 2010, where she received the William Douglas grant. At the end of her degree, she presented her creation Les voix de l'ombre at the Agora de la danse. Recently, her choreographies have been seen at Passerelle 840, Fleur d'Asphalte, Légend'Art Gallery, Gesù, FRINGE Festival, and Quartiers Danses. In 2016, she completed a master's degree in dance (research-creation) at UQAM, where she received the Pierre-Lapointe (2013) and Faculty of Arts Personality (2015) grants. Her choreographic practice investigates chiasma, sensoriality and imaginary. It draws on the "fictionnary theory of sensation" of the French philosopher Michel Bernard. Josiane practices Authentic Movement and Body Weather / Body Landscape. Recently, she works in dance history, as a teaching and research assistant (UQAM) and as a project manager (Vincent-Warren's Dance Library). She's now undertaking a PhD in Artistic Studies and Practices at UQAM, in the field of dance history.
Myriam Tremblay-Quévillon first studied at CEGEP Montmorency in 2004, where she completed her diploma in dance. She continued her dance training at UQAM and obtained her bachelor's degree: interpretation in 2010. She danced for several choreographers since the end of her studies among which Manon Oligny and her White Snows. She works as an interpreter for Josiane Fortin since 2010. Moreover, she is a personal trainer in a fitness center and a Pilates instructor in recent years.
Coming from the Quebec traditional step dancing, Antoine Turmine has also, since 2014, a bachelor's degree in dance from UQAM where he is pursuing a master to understand and (re)questioning his own lecture of sound and body. Antoine can be seen as interpret and creator inside BIGICO activities. He is also visible and implicated in the work of Zogma company, Quantum Collective and other independent creations in contemporary dance.
After a formation in Cecchetti, in Lemon and in a release technique, Emmanuelle Bourrassa Beaudoin has worked as a dancer with a variety of choreographers, among which ; Alan Good, Massimo Agostinelli, Sonia Delwaide, and Harold Rhéaume. After that, she joined the compagny Dave St-Pierre and danced La Pornographie des Âmes and Un peu de tendresse, bordel de merde. She collaborated as rehearsal director for various projects and she contributed to the creation of Dévorer le ciel of Danièle Desnoyers. Emmanuelle also teaches ballet, yoga and Spinal training at The École de danse contemporaine de Montréal.
Viscosité
Anne-Flore de Rochambeau
30 minutes
After exploring fluids and gaseous bodies in her last creations, Fluides and O2, Anne-Flore turns her attention to the metaphoric power of viscosity. In this last chapter of her choreographic triptych, five moving bodies embody this liquid state through an aesthetic of thickness, porosity, fleshiness and stickiness. It is as if they are fine particles caught up the elastic ebbs and flows of watery substances. Nature and culture collide in this dense study of resistance to fluidity. The artist, with her visual sensibility, builds "moving architectures," revealing a dance that is at once organic and intuitive. This is an allegory of our tenacious attachment to the group, to our own culture, home, ambitions, objects and others.
Choreographer Anne-Flore de Rochambeau
Dancers Marijoe Foucher, Keven Lee, Gabriel Painchaud, Marine Rixhon, Liane Thériault
Artistic counselor Caroline Laurin-Beaucage
Rehearsal director Corinne Crane-Desmarais
Light and set designer Hugo Dalphond
Composer Hani Debbache
Creation support This project has benefited from the mentorship programme of the Parcours Scène contest from the Maison de la culture Villeray-Saint-Michel-Parc-Extension and received support from the MAI (Montréal, arts interculturels).
José Navas is proud to sponsor Anne-Flore de Rochambeau.
Creation support This project has benefited from the accompanying programme of the Parcours Scène of the Maison de la culture Villeray-Saint-Michel-Parc-Extension contest and of the MAI (Montréal, arts interculturels)
Residencies José Navas/Compagnie Flak, Studio 303, Maison de la culture Villeray-Saint-Michel-Parc-Extension
Third part of the choreographic triptych "Dynamics of fluids", Viscosity reveals five bodies connected just like fine particles responding to flow and elasticity qualities and viscous fluids. The triptych focuses on intangible links that connect us and define our interactions as a person. In the previous sections: Fluids and O2, I explore how the individual lets himself be carried, manipulate or on the contrary frees itself from mass movements that surround him. In Viscosity, I am particularly interested in attachments the individual maintains from a material (object, place), human (family relations, love, professional, …) or event ideological (ambitions, culture, traditions, …) point of view. The bodies are moving as a single entity and reflect tenacious, dense, and elastics textures that arouse from viscosity. The dancers embody a natural fluidity and trace on the floor the print of their journey. At the rate of instinctive impulses, a clear mechanical emerges and awakens a sensory relationship with the viewer.
After her academic training in Paris, New York and Montreal where she is now established since 2010, Anne-Flore de Rochambeau evolves as a performer and choreographer. In 2013, she began a triptych inspired by the fluid dynamics theory which the different parts have been present in festivals such as Quartiers Danses (Montreal), Dance Matters (Toronto), Auteurs de troubles (France). In 2015, she co-created with the choreographer Liliane Moussa Alt-Shit, a creation laboratory to develop in situ and immersive choreographic projects, open to unpredictability, artistic collaborations and to the exploration of unusual venues. Establishing a sensory relationship with the audience with an organic and intuitive language, the dynamics resulting from the organization of the body in space characterizes her choreography. Exploring the social nature of the individual, her compositions reflect unconscious mechanisms that characterize our interactions.
After a master in mathematics at UQAM Gabriel Painchaud began studying ballet and contemporary dance at Ballet Divertimento. During these years, Gabriel has worked with various choreographers including Edgar Zendejas, Dave St-Pierre, Sonya Stefan, Rayco Cano Cortez. After completing this training, he immediately had the chance to be an apprentice in the company Virtuo Dance with Ghislaine Doté. He also danced in diverse projects such as the play Equus staged by Domi Reiter Soffer, Nutcracker from the Ballet West and 1, 2, 3 les pieds dans l'eau from the company Fleuve Espace Danse. Recently Gabriel performed in A Melancholic Journal choreographed by David Pressault, presented by ID dance and he was part of Salon double from Sonya Stefan presented at Agora de la danse in autumn 2013.
Marijoe Foucher graduated from University of Quebec at Montreal with a BA in dance. During her training, she was able to dive into various choreographic universe as those of Sylvain Émard and Manon Oligny. In addition, she has participated in several art projects for emerging choreographers during the Fringe Festival (2012), Festival Vue sur le Relève (2013) and two residencies at café bistro L'aRRêt dE bUS (2012-2013). She also joined the work in situ Écoute pour Voir by the choreographer Emmanuel Jouthe. Marijoe to urge through this art to communicate a force, an energy, driven by imagination and instinct vision. Marijoe is fully committed through this art to communicate a force, an energy, a vision driven by imagination and instinct.
From Belgium, Marine Rixhon gets a hight ballet training at l'Académie Gretry and Athénée Royal de Fragnée at an early age. Then she joins the Jeune Ballet de Liege before entering at l'Opéra Royal de Wallonie. She discovers contemporary dance when she enters in James Carles formation center (Toulouse). She is now graduated in the contemporary dance BA from UQAM. Since her arrival in Montreal, she works with various professional and emerging choreographers such as: Les Soeurs Schmutt, Manon Oligny and Sarah Dell'Ava.
Keven Lee began his career as a dancer in the dance groupe of the University of Montreal led by Erin Flynn. He pursued his training at Concordia University and Ballet Divertimento. Keven has worked with the company ID Dance in A Melancholic Journal choreographed by David Pressault. He also works with Sébastien Provencher on various creations such as Serait-il impossible de vivre debout presented in the Festival Quartiers Danses 2013. Alongside his work in dance, he is currently completing a master of research on rehabilitation on the use of dance with autistic children. In 2013, Keven joined the dance company Sursaut for the production of La cigale et la fourmi.
After a BA at Université de Montréal in cinematographic studies (2008), Liane Thériault graduate from UQAM with a BA in contemporary dance (2012). Those two disciplines developed her interest in creating ways to connect dance with other artistic medium. In her work: Some Are Born to Endless Night (2012) soundtracks of three movies interlace with dance in ordre to bring back a cinematographic memory.
Caroline Laurin-Beaucage has been active on the Montreal scene as a dancer and choreographer for fifteen years. While working with choreographers Ginette Laurin (O Vertigo), Paul-André Fortier, and Deborah Dunn, among others, Caroline began her personal choreographic exploration in 2001. After performing several of her solo works, she entered into a collaboration with sound artist Martin Messier to create Hit and Fall (2011), presented at Montreal's Festival TransAmériques and the Via and Artdanthé festivals in France, and Soak (2012), presented in Montreal, in France, and in Hungary. In 2014, Caroline created Entailles, the first piece of a trilogy, presented in Montreal by Tangente; the same year, Charcuterie, co-produced by LORGANISME and Montréal Danse, was in the OFFTA program (Montreal); and the final work of the trilogy, Matière blanche, was presented in October 2015 at l'Agora de la danse (Montreal). Caroline Laurin-Beaucage is an artist-member and a co-founder of the Montreal contemporary dance collective, LORGANISME. She was also a member of the artistic committee responsible for the development of Montreal's O Vertigo Creation Centre (OVCC).
After graduating from L'École de danse contemporaine de Montréal in 2009, Corinne Crane-Desmarais began her career as a dancer by participating in numerous projects with young choreographers. Not long after, she worked with Mélanie Demers, Lynda Gaudreau and Marie Béland during which time she met Caroline Dusseault with whom she is still collaborating. As Corinne continued her path as a dancer, she started teaching at L'École de danse contemporaine de Montréal in 2011. Since 2013, she also developed an interest in rehearsal directing and started working in this capacity for artists in various mediums including film, music groups, choirs and choreography.  Corinne is continuing to pursue her career in all three roles and is currently part of the AEC formateur en danse program as well as the sole participant in a Canada Council funded mentorship program she initiated and developed with Sophie Michaud.
Hugo Dalphond works with space and light in theater, dance, photography and installations. He explores the dynamics and mechanisms of the influence of the scenic plasticity on the spectators bodies. He is currently completing a degree in theater at UQAM questioning how the space is organized in a dramatic performative installation. Hugo is also the co-artistic director of Mille chevaux-vapeur, that focuses on multidisciplinary creation and allows him to explore the aesthetic possibilities of space and body structure.
Hani Debbache enters in the world of music when he completed his Bachelor of Engineering at the Polytechnic School of Montreal. He is then particularly attracted by synthesizers of the past. The logic of this instrument, when mastered allows a degree creative freedom unrivaled. Today, his work combines synthetic and acoustic sounds, and his style is inspired by artists such as Hecq, Amon Tobin and Apparat.
Sand Body
Meryem Alaoui
35 minutes
Nestled in the space between performance art and dance, Sand Body is a meditative choreographic work. The setting is simple: a plastic blue tarp, ten buckets of sand and the dancer-as-a-material. In this pared-down solo, the artist-performer interacts with the objects carefully. Moving ever-so-slowly she concentrates serenely on her tasks, leaving traces in and with the sand. Pulled between her desire to pursue dancing and lead a secluded life in meditation, the artist brings with her the "ethos of attention and awareness" in this sensitive composition. She questions the frenetic pace of our lives, inviting us to slow down, zoom in on details and so to deepen our spectating. Little by little, we enter into a contemplative state and finally take the time to sharpen our senses and savour the moment.
Created and performed by Moroccan-Canadian choreographer Meryem Alaoui, Sand Body is unsettling in the best way. A solo performance that incorporates sand, silence, the passage of time, the objecthood of the body, the relationship between performer and audience and the very concept of the separation of audience and performance into [a] unique and compelling (…) experience. (…) on the whole I found myself intrigued and engaged by Sand Body in a way unlike anything else at this festival.
VIEW Magazine, 2015
Creation and performance Meryem Alaoui
Sound recording and outside eye Christopher Willes
Text Meryem Alaoui and Christopher Willes
Lighting design Hugo Dalphond
Sand Body started with questions regarding the body in relation to objecthood: How does an object perform its object status? Does the body that prefers stillness indulge a different way of seeing, one that traces and troubles the boundaries between objects and living beings? Does slowness, the quality of proceeding at a reduced pace, have an ancestral wisdom, or futuristic optimism to offer us now? What kind of beautiful vibrancy can the body that is slow illuminate? In Sand Body, a disembodied voice gives directions. Who is being directed? Who is directing? What sort of implied agency does this voice carry with it and perhaps offer to those hearing it? Sand Body has been performed in a dance studio, a theatre stage, a multimedia gallery/studio, and a theatre hall. I am curious to see how audiences receive this performance differently depending on the various situations and how different contexts inform the way the work is performed. How does a space participate in the performance of a work? What does a space silently echo?
Born and raised in Rabat, Morocco, Meryem Alaoui is a dancer and choreographer working with the moving and voicing body to create and perform. Currently based in Toronto, Ontario, she has danced for Amanda Acorn, Peggy Baker, Antony Hamilton and Karen Kaeja, among others, and performed as a voice/movement improviser locally. Her choreographic works, including Sand Body, have been presented in Hamilton, Montreal and Toronto, and have received support through creation residencies at Hub14 and Dancemakers Centre for Creation, and funds from the Ontario Arts Council and the Toronto Arts Council. She is currently studying Body-Mind Centering® in Europe and the USA with support from the Ontario Arts Council. She holds a BA from McGill University in Montreal, and is a graduate of the School of Toronto Dance Theatre.
Christopher Willes is an artist based in Toronto and Montreal. Situated between music, performance, and visual art contexts his work encompasses a broad range of media and forms including performances, concert works, exhibitions, site interventions, and writing. His practice is broadly concerned listening and its affective, sensorial, and material performativity. The social life of sound – its capacity to mark the spaces between us, and yet simulate and pre-produce realities not yet here – is an ongoing area of interest in his work. His recent projects have been presented at The Art Gallery of Ontario, Summerworks, Intersite Visual Arts Festival, and Cluster Festival, among others. Recent collaborations include Listening Choir with Adam Kinner, Antigone Dead People with Small Wooden Shoe, and Rehearsal / Performance with Ame Henderson. For the past decade he has been continually active in the fields of choreography and experimental theatre as a sound-maker, performer, and dramaturge. He is particularly interested in forms of institutional critique within performance practices, queer modes of spectatorship, the affects of the untimely and unresolved. From 2011-2015 he maintained an ongoing collaboration with Dancemakers in Toronto. Other notable collaborations include works with Public Recordings, Small Wooden Shoe, Meryem Alaoui, Evan Webber, Jordan Tannahill, Julia Male, Ellen Furey, Adam Kinner and Noémie Solomon. He studied music (University of Toronto) and dramaturgy (Dancemakers) in Toronto, and received an MFA from the Milton Avery Graduate School of the Arts at Bard College (NY, USA). He is a recipient of a 2016 Chalmers Arts Fellowship.