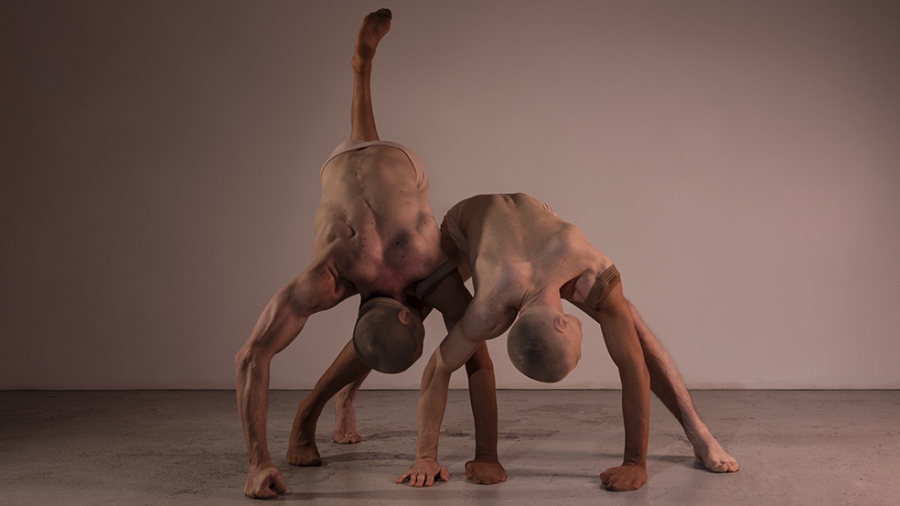 Double bill - The Wilder
NOVEMBER 14. 15. 16, 2019 - 7:30PM
NOVEMBER 17, 2019 - 4PM
-
PART OF OUR DISCOVERY PACKAGE
DISCUSSION WITH THE ARTISTS ON NOV. 15
The order of the pieces is subject to change.
Cantos para los insaciables is a dive into intergenerational memory anchored within the nervous system. Nihilistic and human-centric doctrines and metaphysical uprootedness forge complex links that weave a self-dissolving matrix. It's a pilgrimage to the state that seems to crystallize the spirit of today's cycle: insatiability. At its source, identification with ego as addiction. And the latter being insatiable by nature, Alejandro exhibits its allies: desire, anger, greed.
Choreographer, composer and performer Alejandro Sajgalik
Artistic advisor Eduardo Ruiz Vergara
Lighting designer Hugo Dalphond
Vocal coaching Josée Gagnon
Creative residencies MAI (Montréal, arts interculturels), Studio 303, LA SERRE – arts vivants, Oboro, Circuit-Est centre chorégraphique
With the support of Canada Council for the Arts, Conseil des arts et des lettres du Québec
Cantos para los insaciables is a performance with a sample sequencer. It's a polyphony of dissonant archetypes, from vocal voyages to relentless repetitions of distorted samples, where folk rhythms and ancestral possession music are invoked in a techno-temple's echo chamber. The body revisits territories and objects with a relationship oscillating between physical, intuitive, and neurotic states, allowing new neuropathways to emerge and restructure the nervous system. This myelination enables archaic mythologies to retake root and open futures. This process highlights the spiritual wasteland of Western society: a stubborn quest for the luminous via chaos.
An interdisciplinary artist and energy worker, Alejandro Sajgalik is a descendent of restless blood. His current practice honours the transformative potential of transient deep-rootedness, exploring performance and music and their integration. Drawing from his experience with somatic movement, architecture, sociology, experimental music, and queerness, he dives into deep listening as a channel to critically de-identify the body from memory. His work includes videos, installations, and writings. He holds a bachelor's degree in architecture and a master's degree in urban sociology.
This duet weaves an epic tale of the evolution of Homo sapiens from their cellular origins to their digital apparition. It's a form of liberation. All is white and beige – costumes, canvas-covered floor, back wall screen – creating hospitable surfaces for lively abstract video images and body mapping projections captured by infrared cameras and cast onto the moving performers. A strange angularity shaping their bodies recalls Egyptian hieroglyphs and Greek mythology. Their physicality is anchored in the earth as the Minotaur encounters the lithe long-bodied heron. We humans are certainly beautiful beasts.
Choreographer Soraïda Caron
Performers Mattew Heli Brunel, Sébastien Provencher
Videographer Marco Dubé
Composer Raphaël D'Amours
Lighting designer Sébastien Pedneault
Rehearsal director Esther Carré
Outside eye Jacques Poulin-Denis
With a passion for the development of professional contemporary dance in the region of the Bas-Saint-Laurent, Soraïda Caron has been working as a dance teacher, performer, and choreographer for 10 years. In 2006, she graduates with a bachelor's degree in contemporary dance performance at the Université du Québec à Montréal. In 2015, she founds her own dance company named Mars elle danse in Trois-Pistoles, of which she is the general and artistic director, as well as its choreographer. In 2017, she creates Patrice dans Gisèl, which is performed at Spect'Art (Rimouski), as well as La Nuit de la Danse: Performance in situ and Le Marathon de la création, two multi-disciplinary performances with artists in residence. Supported by the Conseil des arts et des lettres du Québec as part of the 2016-2017 Digital Exploration and Deployment initiative, the company is currently creating a new piece called Belles bêtes that combines dance and digital arts.
Sébastien Provencher is a graduate from Université du Québec à Montréal, where he received the William Douglas grant. In 2016, he is awarded a grant by the Canada Arts Council to complete the choreographic ATLAS program at the Impulstanz Dance Festival in Vienna. As a choreographer, his work has been presented at l'Agora de la danse (Deux Squelettes, 2019), Tangente (Children of Chemistry, 2017), and in diverse festivals around the country and in Europe. Using a multidisciplinary approach in his works, Sébastien focuses his performances around the questions of gender, identity, and political issues. The first version of Children of Chemistry, presented at Quartiers Danses, won the Coup de Coeur Prize, which is awarded by the public. In Montréal, he has danced for choreographers Louise Bédard, Sasha Kleinplatz, Manon Oligny, George Stamos, and Helen Simard; and in Toronto for DA Hoskins/Dietrich Group, Social Growl Dance/Riley Sims, and Marie Gagnon-Lambin.
A versatile dancer, able to adapt quickly to several environments, Mattew Heli Brunel has been performing since a very young age and has touched all the spheres in which a dancer can evolve during his professional career, from musicals, TV shows, festivals to galas, documentaries and music videos to fashion shows for internationally renowned designers. He studied contemporary dance at UQAM and has danced and/or choreographed for many local and international artists and productions such as Cirque du Soleil, the musicals Foot Loose, West Side Story, and Les DIX commandements. Mathieu also has been a dancer for pop band 2B3 (France) in the mid '90s, he has performed for singers Mitsou and Nanette Workman, the American rapper Ja Rule, the R'n'B singers Ashanti and Tweet (artists produced by Missy Elliott). To this list is added Annie Dufresne, Luiza, and IMA. Besides being a choreographer for the Malajube group, he was a dancer/co-choreographer for French band IAM's rapper Freeman's Québec tour. In 2015, Mattew had the chance to collaborate with the store chain SPORT EXPERT as a model/dancer for their men's Spring collection. He has also worked on promotional campaigns or fashion shows for Nike, Adidas, Roca Wear/State Property, Pepsi, Sprite Canada, CKOI 96,9FM, D.K.N.Y., Obsession, and Triple Five Soul clothing. He has collaborated with Canadian designer Mikael D as an internship designer/choreographer and with choreographer Eddy Toussaint. Mattew also had the opportunity to perform with choreographers Marc Boivin, Benoît Lachambre, and Johanne Gour, with the Kafig dance company (France), the Danger company, and the Urban Style Dancer company. Mattew has also danced for the companies Mars Elle Danse, Danses_Insoumises, Takabouger, and for the dance collective Deep Soul Movement. He is also the founder, artistic director, choreographer, and a former dancer of his own dance company, Miroir Miroir, created in 2015.
Editor, director, DOP, 2D and 3D animator, Marco Dubé is what we could call in video production an all-terrain artist. Originally from the Basques region, he studied computer graphics and interactive multimedia, then embarked on a life of freelance that has brought him a variety of projects and collaborations over the last 20 years. Recognized at the beginning for his motion design and special effects short films, he integrates social documentary and live performance in his practice. Co-founder of the Kinö cell in Québec in 2001, he is on the board of directors and an active member of various cultural organizations in the 2000s. For the stage, we see his work in Mon voyage au Canada by Mononc' Serge in 2002; Voyage, Voyage by Hélène Matte in 2007; Scala: The wall of sound 1st edition (winner of the Coup de Coeur award from the Public at Just For Laughs in 2009); Les Essais, d'après Montaigne from the Théâtre du Sousmarin Jaune (2009); Le Moulin à image 3D (2011); Map Sonor Phase Fünf at Mois Multi (2013); Le Désert mauve at Espace Go (2018); Tableaux by Claudie Gagnon, which won the Québec Triennial's Public Choice Award at the Museum of Contemporary Art in Montréal (2011). Since 2010 at the Musée de l'Amérique Française in Québec, one can also see his work as DOP, editor, and motion designer in the exhibition Partir, la migration des francophones en Amérique. He has co-directed the documentaries Un toit, un droit (2005) and Symphonie Locass (2006) with the NFB and Télé-Québec, as well as many short films and social documentaries for television and the web. He also gives editing workshops for the Conseil de la culture in the Québec City region or for the Wapikoni Mobile organization in Aboriginal communities.
It's during his teenage years that Raphaël D'Amours had his first musical experiences. He studied jazz guitar in college. He is interested in many musical genres: pop, funk, classical, rock, flamenco… Following his bachelor in music, he started to tour North America for a couple years with Cavalia. He took many positions in the company: guitar player, bass player, and band leader. After few years of steady performance, he decided to leave the tour and started to work as a full time freelance performer and composer. He has worked for numerous artists, playing guitar, banjo, bass, lapsteel, and more. He is a composer for cinema, contemporary dance, circus, and advertising. His current projets are creating music and sound design for the next 7 Doigts de la Main show, recording an album for a folk band, and touring with various artists.
It was during adolescence that Sébastien Pedneault became aware of his passion for the performing arts. He left Saguenay for Sainte-Hyacinthe to study in a Theatre Production program. From then on, he seizes the professional opportunities offered to him and carries out international contracts. For almost 20 years, he has been passionate and energetic, pursuing contracts in lighting design and scenography for live music, dance, theatre, and architecture.