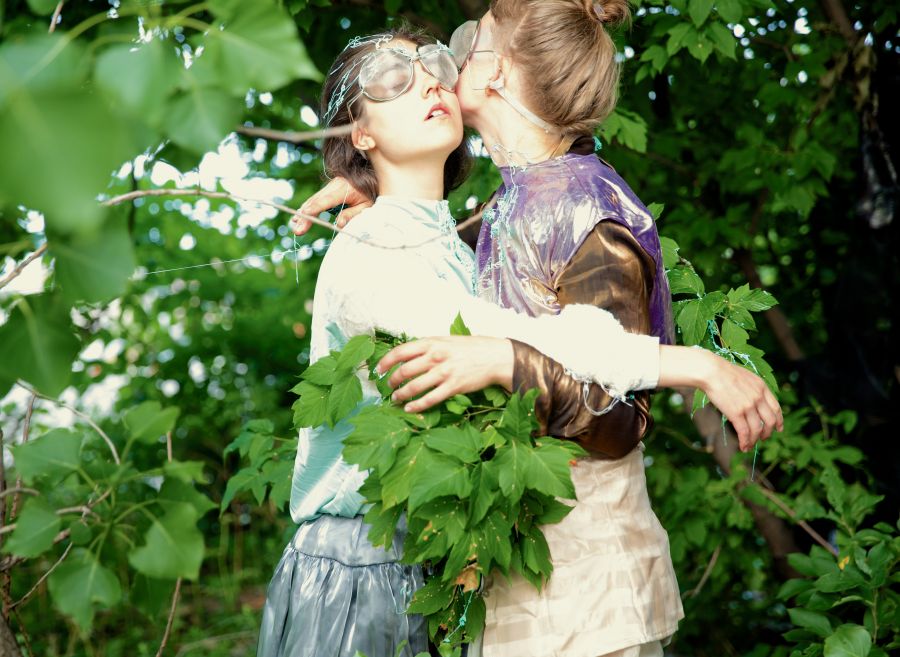 Rewilding
MARCH 29. 30. 31 | 7:30PM
APRIL 1 | 4PM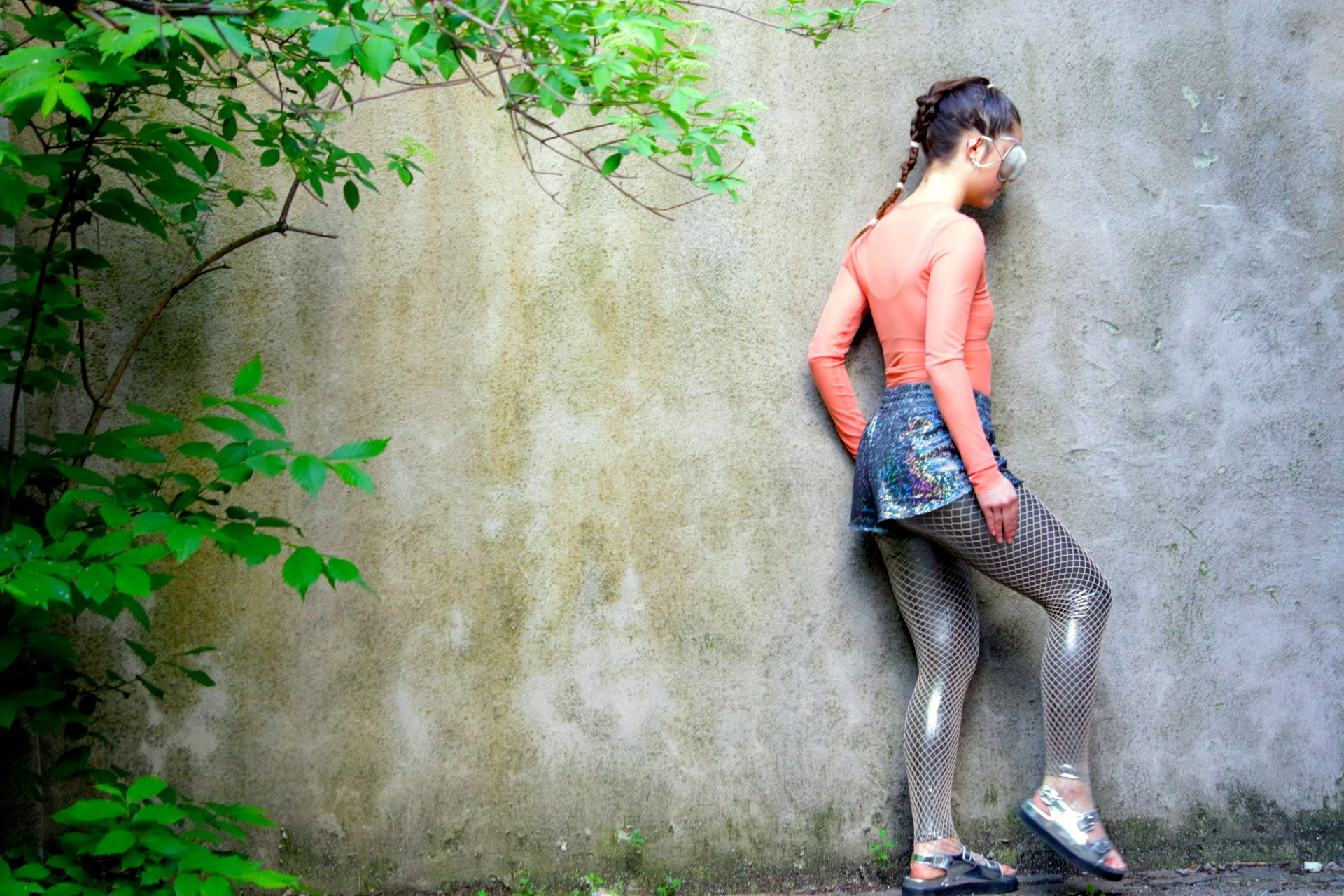 Boxher
Kimberley de Jong
35 minutes
You enter a sparse space but for a mountain of garbage. The sound of a constant drone resonates, creating an eerie apocalyptic atmosphere. Inspired by the endangered state of bears and their changing environments, this work takes you on a journey, exploring the will to escape the confines of one's space. A sense of progression is achieved through the sounds of the performer's amplified breath and beating heart linked through an electronic monitor to a synthesizer. Her half-animal half-human presence, unrestrained and organic, elicits a visceral engagement from onlookers. As she adapts to change, she is transformed.
Choreographer and performer Kimberley de Jong
Sound collaborator and performer Jason Sharp
Lights Karine Gauthier
Costume Camille Thibault-Bédard
Outside eye Enora Rivière
In Boxher, Jason uses an electric heart monitor attached to Kimberley's heart and modulates the sound through his modulator synthesizer. The effort of Kimberley's body determines the sound progression. "We wanted to create a feeling of urgency and a visceral struggle. Using the sounds of my heart and breath are ways to connect to a rawness and a state of empathy." Using improvisations as a means to create, Kim and Jason found landmarks through the piece to establish a framework and answer questions as to how to situate themselves in relation to each other and to the public.
The quest to escape a confining space or the urgency to find a new space is becoming more real within our changing climate. Animals are the first to show signs of migration and are forced to adapt to new environments. Boxher is largely inspired by animals and their adaptation to new spaces.
In 2014 Kimberley de Jong created her first full-length piece, CYCLe2, performed by Brianna Lombardo and Nathan Yaffe at Tangente, Studio 303 and Compagnie Marie Chouinard. CYCLe2 is a poetic journey of relationships between mother and son, lovers, and our relationship to death; how these cycles repeat themselves, however differently. In 2016, Kimberley profited from O Vertigo's residency program to create a duo with Brianna Lombardo, Unravelling, where they plunge into the journey of grief without holding up their guards, into the realness of the experience and using their personal canvases to unravel the spun. Boxher is her first solo creation and also her first time working with live music collaborator Jason Sharp. Kimberley also dances for several Montreal choreographers, including Marie Chouinard, Frédérick Gravel, Alan Lake, Dana Gingras, Martin Messier and Caroline Laurin-Beaucage.
Jason Sharp, a fixture of Montréal's experimental/improv scene for many years, is a saxophonist exploring drone and durational music. Jason has recorded with Matana Roberts, Mt. Zion, and Sam Shalabi for Constellation Records and has recently put out his own album, A Boat Upon Its Blood. He has shared the stage with Montreal improvisational artists such as Lori Freedman, Jean Derome, and Malcom Goldstein, as well as free jazz luminaries such as Peter Brötzmann and Ken Vandermark. Jason is currently serving as president of the board of Innovations en Concert, an organization that promotes new music in Montreal. He studied composition at the Conservatorium van Amsterdam and continues to write for film, dance, and installations.
Vivarium
Lucy M. May
30 minutes
Born out of hunger for light and wind and ethical artmaking, this slowly unfolding performance is a site-sensitive process. It's a playful "soft manifesto" that began in the alleyways of Hochelaga. In this indoor iteration, the Vivarium inhabits the Espace Vert, where spectators are encouraged to wander and linger. Two dancers oscillate limbs and torsos, whisper, and compost within a pop-up installation of objects gleaned from and imposed on the site. A scenographer "gardens" these materials, intent on uncovering their poetry and drama, while a musician composes a live digital and acoustic soundscape. Although this problematic utopia eventually perishes… it may come back to life.
Co-created and performed by
Scenography and installation Noémie Avidar
Composition and sonic environment Patrick Conan
Movement and costumes Paige Culley
Movement and costumes Lucy M. May
Space is never empty. We try to work in a mode of soft manifesto — listening — in a spirit of equality and compassion. The performance is an exercise in placing value on alternative ways of moving and being moved through the world. We endeavour to cohabit spaces with other humans, non-human others, and objects, inspired by the drama of a garden, and attempt to resist prescriptiveness, worry, and harm. The paradox does not escape us. Patrick's sound is a poem to the many voices in the field, but simultaneously drowns the hush of the air. As Noémie gardens, she contends with her conflicting roles as both fertilizer and colonizer. As Paige and Lucy dance, they both empathize with and trample what is at their feet. Our work began in 2014 in Hochelaga, and we continue our adaptations, outdoors and in.
Lucy M. May is a contemporary dance artist, teacher, and writer for The Dance Current, based in Montréal. In recent years, Lucy has developed choreographic work for screen, paper, site-specific locations, and the stage. Currently, Lucy is developing performances that ask how geo- and bio-social environments thread their way through human movement (Vivarium; Esemplastic Landing; reaching over a brink of darkness, folding open to a starlight trepanation). She imagines her moving body as a meeting place, where theories and conversations find confluence with what is local, sensual, or tactile. Lucy was a member of Compagnie Marie Chouinard for seven years, and dances independently with Margie Gillis, Alejandro De Leon, Sasha Kleinplatz, and choreographers based in her natal province of New Brunswick. She dances to wonder after what binds micro to macro, macro to micro. Lucy is a graduate of LADMMI and the Rotterdam Dance Academy in the Netherlands.
Patrick Conan, a graduate of Vanier College with a DEC in Percussion, is a drummer and percussionist who has been playing music professionally for 20 years. He has played in numerous projects and toured Canada, the United States, and Europe. Notable acts include Tricky Woo, Sackville, and The Carnations. Current projects include Sam Shalabi's Land of Kush and Traces. Patrick also composes his own music, working with MaxMSP, field recordings, and found sounds. He composed music for Vivarium, an ongoing collaborative project with Lucy M. May which was performed at Les Salons de L'est in 2014 and Suoni Per Il Popolo in 2017. He has composed for contemporary dance  since 2013, presented at Short&Sweet and for Nathan Yaffe's Dunno Wat U Kno, which was presented at Tangente in 2017.
Paige Culley, originally from Rossland, British Columbia, entered the professional training program at the School of Toronto Dance Theatre, where she was awarded the Hnatyshyn Developing Artist Grant for contemporary dance. Upon graduation in 2010, Culley worked as part of Dancemakers, performing works by Antonija Livingstone, Martin Bélanger and Ame Henderson. From 2011 to 2016, Culley performed extensively with Compagnie Marie Chouinard, dancing existing repertoire as well as developing original roles. Recipient of the 2012 danceWEB scholarship at ImPulsTanz in Vienna, Culley was mentored deeply by Robin Poitras and Benoît Lachambre. Part of the inception and premiere of More than Naked by Doris Uhlich and the Montreal version of Nature Redux by Marten Spangberg, Culley continues to embody diverse performative roles, also working with Daina Ashbee, Le Carré des Lombes and Lucy M. May, and proceeding with gratitude for the many forces that have nourished and continue to circulate the traditions from which she receives so much.
Noémie Avidar, originally from Brussels and Tel Aviv, has been creating scenography in Montreal since her graduation from the National Theatre School of Canada in 2009. She has travelled between theatre (Théâtre L'Instant, Groupe La Veillée), circus (École Nationale de Cirque), and installations (Festival International du Film sur L'Art), to finally arrive at dance (Compagnie Marie Chouinard et la Fondation de Danse Margie Gillis). She is an assistant and consultant for independent projects and collaborations. Noémie continually revisits and questions ways of making scenography in the contemporary world. She has used etching, photo-collage, text, the Internet, plants, and public participation to activate her scenography, every time ephemeral.