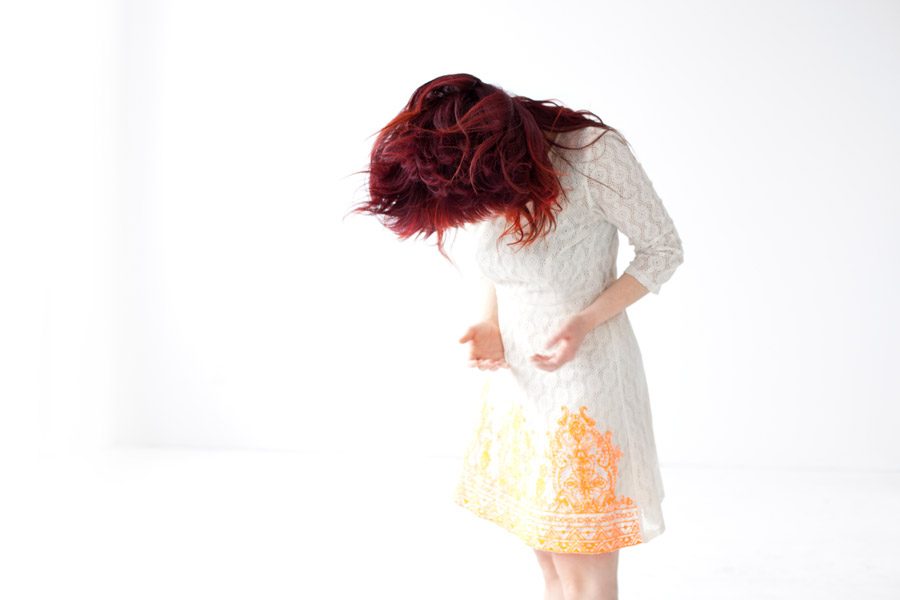 Reviens vers moi le ventre en premier
Reviens vers moi le ventre en premier
Annie Gagnon
60 minutes
The most elemental mysteries of femininity are symbolized by Earth and it's transformations. In the myths of Creation and the traditional rites of the aboriginal people, Earth is the primal wounb. This descending movement brings us closer to concrete reality, to sensuality, to pleasure and pain, to fire and volcanoes and the freshness of water. The descent allows the solidification, the materialization, and these may be synonyms of falling, of collapsing or imploding.
Symbolically, red is the colour of life. Red attracts us, transmitting vitality, warmth, excitement, passion, but also preventing danger. The colour red is at the center of our image of libido, (the vital energy) whether it be sexual passsion, aggression or anger. For the alchimist, blushing was the last phase of gold's transmutation or, psychologically speaking, of the integration of the personnality. This meant to make of spiritual realization a concrete and vital reality experienced on a daily basis.
Choreographer and performer : Annie Gagnon
Costumes and setting : Marilène Bastien
Lighting designer : François Marceau
Music composer : Alexander MacSween
Rehearsal director rand external eye : David Rancourt, Jessica Serli
"I wish to question how my femininity might relate to animals and humans, and furthemore, to those manners of being in which a subtil mix of both realities appears. The idea is to give way to the repressed animalistic nature, to an expression of instinctive sensuality where impulsiveness is important, alternating between ardor and nonchalance. I'm looking for movement that will favor a desire of intimacy with oneself but in which the other is essential, because I can only appear through the other's eyes, that which is not me. These others exist here as objects through which I can explore transformation and eroticism.
As the piece moves on, with the objects that appear and with which I interract, the space will undergo a transformation as with spacial composition in installation pieces, adding touches of colour, isolated spaces, visual texture. The body in movement then transforms the dynamics of the composition in real time, playing the central role.
In continuity with my approach, it is in the encounter between dance and visual arts that the choreographic and symbolic lines of the piece are drawn. In order to enrich the physical transformations needed for the choreographic scenario of the work, I wish to further my artistic collaboration with visual artist Pascal Lareau, co-creator of my last piece La Marche invisible. On this occasion, we wish to accentuate the intimacy of the relationship with the object by integrating sculptures and objects that will be themselves handled and thus transformed. The possibilities of interaction with these objects will necessarily offer new aesthetic and choreographic avenues. In this manner, the identity of the movement and it's symbolism will be created out of this interaction.
Our common artistic approach is based on the desire to create shows in which the combination of dance and visual arts will give life to something new. Pascal Lareau and myself wish to combine our disciplines in order to give life to a world in which the presence of the body and it's environment come together aesthetically in a kind of multi-disciplinary democracy. We like offering images that have the possibility of open interpretation for the audience members.
Annie Gagnon
Following her studies in visual art at the Gégep de Joliette, then at Concordia University, Annie Gagnon turned to contemporary dance and got a degree from LADMMI conptemporary dance school in 2002. That same year, she presented her first piece Si j'étais une de ces femmes for Tangente's Danses buissonnières. In March 2003, Tout à Trac, her second piece, was created at the Monument National's Théâtre du Maurier. Thanks to a grant from the Conseil des arts et des lettres du Québec in 2005, Annie Gagnon created Lotus, which was presented in the context of the series Art et Création at the Gesù-Centre de Créativité. In 2010, she presented her fourth piece, La Marche invisible at Tangente and participated in the project Recommandations 63 which was organized by Normand Marcy. In June 2011, she was part of the Piss in the Pool program organized by Wants&Needs and presented Étude sur le cœur. Annie presented Les femmes de la Lune Rouge in February 2013, an ambulatory piece around the exhibition of Samouraï: chefs-d'œuvre de la collection Ann et Gabriel Barbier-Mueller at the Musée de la Civilisation de Québec. Aside from her work as a choreographer and performer, Annie works as a rehearsals manager with many choreographers as well as the company O Vertigo.
Marilène Bastien
Graduate of the Cegep Saint-Hyacinthe in scenography, and Concordia University's faculty of Fine Arts in interdisciplinary studies, Marilène Bastien works in the conception and design of scenary, costumes and accessories in théâtre, circus and danse. She is presently working on the creation of the scenary and costumes for Khaos, choreographed by Ginette Laurin for O Vertigo. Alongside Ginette Laurin, Marilène recently designed the scenary and costumes for a new creation of The Rite of Spring, a french co-production for the CCN – Ballet of Lorraine and National Opera of Lorraine. She is working with choreographers Chantal Caron, Tony Chong, Annie Gagnon, Aurélie Pedron, Marie-Claude Rodrigue, and Manuel Roque. Over the past five years, Marilène has also travelled the world with Companie Marie Chouinard as stage manager.
François Marceau
Since graduating in 2002 in production at the National Theatre School of Canada, François serves as lighting designer, technical director, production director and light operator in several companies in Montreal. He collaborated with choreographer Ginette Laurin designing lights for shows ANGEL's, Coppia 2, The Rite of Spring (Ballet de Lorraine and the Opéra National de Lorraine) and the most recent project of the company, Les petites formes. He also supports the company O Vertigo as lighting director since 2002. From 2006 to 2012, he worked as technical director and lighting director for Compagnie Marie Chouinard.
François also collaborate with Estelle Clareton for her shows Sorrows, En plein corps and Étude sur l'amour-Automne and will also collaborate for her next creation, S'amouracher. He also designed the light for other dance shows like100 Legs from Caroline Laurin-Beaucage, Falling Jeff Hall and Désillusion de l'enchantement of Tony Chong. His collaborations include light design for theater: Zorro and L'odyssée, directed by Vincent Guillaume Otis, presented by the company Picouille Théâtre. For the same company he designs the lights of Captaine Fracasse, staged by Philippe Lambert. He also creates the lights of Les Filles de guerres lasses, directed by Caroline Binet, Honey Pie, directed by Claude Poissant, La Locandiera, directed by Philippe Côté. In March 2012, he signed the lighting design De quel rêve étrange je m'éveille of Katia Gagné. François is currently working on a new show with Bernrd Meney and Estelle Clareton Projet Nijinski as lighting designer and will be presented at the theater Quat'Sous in October 2013.
Alexander MacSween
A musician, composer and sound designer, Alexander MacSween has collaborated on several dance, theatre and film projects. He has worked with Marie Brassard, Daniel Brooks, Dana Gingras, François Girard, Brigitte Haentjens, Robert Lepage, José Navas, and Necessary Angel Theatre Company. As a drummer, Alexander is active in the worlds of rock, improvisation and electronic music, having played with Bionic, Foodsoon and The Nils. He is a member of Martin Tétreault's Turntable Quartet and shares the improvised music duo Detention with guitarist Sam Shalabi. Alexander's solo projects and sound installations have been presented at festivals in Canada and abroad. His latest solo project, Macheen, was launched at MUTEK 2012. In addition to his artistic work Alexander gives workshops in real-time sound processing for the performing arts at various North American and European institutions. www. alexandermacsween.com
David Rancourt
David Rancourt, a native of Abitibi-Témiscamingue, has been living in Montreal since the summer of 1999. He received his professional contemporary training from Les Ateliers de Danse Moderne de Montréal. Immediately following his graduation in 2003, he joined La Compagnie Marie Chouinard and worked there for three years. Since then, David has been performing works by Sylvain Émard, José Navas, Annie Gagnon, Chanti Wadge and Paula de Vasconcelos, among others. In January 2008, David presented his first co-creation, "The Sorrowful Sons", in Montreal with Clara Furey at Tangente. In addition to working as a performer, choreographer and modern dance instructor, he practices thai-yoga massage and Qi Gong, a discipline he has studied for many years with Marie-Claude Rodrigue. In recent years, David's artistic approach has begun to diversify as he occupies different roles (teacher, performer, choreographer and collaborator) on various projects.