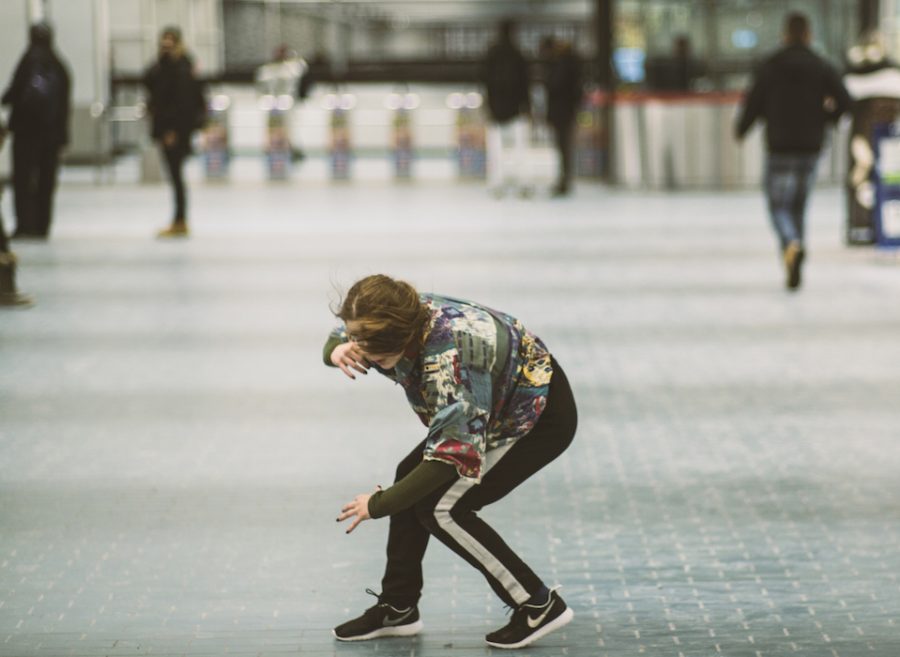 Possibles
Free
FEBRUARY 21 | FROM 5:30 PM TO 8:30 PM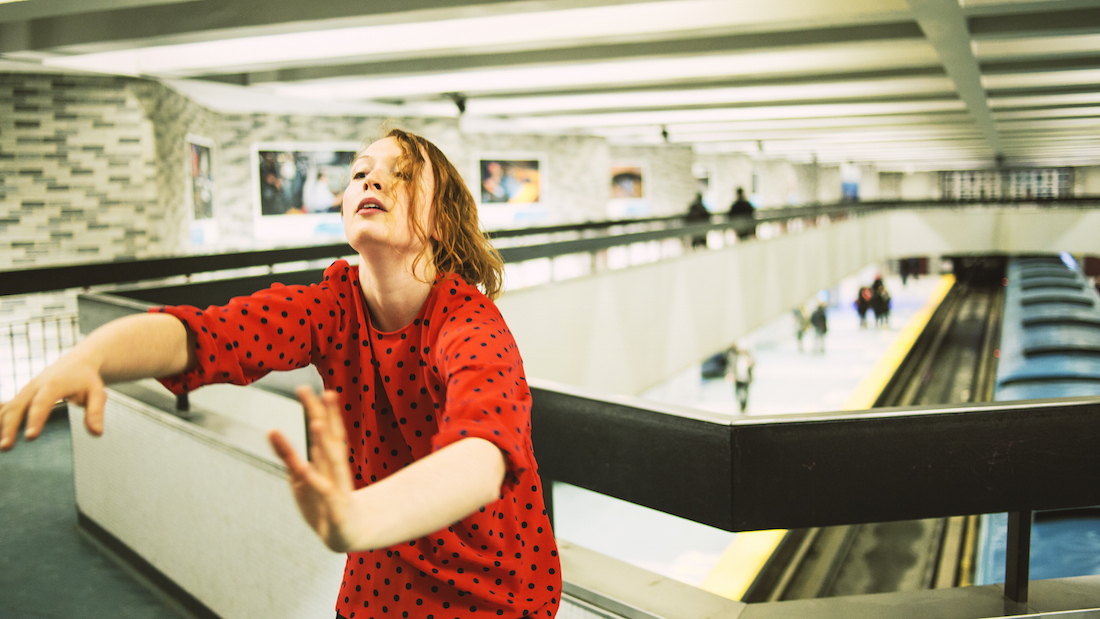 Waltz
Jacques Poulin-Denis / Grand Poney
3 hours
You are not stuck in traffic, you are traffic.
Every hour, radio gives us a traffic update, like a small prayer that highlights our obsession for road conditions, the rush hour and subway failures. But what about the human beings that are continually navigating this web of routes? What place do we give the bodies that run, walk, roll, and saunter? From the closed circuit commuter, to the devoted February cyclist, our comings and goings are the waltz that animates the city.
Waltz is a tribute to mobility. In the Place-des-Arts metro station, an oversized treadmill is the rolling stage where imagined stations and travellers succeed one another. Its rythme is synchronized to the trains and every departure offers a new and abstract look into our transportation culture.
About the project:
POSSIBLES is produced by LA SERRE – arts vivants. The project causes the encounter between art and citizen in the perspective of sustainable community development. Once a month throughout the year 2017, POSSIBLES will present the works of 12 artists from various art disciplines in collaboration with 12 creative partnerships in 12 unusual Montreal venues. The Objective: Provide a platform to up-and-coming artists by inviting them to create new POSSIBLES exploring 12 local issues that arose from discussions with the community.
Tangente is proud to be part of this project and has invited artist Jacques Poulin-Denis to make his "own possible" piece.
Design, choreography, music Jacques Poulin-Denis
Electronic design Samuel St-Aubin
Dancers Nicolas Boivin, Charles Brecard, Laurent Chalifour, Matéo Chauchat, Justine Chevalier-Martineau, Sara Cousineau, Julian Czenze, Jessica Dupont-Roux, Roxanne Dupuis, José Flores, Cyndie Forget Gravel, Maïka Giasson, Gina Grant, Chloe Hart, Julien Mercille Barrette, Danny Morissette, Brontë Poiré-Prest, Emma Simon, Camille Trudel-Vigeant, Émilie Wilson, Luis Alberto Cabanzo, Margaux Dorsal and Susannah Haight from the École de danse contemporaine de Montréal.
Rehearsal director Jean-François Légaré
Text Daniel Canty
Costumes Julie Espinasse, Marilène Bastien
Set fabrication Omnifab, L'autre Atelier
Administration Stéphanie Murphy (Diagramme gestion culturelle)
Production Grand Poney
Co-presented by Tangente and La SERRE – arts vivants for the  POSSIBLES project, as part of the official programming of the 375th anniversary of Montréal. In collaboration with the Ecole de danse contemporaine de Montréal and the Société de transport de Montréal.
Jacques Poulin-Denis is a composer, choreographer, director and performer who blurs the boundaries between dance, music and theatre. In 2009, he forms the interdisciplinary company Grand Poney, with whom he creates (Very) Gently Crumbling (2015), The Value of Things (2014), Gently Crumbling (2011), DORS (2010) and Target of God (2009). With more than twelve creations under his belt, Jacques Poulin-Denis' work has been seen in over twenty cities across Canada, as well as in the United States, Europe and Asia. He creates humanistic and uncanny works that are both sensorial and thought provoking. By gently knocking the spectator off center, he puts forth the strength in the vulnerability of the characters he brings to life. Jacques is a close collaborator of choreographer Mélanie Demers and composers Nicolas Bernier and Martin Messier. He has also composed music for Catherine Gaudet, Ginette Laurin, Denis Marleau, Sabrina Reeves and Gilles Poulin-Denis, amongst others. He can be seen in the Dominique Skoltz's film, y2o, as well as Dive by Kaveh Nabatian, a short film for which he was awarded the honour for best male role at the Paris Courts Devant festival in 2014.
Samuel St-Aubin has been part of the electronic arts world since 2002. He has helped produce the work of a number of Quebec artists and collectives. For the past few years, he has been focusing on his own creative efforts. The electronics technician reinvents everyday objects. He injects another dimension into his creations that goes beyond the utilitarian reality of the object, by diverting them from their primary purpose, radically disrupting our relationship with the object. With unflinching precision, his works let us tap into the poetry of the everyday, discovered in the simplicity of existence.
Founded in 1981, the École de danse contemporaine de Montréal is a national higher education institution specializing in professional contemporary dance training. Recognized for its quality, innovative and rigorous training, it trains professional and versatile dancers. It is affiliated with Cégep du Vieux Montréal and accredited by Quebec's Ministère de l'Éducation, du Loisir et du Sport.
In co-presentation with