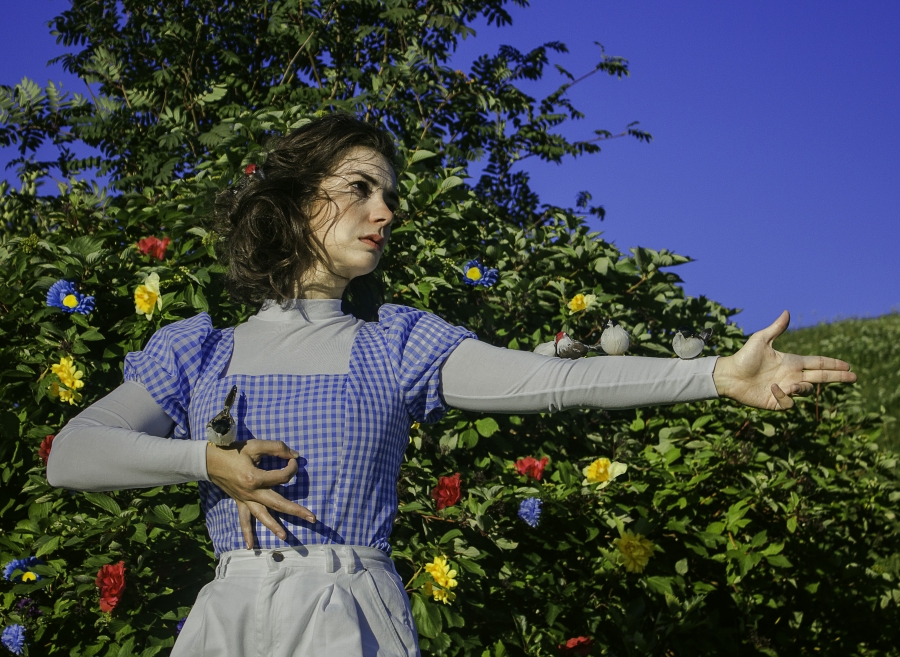 Persona: Fragments
APRIL 12. 13. 14 | 7:30PM
APRIL 15 | 4PM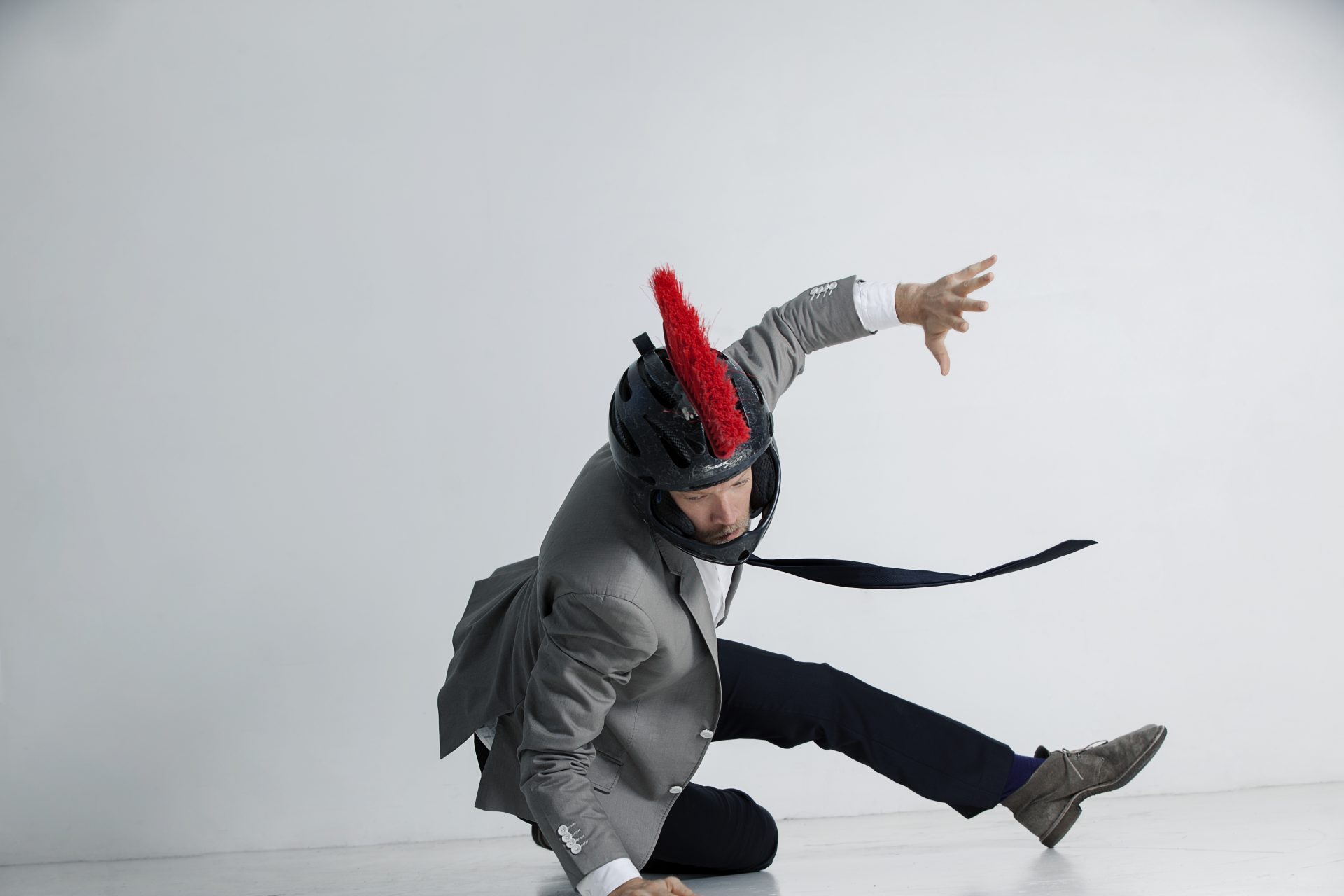 Rainblow
Geneviève Jean-Bindley
25 minutes
What happens in the mind of someone suffering from depression? In this sincere incarnation of the pop aesthetic of The Wizard of Oz, emotions are raw and real. This solo is a stormy choreographic metaphor for mental illness. It's dramatic. The protagonist, a super-realistic Toto at her side, wavers between two emotions, two witches, two ideas to conquer her demons. High-pitched Munchkin chatter and strains of "Over the Rainbow" hang in the air. Her erratic gestures are graphic with symbolic overtones, suggesting an illogical sign language. This time, a happy ending is far from certain.
Choreography, performance and costumes Geneviève Jean-Bindley
Performance Marie-Ève Dion, Gabrielle Bertrand-Lehouillier
Rehearsal director Juliette Pottier-Plaziat
Sound design Carl-Éric Hudon
Lighting design Benoit Larivière
Photo and graphic design Gabriel Germain
Outside eye Sophie Michaud
Rooted in North American culture like a blockbuster movie, depression is a pop-infused affliction increasingly becoming the great classic of a generation. When you become the supporting actor in your own life and a breakdown is starring in the lead role, it is easy to conjure up a virtual horror story with an unpredictable ending. When you are trapped in a whirlwind of fear and dejection chased by the witch of all torments, it is impossible to imagine a happy ending. However, sometimes all that is needed are three little knocks to return to reality.
RainBlow is a choreography that sets in motion an illness and its symptoms in a universe where fantastic metaphors and dramatic reality unite. It is a solo performance with a signature graphic vocabulary that strives to stretch beyond understood limits, somewhere over the rainbow.
Geneviève Jean-Bindley dabbled in graphic arts and theatre before undertaking professional training as a dancer at UQAM, where she specialized in performance and creation. Geneviève is a visual artist who uses choreography as a support and the body as a medium. She works at the interface of choreographic design, scientific choreography, and dramatic choreography. Her choreographies are a composition of images that flow in succession to achieve a complete opus. In her mind, the movement is not what counts but rather the movement within a space. When this comes together, the meaning and interest of the movement become visible and significant. Since her graduation, Geneviève has been participating in a number of artistic projects and now has to her credit several original creations, such as HÉRÉSIE, HotDog and PARADE, which have been presented on different stages and at various festivals. Since the very beginning of her career, she has collaborated with several artists from the music scene, such as Les Goules, Câltar-Bateaux and Géraldine, on the production of videos and other works. She is also the founder of the Bananas Human Steps project and is now working on the launch of her own company GEAN BINDLEY Art.
18 P.R.A.C.T.I.C.E.S. (working title)
Andrew Turner
40 minutes
This work-in-progress testing of materials explores the seemingly stable "I" as composed of odd, non-logical, truncated fictions. Fragmented, these strains of narrative percolate just beneath the surface of the self. Inhibited, but still twitchily at play in our very muscles and tissues, they eloquently trouble an otherwise cohesive identity. At times with a fluidly surging physicality, at times deeply dis-coordinated; with a sense of humour both deliciously absurd and razor sharp; and with an unflinching curiosity about what's happening right now in this moment, this dancer-choreographer probes the parts of us that show up, unannounced and uninvited, despite our best efforts.
Choreography and performance Andrew Turner
Lighting design, video design and integration Gaspard Philippe
Sound design David Drury
Dramaturgy Thea Patterson
The self is a signal and, like any signal, is beset by noise: both surrounding it and shimmering at its core. In this performance-talk, Andrew Turner probes the eloquent distortion beneath the stable "I". In-progress presentation of a full-evening piece, 18 P.R.A.C.T.I.C.E.S. (working title) is based on Joyce's 1922 novel Ulysses, which itself drew firm parallels to Homer's Odyssey. Exploring notions of encryption and decryption, the plasticity of time and the noble wanderer, the eventual piece (similar to Joyce's work) will comprise 18 "chapters": each based on a distinct practice, some calling for high levels of physical or cognitive coordination, others for a deep disarray. By turns comic and tragic, delivered with Turner's self-deprecating humour and dog-like eagerness to engage any public you put him in front of, this will be a spirited but meticulous study of ipseity; a four-dimensional cartography of the self; a map navigated at the same time it is drawn.
Leaving studies in history and philosophy behind, Andrew Turner is inexplicably accepted to Concordia University's Dance program in 2001. He performs extensively both at home and abroad, in collaboration with such artists as Marie-Julie Asselin, Marie Béland, Deborah Dunn, Milan Gervais, Sasha Kleinplatz, Pierre-Paul Savoie, and Paula de Vasconcelos, before joining O Vertigo full-time (2011-2013). His first choreography, Duet For One Plus Digressions (2008), received several awards (including Prix OQAJ, Prix OQWBJ) and has been presented in Belgium, France, Mexico and the United States, as well as in over twenty cities in Quebec. Now I Got Worry followed in 2010, also greatly appreciated by both press and public. In 2014 he created Speeds and Slownesses 1a, commissioned by the Ottawa Dance Directive, and in 2015 he presented A Standard of Measure, Except Not Really at Tangente.  He is currently pursuing a Master's Degree in Dance at UQAM.
Born in Montreal, David Drury studies electroacoustic composition at Concordia University (BFA, 2001), and later earns a Masters' degree in Sonic Arts at Queen's University, Belfast (MA, 2005). Since 2006, he has been based in Montréal, working as a sound artist, composer and sound designer. David's work has involved collaboration with artists in a wide range of disciplines, including original music and sound design for theatre (Wajdi Mouwad, Marrie Brassard), dance (Caroline Laurin-Beaucage, Andrew Turner, Milan Gervais), film (Eyesteel Films, Antler Films, NFB), television (Pascal Brouard, François Pelloquin), and several large-scale public installations (several involving large-scale architectural projection) with such companies as the NFB, Dpt, Daily Tous Les Jours, Moment Factory, and Playmind Studios. His own composition and installation work has been featured in festivals ranging from the ICMC to Nuit Blanche to Mutek, and has been shown or performed in North and South America, Europe, and Asia.
Gaspard Philippe is born in Switzerland in 1993. In 2012, he graduates from the Lycée cantonal de Porrentruy. In 2013, he moves to Québec city, studying theatre at Laval University for two years. In 2015, he is admitted to the National Theatre School of Canada's Production program. During his training, he works with such directors as Jocelyn Pelletier, Monique Richard and Florent Siaud. With Tamara Nguyen he founds the company Cran Arrêt, presenting their first creation, Asphyxie Règlementaire, at ZH festival in 2017. Gaspard is particularly interested in sound design but has also familiarized himself with video design, lighting design, playwriting and directing.