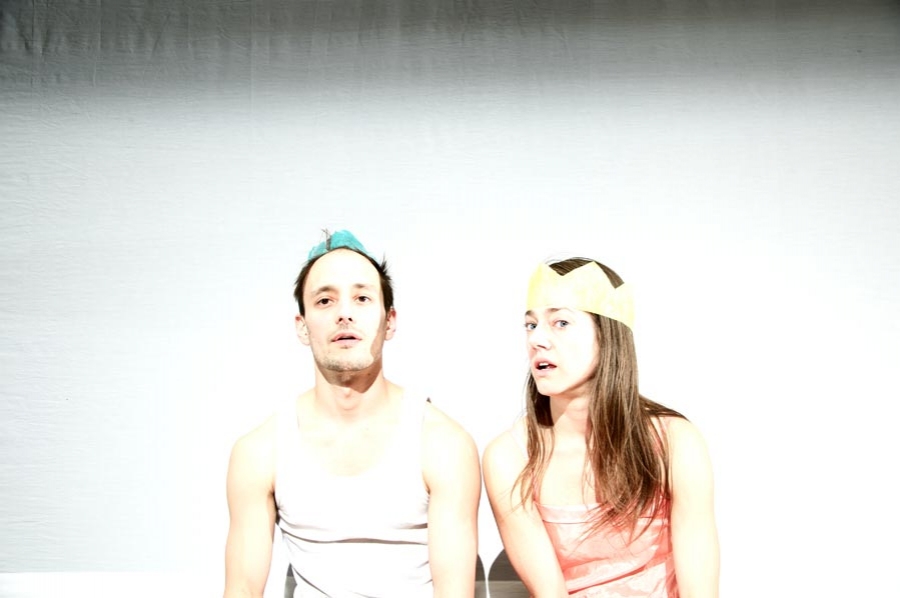 Ne meurs pas tout de suite, on nous regarde
Ne meurs pas tout de suite, on nous regarde
Manuel Roque
60 minutes
L. and M. might be the last two human people on a post-apocalyptic earth. But this is not important They're just playing. For you For themselves Playing with emptiness and chaos Trying to express their kinetic existentialism as real as it might feel. Don't die now, we are being watched is a choreographic show about childhood, existentialism, chaos and emptiness, a celebration of the human race in case of its possible disappearance.
Creation of Manuel Roque
Choreography and performance : Lucie Vigneault, Manuel Roque
Light and technical director : Judith Allen
Costumes / Accessories / Scenography : Marilène Bastien
Rehearsal manager : Indiana Escach
Dramaturgy : Peter James
The creation of this performance has been made possible with the support of : CAC,Tangente, Circuit-Est, Cie Marie Chouinard, Flak Studio, Studio Mange mes Pieds. This piece is dedicated to Milo and Diego.
Ne meurs pas tout de suite, on nous regarde (Don't you die right now, we are being watched) uses the same creative process as the precedent piece , the solo RAW-me. Finding a balance between a specific choreographic language and an obvious theatrical presence, the piece is giving priority to the search of writing a kinetic sense / moment . Human being is the main topic here. The way he expresses himself, his relation to his environment, relationship between eachother, and the poetic / metaphisic value of his movements/pulsion. Sometimes acting zombie / empty , sometimes being histerical , too full. Either in a hyper-active environment , or in the shape of a black hole. The choreography puts the movement upfront, giving the dancers a large range of freedom connecting with primal impulsion. This freedom is balanced by a sharp dramatic writing. The performers are urged to play into virtuosity, energetic contrast, surprising connections and a deep level of sensitive awareness. The creative team plays a central part in the process: Peter james and Indiana Escach , dramaturge and director of rehearsal, make sure of the pertinence and the clarity of the outline, as much as the kinetic cohesion. Lucie Vigneault, multi talented dancer , is a long time friend and we are use to share stages and creative process. This above-words complicity is essential to the process. Judith Allen, Lighting designer and technical director, will be on stage as a performer . Marilène Bastien, costume designer and set designer, works on the visual aspect of the piece , using the topic of full/empty opposition , the air, inflatable toys and structures…
Manuel Roque
After receiving a Diplôme d'études collégiales for theatre studies in France, followed by further studies at the Ecole Nationale de Cirque in Montréal, Manuel began his career as an acrobat with Cirque Eloïze before turning to dance. Several choreographers have called on his talent, including Dominique Porte, Hélène Langevin, Peter James and his psychotic cabarets, Paul-André Fortier and Sylvain Emard. In addition, he danced for Compagnie Marie Chouinard for three years, performing the company's repertoire, as well as participating on the creation of Orphée et Eurydice. Manuel is the recipient of two Gemini awards for Best performance in a performing art program or series, for his performance in Cirque Orchestra by Cirque Eloïze in 2002 and for bODY_rEMIX/les_vARIATIONS_gOLBERG by the choreographer Marie Chouinard in 2009. He danced in the reprise of Marie Chouinard's solo Des feux dans la nuit at the Théâtre La Chapelle in May 2011. In parallel to his career as a dancer, Manuel is a choreographer in his own right (Brendon et Brenda, 2002; Ô mon bateau, 2004;, RAW-me, 2010). His solo RAW-me, received a warm response and numerous award at the festival Vue sur la Relève 2011. The piece was also featured at OFTTA 2011 and, more recently at three Maisons de la culture in Montréal.
Lucie Vigneault
Lucie completed her professional studies at Université du Québec à Montréal in 2001 with a degree in performance and in 2008 with a degree in teaching. For more than 10 years, she has been working on many different projects as a performer, teacher, rehearsal coach and choreographer. She has danced for Johanne Madore and Alain Francoeur (Orchestra, Cirque Éloize), Roger Sinha (Thok), Hélène Langevin (Comme les cinq doigts de la main), Peter James (Ze Psychotik Happening), Frédérick Gravel (Gravel Works) and Danièle Desnoyers (Dévorer le ciel). In 2004, Lucie was featured in the 20th anniversary of Joe, a famous piece by choreographer Jean-Pierre Perreault. Since January 2009, she has been dancing as a guest performer for the Marie Chouinard company.
Indiana Escach
Indiana Escach graduated in performing at UQAM in 2004 and now works as a performer and/or dress rehearsal manager fot the Schmutts sisters, Aurélie Pedron, Peter James , Katya Montaignac…
Peter James
Since 25 years , Peter James creates and works for/with artists in Theater, Dance, Circus and cabaret in Québec, Canada and Europe , as an actor, dancer, performeur, director, and artistic adviser . National Circus school of Montréal, Cie HVDZ (france), Cie Gurgum (Belgique), Cie Momentum (Montreal), Catherine Tardif, Nathalie Derome, Cie 4 the art (Michel Lemieux / Victor Pilon) , Cie Modern times Theater (Toronto) , Cirque Eloïze….
Judith Allen
Judith Allen, a graduate of l'École de danse de Québec in 2001 and of l'École nationale de théâtre du Canada in 2008, has worked as much on stage as a performer as behind it as a production and technical director, stage manager and lighting designer. She is presently working for the companies Louise Bédard Danse and Sylvain Émard Danse. Since September 2011, Judith has been sharing her passion for yoga, giving classes at the Studios Lyne St-Roch.
Marilène Bastien
Marilène studied set design at cegep Saint Hyacinthe and then at faculté des Beaux Arts from Concordia University. As a set and costume designer she works with many theater and dance companies, such as Ginette Laurin (for Le Sacre du Printemps created in 2011 for the company CCN – Ballet de Lorraine, France) , O vertigo (next creation 2012), Cie Marie Chouinard ( masks and props conception for Le Nombre d'Or, and stage manager for the last 4 years performances ) and Lynda Gaudreau Compagnie de Brune ( props conception) In Theater, she designed the set for Romeo et Juliette directed by Jacques Rossi, for Theâtre LV2, and works closely with this company on several previous productions. She also created sets and costumes for the Operas L'enfant et les Sortilèges et Mozart Amor (directed by Suzanne Lantagne for Conservatoire de Musique de Montréal), as much as for Circus ( Gaspé's event for the 25th anniversary of Cirque du soleil).