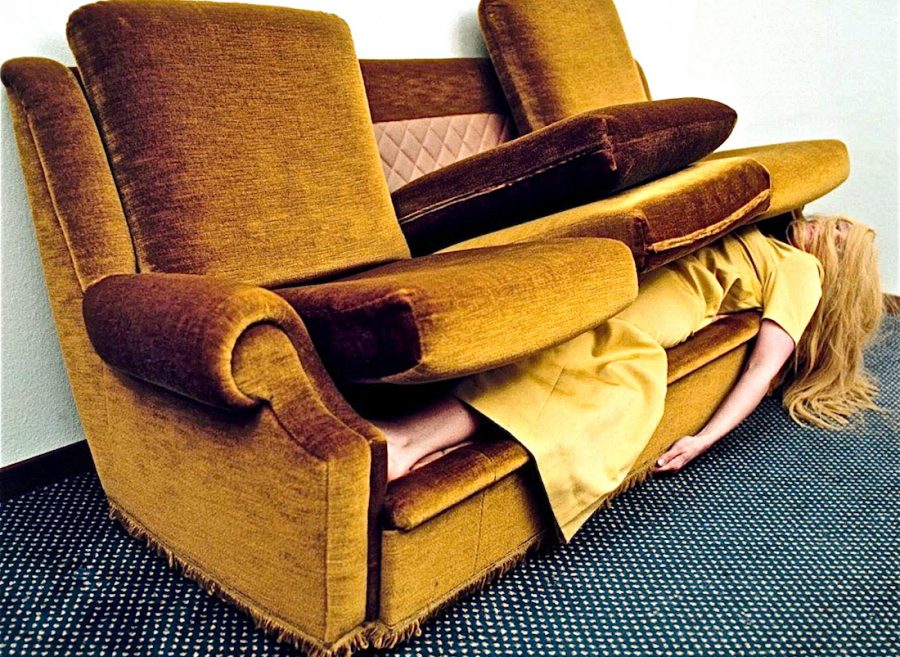 Mobilier mental
MARCH 24. 25. 26 | 7:30 PM
MARCH 27 | 4 PM
Mobilier mental
Michel F Côté & Catherine Tardif / Et Marianne et Simon
60 minutes
An interactive retinal and postural game for an audience and ten artists. This commando project offers a series of short choreographic interventions whose origin lies in the visual grammar of the magazine Permanent Food, a pirate and anthropopagic object created by Maurizio Cattelan. In turn, Et Marianne et Simon will pirate – cannibalize – the magazine.
It is the instantaneous and immediate reciprocity of gaze and gesture that are the heart of this proposition. Diverse levels of interpretation are offered to spectators, whose bodies serve as a filtre for these readings.
Creation Michel F Côté & Catherine Tardif
Music Michel F Côté
Improvisors Marie Claire Forté, Peter Trosztmer, Alanna Kraaijeveld, Magali Stoll, Catherine Tardif, Manuel Roque, Guy Trifiro, Alexander MacSween
Lighting designer Lee Anholt
Catherine Tardif is a Montreal choreographer and dancer who has been active in the dance and theatre world since the early 1980's. As a dancer, she has worked for the Fondation Jean Pierre Perreault, Carbone 14, Le Carré des Lombes, Cas Public, as well as for Fortier Danse Création and Montréal Danse, for which she has also served as a guest choreographer. Her work as a choreographer has been presented in Europe, the United States and Canada. As well, she has several collaborations with theatre productions under her belt. Indeed, she was co-designer and dancer for the Ex Machina company, which is directed by Robert Lepage. In March 2001, the Et Marianne et Simon company sees the light of day and Catherine Tardif becomes its co-artistic director and choreographer. From July to December 2003, she received a residency grant for the Studio du Québec in Paris.
A storyteller and sporadic musician, Michel F Côté was born in Montreal, the year the submarine USS Nautilus made history by travelling under the North Pole's ice cap. Since 1990, he has recorded and played with some of the most renowned musical creators in the world : Hilton Cravis III, Rev. Trevor Doldinger Jr, Béatrice "Bébé" Berlegot, and Solidman Baktouf, to name a few. His concerts and recordings have received praise locally and abroad. He is associated with the defunct collective Ambiances Magnétiques, on top of being the co-founder of the label &records. He has partnered up with Catherine Tardif as co-artistic directors for the dance company Et Marianne et Simon (6,3 évanouissements (2014), Salle de montre, bientôt, près de chez-vous). He is also dreaming up schemes with Catherine Lavoie-Marcus : together, they collaborate on the magazine esse. He keeps coming up with new tricks to trip up the bankers of this world.
Alongside and through her artistic practice, Marie Claire Forté translates, writes and teaches dance. Her plural path has been supported and inspired by people and institutions, namely Lynda Gaudreau, k.g. Guttman, Ame Henderson, Public Recordings, Toronto Dance Theatre, Martin Bélanger, la calq, Catherine Lalonde, Noémie Solomon, Jody Hegel, Adam Kinner, Tangente, Circuit-Est, Concordia University, Studio 303, Peter Trosztmer, le Centre d'arts actuels Skol, le Mois de la photo de Montréal, the Casino Luxembourg, Artexte, WP Zimmer (Antwerp), the Regroupement québécois de la danse, l'École de danse contemporaine de Montréal and Montréal Danse.
Alanna Kraaijeveld is a dancer, teacher, and improviser. She is interested in playfulness, endurance, timing, and physical rigour. This season she participates in projects with Louise Bédard Danse, Dave St-Pierre, and Et Marianne et Simon. Kraaijeveld's quixotic movement style, humour and adaptability have supported her in diverse projects. She has worked with artists and organizations including Marie Claire Forté, Susanna Hood, Yves Charuest, Joane Hétu, Danse à la Carte, Mayday/Mélanie Demers, Sylvain Émard Danse, RQD, Dancemakers, Stella Adler Studio of Acting à NYC, Studio 303, Circuit-Est, Concordia University, L'école de danse contemporaine de Montréal, and was a member of (now defunct) Le Groupe Dance Lab under the direction of Peter Boneham for four seasons. This fall, Alanna received a grant from the Dancer Transition Resource Centre to study Fighting Monkey, movement training developed by Linda Kapetanea and Jozef Frucek. She is pursuing teacher certification in the method.
Aside to an exciting and diverse career as a performer for dance companies such as Sylvain Émard Danse, Fortier Danse-Création, and Daniel Léveillé Danse, Manuel Roque is also choreographer. In 2013, he founded the company Manuel Roque. His recent creation, the solo Data, questions the notion of identity and the mater mutation through a formal and hyper physical performance. Manuel is also a choreographer in the field of contemporary circus (Babel, presented at the festival Montréal Complètement Cirque in 2012, 2013 and 2014) and teaches interpretation/creation workshops at the École de Danse Contemporaine of Montréal. He also creates Aurora for 7 students from EDCMTL presented in May 2015. In 2015, he benefits from a 2 months creative residency at La Fabrik Potsdam, thanks to the financial support form CALQ. The same year, he is also nominated "Bearer of Hope" in the annual selection of the prestigious "Tanz" magazine.
Magali Stoll studied dance in Switzerland. She is a graduate of the Royal Academy of Dance (London) and received a Bachelors degree in psychology from the University of Geneva in 1994. Over there, she danced, taught and did social work, before deciding to jump overseas. In Montréal since 1999, she has been dancing for and touring with Suzanne Miller & Allan Paivio (Jewels, Speed, Dancing with Skeletons, Speed sped-up, Projet eau : soif), and many independent choreographers, including, recently, Catherine Lavoie-Marcus, Michel F Côté and Isabel Mohn. She joined Company FLAK (José Navas) in 2002 and toured with them over Europe until 2006. After receiving a Masters degree in Translation from the University of Montreal in 2012, she has worked as a freelance translator for many artists and arts organizations.
After receiving his B.A. in Classics, Peter Trosztmer studied at the Concordia University Department of Contemporary Dance before moving to Toronto to complete the School of the Toronto Dance Theatre training program. Since then, he has distinguished himself as in interpreter of the highest caliber and has worked and continues to collaborate with many national and international choreographers. As a choreographer Peter has created five critically acclaimed solo works. His work on the multi media work Norman also received many accolades including an Angel Award at the Brighton Festival UK (2009). Peter continues to define his place as a creator who is invested in work that is sensitive, deeply researched and physically realized. Peter is current research includes "dna" a social investigation into industrial architecture in rural NL, interactive movement tracking with sound and La Société des arts technologiques in Montreal with Zack Settle, as well he is artist in residence at Techno Lith – New City Gas in Griffintown where he is co-ordinating a new touring work #boxtape.
Lee Anholt arrived in Montréal in 1990, after completing his BA in Contemporary Dance at Simon Fraser University in Vancouver. He presented works in Montreal and elsewhere until 1995 when he turned his attentions to technical theatre, and lighting in particular. He has been technical director and lighting director for Montréal Danse, FLAK, and worked with many other artists, including Marie Chouinard, Louise Lecavalier, and Théatre UBU. He is presently technical and production director for Danse-Cité, and does freelance lighting design whenever possible. He is a Taurus vegetarian who, besides dance, likes frisbee and football.
Musician and composer, Alexander MacSween, has crossed many musical genres and participated in numerous dance, theatre and film projects. As a composer he has worked with Natasha Bakht, Marie Brassard, Daniel Brooks, Paul-­‐André Fortier, Dana Gingras, Brigitte Haentjens, François Girard, Jennifer Lacey, Robert Lepage, Montréal Danse, José Navas, Public Recordings, Pierre‐Paul Savoie and Chanti Wadge. He is active as a drummer in the rock, electronic and improvised music scenes, having played with Bionic, Foodsoon and The Nils, and in the duo Detention with Sam Shalabi as well as in Martin Tétreault's Turntable Quartet. 2015 saw the release of his record The Squiggle Game on &records. Alexander has created numerous solo musical performances and sound installations. He is also a teacher, giving workshops in live sound processing for the performing arts in diverse institutions around the world.