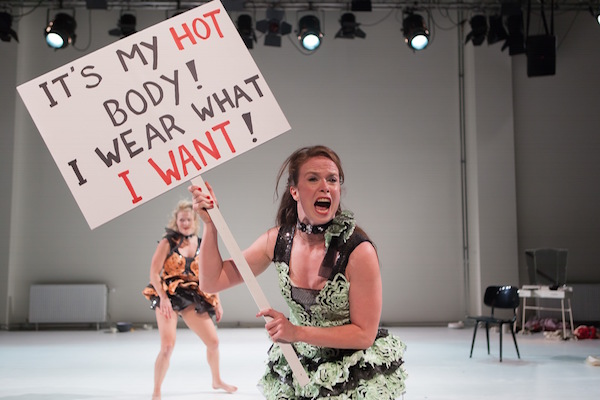 Juxtapose + Naïve
JANUARY 21. 22. 23 | 7:30 PM
JANUARY 24 | 4 PM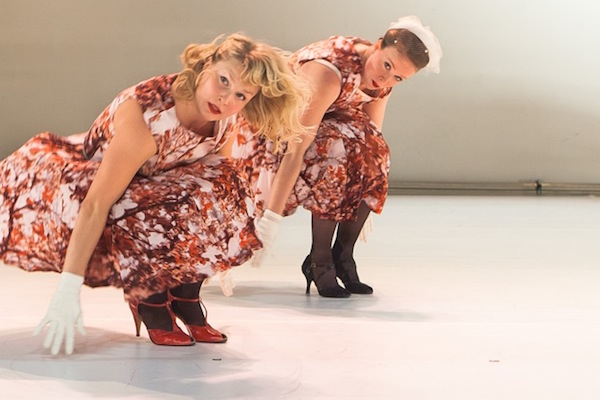 Juxtapose
Cecilia Moisio (Pays-Bas)
65 minutes
Two women caught up in a loop of striving to be perfect versus being themselves. They are seductive, funny and provoking with a hint of sarcasm. But can they keep up with the image they have created for themselves? Juxtapose is a performance that combines text and movement to give a social comment on how women have to manoeuvre between being not only intensely feminine, but also assertive and masculine at the same time. Juxtapose is a comment on our need to mirror ourselves to others and to be understood and accepted, just the way we are.
Direction, choreography and text Cecilia Moisio
Performers Katarzyna Sitarz, Cecilia Moisio
Music Joni Vanhanen
Acting advice Vincent Wijlhuizen
Artistic advice Suzy Blok
Repetitor Reut Gez
Costumes Ilse Evers
Lighting design
Roland van Ulden
Technique Marcel Slagter
Producer Dansmakers Amsterdam
Production Diana Roos – Hit Me Productions
PR Lisette Brouwer
Photo Jamain Brigitha, Sigel Eschkol
Video Beldan Sezen
Cecilia Moisio (Finland, 1978) moved to the Netherlands in 1997 to study at the Theatreschool of Amsterdam. After graduating in 2001 she joined Dansgroep Krisztina de Châtel. In 2006 Cecilia became a freelance dancer/choreographer and has since then performed as one of the main dancers for WArd/waRD – Ann van den Broek. She teaches, gives workshops and has worked as a rehearsal director. In her own works Cecilia investigates the psychology of humans and puts this into perspective of different phenomenon within our society. Her works combine movement, text and performance as evenly strong elements to give a comment to our social and behavioral patterns. She wants to discus problems of our times through themes of prejudice, wanting to be accepted, the need to be loved and loneliness. Cecilia was nominated in 2007 and 2008 for her rolls in works by Ann van den Broek for the VSCD- prize for the most outstanding dance achievement of the season. As a choreographer she was nominated in 2011 for the BNG New Theatre Makers Prize and in 2014 she won the Prize Of The Dutch Dance Days in Maastricht as an up-and-coming choreographer.
Katarzyna Sitarz (Poland) – is a freelance dancer, performer, choreographer, movement&voice researcher and world traveler. She studied Slavic Philology at Wratislavia University, Poland and Dance and Choreography at Codarts/Rotterdam Dance Academy, The Netherlands. In 2007 with her solo work she won double-prize at 11th International Solo Dance Theater Festival in Stuttgart and Audience Award at 8th Solo International Festival in Budapest. She is a holder of an Artistic Scholarship of Ministry of Culture and Education in The Netherlands and Poland. In 2010 Nominated for The Rolex Mentor and Protégé Arts Initiative (USA/ Switzerland) as well as a scholar of DanceWeb 2010 at the ImPulsTanz Festival in Vienna and Tanja Liedtke Fellowship, Australia. Co-founder of an independent Amsterdam-based collective Area59, which forms a platform for artistic exchange, collaboration and daily performative training. Since 2008, Katarzyna is performing internationally with artists such as Rui Horta (PT), La Fura dels Baus (ES), Pedro Goucha (PT/NL), Liat Magnezy (IL/NL), Kud Ljud (SI), Sjoerd Vreugdenhil (NL), Marta Ziolek (PL), Lisa Nelson (US) and MAAS Theater and Dance in Rotterdam, which creates performances for young audience. Since 2014, she works with Cecilia Moisio (FI/NL) with whom she is currently touring "Juxtapose" and the newest production "Mum's The Word".
Naïve
Gabrielle Bertrand-Lehouillier
30 minutes
The Larousse dictionary defines naivety as the "simplicity and ingenuity of someone who naturally expresses their sentiments with confidence". Where has your naivety gone ?
Naïve is a feminine point of view on growing up in our society. Thinking about why we are so nervous about our professional and social performances and why do we let this anxiety take over control on our happiness. In a universe at once touching and nostalgic, you are invited to live fully in the moment and to enjoy it.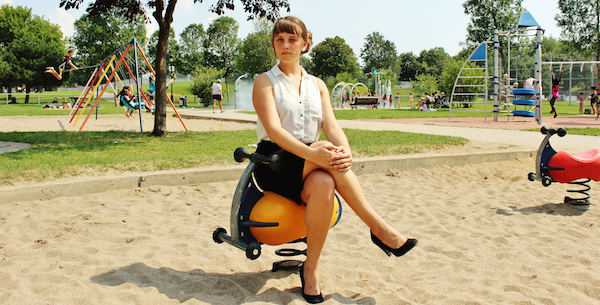 Choreography and performance Gabrielle Bertrand-Lehouillier
Lighting design Leticia Hamaoui
External eye Katya Montaignac
A graduate with a classical piano training from Sherbrooke, a double DEC in literature, cinema, theatre and dance in Drummondville and a bachelor in contemporary dance from Université du Québec à Montréal, Gabrielle Bertrand-Lehouillier has a varied artistic training. This background fosters her multidisciplinary approach to choreography.  In the summer of 2014, Gabrielle Bertrand-Lehouillier was selected to the fifth edition of Cuvée artistique de L'Estrie and she joined Danse To Go group. Fall of the same year, Tangente scheduled her at Danses Buissonnières_Classe 2014 in Montreal. She presented her first choreographic solo, the short form of Naïve ? Selected for the 20th edition of Festival Vue sur la relève, she will performed at Gesù in April.