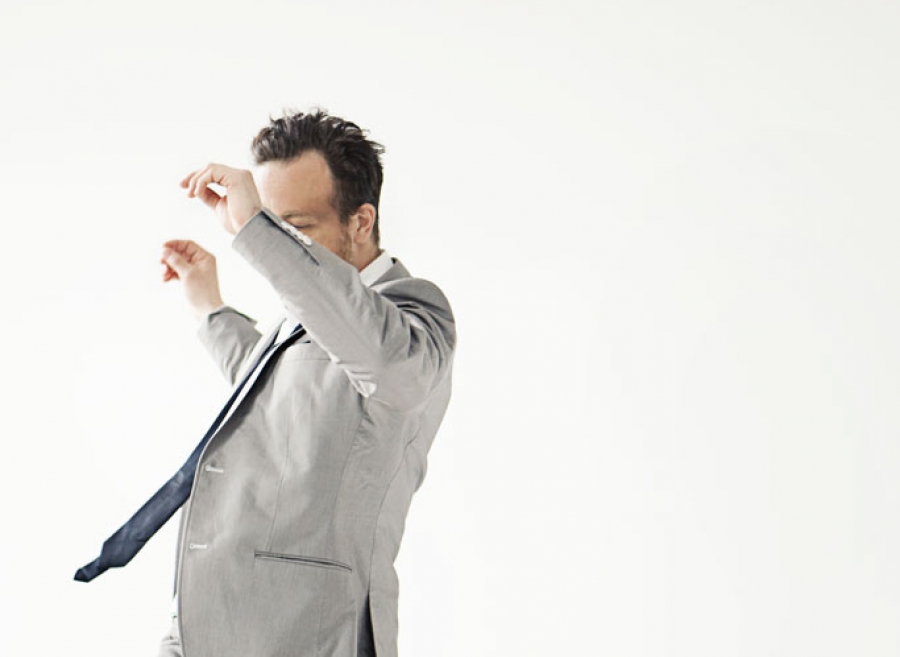 Le jour bleu + A standard of measure, except not really
Le jour bleu
Marilou Castonguay (Québec)
10 minutes
At a meeting place between dance, theatre and mime, this choreography proposes a bare-bones aesthetic. At its heart is revealed a strange and enigmatic character. Clouded within a mysterious air, the solo dancer transports us into a world in which humanity hangs by a thread.
Choreographer and performer
Marilou Castonguay
Music
Bruno Bouchard
Costumes
Sébastien Dionne
Lighting design
Luc Vallée
Rehearsal director
Josiane Bernier
Le Jour Bleu was born out of reflections surrounding the physical manifestations of certain marginal behaviours. I am interested in multiple perceptions, in chaos, and in the fragile moments where, in the blink of an eye, the world shifts.
Marilou Castonguay 
Marilou Castonguay started her dancing studies at L'École de danse de Québec with classical ballet and contemporary dance. After studying theatre production in college, she was initiated to puppet art and street theatre. After that, she joined musical group Raoul et les Raoulettes with whom she performed as a back vocalist and dancer for 3 years. She graduated with a B.A. in contemporary dance from UQAM in 2004. In the following years, she worked with Karine Ledoyen (OSEZ !, Gros et Détail, Pop Rock avec moi, and Gonflez l'histoire), Eryn Trudell, and Georges-Nicolas Tremblay. She has also been a dancer with Le Fils d'Adrien Danse company (Clash, Nu, l'Autre, Fluide, and other multiarts projects) for 12 years. Marilou Castonguay performed in her first co-choreography duo, Max et Natasha, in 2008. Two years later, she created a solo for young audiences called Apparence. In 2012, she participated in the Émergence Chorégraphique series presenting Le Jour Bleu and a trio performance called Des Montagnes et des Corps created with Les Cireurs de Chaussures collective. Since 2013, she is an artistic advisor for students in the professional program at l'École de cirque de Québec.
Sébastien Dionne 
Straight out of the Conservatoire d'art dramatique de Québec in 2007, Sébastien Dionne was asked to created several different costume designs for major projects and for several different Québec City and Montréal theaters. In 2011, he received the Award for Excellence in Arts and Culture for his design of La Locandiera by Goldoni at the Théâtre de la Bordée. Recently, he created costume for Playing Cards: HEARTS his second formal collaboration with Robert Lepage. He's been creating costumes for dansers for six years.
A standard of measure, except not really
60 minutes
Andrew Turner
Recently, the International Prototype Kilogram (residing since 1889 in an airtight vault) was discovered to have mysteriously become lighter. The change represents a problem for measuring standards: the kilogram is defined as "a unit of mass equal to the mass of the International Prototype Kilogram." Which means that this kilogram prototype has (in theory) remained constant, while the rest of the world has (in theory) gotten heavier. A delightfully absurd situation, testifying to our need for constants in a stubbornly shifting world. Similarly, we see ourselves as stable identities, though we too are in constant flux.
Choreographer
Andrew Turner
Dancers
Caroline Gravel, Simon-Xavier Lefebvre, Jessica Serli, Andrew Turner
Composition
David Drury
Lighting Design
Karine Gauthier
This creation has been possible thanks to the support of Studio Bizz.
Andrew Turner has a passionate interest for the human relationship to time. Specifically, the high-stakes moment of performance –­ in which a work of art is experienced by its public –­ holds a particular and enduring fascination for him. The ways in which the public, the performer, and the work meet in the theatre and experience one another (since it can be argued that the work "experiences" the performer and public, making demands on both, while also being actualised by their actions and attention) are endlessly complex, and offer new possibilities for perception and discovery. A Standard of Measure, But Not Really deals more precisely with the relationship of the performers to their personae onstage. The shifting, uneasy juxtaposition of these two entities, each one with its own goals, concerns and desires, leads to questions about who we are, both onstage and off.
Andrew Turner
Andrew Turner, leaving studies in history and philosophy behind him, was inexplicably accepted to Concordia University's dance program in 2001. He has since distinguished himself both as a performer and choreographer. His work Duet For One Plus Digressions (2008) received several awards (Prix OQAJ, Prix OQWBJ) and has been presented in three languages in Belgium, France, Mexico, the United States, and over twenty cities in Quebec. Now I Got Worry, presented at Tangente in 2010, was also well received by both the press and public. As a performer he has danced with Marie-Julie Asselin, Marie Béland, Deborah Dunn, Milan Gervais, Sasha Kleinplatz, Pierre-Paul Savoie, and Paula de Vasconcelos, performing locally and touring extensively abroad. From 2011 to 2013, he joined O Vertigo full-time. He is currently undertaking his master's degree in Dance at UQAM, as well as developing a commissioned work for the Ottawa Dance Directive (June 2014), and this new quintet for Tangente (May 2015).
Caroline Gravel 
Caroline Gravel is a Montreal-based artist and dancer, who has been interested in performance art since 1997. Her recent work explores the effect of the body's pasticity on our perceptual and emotional senses. In the last ten years, she has toured and collaborated with Montreal choreographers such as Catherine Gaudet, Frédérick Gravel, Daniel Léveillé, and Jean-Sébastien Lourdais. Her own works have been presented in Russia, Canada, and the United States. Mentored by choreographer Meg Stuart/Damaged Goods and directed by Manon Levac, she submitted a master's thesis at UQAM in 2012. The study examined body states and the discourse of authorship in contemporary dance.
Jessica Serli 
Jessica Serli studied at many renowned dance schools, such as The School of Toronto Dance Theatre and LADMMI, where she got a degree in 2005. She has performed in the works of numerous choreographers, including Gaétan Gingras, Jacques Poulin-Denis, Normand Marcy and Amélie Rajotte, among others. In 2009, she joined Bouge de là, a company lead by Hélène Langevin, and helped create L'Atelier, a work she continues to dance across Canada. Also a choreographer, Jessica has two creations in her portfolio: -40 degrés, presented at Tangente in 2005, and Entredeux, which was developed as a residency for emerging artists at Studio 303 in 2008. She has also worked as a rehearsal director for many young choreographers.
Hannah Dorozio 
Hannah Dorozio is fascinated by honesty and presence in performance and the genuine execution of task on stage. Her background in theatre and her current study of acting has led her to contemplate the balance between authenticity and characterization in dance interpretation. Hannah completed her BFA in contemporary dance at Concordia University and received a BEd in drama and art education from the University of Toronto. In recent years Dorozio has felt a pull toward the acting world, starring in and producing Diving Normal for Straeon Studios, where she studies acting for film. Hannah has also starred in the short films Please Breathe… Lucy by Kays Mejri and In Between Dreams by Hemanth Kashinath, as well as a new webseries Starving Artist directed by Alarey Alsip and Kenny Wong. Most recently in dance Hannah has worked with Andrew Turner and Parts + Labour danse as a dancer and dramaturge.
Thea Patterson
Thea Patterson has worked as a choreographer, rehearsal director and dramaturge with artists including Katie Ward, Audrée Juteau, David Pressault, Dean Makarenko, Bill Coleman, Sarah Williams, Wants&Needs danse, Isabel Mohn, Sasha Kleinplatz, Jeremy Gordaneer and Lois Brown. Thea is a long time collaborator with Peter Trosztmer, providing dramaturgical assistance on five critically acclaimed solos. Prior to this, Patterson created Rhyming Couplets (2008), as well as A Soft Place to Fall (2006), a BravoFACT film directed by Philip Szporer and Marlene Millar, which continues to screen at international film festivals. She also co-choreographed Norman (2008 produced by Lemieux.Pilon.4Dart), which has toured extensively internationally and returns to Montreal in 2014 for its third run at Cinquième Salle. She is currently developing a new solo entitled the dance that I cannot do, presented at Movement Research (Judson Church) in New York City and as part of the Third Floor Series in Montreal. Thea will begin her master's in choreography at the Amsterdam Theatreschool for the Arts (AHK) in September 2014.
David Drury
David Drury studied electroacoustic composition at Concordia and later completed a master's degree in sonic arts at SARC, Queens University, Belfast. As a composer he has scored for dance (Andrew Turner, Milan Gervais, Kelly Keenen, among others), theatre (sound design for Wajdi Mouad, Emmanuel Sevigny, Marie Brassard), multimedia (collaborations with the NFB, Moment Factory, Daily Tous Les Jours, Département, etc.) and has scored television series aired on TV5 and TVA, and V-Télé. He has scored several short films as well as a feature length documentary. His installation works have been featured at the ICMC (Peacelines, 2008), Nuit Blanche and Mutek (Hearing There, 2009). David has participated in residencies and shown work in Europe and North America, as well as Brazil and Argentina. His current focus, in addition to his ongoing work as a composer, is a new sculptural sound installation set to be launched in the fall of 2014.