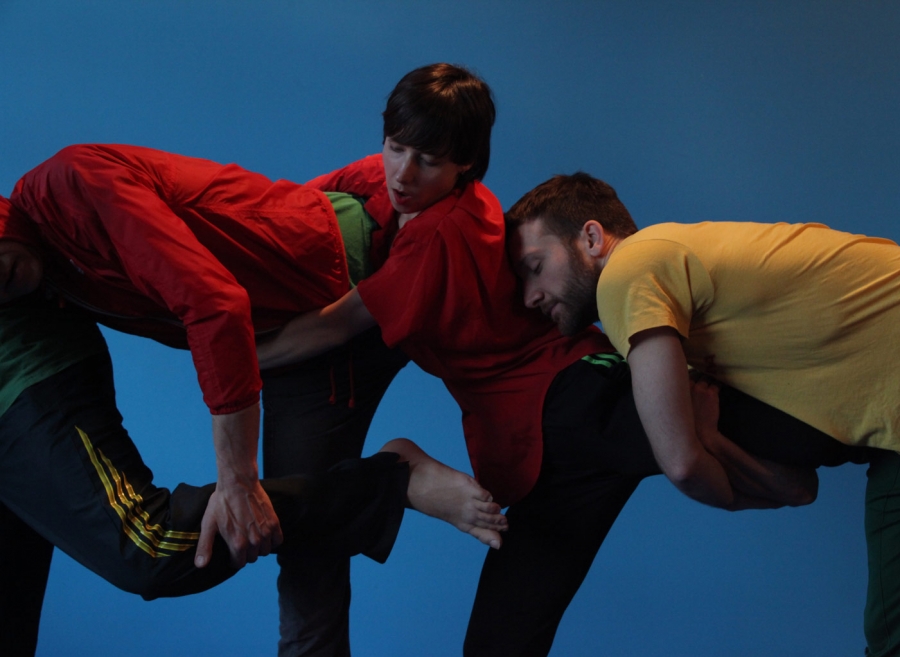 Infinity doughnut
Infinity doughnut
Katie Ward
70 minutes
I see Infinity Doughnut, as a blind and imaginative system of navigation. We look at shapes, spaces and our interconnections to explore inanimate and human matter. This is a speculative and naïve survey of our surroundings.
The performance event Infinity Doughnut – invites performers and audience to surrender to its flow, and to accept change and spontaneity. I hope to foster in participants a quality of open sensitivity to fluctuations of mood, configurations of space, and shifting interpretations.
There are some kinds of change that are in operation here – that are possibly best explained by quantum physics. There is a feeling that we are inside a Mobius strip – an Infinity Doughnut…
Choreographer
Katie Ward
Performers and collaborators
Audrée Juteau, Patrick Lamothe, Dany Desjardins, Peter Trosztmer
Dramaturge
k.g. Guttman
Artistic advisor
Kathy Casey
Lighting
Paul Chambers
Sound
Michael Feuerstack
This project has followed a set of ideas and rules that inform my artistic process:
1) We have been occupied by restoring ambiguities and complexities.
2) We are aware of how the performance and viewing environment has a deep impact on all its participants including performers, audience, technicians and more.
3) Deep listening and connectivity helps us to feel more real.
4) We celebrate all tastes, preferences and ideas.
5) Our perception of the world is constantly transforming.
For me – the mixing of my ideas with my collaborators is an integral part of the process.
During the process we spent a lot of time laughing.
During the process we spent a lot of time trying to do things that could not work and were impossible.
During the process we tried many experiments. We chose things that reflected an aspect of our multiple perspectives, and we focused on how these points of view are in perpetual flux.
Katie Ward
Katie Ward lives and works in Montreal in 2011 she founded Compagnie Katie Ward. Most recently Katie presented her brand new 40 minute solo – Reality at Casa Del Popolo and at Fluid festival in Calgary. Her last creation, Rock Steady, was created and performed in Montreal, in France and in the UK. She is currently working on a new ensemble work – Infinity Doughnut – to be performed in the fall of 2014 she has been awarded residencies at Dance4 – (UK) and in Créteil (FR). Katie has several other creations under her belt including Hawks and Doves (Tangente, 2007), The Thrills: Wilderness Retreat (Tangente, 2005) and Collapsible Uprisings (Salle André-Pagé, 2004). Katie was co-founder of the artists group – The Choreographers. From 2008-2011 they co created and presented two works: Man and Mouse and Oh! Canada. Katie studied contemporary dance and at Winnipeg's School of Contemporary Dance, physical theatre at Primus Theatre, and choreography, visual art and art history at Concordia University. Other formative studies were with Stephanie Skura, Chrysa Parkinson and Eric Franklin. In 2013 Katie taught creative process in the Department of Contemporary Dance at Concordia University.
Patrick Lamothe
Patrick Lamothe graduated from LADMMI in 1995. Since 2009 until recently he had the opportunity to dance with Louise Lecavalier in "Children " and in "A Few Minutes of Lock". He was a member of Ginette Laurin's O'Vertigo between 2000 and 2007. As an independent dancer, he has worked with Robert Lepage and choreographers: Jean Pierre Perreault, Harold Rhéaume, Lucie Boissinot, Pierre-Paul Savoie, Emmanuel Jouthe, Katie Ward, and Mélanie Demers. Patrick is member of Peter James' Psykotik Happening Cabaret; he has also collaborated in four creations with 'cie Mobile Home' including le Duras Show. As a performer and musician, he was part of the project: "Spasmes" by Carole Nadeau of 'cie Pont Bridge' based on the world of Francis Bacon.
k.g. Guttman
k.g. Guttman is an artist and researcher based in Montreal. She is currently a candidate in the PhDArts program (artistic research) of Leiden University and the Royal Academy of Art in the Hague, the Netherlands. Her work, funded through the Social Sciences and Humanities Research Council (SSHRC), considers relationships between mapping, choreography, and site-specific interventions. Her work has been screened, performed and exhibited nationally and internationally through institutions such as Mediamatic, Amsterdam, Palais de Tokyo and Galerie Khiasma, Paris, Ottawa Art Gallery, Art Metropole, Tangente, and the Canada Dance Festival. k.g. was a company member of LeGroupe Dance Lab from 1999-2004, under the direction of Peter Boneham. From 2008-2013, k.g. Guttman was an Assistant Professor in the Department of Contemporary Dance at Concordia University, Montreal.
Kathy Casey
Kathy Casey – Born in North Carolina, Kathy Casey began her dance career in 1979 with the Chicago Moving Company. Settled in New York in 1980, she danced for many choreographers before joining the Lar Lubovitch Dance Company and Susan Marshall & Company. Welcomed by Montréal Danse in 1991, she was appointed Artistic Director of the company in March 1996. A major portion of her work now is choosing choreographers with unique and captivating voices and then assisting them in the creation of the works they create on the company or during research projects. In addition to her work with Montreal Danse, she also works as an artistic counselor for several choreographers in Montreal and, more recently, Halifax.
Michael Feuerstack
Michael Feuerstack is a Montreal based songwriter, singer, multi-instrumentalist, producer and sound interpreter. Feuerstack has a long creative history with Katie Ward, having made original music for many of her own pieces and collaborations. He has also created sound for many other artists, filmmakers and performers. As a musician, he has worked closely with Bell Orchestre, Wooden Stars, The Luyas, Julie Doiron and a multitude of other artists. As a producer, Michael has worked recently on records by Montreal artist Bent By Elephants (2013) and Halifax artist Paper Beat Scissors (2012). Besides his apparent love for collaboration, Michael was also known for his own musical solo performances and recordings, previously under the pseudonym Snailhouse and now under his given name. His most recent recording is called Tambourine Death Bed.
Audrée Juteau
Montreal based dancer and choreographer Audrée Juteau has collaborated on projects as a dance interpreter with: Sonya Biernath, Jordi Ventura, Erin Flynn, Dean Makarenko, Caroline Laurin-Beaucage, Compagnie Bouge de là d'Hélène Langevin, Aurélie Pedron, Katie Ward, and la fondation Jean-Pierre Perreault amongst others. Since 2004, she has danced with choreographer Deborah Dunn – Trial & Eros Company. As an actor, she played in the short film Higglety Pigglety Pop or There must be more to life, directed by the filmmakers Chris Lavis et Maciek Szczerbowski (Clyde Henry company), produced by Spike Jonze. With the artist group – the Choreographers – she presented Man & Mouse, Oh Canada! And several othere short pieces. Audrée was the recipient of the Impulstanz Danceweb 2010 grant given by Jardin d'Europe. More recently, she presented her piece Poisson at Studio 303 it was created in residency at Mains D'Oeuvres (Paris), Studio 303 and at Pigeons Internationa. She also presented her site-specific piece Youme at the Piss & the Pool event. Audrée is a graduate of LADMMI since 2003 and is presently working on a Masters in Dance creation at the Université de Québec à Montréal as well as deepening her process as a choreographer.
Peter Trosztmer
With a B.A. in Classics, Peter Trosztmer studied at the Concordia University Department of Contemporary Dance before moving to Toronto to complete the School of the Toronto Dance Theatre training program. Since then, he has distinguished himself as in interpreter of the highest caliber and has worked and continues to collaborate with many national and international choreographers. As a choreographer Trosztmer has created five critically acclaimed solo works. His choreography was selected as a top 5 show of the year (La Presse 2006 and Voir 2012). As well he was recognized for the best performance – (The Hour 2006). His work on the multi media work Norman also received many accolades including an Angel Award at the Brighton Festival UK (2009). Peter continues to define his place as a creator who is invested in work that is sensitive, deeply researched and physically realized. His co-authored article "Collaboration as Practice The Winding Road" was presented at the Canadian Society for Dance Scholars Conference 2012. Peter is currently doing research with Zack Settle, into interactive movement tracking with sound and video at La Sociéte de les arts technologiques in Montreal and is working on a new group piece for his space in Griffintown and other architectural sites and galleries of interest.
Dany Desjardins
Through drawing and theatre Dany has been engaged in an artistic process since a young age. After studying visual art in Alma, Dany Desjardins pursued and completed studies in Dance in Drummondville and then at LADMMI in Montreal. Since 2007 Dany has worked for COMPAGNIE MARIE CHOUINARD, PPS Danse, Dave St-Pierre Inc., Bouge de là, Danse K par K, Maribé – sors de ce corps, and he has collaborated with choreographers: Catherine Gaudet, George Stamos, Emmanuel Jouthe, and Katie Ward. As a choreographer, Dany created Shitoi & Dordur for Danses Buissonnières 2007_les classes, this piece was also presented at Festival TransAtlantique. In 2008 during Vue sur la relève he won the bourse Cirque du Soleil with this same choreography. Dany presented All Villains Have a Broken Heart at Danse Buissonnière 2008_les gradués, and at Off.ta in 2009. Dany received a grant for a residency in Berlin he created On Air which was presented at Tangente, Piss in the Pool, and festival Transatlantique. His last piece Pow Wow was presented at Théâtre La Chapelle in October 2011. He is currently working on a new solo project entitled 'Winnin' to be presented also at La Chapelle in 2014. As an movement consultant he collaborates with the company – La Tortue Noire – in 2012 they created Daidalos.
Paul Chambers
Paul Chambers is a Montreal-based lighting designer and visual artist as well as Technical Director of Tangente, Laboratoire de Mouvements Contemporains, a pivotal organization in the contemporary dance community. Collaborating in new projects and developing his artistry is a priority for Paul. He has toured with various productions, facilitated diverse pedagogical workshops, and has found himself frequently in the role of mentor. Paul continues to collaborate in multiple projects including multidisciplinary art installations and performances with musicians, visual artists, actors and dancers.