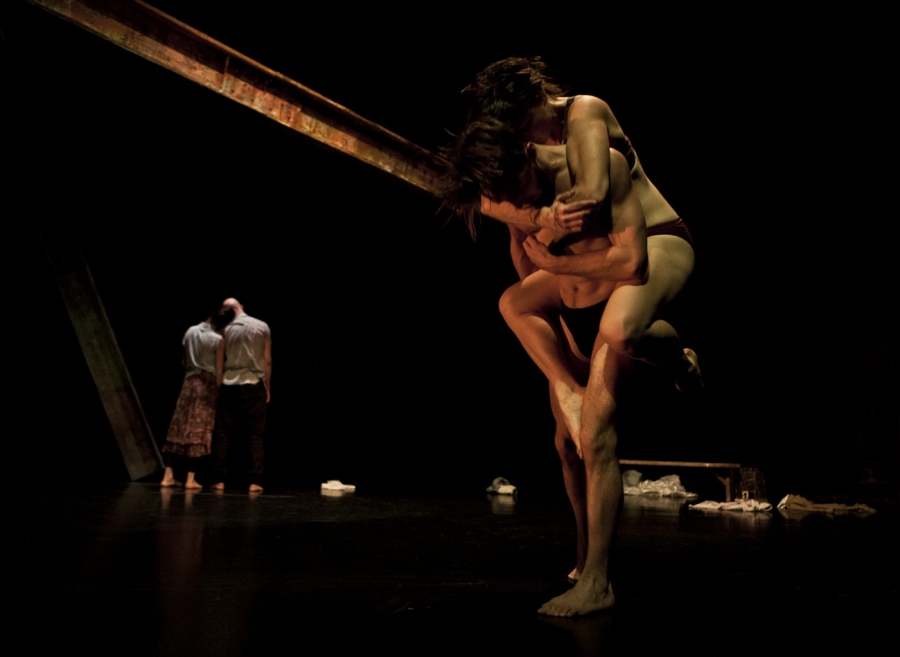 In Mixed Company + Densité d'un moment
Substance & Style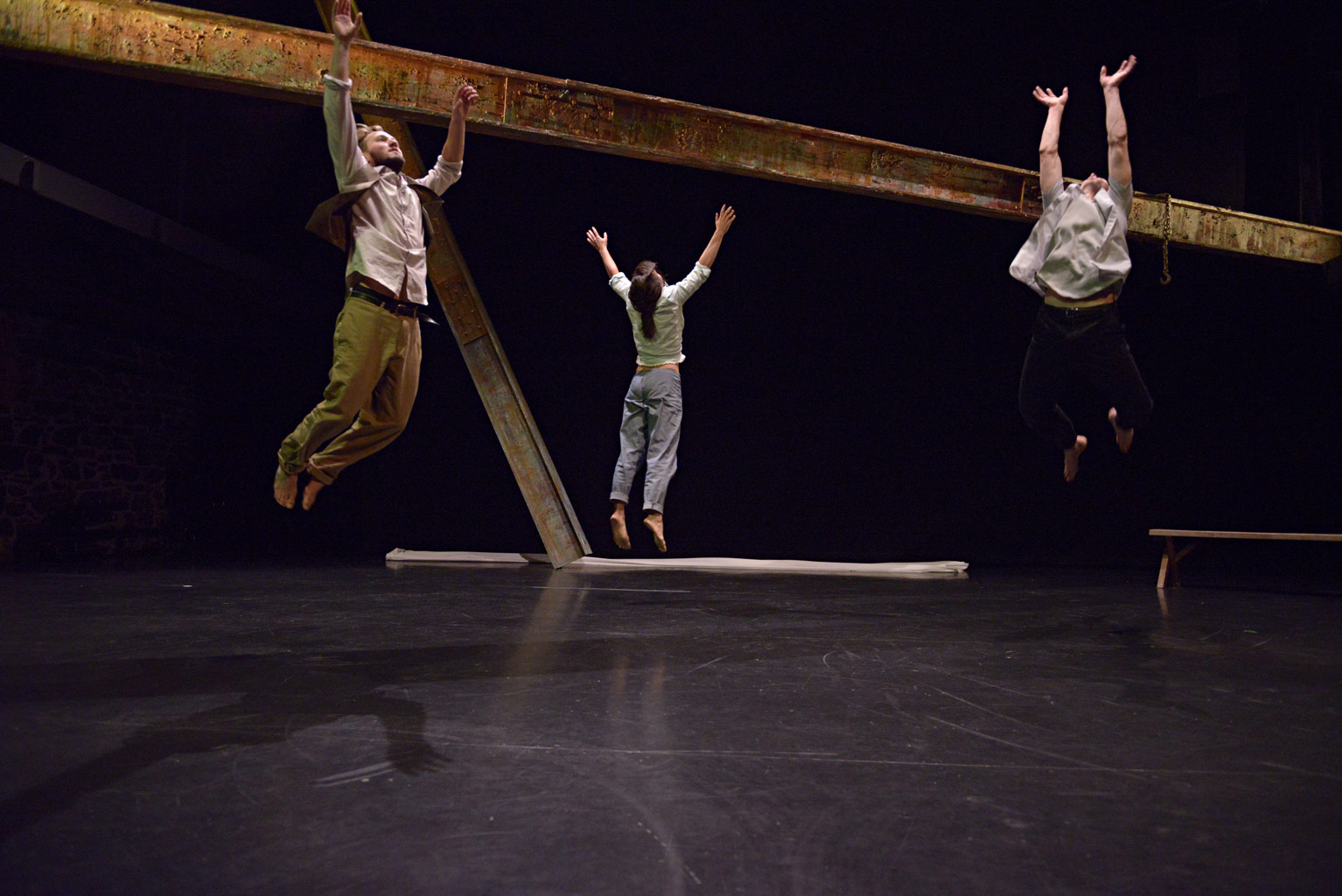 In Mixed Company
David Albert-Toth & Emily Gualtieri / Parts+Labour_Danse
50 minutes
In search of the New Absurd: playwright Ionesco meets novelist Kundera. This ven- turesome quartet is propelled into a surreal, illogical reality through an assortment of disciplines. Forging a fragmented dramaturgy on desire and dissonance, how will they find each other?
In Mixed Company is a highly physical and audacious contemporary dance piece that investigates the tension felt by individuals as they oscillate between the search for meaningful relationships and the pressure exerted by society to conform to its norms. Though radically modern and unprecedentedly connected, our world can still baffle our attempts to be heard, understood and loved, leaving us stranded, alone. In spite of this, we try tirelessly to overcome our isolation and to find the deeply intimate connections that bind us together. Inspired by the works of Theatre of the Absurd playwright Eugene Ionesco and novelist Milan Kundera, this quartet work explores the dissonance that arises within us when social codes hinder our search.
Choreography and artistic direction
David Albert-Toth, Emily Gualtieri
Dancers and creative collaborators
Caroline Gravel, Jody Hegel, Milan Panet-Gigon, Lael Stellick
Rehearsal director
Ginelle Chagnon
Choreographic advisor
Mélanie Demers
Dramaturge
Hannah Dorozio
Music
David Drury, David Lafontaine
Texts
Caroline Gravel, Milan Kundera, Jacques Brel
Lighting and Set design
Paul Chambers
Ionesco and Kundera's concerns with the absurdity of the modern human condition have influenced us to focus on developing wavering dynamics between people caught in complex relationships. The two authors' writing styles, meanwhile, have inspired us to embrace a non-linear approach to creation and to the narrative development of a choreographic work. A prevalent theme in their works is fear of alienation in conjunction with desire for intimacy; notions that we feel are strongly relevant today. As we interweave these profound fears and desires, our explorations unveil questions of presence, trust and communication that, especially in dance, bring us out of the everyday. The absurd allows us to step out of reality, to not be whom or where we are and to alter our presence. What does that feel like, and how do we find each other in that?
Parts+Labour_Danse
Parts+Labour_Danse is a Montreal-based contemporary dance company founded by co-artistic directors David Albert-Toth and Emily Gualtieri in 2011. The company's mandate is to create engaging contemporary dance works that dive unapologetically into the rich moral complexities of the human condition with physical dynamism anchored in genuine presence. Working with a unique theatricality and a movement vocabulary that viscerally fuses classical, urban, and contemporary movement approaches, the choreographic duo sees dance as a tool with which to move its audience. Their central vision is focused on highly collaborative endeavours: working as a pair provides them with the unique opportunity to develop the choreographic direction from two very different artistic paradigms and skill sets, defying the confines of individual artistic ownership while embracing the singularity of their respective creative voices. The company has presented its work throughout Quebec, Ontario, and in New York City. Its repertoire includes the duets The Calculated Risk Project (2010) and its remix (2011), the audacious and absurdist quartet In Mixed Company (2013), and the recent solo work, La chute (2013), performed by Albert-Toth, which was selected by the Dance Current's Philip Szporer as one of 2013's top ten moments in dance. That same year, they collaborated with Ginelle Chagnon, who performed À la prochaine, a poetic solo commissioned by Toronto's Older & Reckless series, and presented Entre-temps | Tracking Time (2012), a collaboratively conceptualized solo work performed by UQAM master's student Stephanie Fromentin.
David Albert-Toth
David Albert-Toth was an avid Hip Hop dancer, choreographer and teacher before earning a BFA with a major in contemporary dance from Concordia University. He has since been invited to teach his urban contemporary dance approach at the Cirque du Soleil, in Mexico, and in Paris. A disposition towards eclectic artistic encounters has led David to perform throughout North America and Europe. Notable collaborations include work with: Lemieux.Pilon 4D-Art and Peter Trosztmer, Human Playground, Frédérick Gravel, Emmanuelle Calvé, Sasha Kleinplatz, Floor Rider & Tonik Danse, and Compagnie Destins Croisés, as well as interdisciplinary work with Thibaut Duverneix, Moment Factory, Julie Favreau, and Kondition Pluriel with Dominique Porte. In 2009, after a series of short independent choreographies, Albert-Toth presented High-Definition Memory in RubberbanDance Group's Post Hip Hop Project at Place des Arts 5e Salle. In 2010, he began a choreographic partnership with Emily Gualtieri, with whom he would go on to co-found PARTS+LABOUR_DANSE in 2011. The company has since presented its work throughout Quebec, Ontario, and in New York City, including his solo performance La chute, which was selected by the Dance Current's Philip Szporer as one of 2013's top ten moments in dance.
Emily Gulatieri
Emily Gualtieri is a choreographer and dance artist who works in both Montreal and Toronto. She underwent a rigorous and extensive training at the National Ballet School of Canada before rebelling against the confined structures of the classical ballet world. An underlying interest in creation, choreography, and diverse movement practices led her to enroll in Concordia University's Contemporary Dance Department. Emily self-produced her first shows at Studio 303 in Montreal: Goodnight, Nina (2007) and Under/Overtaken (2008). In 2009, she presented It's About Time at Toronto's Dance Matters series and at Studio 303's Vernissage-danse #145, as well as Games, and Awaiting at the Guelph Dance festival. In 2010, Emily began a choreographic partnership with David Albert-Toth, creating the solo La chute that toured Quebec extensively. Emily and David would go on to found Parts+Labour_Danse in 2011. The duo aims to make work that physically defies boundaries while remaining rooted in genuine presence, and they have since presented their work throughout Quebec, Ontario, and in New York City. In addition to her choreographic pursuits, Emily has also worked as a rehearsal director, namely for José Navas's Diptych and for his 2011 European tour of Miniatures. Emily recently presented À la prochaine, a solo performed by Ginelle Chagnon and commissioned by Toronto's Older & Reckless Series at Dancemakers. In November 2013, Emily and David premiered In Mixed Company in a full evening program at Tangente, opening their evening with a reprise of La chute. 2014 Emily begin work on a solo during a creation residency taking place in Berlin.
Densité d'un moment
Geneviève Gagné & Emily Honegger / Floor Rider & Tonik
30 minutes
A moment can be a dense thing. Some emotions speed time up. Others slow it down. One event experienced by two individuals can feel completely different for each depending on their individual history and hopes. What if we could freeze time and dissect a dense, complex moment shared by a group of individuals? Through their complex amalgam of contemporary and urban dance forms, Floor Rider & Tonik lead a group of 6 dance artists to express the dynamics at play when we dissect a moment, change our perspective, hold it up to the light and rotate it. Sculptural lighting and tailored sound define space and time, oscillating between both mathematical and organic expressions of patterns on the rhythmic and visual planes.
Choreographers-performers
Emily Honegger & Geneviève Gagné
Performers
Simon Ampleman, Joe Danny Aurélien, Jean-François Légaré, Julie Tymchuk
Composer
Jacques Poulin-Denis
Lighting designer
Paul Chambers
Rehearsal director
Sophie Michaud
Through their choreographic partnership Floor Rider & Tonik, Emily Honegger and Geneviève Gagné create a fusion of contemporary dance and urban dance forms putting the accent on an explosive, articulate and fluid physicality. Dynamic, powerful partnering is at the base of their choreographic signature, supported by an attention to musicality as found in urban dance styles. The notion of cinematographic illusion is a main source inspiration for the choreographic duo. In this piece they will play with the expression of time passing, in condensing speed, or suspending weight, sometimes giving the impression that we can defy gravity through movement. Floor Rider & Tonik have surrounded themselves with a team of dancers of similar interests and physical potential in order to maintain a certain authenticity through the fusion of dance styles.
Geneviève Gagné
Dancer, choreographer and teacher, Geneviève Gagné completed her BFA in contemporary dance at Université de Québec à Montréal (UQAM) in 2005. As a freelance artist, Geneviève has worked with Solid State (Helen Simard & JoDee Allen) Victor Quijada, the Cirque Eloize, Lucie Grégoire, Normand Marcy, Marie Béland, Sasha Kleinplatz and Lynda Gaudreau. In 2007 she began exploring the fusion of break dance and contemporary dance. She choreographed Action/Inversion, a duet with Raul Guevera (Bboy Foreverfresh). In the same year she began her choreographic collaboration with Emily Honegger: Floor Rider & Tonik. Geneviève teaches at the Cégep St-Laurent dance department, and has been a member of Les Imprudanses since 2004.
Emily Honegger
After graduating from L'École de danse contemporaine (LADMMI) in 2005, Emily Honegger pursued training in urban dance styles such as bgirling (breakdance), house, popping, and locking. Her extensive training in ballet, martial arts, contemporary dance, contact improvisation and urban forms influence and inform Emily's movement language and choreographic style. In 2008 Emily joined choreographic forces with Geneviève Gagné founding Floor Rider & Tonik danse. Together, they have created the pieces Lancer du nain, Alter-ego, Free Fluid Feminine, Hello Piano, and Foreign One. Their work has been presented in Montreal, Ottawa, Quebec City and Los Angeles. As a performer, Emily has collaborated with choreographers Hélène Langevin (Bouge de Là : L'Atelier and Ô Lit), Victor Quijada (Rubberbandance Post Hip Hop Project), Lynda Gaudreau (Compagnie de Brune IN LIMBO), Audrey Bergeron (Cirque Eloize & Tout Inclus), Milan Gervais (Auto-fiction) and Corpuscule Danse. Also an avid freestyler and improviser, Emily has been a member of Les Imprudanses since 2007, and was awarded the title of star player in 2010 and 2011. Emily's creative interests are now extending to the screen with her recent short dance film Drawing Blank.
Simon Ampleman
After completing his studies at L'École de Danse Contemporaine in Montreal, Simon Ampleman continued his artistic development in numerous professional workshops around the world, such as ImplusTanz in Vienna, P.A.R.T.S. school in Brussels, and with the Batsheva dance company in Tel Aviv, thanks to a grant from the Conseil des arts et lettres du Québec. Simon has been dancing with the Montreal based urban and contemporary dance company Destins Croisés for the last 7 years, where he has deepened his expression in urban dance styles. He has also worked with choreographers Hélène Blackburn, Harold Réhaume, Karine Ledoyen, Chantal Caron and Les Imprudanses. Parallel to his performance activities, Simon is also co-founder of the company Ample●Man Danse. Since 2012 they have created two shows: KLIMA and DISTRACTION. The company has toured in Quebec and France. Simon also spearheaded the dance battle Bouge Anyway which brings freestyle dancers of all styles together. With 16 years of experience in cultural mediation and facilitating, Simon leads workshops for various events, organizations and dance companies such as Les Grands Ballets Canadiens and L'Agora de la Danse.
Joe Danny Aurélien
Self-taught since 1996, Joe Danny Aurélien (Bboy Dingo) developed his eye for movement and excellent comprehension of the human body through his deep interest in the art of breakdance. Founding member of the bboy crew Red Mask in 1999, Joe Danny has won multiple breakdance battles such as War is War in 2003, 2004 and 2005. He was invited to battle in the Red Bull competitition King of the Ring in 2005 and 2006 (a solo bboy battle inviting the top 32 bboys in North America). Dingo produces the annual event Who's Hungry?, which has become a mainstay event for the bboying community in Montreal. In 2002 Joe Danny decided to expand his dance vocabulary by participating in a creation with Rubberbandance, and began a mentorship with Victor Quijada, performing with the company until 2011. Since opening up to the contemporary dance world, Joe Danny has collaborated with Nadine Thouin (Go-On Productions 2005) Jean Léger (Opéra de Montréal, Aida 2006), Helen Simard and JoDee Allen (Solid State: Take it Back 2006 and Breakdance for Solo Cello 2009) as well as Emily Honegger and Geneviève Gagné (Floor Rider & Tonik: Foreign One 2011).
François Légaré
Jean-François Légaré acquired a BFA in performance and creation at Université de Québec à Montréal (UQAM). As a performer, Jean-François began his career with Ginette Laurin for the project Kosmogonia, which was presented at La Cité de l'énergie in Shawinigan in 2001. In 2004 he participated in the European tour of JOE, a choreography by Jean-Pierre Perrault. Since 2005 he has collaborated with the choreographers of Soeurs Schmutt in their pieces Blouskaille Olouaize, Ganas de vivir, and Petits Pièces de Poche, Grandeur Nature which toured the Maisons de la culture in Montreal, and Colima in Mexico. Jean-François has collaborated with Kate Hilliard for her piece Beside Me (2008), Sylvain Émard for Le Très Grand Continental as a professional performer and teacher (2011), and Hélène Langevin in the production Old Thomas and the Little Fairy (2007-2011) and The Studio (2009-present) in the company for young audiences Bouge de là.
Julie Tymchuk
Julie Tymchuk graduated from L'École de Danse Contemporaine de Montréal in 2012. She is currently performing with Bouge de là (Hélène Langevin) in the company's newest creation, Ô lit. Julie also participated in Katia-Marie Germain's Aube presented during the 2012-2013 season at Tangente. In the winter of 2013, thanks to a scholarship offered by the Office Wallonie-Brussels, Julie was able to further her contemporary dance training in Europe, attending workshops with renowned teachers such as Loïc Perela (Scapino Ballet Rotterdam), David Zombrano, Jos Baker and Mok Jung-Hun (Peeping Tom), Fatou Traore (C Company B) Intensive Gaga (Ohad Haharin) Shechter, Anton Lachky (The Slovaks), Dominique Duszynski (Pina Bausch's Dance Theater), Benjamin Lamarche and Claude Brumachon (Brumachon Lamarche). Julie was also invited by the company Michèle Noiret (Bruxelles) to sporadically observe their creative process of the new play Hors-Champ.
Jacques Poulin-Denis
Jacques Poulin-Denis is a craftsman of the stage. Composer, choreographer, director and performer, he undertakes projects that blur the boundaries between the disciplines of dance, music and theater. He creates works that are humanistic and uncanny. By gently knocking the spectator off center, he highlights the strength within the vulnerability of the characters he brings to life. In 2009, he founded the company Grand Poney that has become the foundation of his interdisciplinary projects. His work has been shown in Montreal, New York, San Francisco, France, Italy, and South Korea. His repertoire comprises Gently Crumbling (2011), Practices (2009), Domestik (2009), Cible de Dieu (2009), The Pencil Project (2008) and DORS (2007). As a composer, he has released two albums under the Ekumen banner and has composed sound scores for more than a dozen dance and theater productions. He has created music for choreographies by Boyzie Cekwana, Katie Faulkner, Eric Kupers, Ginette Laurin and Mélanie Demers and for plays directed by Philippe Cyr, Philippe Lambert, Denis Marleau and Denis Rouleau. A close collaborator of choreographer Mélanie Demers, as a composer and performer, he has been active with her company Mayday since 2006. Winner of an Isadora Duncan Dance Award, San Francisco in 2004 and a Saskatoon Area Theater Award in 2009, Jacques Poulin-Denis was also nominated for a Dora Award, Toronto in 2008 and an Opus, Montreal in 2010.
Paul Chambers
Paul Chambers graduated from John Abbott College in the professional theatre program, specializing in design. Thereafter, Paul became an artist in residence at FACE school for 2 seasons. Soon after he began designing lighting for theatre and dance productions. From 2008 until 2013 Paul worked as the Technical Director at Tangente. He continues to collaborate with Studio 303 teaching lighting design workshops for artists. Paul works mostly with emerging choreographers. Working on innovative productions is a priority for him. In addition, he is currently enrolled part time at Concordia University in their visual arts program (specialization in sculpture). In his free time Paul enjoys touring new Quebec dance productions to the far corners of the globe.
Sophie Michaud
Sophie Michaud's career as a dancer began with her bachelor's degree in dance at Université du Québec à Montréal. Simultaneous to her emerging performance career, she worked in dance education and contributed to the realization of dance shows and events. After ten years of exploration in the dance milieu, Sophie's interest in movement was renewed when she encountered the role of rehearsal director. With the aim of better defining her function as "outside eye," she chose to juxtapose her practice with higher education, and completed a master's degree in dance. As a freelance artist, her work has evolved as movement coach and artistic collaborator alongside established and emerging artists for the last fifteen years. She has participated in various projects directed by choreographers such as Hélène Blackburn, Roger Sinha, Hélène Langevin, Pierre-Paul Savoie, Manon Oligny, Marie-Claude Poulin and Lucie Grégoire (to name a few).