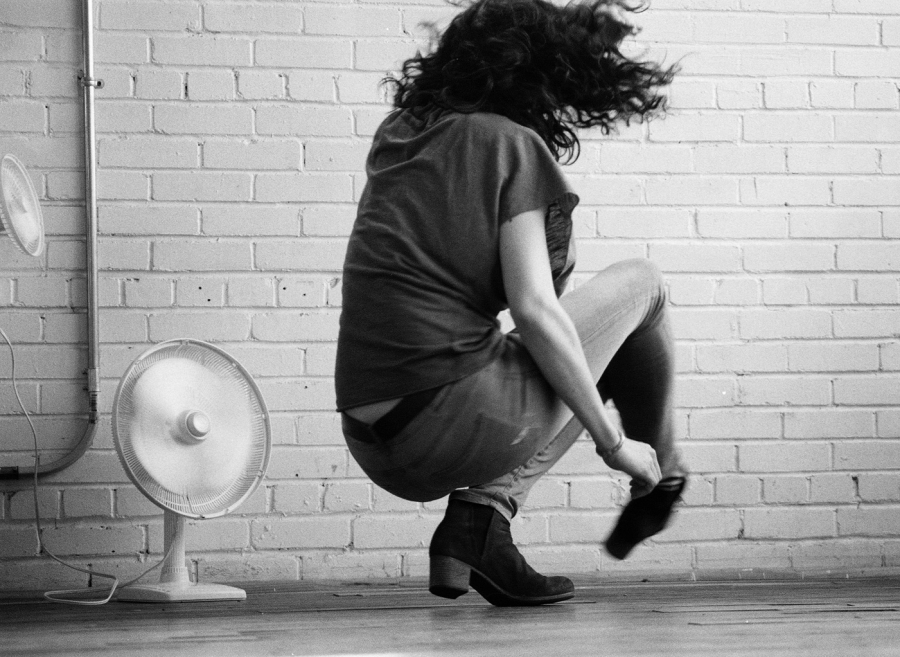 Idiom + Le projet qui tourne
Di/Convergence
Idiom
Bienvenue Bazié (Burkina Faso) & Jennifer Dallas (Toronto) / Kẹmi Contemporay Dance Projects
40 minutes
Idiom, a collaborative duet between Jennifer Dallas, Bienvenue Bazié and musician John MacLean. Idiom stands on the shoulders of Converse , a duet created in Ouagadougou, Burkina Faso and Toronto for Danceworks CoWorks 2011 season. The subject is language, the idioms of Idiom may be musical, verbal or movement-based. What are the effects of borderlessness? What are cultural norms as they manifest in dialog? Idiom will presents an exploration of like and unlike cultures and how that's changing human ways.
Choreography and performance
Jennifer Dallas et Bienvenue Bazié
Music composed and recorded
John MacLean
Lighting design
Oz Weaver
There is, in the human body, a limitless potential for new expression: something which has never before been seen and yet resonates universally. This creative ideal guides Jennifer Dallas' Kẹmi Contemporary Dance Projects (Kẹmi). Founded in 2008, Kẹmi's repertoire reveals a playful, insightful mind at work interpreting the layers of the human, spirit and body.
Dallas's work takes an intimate look at human interactions and offers insights into widely divergent ideas of what the self is. Extended travel informs and compels much of her work and affects many of her collaborations. Many of her Made in Canada Dances, while made in Canada, were influenced by strong and active creative partnerships across continents.
With an emphasis on learning through experiencing the (globalized) world, Dallas uses teaching and training as a framework in which to expand her network of students and colleagues. The spirit of these friendships combines with the landscape, or urban cityscape, to inform the creation in observable ways. The company believes in the infectious joy of dance and its ability to connect with audiences of very diverse backgrounds.
Married with images, experiences and teachings, Dallas uses music to inform the language of the dancing body. Dallas works with composers from diverse cultural and economic settings whose scores are specifically crafted, sometimes recorded, for use in her work.
Jennifer Dallas 
Jennifer Dallas is a Toronto-based dancer, choreographer, teacher, and costume designer. She is the artistic director of Kẹmi Contemporary Dance Projects (Kẹmi). Hailing from the Canadian Rockies, Dallas began her formal dance training at a very young age in ballet and contemporary dance. She is a graduate of The School of Toronto Dance Theatre. In 2010, Dallas was the Metcalf-funded intern for 10 Gates Dancing under the direction of Tedd Robinson. That year, she was also a K.M. Hunter Award nominee. In 2005, Dallas received a DanceWEB scholarship to study at ImPuls Tanz in Vienna, Austria. She currently sits on the board of directors for the Canadian Alliance of Dance Artists – Ontario Chapter. Since her choreographic debut in 2005, Dallas's work has been presented by the Nigerian festivals Truefesta and Dance meets Danse. In Toronto she has twice been co-presented by DanceWorks and Dance Ontario. She has created commissioned works for The Crazyfish Collective, The School of Toronto Dance Theatre, and the Scream literary festival. Most recently Dallas self produced STAGES with new works by Tedd Robinson and Jennifer Dallas. Dallas has performed in original choreographic works by Marc Boivin, Susie Burpee, Adedayo Liadi, and Tedd Robinson. In July, 2012 Dallas was guest teacher and artist in residence in Ouagadougou, Burkina Faso, as part of Engagement Féminin 2009-2010 (a training, creation, and performance project for West African dancers). In August, 2012 she was artist in residence at Kolban Dance in Jerusalem, Israel. Her work overseas continued in 2014 with a new commission for the Johannesburg company Moving In To Dance premiering as part Dance Umbrella South Africa in March and presentation of La Bas as part of Kazan International Festival in Kazan Russia.
Bienvenue Bazié
Born in Didyr in the province of Sanguié, Burkina Faso, Bienvenue Bazié joined the Burkinabé artistic troupe the Bourgeon in 1993 where he studied multidisciplinary training in dance, theatre, poetry and music. With Bourgeon, Bienvenue travelled through the provinces of Burkina Faso. He later decided to focus on dance and choreography and participated in a number of intensives and training workshops in Ouagadougou, offered by choreographers including Salia Sanou and Seydou Boro, Xavier Lot, and Eric Mézino, amongst others. Bienvenue Bazié is the co-director of Art' Dév / Cie Auguste Bienvenue, the company that he founded in 2000, and of Wa Tid Saou, founded in 2009 in France. He is dancer, choreographer, and creator, in collaboration with partner August Ouédraogo for all of the Art' Dév / Cie Auguste Bienvenue works, which include: Buudu in 2002, Tin Souk Ka in 2005, Traces in 2007, in collaboration with L'association des plasticiens, le Génie de la Bastille, Tourments Noirs in 2009, and Engagement Féminin 2009-2010 (a training, creation and performance project for West African dancers). In addition to the work created with Art' Dév/ Cie Auguste Bienvenue, he collaborates with other companies: from 2002 to 2005 with Kongo Ba Téria (Ouagadougou) : Vin Nem, Frères sans stèle, Nagtaba (collaboration between Kongo Ba Téria and Compagnie Tché Tché d'Abidjan); since September 2004 with compagnie ULAL DTO (Xavier Lot): Welcome to Bienvenue, Derrière les Mur/murs; and in 2008, Étrange Etrange with Pambè Dance Company.
Le projet qui tourne
Marie Claire Forté
30 minutes
Unravelling fronts. Le projet qui tourne is the perpetual revolution of bodies, space and sound. We take an affirmative stance in regards to three-dimensionality. Without succumbing to vertigo or momentum, we catch each other always leaving and returning to literally celebrate the multiples faces of relationships in performance. We hope to find new ways of relating and creating meaning that isn't contingent on face-to-face exchange.
Dance
Marie Claire Forté, Jody Hegel, Adam Kinner and Catherine Lalonde
Sound
Adam Kinner
Light
Rasmus Sylvest
Assistance
Alanna Kraaijeveld
Together, we articulate an approach to perpetual revolution. We elaborate hypotheses and feed the process with discussions and research. Experimenting to see what fits with the proposal, we play and work, and look, and look again. We structure our findings and invite outside perspectives. We work so that the production might reflect our intent and the values of listening, sharing, beauty, rigour, logic and play.
Marie Claire Forté Marie Claire Forté is presently interested specificity and inclusion; she finds details particularly compelling. Attendre à une extrémité de la longue verrière et escorter un passant sur le trottoir à l'extérieur, réitérer la démarche du passant à l'intérieur. Et comprendre la différence de vitesse de déplacement à l'intérieur et à l'extérieur. As a choreographer and performer, she has been working with Louise Bédard, Ame Henderson, Toronto Dance Theatre, Sophie Bélair Clément, Alanna Kraaijeveld, Catherine Lalonde, PME and Projet bk. From 2004 to 2008, she danced for many choreographers at the now defunct Le Groupe Dance Lab in Ottawa, where she trained daily with Peter Boneham. Marie Claire's plural practice has been supported and inspired directly and indirectly by people and institutions, namely Centre d'arts actuel Skol, le Mois de la photo de Montréal, Public Recordings, Casino Luxembourg, Artexte, Lynda Gaudreau, WP Zimmer (Antwerp), k.g. Guttman, the RQD, the École de danse contemporaine de Montréal, Concordia University, Studio 303, Wants&Needsdance and Montréal Danse, amongst others. Her work spills over into translation, writing and teaching dance. She edited the publication 8 DAYS / Projet BK, a document sharing a peer-to-peer choreographic training amongst Canadian choreographers held in 2012.
Jody Hegel Born in Calgary, Alberta, Jody Hegel completed a Bachelor of Arts in Theatre from Dalhousie University, Halifax, NS before obtaining a BFA in Dance from Concordia University, Montreal. As a dancer, Jody has worked notably with Emily Gualtieri and David Albert-Toth (Parts+Labour_danse), Zoja Smutny, Silvy Panet-Raymond, Sasha Kleinplatz and Emmanuelle Calvé. Her choreographic interests lay in collaborative practices. Jody has created several dances with Hannah Dorozio under the title Ladybox, and is currently working with Jana Jevtovic on A Common Dance. Jody has been an artist in residence in various places and spaces, notably at Gesù-centre de creativité, IN LIMBO at Espace Tangente (Lynda Gaudreau/Compagnie de Brune), Centro Rural del Arte's residency Nativo y Foraneo in Patagonia, Argentina, and with Intercult in Stockholm, Sweden.
Adam Kinner Adam Kinner is a Montréal-based artist who works along the interstices of dance, music and visual art. A trained saxophonist, he started performing his own choreographies in 2011. His interest lies in modes of presentation and conventions show-goers take for granted. By restaging and twisting these conventions, he pushes us to reconsider our relationships to each other and to the art we see enacted. He has presented his work at Usine C, Tangente, OFFTA and the McCord Museum in Montréal and has held residencies via the Third Floor Project at Usine C and at the Banff Centre for the Arts. As a musician, he's performed solo music in New York, Montréal, Berlin, Toronto and Washington, D.C. and has toured North America and Europe with various Montréal bands.
Catherine Lalonde Catherine Lalonde graduated from LADMMI in 2000. She has danced for the Fondation Jean-Pierre Perrault, Michèle Rioux, Geneviève La and Karina Iraola. As a maker, she authored the choreography and text for Musica Nocturna produced by Danse-Cité en 2010 and touring Montréal in 2011. She assembled Nulle part nulle nullipare at Studio 303 in 2012, explorations for her pregnant self by Jean-Sébastien Lourdais and Marie Claire Forté. She continues to collaborate with these artists, namely performing in Lourdais's Milieu de nulle part at l'Agora de la danse. Catherine is also a writer. She has published three books of her poetry of which Corps Étranger garnered the Émile-Nelligan prize in 2008. She regularly performs readings and spoken word, and has signed vocals of songs for emerging artists. She also works as an editor, journalist and critic for Le Devoir.
Rasmus Sylvest Denmark native Rasmus Sylvest has worked for dance and theatre in Denmark and Canada as a lighting designer, technical director, stage manager and touring director, touring international stages. Since arriving in Montréal in 2008, Rasmus has been busy establishing himself as a lighting designer as well as a production and technical director, working with Louise Bédard Danse, Danse-Cité, Système D/Dominique Porte and Ekumen. He considers himself fortunate to have worked with choreographers Martin Bélanger, Peter Trosztmer, Marie Claire Forté, George Stamos, Thea Patterson, Pamela Schnieder, Marie Brassard, Kelly Keenan, Anne-Marie Pascoli, Julio Hong, Tony Chong and Peter Chu. He is also the guiding light of the Fringe Festival's annual "Piss in the Pool' collaborating with Dana Michel, Caroline Laurin-Beaucage, Andrew Tay, Sasha Kleinplatz and Andrew Turner.
Alanna Kraaijeveld Alanna Kraaijeveld is a dance artist, teacher and occasional choreographer. This season, she participates in projects with Susanna Hood, Dave St-Pierre, and Louise Bédard Danse. Her practice is greatly informed by her time as a company member of (now defunct) Le Groupe Dance Lab under the direction of Peter Boneham. Choreographic initiatives include a solo commission from Sarah Chase entitled the window in the room presented at Studio 303. She has had creation support through the MAD AIR residency program at the Stella Adler Studio of Acting in NYC, Circuit-Est, Studio 303, Dancemakers, and Le Groupe. Alanna has also worked with artists and companies including Mayday/Mélanie Demers, Sylvain Émard Danse, Marie Claire Forté, Sarah Bild, Elizabeth Langley, Dancemakers and Public Recordings.