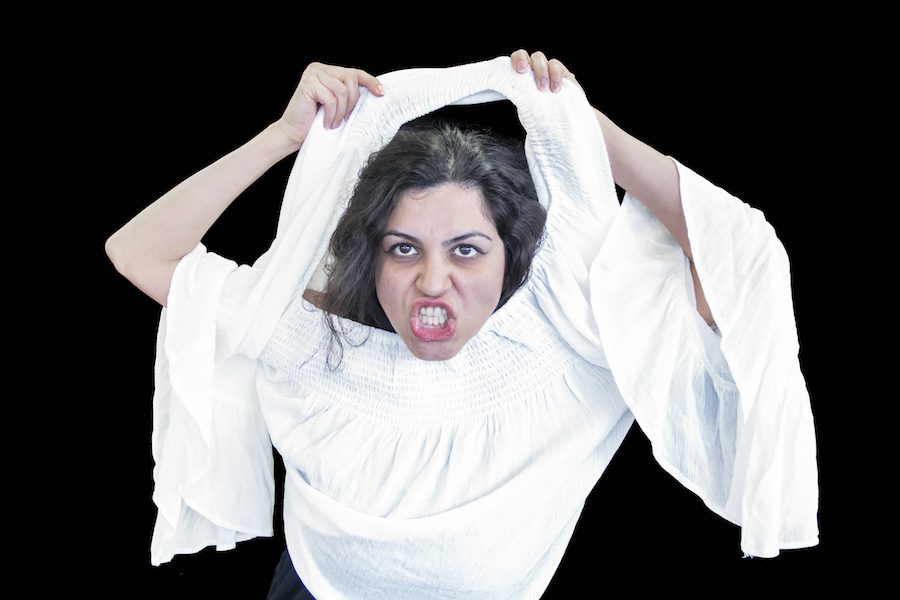 Heritage in motion
Traveling from places of oppression to imagining possible futures
OCTOBER 5. 6. 7 | 7:30PM
OCTOBER 8 | 4PM
Maggie & Me
Christine Friday / Pukawiss Performance (Ottawa)
20 minutes
There are two Maggies at the origin of this contemporary indigenous choreography. One is Maggie Wilson, who made dances that fostered happiness in the mid-1800s. Appearing to the choreographer in a dream, she caressed her with her wings. The other is Maggie White, one of the mothers of the traditional Jingle Dress Dance. Both have become the choreographer's spirit guides. In this signature solo, the dancer-choreographer travels with us through dimensional realms of existence – past, present and future – performing the journey of her life. It is all about community and family, ancestral experiences, the healing and revitalization of her culture. Stage lighting is stripped down, the soundscape a euphoric blend of hand drums and voices. With a movement style that is at once free, lyrical, explosive and contemporary, she walks into her own power: "a wild horse that cannot be tamed" (as her ballet teacher used to describe her).
Concept, choreography and performance Christine Friday
Dramaturgy Robert Desrosiers
Sound design Rob Bertola
Christine Friday began her professional career in 1992 at the age of 18 with the production of In Land of Spirits, which led to a three year contract with Desrosiers Dance Theatre. At 18 she won the YTV award for dance along with many grants and awards for the artistic development of her own choreography and solo work. She was trained in classical ballet at the National Ballet School, the Ottawa School of Dance and the Royal Winnipeg Ballet; in contemporary dance at Winnipeg Contemporary Dancers and Main Dance Place in Vancouver. Christine has maintained a dance career for 24 years while having a family of 3 boys. She has performed in 6 productions of the Aboriginal Achievement Awards since its inception and now with her 3rd choreographic role in the Indspire Award show. Christine has always been a choreographer creating solo work, youth performances, and full-scale productions dedicated to First Nations youth, including those of Bear Island, Lake Temagami, Attawapiskat, Moose Factory, Cape Croker, Yukon, Banff, Ottawa, Golden Lake, Peterborough, Toronto, Kehewin and Lac la Croix. Her new work is entitled Maggie & Me and marks the the launch of her company Pukawiss performance, which combines traditional and contemporary dance elements. "My intention is to awaken people within themselves, creating change in the world by reflecting reality and the human experience."
Moi-Me-Man
Nasim Lootij
30 minutes
"The past is never dead. It's not even past." (William Faulkner)
Like so many of her young generation, this Iranian choreographer carries the weight of the 1979 revolution and the Iraq-Iran war on her shoulders. In the aftermath of these events, dancing was forbidden in her homeland. It is no wonder that this solo choreography is somber, sourcing her own memories as well as the collective ones of her compatriots. As a neo-expressionist, she seeks to embody the struggle of one human soul, of humanity. Sounds of war and murky lighting permeate this work. Wrapped in a black veil, caught in a battlefield between the forces of past and present, she asks: are we prisoners of fate, or can we forge our own future?
Choreography, performance and sound design Nasim Lootij
Dramaturgy and voice Kiasa Nazeran
Lighting design and technical direction Benoit Larivière
Sound supervision Alex Lachapelle Raymond
Photography Narcisse E. Esfahani
Text Hannah Arendt (Between Past and Future)
Creative residency José Navas/Compagnie Flak, MAI (Montreal Arts Interculturels)
José Navas is proud to sponsor Nasim Lootij as part of their residency partnership with Tangente.
This show benefited from the support of the Caisse Desjardins de la Culture with our crowdfundraising campaign « Give a hand to move a mountain! » on KissKissBankBank.
A first version of this choreography was presented in festival Accès Asie in partnership with Québéasia group on May 15th 2016.
The inspiration for this solo, named Moi-Me-Man, came from my own personal experience and from a book by Hannah Arendt titled between past and future. In her book, Arendt uses a Kafkaesque parable to explain that the human soul resembles a battlefield, where two forces are in permanent conflict: those of the past and those of the future.
In this solo, the stage represents my soul and my movements are the representations of the events that connect me to my past or the forces that push me towards my future. The events I chose from my past are the revolution of 1979 in Iran, my homeland, and the Iran-Iraq war from 1980 to 1988.
For the aesthetics of my movements, I was influenced by images of war and revolution, and German Expressionist dance, which was born in the chaotic Germany of the 1920s and could be an inspiration for choreographers, like me, who want to represent human beings in the face of the dark forces of history.
A soundtrack, composed of the sounds of war and revolution, accompanies this choreography and helps me rediscover the emotions that I was experiencing during those events.
Choreographer, educator and contemporary dancer, Nasim Lootij began her work in Iran in the early 2000s, moved to France in 2006 and began her choreographic studies at Paris 8 University. In addition to her theoretical background, Nasim participated in two dance programs in parallel at Rencontre International de Danse Contemporaine (RIDC) and at Jean Wiener Conservatoire, and completed her studies in Laban Notation from Conservatoire Nationale Supérieur de Musique et de Danse de Paris (CNSMDP) in 2012. Nasim's extensive educational background enabled her to pursue a career in four areas. As a dancer, she collaborated with choreographers such as Odile Duboc, Dominique Dupuy, Christine Gérard, Alban Richard, Cécile Loyer, Natalie Pernette and Nawel Oulad. As a notationist, she is one of the first to transcribe a North-Eastern Iranian dance. As a choreographer, she staged a solo called Lalaï (Paris / 2012), which then inspired the duo dance Bouyé Jouyé Moulian (Paris / 2014) and the first version of solo Moi-Me-Man (Montréal / 2016). And as a teacher, she leads a class of technique and creation at the MAI studio in Montreal, where she currently resides. Nasim often draws inspiration from the events that shook her country of origin (Iran) during the 1970s and the 1980s. These events, which in most cases resulted in violence, inspired her to resort to a set of qualities for her choreographies found in German Expressionism of the 1930s. These qualities are sometimes softened by those of Iranian art: gentleness, slowness and continuity. It is through this aesthetic that Nasim tries to communicate with both Iranian and Western public.
Trained at Académie Européenne de Théâtre Corporel, Jacques Lecoq School, University of Paris 3 and University of Franche-Comté, Kiasa Nazeran is currently professor at two universities. He has collaborated as a dramaturge with Nasim Lootij since 2010.
In 2009, after 15 years in IT, a choice had to be made: keep working in the same field after a massive layoff or work daily with passion. Benoit Larivière chose the path of passion and signed up for a stage technician program. Through different projects, small and big, he found his way to lighting design. 2014 makrs the beginning of collaborations in theatre and the creation of lighting designs for the Passerelle 840 from the UQAM dance department. Since, he has worked with Tentacle Tribe, Ebnfloh, Monstapop, 100Lux, Andrea Pena and the theatre company Les écorchés vifs.
ISBC is a sound design and music composition collective led by Alex Lachapelle Raymond. They have created works for dance, theatre, cinema, interactive technology, and virtual reality.
Visual artist and photographer, Narcisse E. Esfahani began her artistic studies in industrial design at Tehran Art & Architecture University. In 2007 she moved to France to continue her studies in Fine Arts at Le Mirail University and in Design at École des Beaux-Arts in Toulouse. Since 2012, she lives in Montreal and exhibits in galleries like Gallerie Fabienne Rhein, Mekic, Tohu and Arthothèque. Currently, she is working on a videographic project called la présence du passé, financed by Montreal Arts Council.