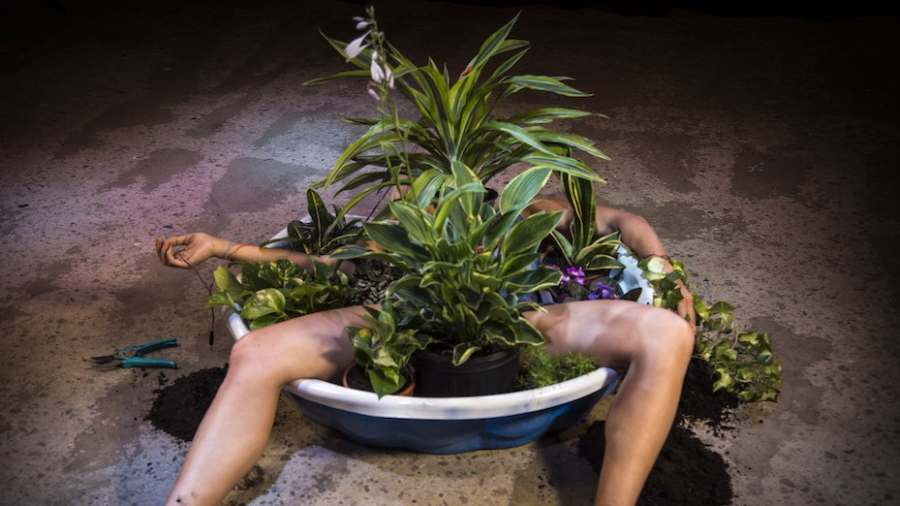 Double bill - The Wilder
JANUARY 24. 25. 26, 2019 - 7:30PM
JANUARY 27, 2019 - 4PM
-
DISCUSSION WITH THE ARTISTS AND BOOK TABLE ON JAN. 25
Inside a white room, two dancers gesture slowly in a garden housed within an eight-foot round module. A sound device filters frequencies picked up by electrodes hanging from the ceiling and attached to plants. From these elements, a melodic, ambient music is generated live, natural sounds with strange textures. We surround the action, entering a sensory, immersive and contemplative experience. One might glean the rapport we entertain with our immediate environment, our need for control, and the sublime beauty found in small things. As the plants take over, we can wonder: is nature more intelligent than humans?
Artistic direction Amélie Rajotte
Creation and sound performance Nelly-Ève Rajotte
Creation and performance Angie Cheng, Jessica Serli
Imagery Alexandre Pilon-Guay
Horticultural advice Jasmine Kabuya-Racine
Technical direction Mélanie Primeau
Module building (scenography) Atelier Morel-Leroux
Olfactory creation Julie Simard Jones
Thanks to Marie-Philippe Santerre, David Kristian, Jason H.J. Lim, Lorganisme, Florence-Delphine Roux, Heidi Nydegger
Financial support Canada Council for the Arts
Sponsors Miss Boon boutique végétale, Bar à plantes MTL
La possibilité d'une tragédie is a dance and sound work with an oasis of vegetation at its heart. This living installation and the dancers' actions stimulate the spectators' senses of sight, hearing, and smell. The sound, generated by electric frequencies emitted by the plants and by the human bodies manipulating them, is transfigured during the performance, as is the landscape of the installation. Through the medium of the garden, the piece evokes the now harmonious, now chaotic relationship between human beings and their environment – a fragile, porous relationship of mutual adaptation and transformation which is gradually revealed by the bodies of the performers. In the end, the plant world becomes an extension of their desires and emotions, like an ideal that threatens to crumble at any moment.
Amélie Rajotte works in the contemporary dance field as a choreographer, performer and teacher. Her works include Tenir debout (2009), The Squirrel and the Mirror (2011), Carnaval (2014) and Bernard Remix (2015). In 2017, she received a CALQ choreographic residency at Fabrik Potsdam, Germany. In addition to creating her own works, Amélie Rajotte has worked as a performer on projects (performances, research, creations) by the likes of Karine Denault, Sylvain Émard (SMC), Lynda Gaudreau, Sarah-Ève Grant-Lefebvre, Hélène Langevin, Karina Iraola, Lara Kramer, Normand Marcy, Brice Noeser, Pierre-Paul Savoie and Jessica Serli. After graduating from the CNR de Grenoble, she went on to complete a teaching diploma in contemporary dance at Cefedem de Normandie. As part of her training, she worked with Nadine Beaulieu, Dominique Boivin, Sylvain Groud, the Quatuor Albrecht Knust, and Bruno Meyssat. In 2017 she obtained a master's degree from the Department of Dance at UQAM. Amélie Rajotte is a co-founder and member of Lorganisme.
After graduating with a BA in Art History, Nelly-Ève Rajotte undertook a undergraduate degree at École des arts visuels et médiatiques (UQAM), which led to a master's degree in 2006. Besides numerous exhibitions in Québec – at the SAT, the Darling Foundry, Parisian Laundry, Occurrence, Clark, Optica and Circa – her works have been presented in several festivals across Europe, even Russia and Mexico. Her works have been shown in many festivals in Canada – MUTEK, Antimatter Underground Film Festival, Festival International du film sur l'art – and several festivals around the world – International short film festival of Berlin and Official Selection at Transmediale Berlin (Germany), Otherworldly, Manchester UrbanScreens (UK), EXiS (Korea), Moscow International film Festival, and Finnish Contemporary Art Fair. Multidisciplinary artist Nelly-Ève Rajotte works at the confluence of performance, video and installation and is known for her monumental projections.
Originally from Ottawa, Angie Cheng studied dance at Canturbury Arts High school and graduated from the Dance Department at Concordia University. She has been an active member of the Montréal dance community for the past 12 years. She has collaborated and worked with David Pressault Danse, MAYDAY/Mélanie Demers, Wants & Needs Danse/Sasha Kleinplatz, Lara Kramer Dance, Thierry Huard, Tedd Robinson, and Nate Yaffe. She is now working with Amélie Rajotte, Kate Nankervis, and Ame Henderson. She is also developing a new solo with James Gnam, as well as a collaborative project with Chi Long and Winnie Ho. She is a member of the Cool Cunts, a collective founded in 2017.
Jessica Serli graduated from LADMMI (l'École de danse contemporaine de Montréal) in 2005. Since then, she has been active on the Montréal scene as a dancer, choreographer and rehearsal director. As a performer, she has participated most notably in the projects of Milan Gervais/Human Playground, Line Nault, Danse Carpe Diem/Emmanuel Jouthe, Audrey Bergeron, Amélie Rajotte, Bouge de là/Hélène Langevin, Normand Marcy, Jacques Poulin-Denis/Grand Poney, PARTS+Labour Danse, Andrew Turner, and Estelle Clareton. As a rehearsal director and outside eye, she has also collaborated with, among others, Annie Gagnon, Alan Lake Factori(e), Collectif Arielle & Sonia, Bourask Floor Ryder and Tonik, Ian Yaworski & Philippe Meunier, and Esther Rousseau-Morin & Sylvain Lafortune. As a choreographer, Jessica has presented -40 Degrés (Danses Buissonnières, Tangente, 2005), Entre-Deux (Résidence du Studio 303, 2008), La Fièvre (Piss in the pool, 2013), Petite faille solo (La petite scène de Québec, 2015) and Faille: deux corps sur le comptoir (Tangente, 2016; OFFTA, 2017; Accès Culture, 2018).
Ever since Alexandre Pilon-Guay graduated from theatre school in 2003, he has closely worked with the dance community. He worked with choregraphers Virginie Brunelle, Mélanie Demers, Frédéric Gravel, Antonija Livingstone, Frédéric Tavernini, Nicolas Cantin, Lynda Gaudreau, Clara Furey, Jacques Poulin-Denis, Catherine Gaudet, Dave St-Pierre, and Pierre-Paul Savoie. In theatre, Alexandre worked with Alice Ronfard, Jérémie Niel, Claude Poissant, Catherine Vidal, Patrice Dubois, Sylvain Bélanger, Martin Faucher, Emmanuel Schwartz, Olivier Choinière, and Brigitte Haentjens. In 2017, moving towards a museum practice, he worked on a piece with Clara Furey for the Leonard Cohen exhibit A Crack in Everything / Une brêche en toute chose presented at the MAC in Montréal.
Jasmine Kabuya-Racine works as a gardener as well as gardening journalist and translator for Québec magazines Fleurs Plantes Jardins, Coup de pouce, and Naître et grandir. She is well known for Je suis au jardin, a regularly updated blog full of resources and articles on gardening and the plant world, which she started in 2008. In 2013, she collaborated in the writing of the free online urban gardening guide Le potager urbain. Recently, she designed and managed a project in her community, the Gisèle-Guérin-Rémillard walkway, which features a variety of fruit trees and bushes, and was a finalist for the 2016 David Suzuki Prize.
Recycled objects make up an absurd landscape: a car tent, rocks, dead potted plants, dirt, a hose, a toolbox. Two people create an ecosystem with different life cycles as they exploit both natural elements and synthetic objects that will take hundreds of years to decompose. One wears a flowerpot on their head while the other appears fragmented throughout the landscape. A bizarre and playful eco-aesthetics.
Choreography and performance Guillaume Loslier-Pinard, Aliah Schwartz
Set and lighting design Darah Miah
As a collaborative partnership, Guillaume Loslier-Pinard and Aliah Schwartz are interested in exploring the idea of an inherent absurdity to reality. Through the use of movement, sound and objects, they create a world where the line between humour and tragedy is thin, and where the banal is often at the forefront. Their focus lies in in-between moments: the end and beginning of a performance, preparation and rest, and the small rituals of daily life. Loslier-Pinard and Schwartz's combined practices include visual arts, physical theatre, music, dance, puppetry and martial arts, from which they draw to create their collective work.
Aliah Schwartz is a creator originally from the Annapolis Valley in Nova Scotia. She has trained intensively in contemporary dance creation, visual arts and puppetry, while creating work and performing throughout Montréal and Nova Scotia. Some of these include Tangente, ZH Festival, Quartiers Danses, Montréal St-Ambroise Fringe Festival, and Kinetic Studio. Aliah received the Canada Games Young Artist of Excellence Award from the Nova Scotia Talent Trust in 2015.
Before becoming a choreographer, Guillaume Loslier-Pinard traveled around the world, worked as a film director for the United Nations in Brazil, and as a soldier on the Canadian Forces reserve. Since then, he completed a BFA in Contemporary Dance at Concordia University where he graduated with the Contemporary Dance Prize. He has danced and choreographed at several festivals and venues in Canada, including Tangente, Quartiers Danses, Bouge d'ici, ZH Festival in Montréal, and Kinetic Studios in Halifax. As a dancer, he also worked in the UK and Canada with the dance company Casson and Friends. He practices martial arts (aikido, karate, jiu-jitsu) and physical theatre, and is interested in partner work and improvisational techniques in dance.