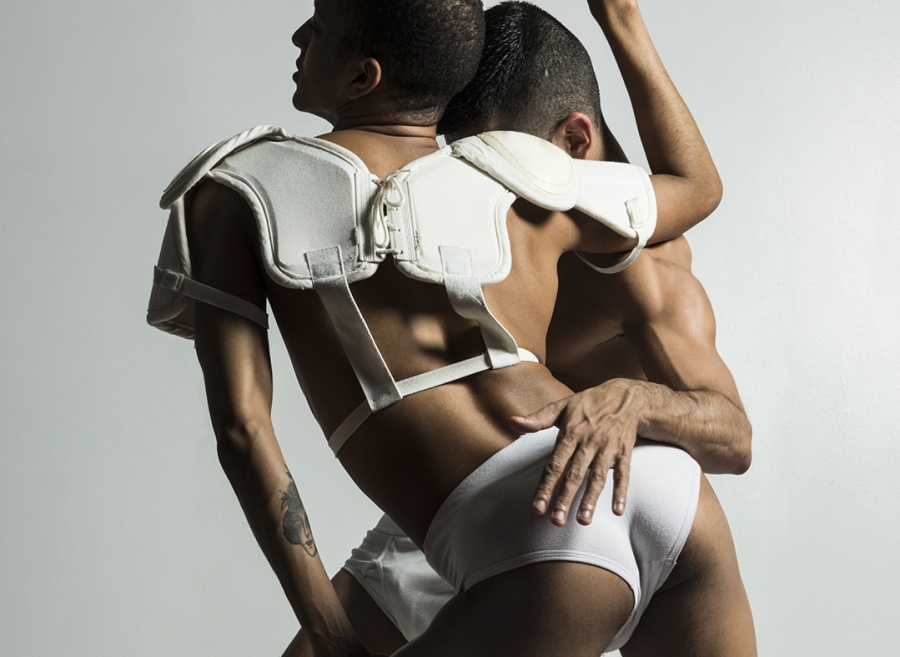 Gender fluidity
Transcending masculinities: from stereotypes to icons
NOVEMBER 16. 17. 18 | 7:30PM
NOVEMBER 19 | 4PM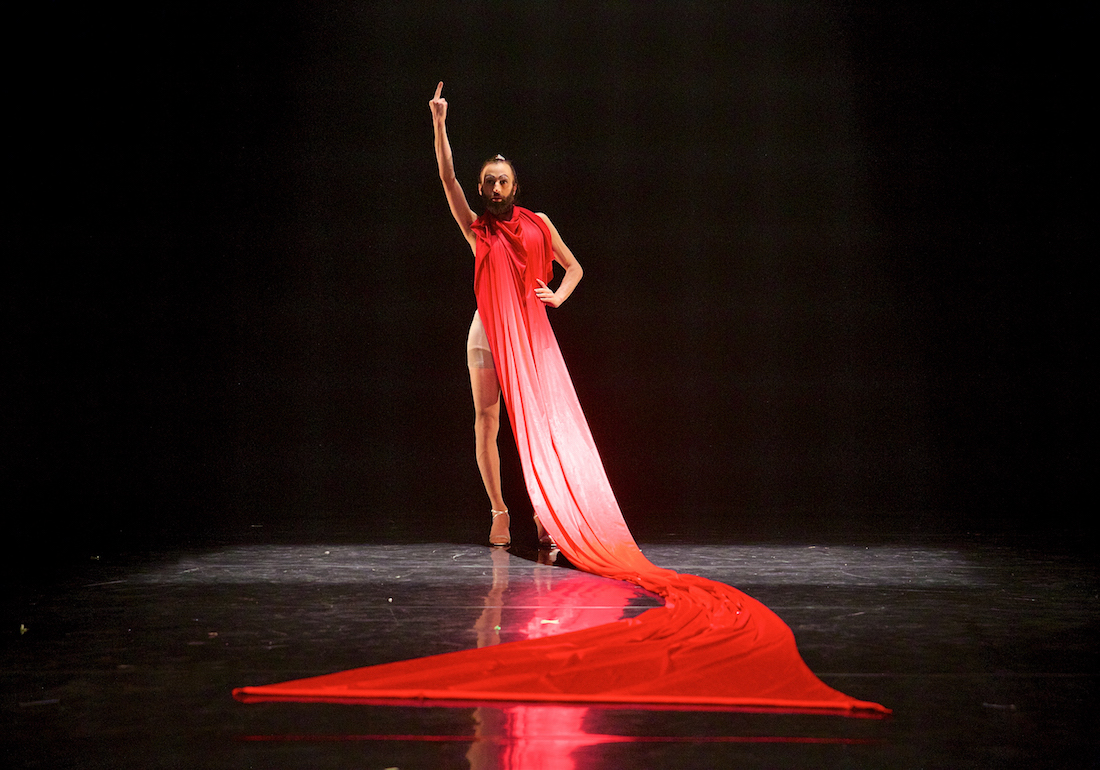 La mécanique des dessous
Manuel Shink
25 minutes
This is a queer character, a bearded man exploring female personas. Playing with the themes of femininity and androgeny, the choreographer performs archetypes to question the notion of gender fluidity. Dressing alternately in stilettos and veils, at once ultra-feminine and feminist, s/he delights in embodying paradox. Based on iconographic research and inspired by Japanese Butoh, this intriguing solo bridges dance and performance art. It is an intense work – reinforced by minimal downtempo music – that challenges our thinking patterns. Can we ever escape the Male/Female binary and widen the spectrum of gender possibilities?
Choreographer and performer Manuel Shink
Dramaturge Emily Gualtieri
Rehearsal director Camille Lacelle-Wilsey
Outside eye Lucie Grégoire
Lighting design Leticia Hamaoui
Costumes Angelo Barsetti
This show benefited from the support of the Caisse Desjardins de la Culture with our crowdfundraising campaign « Give a hand to move a mountain! » on KissKissBankBank.
My own history, the history of women, their struggle for equality, their mythical seduction power, the emergence and the "coming-out" of sexual minorities are all inspirations that feed my gestures. To explore the assumptions of Judith Butler's concept of gender performativity (1990), gender as essence / gender as repeated social performance, exploration at the level of interpretation has taken place. This feminine part in myself is emphasized by the play of its presence and its absence, in the dance and in the gaze. By sometimes pushing it to the point of parody, I approach the metamorphosis with respect, humour, and commitment. Another influence inspired by the playback theater is at the origin of the aesthetic singularity of the piece, the fabric as an accessory. At the level of form, the concept is to develop a triptych in which the protagonist will encounter archetypes.
A recipient of two Canada Council grants, Manuel Shink had first completed his interpreter training at EDCM and then worked on more than a dozen projects in Montreal, Quebec City, Toronto, Berlin and Saint John. He works for Le fils d'Adrien Danse, Code Universel, Human Playground, Lucie Grégoire Danse, Teoma Naccarato, Hélène Messier and Andrew Turner. He made his mark in improvisation in the Imprudanses League and Promito Playback Theater, as well as in Tanz im August in an internship with Les Slovaks. His pieces Litthle Thistle and Camping Bugs (collective creation) were presented respectively at Perspective Connection Danceworks and Zone Homa. Having studied film, photography and psychology, he also holds a Bachelor of Arts in Choreography from Concordia. Interdisciplinary, he has tackled video, sound, performance and installation. Today, he works in dance, paying special attention to space, narrative and atmosphere. Among other things, he uses drag, butoh, clown work and theatrical elements.
Emily Gualtieri is a Dora Award nominated choreographer and dance artist working in both Montreal and Toronto. Since 2007, her interest in creation and craft has driven her to continually produce and tour new works every season. Emily began a creative partnership with David Albert-Toth, founding Parts+Labour_Danse, in 2011. Their works have been presented in festivals such as Dance: Made in Canada, Guelph Dance, Expanse Festival, Quartiers Danses, VSLR, Dance Matters, OFFTA and Saint John Contemporary Dance Festival. Emily has participated in residencies in Montreal, Toronto, Banff, Halifax, Massachusetts, and Berlin. Emily created independently À la prochaine (2013), performed by Ginelle Chagnon, Re:Pairing (2015), a DanceWorks CoWorks production, and Stealing Fire (2016) a commission for Mocean Dance. The duo will premiere two new creations will premiere in the 2017/18 season.
In an artistic career of more than three decades, Montreal choreographer and dancer Lucie Grégoire has created over thirty group pieces, solos, and site-specific works. Her creations, nourished by her contact with other lands and cultures — the Arctic, the Iberian Peninsula, Morocco and the Sahara, Japan, the Amazon and Island — are also inspired by the diverse disciplines of literature, the visual arts, and the cinema. Known for the integrity of her approach, the hypnotic beauty of her performances, and the pictorial dimension of her scenographies, she has forged a unique path in contemporary dance. In 2004, the creation of Eye in collaboration with Japanese choreographer and dancer Yoshito Ohno was a turning point in Lucie's trajectory and, since then, the two artists have continued to work together, creating Flower (2008) and In Between (2011). Lucie Grégoire's works have been presented in Canada, Europe, New York, Tunisia, and Japan. Teaching is an integral part of Lucie's artistic research. She has taught at l'Ecole de danse contemporaine de Montréal since 1989.
Leticia Hamaoui is a graduate of Lionel-Groulx College (Theatre Production, Gestion et techniques de scène, 2013). She has worked as a director, assistant director and lighting designer. Lighting design remains his first passion. In the summer of 2015, she designed the lights for two comedies: Pierre et Marie…et le démon, at Théâtre des Grands Chênes, then Boeing Boeing, directed by André Robitaille. In 2016, she lent her talent to choreographer Gabrielle Bertrand-Lehouiller (Naïve, Tangente Danse), to creator Jean-Philippe Baril-Guérard (La singularité est proche, OFFTA), and to choreographer Natacha Filiatrault with Pavlov (Tangente Danse), before giving birth to his own creation, Douce, at Festival Zone Homa. She has just finished two designs in the winter of 2017 at Salle Fred-Barry of Théâtre Denise-Pelletier, with directors Philippe Boutin (Being Philippe Gold) and Nicolas Gendron (L'Enfance de l'art). She is an assistant to the artistic direction of the company ExLibris, in addition to signing the lighting design (Et au pire, on se mariera).
Originally from the visual arts, Angelo Barsetti first became known as a make-up artist in dance and theatre. His stage make-up debut dates back to 1987, at the invitation of André Brassard, then director of Michel Marc Bouchard's play Les Feluettes, created by the Petit à Petit Theater. Since then, he has worked with the most important Quebec directors, such as René Richard Cyr, Claude Poissant, Denis Marleau and Stéphanie Jasmin, Wajdi Mouawad, Brigitte Haentjens, for whom he also signs promotional images of his works, and most recently Angela Konrad. In dance, choreographers Sylvain Émard, Danièle Desnoyers, Lucie Grégoire, Catherine Tardif and Louise Bédard, with whom he has collaborated since 1990, regularly call on this inspired designer. Angelo Barsetti has also taught the art of stage makeup to the students of the National Theater School. Today he is increasingly engaged in photography.
Born in Montreal, Camille Lacelle-Wilsey creates dance projects in fields, theaters, bars, gardens, and apartments. Since leaving Concordia University in 2016, she has presented her choreographic projects at Vous êtes ici, Danses Buissonnières, and at the Offta (creation residence). She is currently collaborating with Eryn Tempest on the Ghostbox project which will be presented at Tangente in February. At the same time, she is a movement advisor for the creation Lamelles by Cédric Delorme-Bouchard, a rehearsal director with Manu Shink, and an artist supported by LA SERRE – Arts-Vivants.
Children of Chemistry
Sébastien Provencher
40 minutes
This quintet takes aim at stereotypes of masculine virility. Children of Chemistry arises from a single dance phrase, an accumulation of gestures drawn from the universes of sports and fashion. Even as they dance in unison, the irrepressible individuality of the performers surfaces. It is also a playful composition, replete with pop culture references that materialize through saturated lighting and costumes. Underlying the formalism of this dance is a socio-political commitment; an invitation for us to imagine a plurality of masculinities.
Choreographer Sébastien Provencher
Dancers Miguel Anguiano, Jean-Benoit Labrecque, Louis-Elyan Martin, Alexandre Morin, Simon Renaud
Dancers at the creation Jossua Collin, Julien Mercille, Abe Simon Mijnheer, Gabriel Painchaud
Rehearsal director Helen Simard
Composer Hani Debbache
Lighting design Nancy Buissières
Residencies (creation partnerships) Espace Marie Chouinard, Circuit-Est centre chorégraphique, José Navas/Compagnie Flak, Département de danse de l'UQAM, Quartiers Danses.
This piece has benefited from the financial support of the Conseil des arts et des lettres du Québec.
This show benefited from the support of the Caisse Desjardins de la Culture with our crowdfundraising campaign « Give a hand to move a mountain! » on KissKissBankBank.
This process started in 2015 : having created several duets, I found myself wanting to create a larger group piece, and in particular to work with a group of men. After seeing a number of « men's piece » on stage recently, I had the impression that in contemporary dance, men and masculinity were often viewed through a simple, heteronormative lens. I wanted to explore different takes on masculinity: to treat this subject in a comical way by exposing man in all his clichés, all while allowing him to embrace his feminine side. The type of hypermasculinity that is generally associated with the world of sports became a central point that I wanted to explore with this project. Having grown up playing sports myself, I found a need to explore how clichés of hypermasculine athleticism were built into my own notion of masculinity. Particularly, the social and symbolic codes surrounding masculinity and « maleness » in American Football became a source of inspiration that has allowed me to explore gender expression in a different way. With Children of Chemistry, I have the desire to invite spectators to be submerged in a colourful and comical, yet touching universe, where a diversity of gender expressions can be embraced.
Sébastien Provencher is a graduate from the Université du Québec à Montréal, where he received the William Douglas grant during that time. He has recently been granted by the Canada Art Council to complete the choreographic ATLAS program in Impulstanz Dance Festival in Vienna in summer 2016. As a choreographer, his work has been presented in Montreal, Toronto and France. Using a multidisciplinary approach in his works, Sébastien focuses his performances around the questions of gender, identity and political issues. The first version of Children of Chemistry, presented at Quartiers Danses, has recently won the Coup de Coeur Prize from the public. He has danced in Montreal for established and emerging choreographers such as Emmanuel Jouthe, Sasha Kleinplatz, Manon Oligny, George Stamos, Helen Simard, Philippe Dandonneau and Claudia Chan Tak. He is working in Toronto as a member of Social Growl Dance company since 2015, under the direction of Riley Sims.
Alexandre Morin graduates from l'École de danse contemporaine de Montréal in 2013. He has danced with Compagnie Marie Chouinard, Sylvain Émard Danse, Système D/Dominique Porte, Marie Béland and Sébastien Provencher, to name a few. In 2016, he is awarded a grant from the Canada Council for the Arts in order to participate at the ImPulsTanz: Vienna International Dance Festival via the ATLAS, Mapping Future Talents program. His interest in visual arts lead him to perform in Jimmy Robert's installation Metallica at the AGO Art Gallery of Ontario in Toronto. As a choreographer he has presented works in Montreal at Festival Zone Homa and the emerging artists evening at the OFFTA.
Miguel Anguiano begins his dance training at the age of 14 under the RAD technique in Mexico City. He moves to Montreal in 2003 and quickly makes a name for himself in the Montreal scene, joining multiple local productions and musical reviews. Hunting for new challenges, he obtained his bachelor's degree in Contemporary Dance at UQAM in 2010. Immediately, he signs a 3-year contract with La Cebra Danza Gay in Mexico City, a company that puts into an artistic context the difficulties encountered by the LGBTT community in Mexico. At present time, Miguel remains involved in Montreal's artistic scene as a dancer, choreographer, performer and artistic advisor.
Born in France, Louis-Elyan Martin obtained a Master's degree in English Literature and History in 2008. Eager to pursue his passion for dance, he begins a Bachelor in Contemporary Dance at Concordia University the same year. He pursues his training at l'École de danse contemporaine de Montréal, and graduates in 2012. In 2011 while in Tel-Aviv, Israel, during the summer intensive he is initiated to the GaGa technique with the Batsheva Dance Company and starts to develop a real interest for this body language. Throughout his artistic growth he gets closer to dance theatre and performance art, which he especially affectionates. He dances for the company O Vertigo from 2012 to 2015. In 2016, he joins the companies Destins Croisés, Holy Body Tattoo, and Alan Lake's Factorie. In 2017, he joins the companies Le Carré des Lombes and Louise Bédard Danse, as well as Caroline Laurin-Beaucage's new creation for Montréal Danse. He choreographs 3 co-creations along with Claudia Chan Tak for Tangente, OFFTA and Zone Homa. His first full length piece, IDdouble, was presented in various festivals in Montréal, in Maisons de la culture, and in France. He premiered his new creation Titanomachie at Cinquième Salle in 2016.
Jean-Benoit Labrecque is a young dancer and performer, who graduated from l'École de danse contemporaine de Montréal in 2014. Having been immersed in the unique culture of urban dance, he perfected himself with the founder of the hip-hop community of Montreal, Angelo Ameur. As he left school, he formed the collectif S'enfarger with colleagues Myriam Foisy and Anne Cormerais. Their first piece, Tabouteillé, was presented as part of Danses Buissonnières (2015) and at Quartiers Danses Festival (2016). Since 2012, Jean-Benoit appears in several music videos alongside Marie-Mai, Koriass, Sandy Duperval, and he also participates to the TV show Stéréo Pop, hosted by Pierre Lapointe. In 2016, Jean-Benoit contributes to the creation of Anatomie d'un souffle by Danièle Desnoyers/Le Carré des Lombes and learns a role in the piece Paradoxe Mélodie. He is also part of the distribution of the new piece Drunk on Fiction choreographed by Riley Sims/Social Growl Dance, a Toronto-based company. In 2017, Jean-Benoit will participate in the new creation by Ismael Mouaraki/Destins Croisés, as well as the remaking of the piece Family Diner by Justine A. Chambers.
Simon Renaud is a Montreal-based artist. He studied at The School of Dance in Ottawa. He worked for many companies and choreographers such as TDT, Dancemakers, Ottawa Dance Directive, Daniel Léveillé Danse. Also a creator, Simon presented his work in Toronto (Dancematters, p.s. we're all here, Summerworks, Artspin, Lo-Fi Dancemakers, and She Was), Montreal (Vue sur la relève, OFFTA) and Ottawa (Série Danse 10, Roughcut, ODD is OFF, Hype Frénésie Nuit Blanche, and Les vitrines de l'avant-première). Recently, Andrew Hartley was nominated for a Dora Mavor Moore Award for his performance in Simon's latest work, l'inanité des bibelots or love would only slow me down.
Passionate about movement since his earliest years, Jossua Collin has received various training, notably in urban dance, which he has been practicing since 2007 with the Rockwell Family. He was invited to participate on the TV show Ils dansent with Nico Archambault (Radio-Canada). In the summer of 2016, he was the only Montreal dancer to be part of the cast of the prodigious Springboard Danse Montreal. In addition, Jossua completed his training at the École de danse contemporaine de Montréal in the promotion of 2014. Since graduating, Jossua has worked with the company Destins Croisés as an interpreter in three different pieces. He also had the chance to work in duet with Anne Plamondon in Amour corps anarchie by Pierre-Paul Savoie. Jossua is particularly interested in exploring the immense physical potential of the body.
Helen Simard is a Montreal-based choreographer, dancer, rehearsal director, and dance researcher. From 2000 to 2011, she was co-artistic director, choreographer and performer at Solid State Breakdance, with whom she participated in the collaborative creation of nine choreographic works that toured across Canada and in Europe. Since 2011, she has worked as an independent choreographer, drawing inspiration from punk rock aesthetics and live music to create several interdisciplinary works: On the Subject of Compassion (2011), NO FUN (2014), Mouvement sans/100 manifestes (2014), and IDIOT (2017). She also works as a rehearsal director with several choreographers, including Tentacle Tribe (Emmanuelle LePhan and Elon Hoglund), Greg Selinger, Sésbastien Provencher, and Victoria Mackenzie. Helen holds a BFA (Concordia, 2000) and an MA (UQAM, 2014) in Contemporary Dance, and is currently pursuing a PhD in Études et pratiques des arts (Study and Practice of Arts) at UQAM.
Hani Debbache begins exploring music while completing his Bachelor's degree in Engineering. He is especially attracted by the synthesizers of the past. The logic of this instrument, when mastered, allows an incomparable degree of creative freedom. It was this mastery that Hani tried to acquire in his spare time. Today, he fuses synthetic and organic elements with careful attention to balance. His first work in connection with dance takes place in 2012 in the form of a soundtrack for a choreographic piece by UQAM graduate Marie-Andrée Gelac. Since then, Hani continues his work with choreographers Anne-Flore de Rochambeau and Sébastien Provencher.
Throughout her research-creation practice, the light artist Nancy Bussières endeavours to play with light in a dynamic and sensible way. Breaking with the chronological tradition in favour of a perceptual approach, she implements her experiments in a wide sphere of living art: performance, dance, opera, music, circus, installation art… She is a member of Hexagram (international network dedicated to research-creation in media arts, design, technology and digital culture), of Matralab (research space for inter-x art) and of the Center for Sensory Studies.