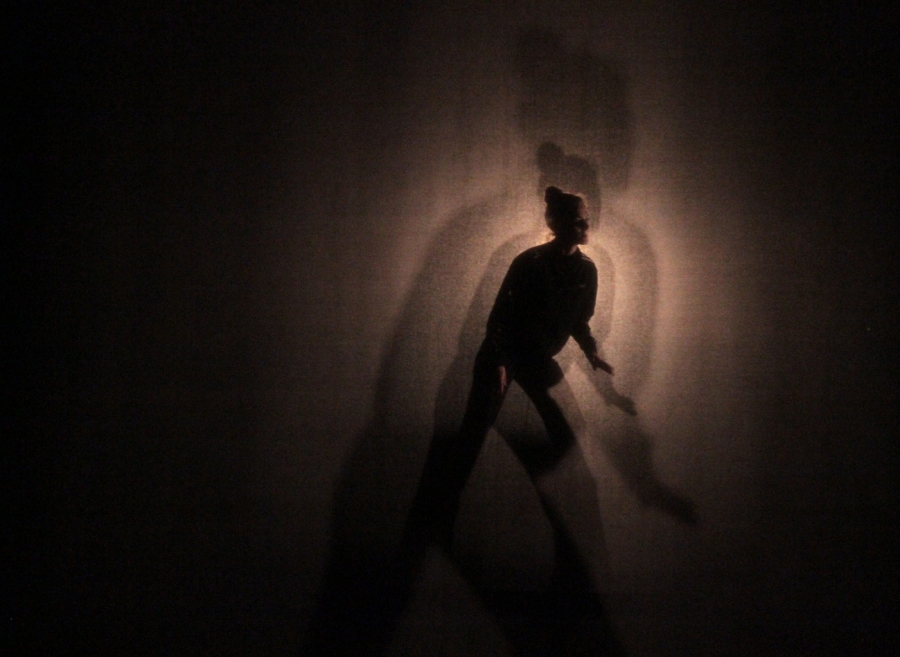 Folds + ruminant ruminant
Immaterialities
Ruminant ruminant
Brice Noeser
35 minutes
Karina and Brice dig into the void, empty the fullness. They layer words, thoughts and movements with constraints or meanings. These fervent explorers devise strategies. They overburden, overload, and overtangle the body and spirit with labyrinthine intentions, dancing knots.
Choreographer
Brice Noeser
Performers
Karina Iraola, Brice Noeser
Artistic council
Catherine Tardif
Lighting designer
Sylvie Nobert
Partners
Tangente, Circuit Est, Maison de la Culture Notre-Dame-de-Grâce, Maison de la Culture Mercier, Maison de la Culture Côte-des-Neiges, La Rotonde – centre chorégraphique contemporain de Québec, LézArts Loco – centre de création
The process began in 2012 through a series of explorations with dancers that focusing on speech, thought, and movement. In addition to this research, I also worked on Barbarellus, a solo work that I created and performed in Quebec City and Montreal. My new project will give me the opportunity to discover how I can deepen research and see how this material can modulate to form a duet piece with Karina Iraola.
Playground
The idea of effort, created by one or many constraints on movement or in the act of talking. With movement, we look to create problems, exploring "the dance of knots," a complex mix of arms and legs seeking a resolution. For the act of talking, we create "labyrinthine speeches" and we develop strategies to overwhelm the thoughts or the body, to alter and defocus our attention.
The idea is to demand an effort of the audience members. Our intention is to talk directly to the audience, by divulging our choices of constraints or challenges or leaving these a mystery, we want to stimulate expectation, amusement, intrigue, boredom and reward for the spectators. We still have to find what tools we'll use to achieve our goals.
I'm fascinated by the interview, a type of dialog made of questions, answers, and thinkings. What I like about the interview is the idea of someone looking to discover the profound convictions and personal details of an individual, and how this individual deals with being asked intimate questions. I also like to write texts of interviews that highlight the empty meanings, and hermetic or superficial speech.
Many other questions and ideas are to be simultaneously explored in studio as we work on these three main explorations. What we explore in February, May, August, and November 2014 will give us the opportunity to progress toward the real heart of this creation.
Brice Noeser
A graduate of L'École de danse de Québec, Brice Noeser has worked since 2006 as a dancer and choreographer. He has présented his choreographic creations in Montréal, Québec, Alma, and Winnipeg, thanks to the support of the Conseil des arts et des lettres du Québec and Première Ovation. Since 2009, he has also completed commissioned works. Recently, thanks to Canada Council for the Arts, he organized research laboratories to meet a variety of dance artists, in order to exchange and define his artistic vision. In 2014-2015, he will be presenting a new creation at Tangente (Montreal) and La Rotonde (Québec City). Brice regularly organizes workshops on his system of movement, as well as "Les Causeries de L'Artère," a context for discussions, talks, and exchanges about dance subjects. Since 2007, he has been a part of L'Artère's board of administrators, working to program workshop seasons in Quebec City. As a dancer, Brice has collaborated with a variety of independent artists and companies. Most recently, he worked for Harold Rhéaume in Fluide, touring in several cities throughout Quebec. Since 2010, he has taken part Estelle Clareton's projects, including S'envoler, Je ne tomberai pas – Vaslav Nijinski, a new young audience project, and a new creation to entitled S'Amouracher. In summer 2013, Brice joined Le Carré des Lombes for Danièle Desnoyers's new piece, to be performed in Ottawa, Montreal, and Europe.
Karina Iraola
Karina Iraola studied at les Ateliers de danse moderne de Montréal. She subsequently furthered her training through divers workshops in contemporary dance, flamenco, and acting (Ateliers Danielle Fichaud et René Gagnon Formation d'acteur). She has danced for Rae Bowhay, Pierre Lecours, Patricia Iraola, Manon Oligny, David Pressault, Lynda Gaudreau, le collectif BBT, David Rancourt, and Virginie Brunelle, Brice Noeser, and Lara Kramer, as well as various artists commissioned by Mandala Sitù. More recently Iraola has also begun her own research as a choreographer. She has presented her creations at Studio 303, Tangente, Festivalissimo, Les Maisons de la Culture de Montréal, Vue sur la relève, and MAI. She has also worked as an actress and dancer for the company Pas de Panique, for the young audience company Le Moulin à musique and for the dramaturge and stage director Hanna Abd El Nour.
Catherine Tardif
CCatherine Tardif is a choreographer and performer working in the dance and theater milieu in Montréal since the 80s. As a performer, she danced for Fondation Jean Pierre Perreault, Carbone 14, Le Carré des Lombes, and Cas Public, along with Fortier Danse Création and Montréal Danse where she has also worked as a guest choreographer. Her choreographic work has been presented in Europe, the United States, and Canada. She has also collaborated in theatre and circus, as a co-designer and performer for Ex Machina, directed by Robert Lepage and as a stage director for Glam, l'École nationale de Cirque's graduating show in 2008. In March 2001, she created her company Et Marianne et Simon, member of Circuit-Est choreographic center
Sylvie Nobert
After her studies in photography, Sylvie Nobert developed a passion lighting design. She creates lighting concepts and work as a technical director for many choreographers, as well as for Danses Buissonnières at Tangente and Les Printemps de la Danse at Les Maisons de la culture de Montréal. She specializes in lighting for contemporary dance.
F O L D S
Katia-Marie Germain & Lenka Novakova
25 minutes
Emerging from a collaborative study gathering choreographer Katia-Marie Germain and visual artist Lenka Novakova, F O L D S deploys itself on perceptual ground. Through a refined and delicate gesture, the body triggers a dialog with its own images, both multiple and screened, either recognizable or permuted, until the creation of an illusive landscape. Within the interactive installation, the inquiry is appearance, ambiguity and poetic. Turning into image and turning into body.
Choreographer and performer
Katia-Marie Germain
Visual artist (installation concept)
Lenka Novakova
Performer
Hélène Messier
Lighting design
Sylvie Nobert
Sound and video design
Navid Navab
Rehearsal director
Marie-Gabrielle Ménard
Residencies
Circuit-Est centre chorégraphique, Agora de la danse, José Navas/Compagnie Flak, maison de la culture Notre-Dame-de-Grâce, Hexagram Concordia
Choreographer Katia-Marie Germain and interdisciplinary artist Lenka Novakova pursue collaborative research that brings together interactive installation and choreographic performance. Focusing on the correlation between space, body, and movement as well as the poetic transformation of space with gesture, they use their own experiences to study the integration into space of simple visual elements, activated and modulated by the dancer as he or she moves.
Katia-Marie Germain
Choreographer and performer Katia-Marie Germain lives and works in Montreal. Her first creations were presented at Montreal's Tangente (Danses buissonnières, 2010) and at the OFFTA, Art Souterrain, Fringe and Bouge d'ici festivals. Since the earliest days of her professional career, she has also contributed to various theatre, performance and visual arts projects, and in 2010, she received support from the Offices Jeunesses Internationaux du Québec for an awareness-raising project in the field of contemporary dance in Belgium. Tangente presented the premiere of her most recent creation, Aube, in December 2012 and it was presented again in 2013 at the Festival Vue sur la relève in Montreal, the Festival Accès Danse in Châteauguay, the Festival International Danzalborde in Valparaiso and the Festival Vertientes in Santiago, Chile. Having earned a Bachelor's Degree in visual arts in 2007 and in contemporary dance in 2010, Katia-Marie is currently working toward a master's degree in dance at the Université du Québec à Montréal (UQÀM). She has received the Prix Avatar from the Université Laval, the Contemporary Dance Price from Concordia University, and a FARE merit scholarship from UQÀM. Because of her interest in the idea of a poetic body, her artistic approach as a choreographer is built around considerations related to the visual nature of movement and to kinesthetic perception.
Lenka Novakova
Lenka Novakova is a Czech-Canadian artist living and working in Montreal. Currently a doctoral student in the PhD Humanities Program, Centre for Interdisciplinary Studies in Society and Culture at Concordia University, she holds certificate in sculpture and installation from The Pennsylvania Academy of Fine Arts and Master's degree in installation and video art from Concordia University. In pointing out the shifting agencies of 'Scenography' – 'Performative Space' she is currently exploring the increased mobility between the roles of 'performer', 'spectator', 'space' and 'event' and highlighting the need for recognizing the autonomy of performance as 'space' and 'event' contrasting with traditions of scenography. Lenka has been an active member of Hexagram and Matralab at Concordia, a recipient of numerous fellowships, awards and presents her work in Canada and abroad. She received fellowships from The Corning Museum of Glass, Urban Glass, Vermont Studio Center or La Chambre Blanche in Quebec and Santa Fe Art Institute. She presented her work at Project Integral Sao Paulo-Quebec, SASC Sao Paulo, Brazil, DMZ festival in Korea, Gallery Puls, Alvik, Norway and USF Verftet, Bergen, Norway and at the Historical Hospital Kuks in the Czech Republic.
Sylvie Nobert
After studies in photography, Sylvie Nobert became interested in lighting for the stage, and for contemporary dance in particular. She now designs and does technical direction for independent choreographers, as well as for the Danses Buissonnières series at Tangente. She works regularly in the Montreal maisons de la culture, and has also been technical director for the Printemps de la Danse tours.