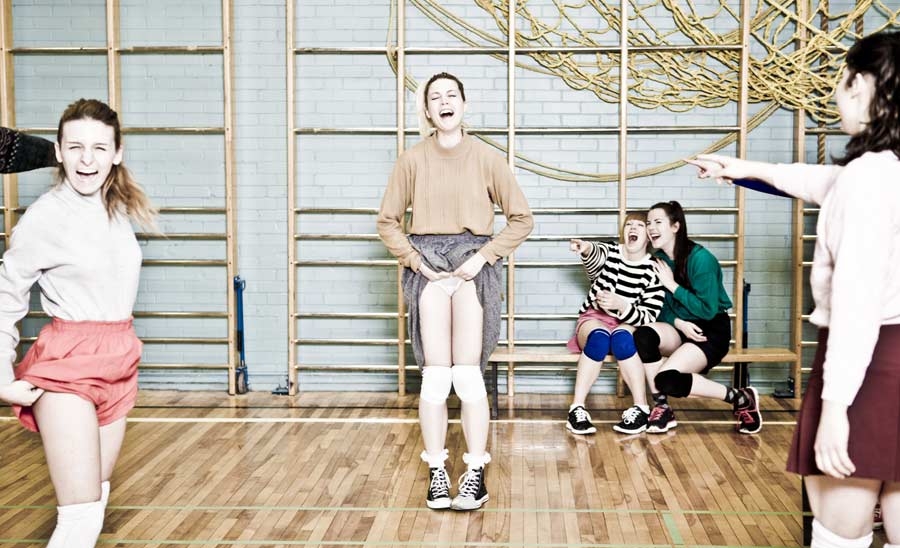 Fente-toi ! + Dans le cercle
Fente-toi !
Isabelle Boulanger
30 minutes
Fente-toi! is a sport-inspired group piece, in particular by handball. It is based on horizontal passes, reminders of "dummy passes/fake goals", of the steps and leaps one finds in the practice of sports. The gestural material is repeated with different variations of energy or form which lead the spectator to believe that these are new movements. Physical effort is constantly employed, suggesting a serious competition, a demonstration of skills or a tournament where the rules are unknown.
Choreographer : Isabelle Boulanger
Performers : Alexandre Fleurent, Michelle Clermont-Daigneault, Joanie Deschatelets, Noémie Dufour-Campeau, Alexia Martel, Audrey Rochette et Catherine St-Laurent
Rehearsal manager : Marie-Eve Archambault
Music : Hubert DeRoy
Costumes : Valérie Archambault, Isabelle Boulanger
Light designer : Renaud Pettigrew
A residency has been offered by Studio Bizz.
Isabelle Boulanger feels the need to create a dance inspired by a sense of humour and the pleasure of entertaining. She depends initially on very concrete ideas to launch the creation. Then she allows the creative process to transform simple situations into an abstract and entertaining dance where the audience can tell its own story. She values preserving the physical side of the dance as she recognizes the importance of satisfying the expectations of the public, offering it effort, virtuosity and determination. Instinctively, she knows how to surprise the audience, keeping it in suspense, whether by playing with timing and space, by proposing strange and unexpected movements or by suddenly abandoning an idea. She is not afraid to impose a clothing style amusing to her performers nor to utilize joyful music: two elements she depends on to support her choreographic style. Creating coherence in an absurd universe interspersed with lightness, such is the artistic direction adopted by her company, La Grande Fente.
Isabelle Boulanger
A native of Montreal, Isabelle Boulanger graduated from LADMMI, L'école de danse contemporaine in May 2011. Appreciating technical and formal choreographic styles like that of Sylvain Émard, she also likes movement that deals with energy and intention, which she found in the work of Frédérick Gravel and Dana Gingras. In addition to her training as a performer, Isabelle is evolving as a choreographer. Her second piece, Fente-toi!, was presented at la Maison de la Culture Maisonneuve during the summer 2011 edition of Zone Homa. Created during the winter of 2010-2011, her first piece Une grande fente pour dire «allô» will be presented for the first time in Monument-National's Studio Hydro-Québec in September 2011, for this year's edition of New Waves – First Surging, produced by Tangente. Through her creative process, she has called upon the guidance of two rising choreographers of the Montreal contemporary scene: Frédérick Gravel and Jacques Poulin-Denis. Wanting dance to be accessible to all, Isabelle approaches it with humour, lightness and derision.
Marie-Ève Archambault
It was in May, 2011 that Marie-Eve Archambault, a native Montréaler, graduated from LADMMI, the School of Contemporary Dance. Having an easy facility for pedagogy, she has been teaching dance in various froms since 2000 and has discovered a passion for the craft of rehearsal coaching. In addition to being a rehearsal coach for young choreographers (Isabelle Boulanger / La Grande Fente, Geneviève Carron-Ferron and Rosie Contant), she works in particular as a body and movement specialist with actors in training and with theater directors. Along with these activities, Marie-Eve pursues her career as a performer through diverse collaborations. In addition to being a rehearsal coach for Isabelle, she also acts as soloist and administrator of their company, La Grande Fente.
Dans le cercle
Sarah-Ève Grant
40 minutes
The audience moves around the perimeter of a stage space with murky lighting that is defined by a clay circle on the floor. In this dream-like setting, an interactive scenario takes shape between dancer, oboist and sound manipulator. An immersive and interdisciplinary piece about isolation. Intoxicating.
Choreographer, performer : Sarah-Ève Grant
Oboist, performer : Florence Blain
Music creation, light manipulation : Jean-François Blouin
Light designer : Martin Sirois
Sarah-Ève Grant
A graduate of contemporary dance profile creation from l'UQÀM, she has created Instructions With Support (2007), A Beam in the Eye (2009), One Day My Father Told Me (2010) presented at Tangente as the first segment of choreographer Dave St-Pierre, Note to Myself (2010), a solo piece and One- True -Path (2010), an interactive choreography presented at Studio 303 within the framework of Involved II. In the summer of 2011, she was invited by Sophie Cadieux, spokesperson of the Zone Homa Festival, to take part in the evening benefit of the festival by presenting a double act. In December, 2011, she was creator in residence at Usine C with her project, Note to Myself.
Florence Blain
Recipient of many awards on the provincial and national levels, Florence Blain won an oboe competition at the Conservatory of Music of Montréal where she also takes courses in electroacoustic composition. She has performed as oboiste in Europe, Asia and the United States with the World Orchestra of Musical Youth and the UBS Verbier Festival Orchestra under the directon of numerous conductors such as Zubin Mehta, Charles Dutoit, Michail Pletnev, Franz-Paul Decker, Sir Andrew Davis and Esa Pekka Salonen . Seeking first of all to be free as a performer and creator and continually questioning the relationship which exists among the artistic disciplines, she participates in several training courses in dance and acting, particularly with the Grotowski Work Center of Pontedera. Florence actually continues her training in acting at the Conservatory of Dramatic Art of Montréal.
Jean-François Blouin
He obtained a degree in Higher Studies in Music II and the award for electroacoustic compostion at the Conservatory of Music of Montréal in 2008. Since then his acousmatic works have been selected at competitions in Bourges, at the Canadian Electroacoustic Community, at the Musica Viva (Portugal) and at the Next Generation Festival 3.0 (ZKM, Germany). His job as technical coordinator of the music rooms of the Conservatory of Montréal has led him to work with several organizations in the field of music: SMCQ, Quatuor Bozzini, ECM+, Innovations In Concert, Networks. He has authored music and sound designs for the theater, in addition to performing live on stage: Omnibus, The Two Worlds, Montréal Culture Access, Infinitheatre. He teaches sound design at the extra-curricular workshops organized by the Maisonneuve House of Culture. He recently started, with Benoit Rolland (Men With Saw), a creative project with the Montagnard community of the North Shore (the Innus) which has generated the work, Puamon, presented at seven concerts at the Storytelling Festival, and the Legend of Natashquan. Other collaborations have seen the light of day in 2010 and2011, namely, the multi-disciplinary event, Fragments of Vietnamese Stories at the Pigeon Hole in Old Montréal; an installation at the Fisheye Gallery in Québec; the project In the Circle, in collaboration with Sarah-Eve Grant and Florence Blain; as well as the show, Hello, How Are You, by Clara Furey and Céline Bonnier.