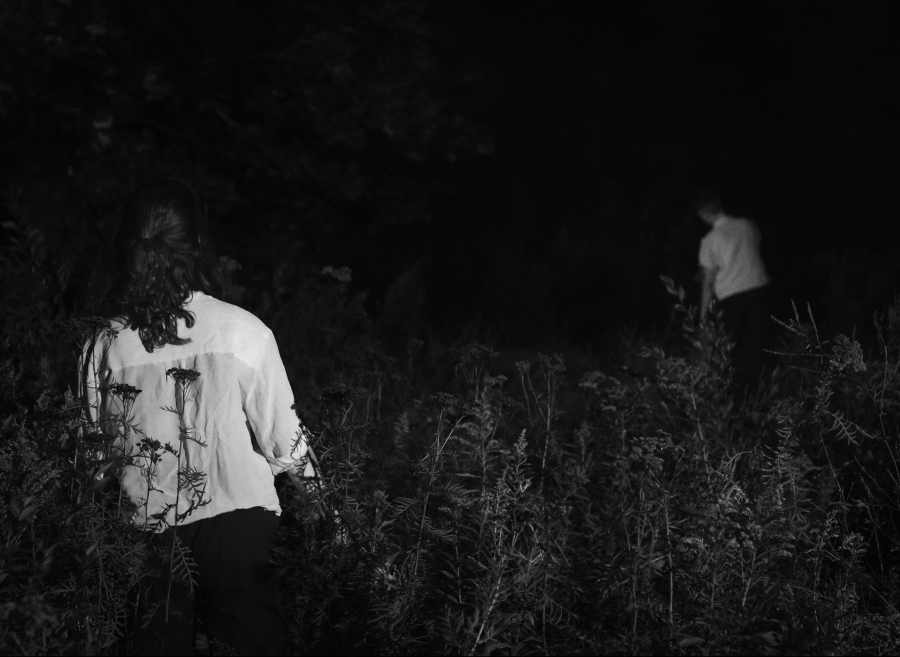 Facts & Fictions
FEBRUARY 22. 23. 24 | 7:30PM
FEBRUARY 25 | 4PM
GhostBox
Camille Lacelle-Wilsey & Eryn Tempest
25 minutes
The darkroom is the point of departure for this cross-pollination between dance, photography, and film. There are inquiries into the slow reveal, appearance and disappearance. You see fragments of bodies, shadows, and some form of emphatic, obsessive movement. The artists use saturated red light to push you to the outer limits of your perception, to engage with images just beyond your sensorial grasp. There are times and spaces of darkness in which you can't see them but can still hear them. This piece investigates the methods and mechanisms of the photographic and cinematic processes in relation to notions of transformation and interference. At the interstices between sense and intuition, the perception of the invisible presence on the film wavers.
Choreographers and performers Camille Lacelle-Wilsey, Eryn Tempest
Lighting designer Cédric Delorme-Bouchard
Video technician Roxa Hy
Costume designer Marie-Audrey Jacques
Sound designer Charles Marsolais-Ricard
Rehearsal director Ariane Dubé-Lavigne
GhostBox explores themes of appearance, disappearance and suspense in a somber universe, inspired by film, photography and the dark room.
Submerged in red light, the dark room creates an environment at once filled with calm, anticipation and forboding. It is a space where shadows pass and let themselves be guessed, creating a desire to see an unexpected, unsuspected presence on film.
In these moments preceding the revelation of images, affective tension is like a ghost, a sensation or an invisible influence in the making.
Our duo explores these invisible presences that disrupt the body, propel it into space and make it tremble. How do the alterations and irregularities produced by the super 8 film inspire our explorations of states and gestures?
Camille Lacelle-Wilsey has developed a choreographic practice where the living canvas is infused by movement. The monochrome aesthetic envelops the dancers, while they act as vessels of a multi-faceted expression.  She's interested in space, surprise and the intensity of humain states. Her work questions how materials can influence bodily sensations.
As a creator, Eryn Tempest is compelled by questions of presence, risk, and spontaneity. She is interested in the way the body finds solutions, the way it is able to gather and direct itself in response to a variety of sensations and experiences. Her work takes on questions of transformation, trace and memory. She has recently acquired a teaching practice in improvisation at École de Danse Variations in Montréal, where she also teaches tap dance to children and adults.
revolutions
Hanna Sybille Müller
30 minutes
You are seated in a circle of spectators. The performer welcomes you, initiating soft turning movements that soon become full-bodied and later quite vigorous. Her dancing is rooted in somatic practices, stemming from deep within the body. As she moves, she sometimes talks about the ambiguity of the term "revolutions", ideas gleaned from interviews with a political scientist, a mathematician, a revolutionary, and a dervish dancer. During the performance, a writer pens texts en direct, and the dance briefly becomes a duet. Eventually, the choreography evolves into disarray as the dancer gives up control and invites the audience to join in the action. After all, revolution means turning things upside down.
Choreographer and performer Hanna Sybille Müller
Performer Kelly Keenan
Dramaturge Erin Robinsong
Lighting design Paul Chambers
Set design Andrew Forster
Movement advisor Linda Rabin
Text advisor Jacob Wren
Sound design David Drury
Costume design Susana Vera
Artistic residency Dana Gingras/STABLE
revolutions is about turning, describing how everything cycles and repeats and changes or not. As the title suggests it plays with the ambiguity of political and cultural revolutions and also about a revolution in movement. The audience will sit in a circle. It's a dance and a lecture-performance about how our bodies are connected to our thoughts and through that to our actions. This text will inform the way we look at movement and vice versa.
Revolutions demand lots of energy. In order to keep going there will be a guest performance. Later a singer will transform the text into music supporting the ongoing dance, as well as keeping the audience focused on the revolutions.
Hanna Sybille Müller is a choreographer, dancer and dramaturge living in Montreal. Recent works include transposition (premiere May 2016 at Usine C, Studio 303, OFFTA 2017) and Self-made (2013, Wiesenburghalle) with Irina Müller and Marcello Silvio Busato. As a dramaturge she collaborated with Andréa de Keijzer and Erin Robinsong in Facing away from that which is coming (2017) and Eva Meyer-Keller, among others. With Eva Meyer-Keller she has been working since 2006 on projects in performance and video, which include Bauen nach Katastrophen (2009), Von Menschen gemacht (2010), and Cooking Catastropes (2011). In 2015/2016 she was part of the Third floor Residency at Usine C in Montreal. She taught at the UdK (Berlin University of the Arts) and at the ZHdK (Zurich University of the Arts). In 2016 she led the laboratory "Smoothies of the End of the World" at the Theater im Marienbad in Fribourg.
Erin Robinsong is a poet and interdisciplinary artist thinking about ecology, interventions, and pleasure in her work. Recent performance work with choreographers Andréa de Keijzer and Hanna Sybille Müller includes Facing away from that which is coming, which premiered at Tangente, and This ritual is not an accident, which will tour the UK in the fall of 2017. She is the author of Rag Cosmology, and her writing has also been widely published in journals and anthologies such as Regreen: New Canadian Ecological Poetry, Dandelion, The Capilano Review, The Goose, PRISM and many others; and performed at The Rhythm Party (Princeton) and The Conference on Ecopoetics (Berkeley). With longtime collaborator Andréa de Keijzer, she is featured in Mike Hoolboom's film We Make Couples, a Marxist love story. Originally from Cortes Island, Erin lives in Montréal.
Kelly Keenan is a Montreal-based contemporary dance artist and teacher working in the field since 2001. Her fascination for the perceptive capacity of the body is enfolded in both her teaching and artistic work. This is reflected in her hybrid creations, A Practice (2013), a performance-workshop in collaboration with Adam Kinner, and Be Still & Know Me (2016), a performance-lecture, which attempt to dissolve the dichotomies between student/audience and teacher/performer roles by proposing kinesthetic experience as choreography. She has notably collaborated with Kira Kirsch, Catherine Lavoie-Marcus, Maria Kefirova, and Katie Ward, among others. Kelly teaches technique at Concordia University. She also teaches workshops in Montreal, in Canada and internationally for festivals and pre-professinal and professional dance institutions (as well as DIY workshops facilitated by the proactive grassroots type!). Kelly identifies as a hobby arts administrator, organizing events such as The Movement Educator's Forum, and is currently on the Board of Directors of Studio 303.
Paul Chambers is a Montréal-based stage & lighting designer, educator, and co-artistic director of CHA collective. Collaborating on new dance works has always been a priority for him. Teaching workshops has also been an important part of his development as an artist and mentor. At Studio 303, he teaches a yearly lighting design workshop for artists, in addition to teaching part-time at Concordia University. From 2008 until 2013 Paul is Technical Director at Tangente. Recent design credits include work with Public Recordings, Amanda Acorn, Dorian Nuskind-Oder, Catherine Lavoie Marcus & Priscilla Guy, Maria Kefirova, Katie Ward, Parts+Labour_Danse, Lara Kramer Dance & Destins Croisés.
Andrew Forster's work includes installation, video, performance, and other collaborative and cross-disciplinary projects. His current work centers on video, video installation of movement-based performance, and text-installations for public spaces. A current project is Mer paraguayenne, an outdoor text-installation in collaboration with poet Erín Moure around Concordia's EV Building (Aug.-Dec. 2017). Past works include a performance for 75 people titled En masse with choreographer Suzanne Miller (Tangente); and Ossip, a dance performance based on the poetry of Ossip Mandelstam (an O Vertigo/Tangente coproduction). He has done performance-based works for public spaces including Cinéma (Société des arts technologiques), a multi-media piece with live performance and live-mixed audio taking place outdoors for an audience seated indoors looking out through SAT's storefront windows. His critical writings about performance, design, and visual art have appeared in art and academic publications. Andrew curates and makes work at L'Endroit indiqué, an art space at the corner of Laval & Marie-anne in Montreal.