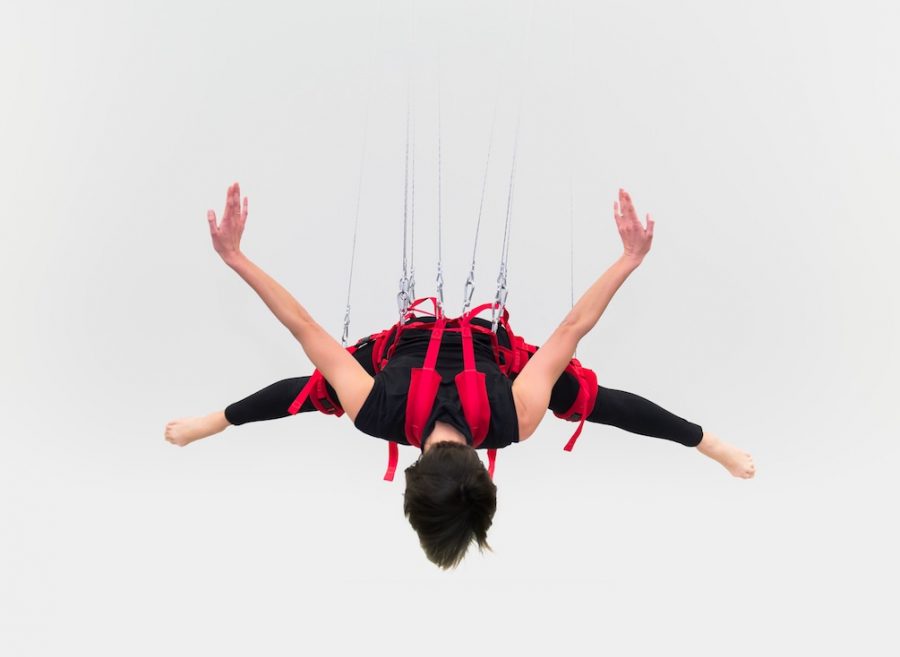 Experience #1167 + see-through + Relais Papillon
NOVEMBER 12. 13. 14 | 7:30 PM
NOVEMBER 15 | 4 PM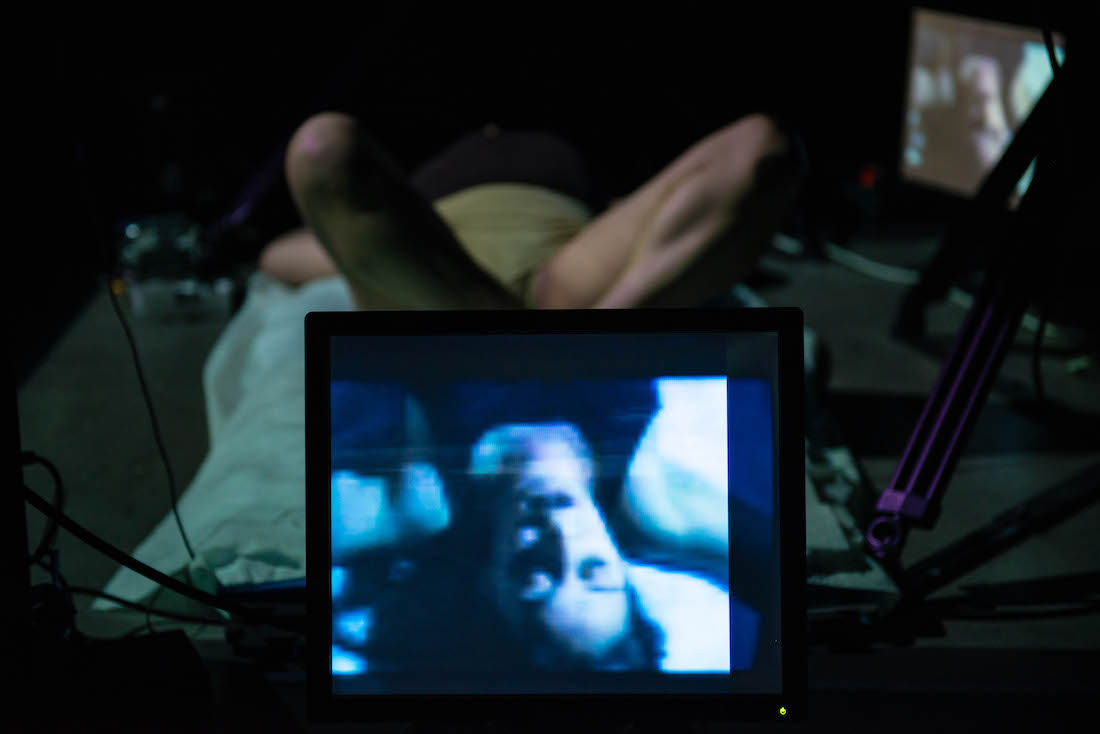 EXPERIENCE #1167
Teoma Naccarato
20 minutes
Experience #1167 is a solo choreographed within an immersive installation of cameras, monitors, projectors, microphones, speakers, and sensors. Each intimate enunciation of the dancer's body is examined and magnified in real-time, unfolding as layered textures of light, image, and sound. The media intervenes to at once reveal and reimagine invisible aspects of the live experience – for performer and observer.
Choreographer Teoma Naccarato
Performer Tal Aronson
Teoma Naccarato was chosen from the programming of festival Encuentros (2014).
"I move, until it moves, with and in me. It is sensate, alive. It can hear, see, and sense my body in ways that you cannot – in ways that I cannot. It lets you hear my touch, see my scream, and taste my gaze. It peels away my skin, dissecting and projecting my inner logic to the monitors and speakers. We listen to my heartbeat, accelerating despite my stillness. I move again, porous, pouring inwards and out, swimming in a dense pool of synesthesia from which my next strokes emerge. We move, enacting and reacting to the mediated passages between us. I choreograph us: as a process, as a relationship, as an experience. We dance together, excavating and engendering the etymology of our embodied performance." -Teoma Naccarato
Teoma Naccarato is a choreographer, performer, and educator based in Montreal, Canada. Her creations for stage, installation and screen integrate contemporary dance with responsive video, audio and biosensor technologies to explore vulnerability and intimacy in embodied and virtual interactions. Naccarato received an MFA in Dance and Technology at the Ohio State University (2011), and a BFA in Contemporary Dance at Concordia University (2004). Since 2004, Naccarato has shared work across Canada, the United States, South America, and Europe, with recent presentations of Experience #1167, X: Duet for Dancer and Kinect, Dirt: cyber-solo, and Gently between us. Naccarato has performed internationally with choreographers Robert Wechsler, Michael Montanaro, Marianne Desjardins, Catherine Castonguay, and Ilona Dougherty (2004-2014). In 2014, Naccarato was awarded an artistic research residency at IRCAM in Paris, France to develop a collaborative project with composer John MacCallum. Naccarato is involved with interactive media and movement research at the Centre for New Music and Audio Technologies at UC Berkeley (2013-present), and the Topological Media Lab at Concordia University (2011-2014). She has enjoyed appointments as a full-time Visiting Artist in Dance at Concordia University (Spring 2013 & 2014), Sam Houston State University (Fall 2013), Florida State University (2012), and the Ohio State University (2011).
Tal Aronson is a contemporary dancer and teacher from Montreal, Canada. Aronson has worked with critically acclaimed Canadian choreographers Darryl Tracy, David Earle, Debbie Wilson, Heidi Strauss, Lara Kramer and Teoma Naccarato. She has taught Contemporary Dance, Ballet, and Creative Movement at Montreal's Ballet Ouest, and was an Artist/Educator for The National Ballet of Canada's YOU Dance project. Aronson is a graduate of the Quinte Ballet School of Canada and holds a BFA in Dance Performance from Toronto's Ryerson University. She is currently pursuing an MA in Dance Education at NYU Steinhardt. She is the recipient of Steinhardt's Graduate Education Scholarship for North American Scholars and the Susan Carol Hersh Award.
See-through
Allison Nichol Longtin
40 minutes
see-through is a transdisciplinary work of choreography with an in-depth movement study at its core, combining contemporary dance, video, sound, and installation as a means of zooming in on the body in motion. see-through offers the viewer a real, physical, kinesthetic experience, as well as rare insight into the perspective of the performer.
Concept/choreography & video Allison Nichol Longtin
Performance Karen Fennell
Sound Design  Martin von Allmen
Light design  Timothy Rodrigues
Video technician  Laura Warren
Costumes  Marisa Tiefenthaler & Elisabeth von der Thannen
Thank you to Michael Trent and the Dancemakers Centre for Creation in Toronto for supporting this project in the form of a summer creation residency in June/July 2014. "see-through" has been supported by a creation residency at L'Espace Marie Chouinard.
see-through began with a deceptively simple research question: How can I provide the viewer with a physical experience, such that they have the sense or the impression that they are being moved, literally and physically by the performer and the overall performance? The initial basis for this question came out of a desire to forge a real connection between the performer and the public and also to offer an experience through which the viewer might find a connection to his or her own body via a physical, visceral response to the work. Through the use of video and sound installation, see-through combines a variety of stimuli with live performance to create a heavily layered immersive environment. The interpreter plays with her own fragmented image, distorting the perception of time as she oscillates between moving with her own virtual dancing partners and further splintering the viewer's sense of time by suddenly breaking this pattern. The result is a performance that is at once a large, time-based immersive installation and an overall experience.
Following the premiere of her most recent work, see-through, which was presented in both Zurich (CH) and Berlin (DE), and the successful completion of a Master's degree in Transdisciplinary Art (MA) at the Zurich University of the Arts (ZHdK) in June 2013, Allison Nichol Longtin returned to Canada after nearly six years living, working and studying abroad. Originally from Toronto and a graduate of the dance department at the Etobicoke School of the Arts, Allison completed a BFA in contemporary dance at Concordia University in Montreal, during which time she frequently presented her own work in professional contexts. Since completing her BFA in 2009, she has worked as an independent choreographer, transdisciplinary artist, rehearsal director, interpreter and teacher. Allison recently participated as a dance scholar in the international RADC workshop (Research Academy for Dance and Choreography) as well as the STEPS international contemporary dance festival in Zurich, Switzerland in April 2014 as well as completed a summer creation residency at Dancemakers in Toronto to begin work on the Canadian edition of see-through. Allison is currently based in both Toronto and Montreal.
Karen Fennell is an independent dance artist based in Montreal. A graduate of the Concordia University Dance Program (BFA), she has had the opportunity to work as a performer for such notable choreographers as Dana Gingras, Susanna Hood, Erin Flynn, Eroca Nicols, Maria Kefirova, and Sasha Kleinplatz. In 2011, a Professional Development Grant from the Canada Council for the Arts allowed Karen to further her training at the ImPulsTanz Festival in Vienna, Austria. As a choreographer, she has created a number of works for popular Montreal performance events such as Piss in the Pool, Short & Sweet, Pas de danse, pas de vie!, the St-Ambroise Montreal Fringe Festival, and the Montreal Just for Laughs Festival. She also offers private and group instruction in the GYROTONIC® and GYROKINESIS® Methods, and works periodically as a teaching assistant to Dana Gingras in her repertoire and creation workshops.
Relais papillon
Caroline St-Laurent
25 minutes
Five women athletes from four different disciplines (swimming, synchronized swimming, contemporary dance and classical ballet) are invited to experience the exerciseur à nage sur place. This device transposes into the air work out spaces otherwise located in the water or on the ground, placing the body in a new relation to gravity. The performance plays with both the limits of their bodies and those of the exerciser, as well as the boundaries between their disciplines. By sharing constraints of that performative device, they enter into a relationship and try to create a relay that crosses disciplines.
Creation Caroline St-Laurent
Performers Ophélie Coughlan (swimmer), Stéphanie St-Laurent (swimmer), Geneviève Hudon (synchronized swimmer), Émilie Durville (ballet dancer), Ariane Paradis (contemporary dancer)
Lighting design Martin Sirois
Video Christian Bujold
Caroline St-Laurent has been discovered at the Festival Edgy Women (2012).
The performance Relais papillon is the result of a process that started in 2011 with the design of the exerciseur à nage sur place. I first created this device in order to offer to swimmers the opportunity to experience their sport differently. By moving their performance in the art gallery, I also wanted to give a new visibility to these women athletes who are often less represented and promoted. Once freed from constraints such as water resistance and timed distance, as well as adding other constraints related to the exerciser, I tried to create an extension of their sports performances by transforming them into an art performance. I then decided to open up the performative device to other disciplinary fields that already combine the body's effort with art like dance and synchronized swimming, to provoke new associations and to create a relay.
Former gymnast, Caroline St-Laurent is interested in the performing body since the beginning of her practice in visual and media arts. Since 2010, her research focuses on the intersection of the disciplines of art and sports by matching their distinct notions of performance (excellence in sports and the use of the body as live media in performing arts). She completed an MA at the Université du Québec à Montréal around this problematic in 2012. Through the creation and experimentation of performative devices, she wishes to engage in a critical and humorous analysis of the cult of performance. Feminist and mother of a young child, her research on performance extends beyond her artistic and sports practices. Through her own work/family reconciliation, she continues to look into the needs of artists parents and the structures that support them. Caroline is a member of the artist-run center La Centrale Galerie Powerhouse. Her work has been shown in solo and group exhibitions in Quebec, France and Germany, as well as in video creation festivals in Canada and abroad (Rendez-vous du cinéma québécois, Montréal – 2012; Experimental Film & Video Festival, Séoul – South Korea, 2011; Festival Instants Vidéo numériques et poétiques de Marseille – France, 2011).
Born in Longueuil, Ophélie Coughlan has been swimming since the age of 7. She quickly specialized in the butterfly stroke and reached the national standards at 12. In her first national championships in 2010, she won a silver medal in the 200 meters butterfly and a gold medal in the 5km open water. Now 17 years old, her swimming career is littered with obstacles, but the motivation to achieve her objectives pushes her to constantly work hard and harder. She is currently studying at Collège Édouard-Montpetit in health science.
Stéphanie St-Laurent evolved into the world of swimming for over ten years, either as an athlete or as a coach. She still swims today as an amateur. This is her second intrusion into the art world with Caroline St-Laurent. In 2012, she took part of a video installation that also put forward her swimming skills. After completing diplomas in physical rehabilitation and massotherapy, she is currently pursuing her studies at the Collège d'Études Ostéopathiques de Montréal.
Geneviève Hudon has been practicing synchronized swimming for over 20 years. Born in Rimouski , she first started her training with the Vivelo Club. In 2011, she joined the Aquatic Club of Montreal East and competes internationally in the masters category. She is graduated in physiotherapy and osteopathy.
Émilie Durville received a ballet training at the National Ballet School of Marseille. She began her carrier participating in projects in Belgium and France and in 2003 she joined La Compania de la Comunidad de Madrid under the direction of Victor Ullate. It's in 2004 that Emilie joined les Grands Ballets Canadiens where she became first soloist in 2011. She performs works from Ohad Naharin, Jiri Kilian, Stijn Celis, Didy Veldman, Christian Spuck, Stephan Thoss, Jean-Christophe Maillot, Peter Quanz, Shen Wei, and many more. Since 2013, Emilie is a freelance performer collaborating with choreographers, video artists and photographers. She also teaches ballet and contemporary dance.
When she was five years old, Ariane Paradis began gymnastics classes to improve her balance… and 25 years later she is the living proof that perseverance and determination can accomplish miracles. In 2008, she completed her training in contemporary dance at UQÀM. In January 2010, she was certified Pilates floor instructor by Ann McMillan Pilates. Since the project IN LIMBO, an initiative of Lynda Gaudreault in April 2010, she immersed herself in the worlds of Marie-Joëlle Hadd, Andrée-Anne Ratthé, Caroline Dussault, Jade Marquis and Caroline St-Laurent. Always fascinated by the intelligence of the human body in motion, she will graduate in 2015 from the Naada Yoga 500 hours teacher training and with a master,s in somatics at UQÀM. .
Martin Sirois is a light artist who works primarily in theater. Geometric lighting filled with symbolism were recently seen during creation with Christian Lapointe, Eric Jean, Wajdi Mouawad, Hanna Abd El Nour and Alexandre Marine . The space is empty, even before the performers invade the stage, the lights serve to create volumes and give life to a place. Using light to its architectural features , without even giving the function of light, it first forms the structure of the black and then the place with angles and colors. Black is cut surgically to create a space above the body , sets, stage. In short, it gives a decorative and scenic value , psychological and emotional power value in the light before even attempting to show an object, a character. All this for the specific purpose of placing the viewer in a listening position and opening so that it can feel, see. He graduated from the National Theatre School of Canada in 2005.