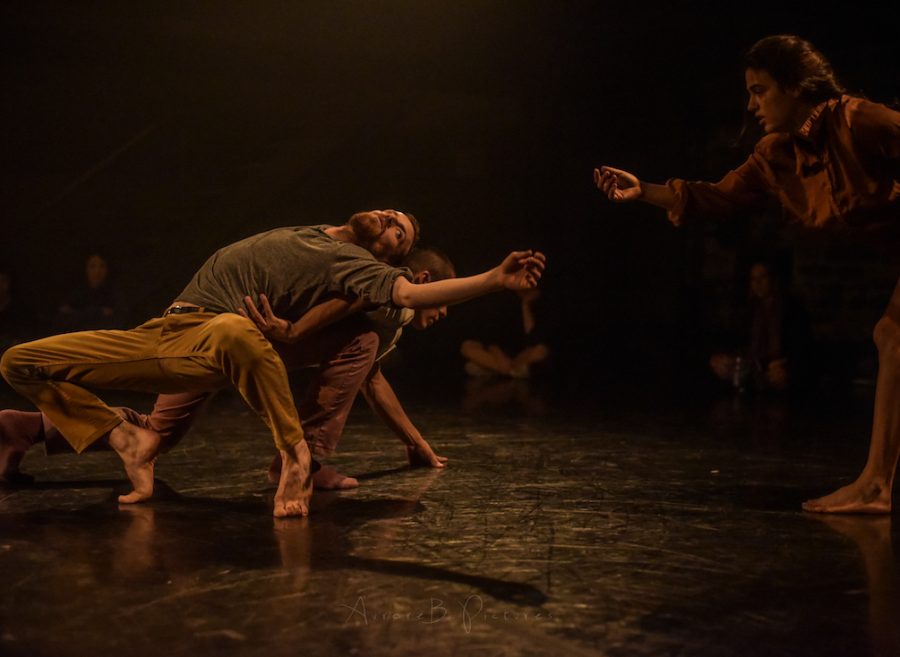 Energized interactions
Dialogical encounters between bodies and soundscapes
NOVEMBER 2. 3. 4 | 7:30PM
NOVEMBER 5 | 4PM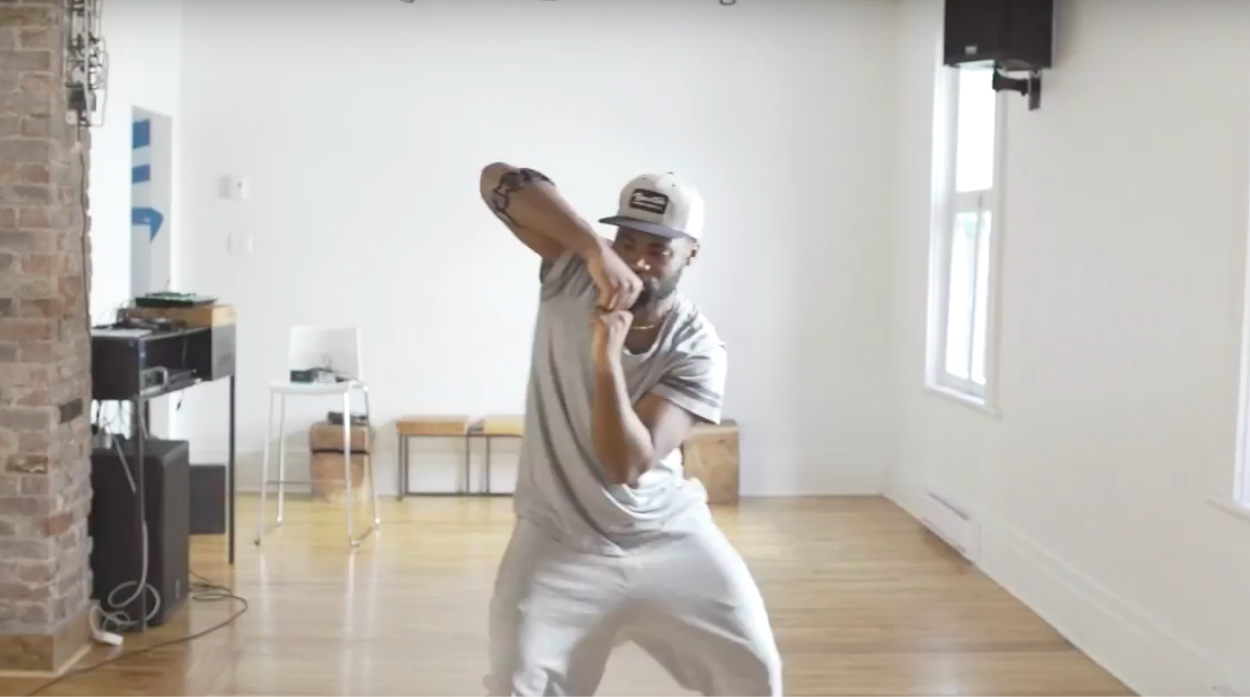 Temporalité expressive
Axelle Munezero & Marc-André Cossette
30 minutes
What if dancers were to take control of a live music and light composition? This is the core of Temporalité expressive, a collaboration between Axelle, urban dance choreographer, and Marc-André, audio-visual artist. At the origin of this project, there are algorithms capable of generating electronic sounds, bringing three variables into play: muscular tension, body position in space, and movement velocity. Out of this exploration of sound and movement springs a new kind of mathematical language, one that is deeply organic. This interactivity is almost magical. As we watch, previously invisible energies become perceptible and newly formed relationships materialize.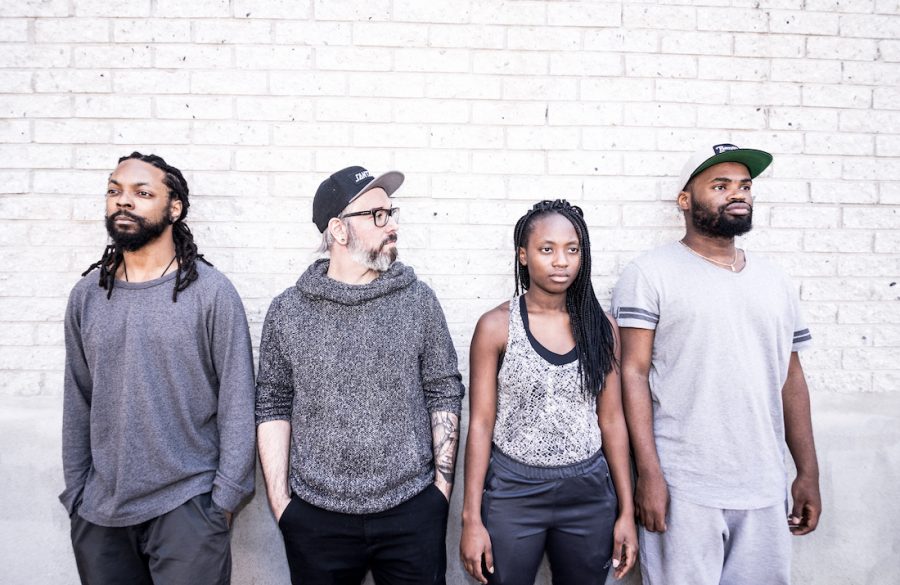 Choreographer and performer Axelle Munezero
Audio-visuel artist and programmer Marc-André Cossette
Performers Mecdy "Venom" Jean-Pierre, Ricky Saint-Jusna
Lighting design Benoit Larivière
The creative universe is urban dance and electronic music mixed with technological interactivity. Indeed, the movements of the dancers directly control the music during the piece. It is on this basis that Temporalité espressive was born, the choreography being composed and expressed musically on stage. The three performers were chosen for their diversity and mastery of the musicality in the movement in order to enrich the melodic research.
Dancer, choreographer and event organizer, Axelle Munezero has been doing urban dance for 10 years. She has collaborated with many artists such as Arcade Fire, Corneille, Poirier, Rime Salmi, and AfrotroniX. Also known internationally, she travels constantly to give waacking workshops (Japan, Australia, Russia, New York, Indonesia). She also completed a BA in Contemporary Dance at UQAM as a choreographer. With all her tools in the world of entertainment, the underground culture of urban dance and the art world, she is now trying to consolidate all these achievements in her new creations. Axelle is interested in the infinite possibilities offered by the relationship between digital arts and dance. Inspired to work with artists in interactive media, Axelle's projects keep multiplying.
Marc-André Cossette is a trans-disciplinary artist working on the relation between technology and live arts. Temporalité expressive is the third creation in collaboration with the dancer and choreographer Axelle Munezero. He also worked with Armando Menicacci, researcher and professor in the UQAM dance department, in creating various dance works and interactive installations. Marc-André also created AfrotroniX's visual environment and performed on local and international scenes. Marc-André holds a Bachelor's degree in Interactive Media from Université du Québec à Montréal and is currently pursuing a research-creation master's degree in Experimental Media at UQAM.
Having explosive and energetic qualities lit by the strong flame living inside of him, Mecdy was inspired to become a dance instructor, choreographer, performer and event producer. Mecdy "Venom" Jean-Pierre is one of Canada's top dancers/poppers. He represents one of the best popping crews in Canada, SYMBIOTIC MONSTERS, an appropriate name for him and his crew. Hailing from Funktreal, Venom brings forth his energetic, athletic, and funky style. He has represented Canada is various competitions around the world, held workshops, and claimed many titles to show everyone why he's at the top. Some competitions he has won are MSSD'S 1st HEIR TO THE THRONE, K.O.D. (Keep on Dancing) Canada, Juste Debout Canada, Juste Debout USA, Bust-A-Move 2006 – 2009 – 2013. His style incorporates a high level of ground moves, foundation, animation, waving and more. He is someone that pours his energy and soul onto the floor, when he gets into BEAST MODE, he becomes unstoppable. Not only is he an elite dancer, but an amazing mentor fostering the Montreal community and bringing forth many prodigies that have been dominating the street scene. Mecdy has worked with many dance companies such as Soul Production, Cirque du Soleil, Blueprint Dance Company, and Tentacle Tribe.
Passionate about art and music, Ricky Saint-Jusna is a professional dancer who has specialized in urban dance for 10 years now (especially in Hip Hop). He began his career at the Urban-Element Dance Center in 2007 in the company 24kOrPür, headed by Cindy Goldylocks McAuliffe. In order to build and deepen his knowledge of street dance, this young performer follows numerous training sessions with several specialists both in Montreal and outside Canada (United States, France and Morocco). He has danced in several shows, including Museke (choreographed and directed by Axelle Munezero) and 7sins (choreographed and directed by Cindy McAuliffe). Ricky is also choreographer for the Krankyd crew and tries to share his passion and knowledge with its dancers, who are between 13 and 16 years old, so that they become passionate and dedicated professionals in this artistic community.
In 2009, after 15 years in IT, a choice had to be made: keep working in the same field after a massive layoff or work daily with passion. Benoit Larivière chose the path of passion and signed up for a stage technician program. Through his projects, big and small, he found his way to lighting design. 2014 signs the beginning of theatre collaborations and the creation of the lighting designs for UQAM dance department's Passerelle 840. Since then, he has worked with Tentacle Tribe, Ebnfloh, Monstapop, 100Lux, Andrea Pena and the theatre company Les écorchés vifs.
Mandala no.x
Quantum Collective
30 minutes
Arising from the desire to create collective experiences and to share the pleasures of movement, this quartet of dancers seeks to create a democratic space. Mandala no.x is a meeting place for improvised movement and interpretive sensibilities: from ballet and contemporary dance to nouvelle gigue. This choreographic mandala is an opportunity for us to weave physical and kinaesthetic connections. The stage is an elliptic playground, providing a shared space for sentient exchanges between dancers, a composer and ourselves. Caught up in centrifugal forces, we are invited to enter a meditative universe. And so, to free body and spirit.
Creation and interpretation Christine Daigle, Diana Léon, Alessandra Rigano, Paco Ziel
Creation Antoine Turmine
Music composition and interpretation Tom Jarvis
Lighting design Hugo Dalphond
This piece has benefited from the financial support of the Conseil des arts et des lettres du Québec.
The Quantum Collective has as its project the will to work on collective creations that invite viewers to rethink their role in the creation, without shaking the spectators or making them uncomfortable. It is rather about making visible the opportunities to weave bonds, to generate sense from the movement of the bodies. These opportunities emerge from the unpredictable and spontaneous moments that arise from the interactions between all individuals, whether direct or indirect, physical or kinesthetic. To accomplish this, the group had to develop strategies and a global structure of improvisation so that each artist can express themselves freely in a common place of sensitive expression, stretching time in order to give the viewer the space to enter the movement.
Originally from Mexico, Diana Léon studied ballet at Estudio de Ballet Tecamachalco and then at the National School of Ballet of Cuba. She subsequently developed her training through different workshops in contemporary dance, as well as exploring various improvisation techniques in dance. Her experience has led her to work as a ballet dancer for the National Dance Company of Mexico and now as an interpreter at Les Grands Ballets Canadiens de Montréal. Nurtured by her own projects of dance creation, she maintains a creative approach in dance whether alone, with her company Vías, or with the Quantum collective.
Originally from Mexico, Paco Ziel completed his training at the École Supérieure de Ballet du Québec. In parallel to his studies, he had the chance to touch several body techniques, such as Gaga, Rubberband method, yoga, Feldenkrais and meditation. He worked at the companies Cas Public and Vías in addition to various independent projects. He is now an interpreter in RUBBERBANDance Group and acts as choreographer for the new generation.
Alessandra Rigano is a professional contemporary dance performer. In recent years, she has worked with choreographer Sonya Stefan and has collaborated with choreographers Virginie Brunelle, Ginette Laurin, Thea Patterson, Wynn Holmes, Susan Gaudreau and Geneviève Dorion-Coupal. In 2015, she took part in Springboard Danse Montréal, before leaving with the company of Théâtre Omnivore at the Festival Off d'Avignon (France) to present the play Les Troyennes, for which she was involved as a choreographer and performer. Alessandra continue to be involved in independent projects in contemporary and commercial dance.
Coming from Quebec traditional step dancing, Antoine Turmine also has, since 2014, a bachelor's degree in Dance from UQAM, where he is pursuing a master's to understand and question his own reading of sound and body. Antoine performs and creates as part of BIGICO. He is also implicated in the work of the Zogma company, of Quantum Collective, and in other independent contemporary dance creations.
Tom Jarvis began as a professional guitarist in the early 2000s, working with producers such as Owen Morris (Oasis, The Verve, Electronic), Andy Green (New Order), and Jagz Kooner (Two Lone Swordsmen, Primal Scream). He has been part of Reverend and the Makers and Pachyderm. His compositions have been used in numerous documentaries and feature films shown at international film festivals and on UK television. His implication in performance is part of his carrier as written commissioned pieces for dance performances (Sadlers Wells, London) and fashion shows (Montreal Fashion Week, London Fashion Week).
Hugo Dalphond acts as lighting and set designer for different theatrical and choreographic projects. He is especially drawn to creative work touching on experimentation and multi-disciplinary endeavors. Along with these cooperative projects, he delves into the synergistic possibilities of bodies, space and light, when developing immersive stage sets: T'aurais pas dû… (2013), On ne peut fixer ni le soleil ni la mort (2013), Dispositif scénographique (2014), Refuge et Idoles (2015), Dispositif immersif de fumée (2015). Mainly by modulating the perception slants with which the spectator views the work, he establishes the encompassing volumes that supply the opportunity of an alternate sensory experience, based on proximity, intuition and affectivity links.