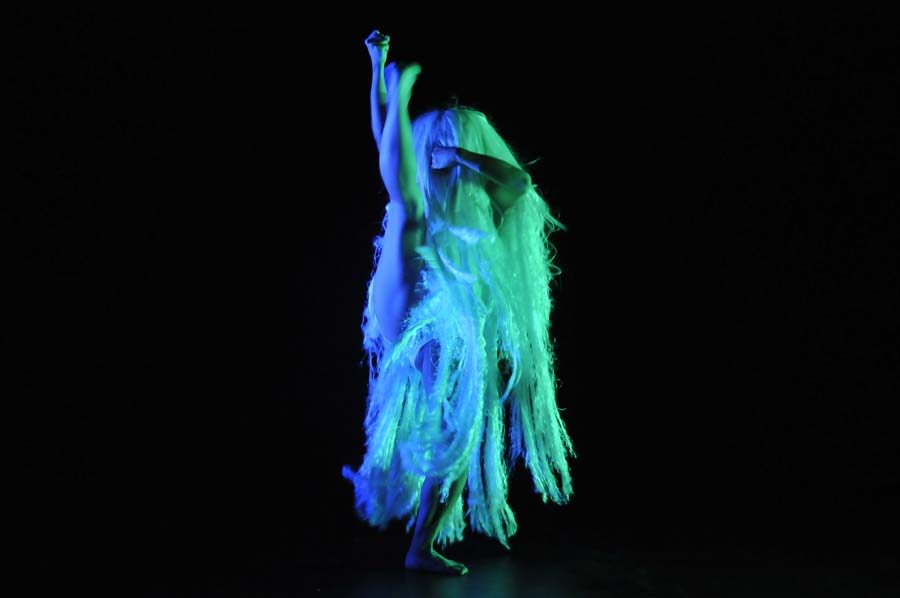 Éclats | Vitrine Festival Canasian
Inhabitation
Tomomi Morimoto
14 minutes
Inhabiting, inhabited. The invisible movements of a soul can be seen only in the moment when it resides in the flesh. This could be called dance. Reaching back beyond "the traditions" to arrive at "the primitive" is the key to this creation. Inspired by the traditional folklore of Japanese ghost stories, Inhabitation reflects the ever-changing histories of humanity. Can our instincts be the basis for another kind of reality that points towards an inner truth?
Choreography and performance : Tomomi Morimoto
Dramaturgy : Elizabeth Langley
Light design : David-Alexandre Chabot
Music : Soundscape & throat singing Komodo, Honte no shirabe Atsuya Okuda
Costume : Denis Olivier Caron
I am fascinated by human behaviour that is stripped down to its most primal state. My intention, as I create, is to try to peel away the external layers that separate each of us – our different origins, our different backgrounds, our different life experiences – in order to provoke and bring to the surface the primal, instinctual emotions and desires that are shared by us all. – Tomomi Morimoto
Tomomi Morimoto
Tomomi Morimoto came to Montreal from Tokyo in 2004, and has made numerous appearances in dance, film and theatre productions as a dancer, performer and choreographer. Her artistic practice is influenced by her interest in the convergence of Eastern and Western approaches to movement and aesthetics. She draws on her training in ballet, figure skating, physical theatre and contemporary dance, and blends these with elements inspired by butoh, to create her own unique language that is intricate, primal and highly physical.
Elizabeth Langley
Elizabeth Langley has worked professionally in dance since 1953. Born in Australia in 1933, she spent her formative years performing, choreographing and teaching. She trained in the Martha Graham technique in New York before moving to Ottawa in 1965. She resumed her former roles working in university programs and the community. In 1979 Langley moved to Montreal to design and develop the Contemporary Dance Degree Program at Concordia University. After studies in Amsterdam, she retired from the University in 1997 to develop her own style of physical theatre in which she creates original one-woman-shows. She also works as dramaturg for companies and solo performers in Canada.
Komodo
Komodo is a Montreal-based composer, musician and DJ who specialises in playing the Australian didgeridoo, as well as producing highly textured and rhythmic electronic world music, and playing an assortment of other instruments such as Turkish flute, frame drum, and Chinese percussion. Komodo's first full-length album, entitled "Subluna", was named one of the top five albums of 2008 by Claude Rajotte, who is widely considered to be French Canada's most respected music critic. Komodo's second full-length album, entitled "Shadow Dance", has been enjoying critical and commercial success since it was released in the spring of 2011.
David-Alexandre Chabot
After graduating from the National Theatre School of Canada, David-Alexandre has created lighting designs for both theatre and dance. Last season, his projects included collaborations with Théâtre Décalage for Executeur 14 at Usine C, Uncalled For and their production of Possible Worlds, Beauté, Chaleur et mort at Théâtre Lachapelle, 4quart presented by La deuxième porte à gauche, Infinit Theatre's Joe Louis and Tomomi Morimoto's last piece Threshold. This is his now his second collaboration with Tomomi and he is very excited to be part of this festival.
Split / focus
Meena Murugesan / Meenakshi
12 minutes
Moving with and beyond bharatanatyam, this contemporary Indian solo strives to connect the complex meanings and points of focus (mudhra/nritta) of urban and cultural experience. At the convergence of emotion, technique and meaning, Meena Murugesan emanates a compelling intensity which drives her richly textured movement aesthetic.
Choreographer and performer : Meena Murugesan
Choreographic Consultant : Janet O'Shea (LA)
Movement Consultant : Shyamala Moorty (LA)
Sound Composer : Kaveh Nabatian et Andres Vial (Mtl)
Lighting Designer : Lee Anholt (Mtl)
Meena's creative process is fuelled by her passion for critical dance theory and practice, cinematography, and social transformation. She hopes to build bridges across issues of race, gender, class and artistic disciplines in order to explore the complexities of human existence, while simultaneously (re)discovering what intrinsic connections link societies together. Her hybrid choreographic vision is shaped by over twenty years of studying and performing bharatanatyam (a classical dance from South India); four years of training with Zab Maboungou and her form of African dance; seven years of training in eastern energetic bodywork; five years of training in hip hop and house; and over ten years of cinematic creation. Structured improvisations and collective creations are also an essential part of her work, which she has been developing over the last ten years. Meena's hybrid work reflects a profound need to express the socio-political complexities of her present-day urban and cultural experiences and how they (re)connect to critical histories of the past.
Meena Murugesan
Meena Murugesan trained and performed with the dance company Nrithyalaya under the artistic direction of Vasantha Krishnan until 2000. Since 2004, Meena has performed her own choreographies and improvised work in Montreal, New York, Los Angeles, Rio de Janeiro and Santiago (Chile). Her choreographies include: split/focus (17 minutes, 2012), pou/voir (30 minutes, 2011), ReBuild (15 minutes, 2009), whirling wailing woman (15 minutes, 2009) AVAL (26 minutes, 2008), Unravelled (50 minutes, 2006), and Ekatva (15 minutes, 2006). Her collaborative choreographies include Int/Ext (15 minutes, 2010), SAMVAD (45 minutes, 2009), home/Body (40 minutes, 2009). In addition to her dance career, Meena also works as a community arts educator with over ten years of experience. She is currently pursuing a Master's in Fine Arts in Choreography in the Department of World Arts and Cultures/Dance at UCLA (University of California, Los Angeles).
Janet O'Shea
Janet O'Shea is the author of At Home in the World: Bharata Natyam on the Global Stage (Wesleyan University Press 2007) the co-editor the Routledge Dance Studies Reader (second edition) (2010), and a co-editor of the Routledge Online Encyclopedia of Modernism. She has studied and performed bharata natyam since 1988, while simultaneously pursuing it as a subject of scholarly inquiry and is currently investigating ways of integrating her study of this classical form with her ongoing interest in modern and postmodern dance. She is Associate Professor in the department of World Arts and Cultures at the University of California, Los Angeles.
Kaveh Nabatian
Kaveh is an award-winning filmmaker and musician based in Montreal. With degrees in both Film Production and Jazz Studies from Concordia University, he has directed both fiction and documentary films, music videos, and television series. His films have played at over thirty international festivals, from which he has won numerous awards. Much of his time as a musician is dedicated to Bell Orchestre, an avant-chamber ensemble in which he plays trumpet, keyboards, and an array of analog and electronic instruments. Bell Orchestre has released two critically-acclaimed albums, won a Juno award, toured Europe and North America extensively, collaborated with the Brooklyn Symphony Orchestra and LaLaLa Human Steps, and done a composition residency at the Banff Centre for the Arts. Kaveh also plays with Little Scream and composes music for films (including his own), orchestra, dance, and theatre.
Lee Anholt
Lee Anholt graduated from Simon Fraser University in 1990 with a BA in Contemporary Dance. He has been lighting for dance since 1995 and has been touring extensively since 2000. He has worked with Peggy Baker, Montréal Danse, José Navas, Margie Gillis and Marie Chouinard among others. Lee has also designed lights for various independant choreographers, including Chanti Wadge, Chantal Lamirande, and others. He is currently working with Louise Lecavalier. Lee likes beer and frisbee.
Grist
William Yong / Zata Omn Dance Project (Toronto)
16 minutes
Grist is a soliloquy on personal experience, a portrayal of inward musings and a journey tracing personal memory, as recalled when long distant from where one belongs. A Proustian gestalt, it integrates contemporary dance, voice and video design to create a collection of random, vivid memories and reflections on the pride and guilt of self-identity. This is a complex psychological journey about fascination and bewilderment, a recollection tracking its own roots and heritage.
Choreographer: William Yong / Zata Omm Dance Projects
Performer: William Yong
Original Music : Andrea Rocca
Dramaturgy: Tedd Robinson
Video Design : Ryan Otake
Original Lighting Design by : Arun Srinivasan
"For me, curiosity toward the body and its inner motives serves as the starting point for creating this dance. I created movements that are seen as self-sufficient, able to speak of the message and capable of creating a sense of different time and space by themselves. Dance is not used as a medium to decorate theatrical space. Instead it should be seen as having an intelligence of its own, capable of communicating bodily wisdom. With this stance in mind, I explored movement extensively at the beginning of process by creating movements by improvisations. I found various and stimulating ways to create movement and dialogue such as using alternative metaphors for various memories and elements. I asked and resolved questions and challenged to find physical dynamics of those elements and explore mental or dramatic intentions from certain situations and states. I had the privilege to work closely with Mr. Tedd Robinson on the creation of Grist. He has given me insight into a new way of thinking, creating and moving. This choreographic work is not about a particular individual's stories. The intent is to create a dance inspired from personal experiences and memories without becoming self-indulgent. Consequently, Mr. Robinson was chosen to be an ideal mentor for this work. Having spent six year in study and reflection as a monk, he has a deep understanding of Eastern philosophies. I have always admired his works that always focus on simplicity, logic and integrity. I am immensely grateful for his mentoring that guided me and strive to push me to attain transcendence with this work that steers between the dark and light." William Yong
William Yong
William Yong was trained at the London Contemporary Dance School in England and was admitted to the Master of Arts with distinction by University of Kent. In the last year of his MA study, he was sent alone for his secondment to study with the Nederlands Dans Theatre 1 in the Netherlands. Previous dance companies he worked with included Wayne McGregor's Random Dance, Matthew Bourne's Adventures in Motion Pictures, Toronto Dance Theatre, CORPUS, Theatre Rusticle, Lina Cruz's Fila 13 and many others. William has performed in eleven dance films including his latest film To Fly or Fall directed by Kathi Prosser. He was also profiled in an episode of the Bravo TV documentary Freedom as a choreographer, interviewed and hosted by Robert Desrosiers. He also finds time and has expanded his acting career and worked in films and television. Currently William is the artistic director and choreographer of Zata Omm Dance Projects (www.zataomm.org ). William is a double Dora Mavor Moore Award nominee. His latest nomination was for 'Outstanding New Choreography' for Zata Omm's production Frames. William's latest full-length choreographic work Eight Ways From Mara for Zata Omm was premiered at the Harbourfront Centre's Enwave Theatre in October 2011.
Tedd Robinson
Tedd took up residence in the Pontiac, Quebec in 2005 and has been presenting work in his barn at Lac Leslie since 2007. He holds a BFA from York University and studied at STDT and with visual theatre artist Lindsay Kemp. His solo Rokudo received the 1998 Chalmers National Dance Award. Robinson is Artistic Director of 10 Gates Dancing and has been consulting with choreographers nationally and internationally since 1992. His work is influenced by his six years of study as a monk of the Northern Mountain Order, Hakukaze Soto Zen, Ottawa. Tedd Robinson is a National Arts Centre Associate Dance Artist.
Andrea Rocca
Andrea Rocca studied with John White. He writes music for cinema, contemporary dance and theatre. He is based in London, England and can be reached on www.andrearocca.com