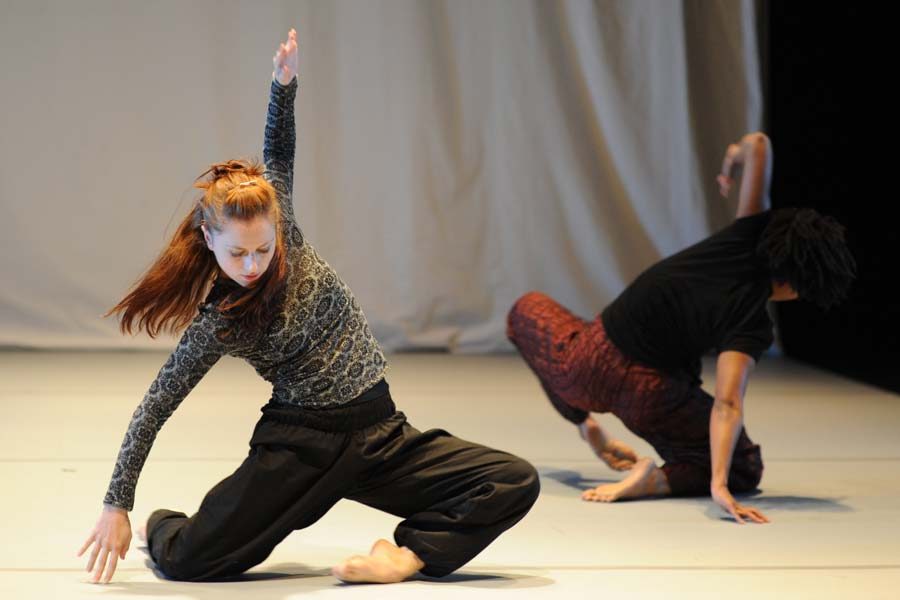 Danse X | Montréal – Tokyo – Busan tour
Flight distance III: chain suite
Helen Simoneau (Montréal)
13 minutes
For the duet Flight Distance III: Chain Suite, Simoneau examines the concept of "Flight Distance" a term that is used to describe the distance an individual places between themself and others, it varies from person to person and from species to species. Simoneau uses this concept as inspiration for this new work in which she shares the stage with fellow dancer Kristin Taylor. Performed to a percussive composition by Jonathan Melville Pratt, the two dancers explore the tension and connectedness of their proximity without defining the relationship.
Choreographer: Helen Simoneau
Performers: Kristin Taylor, Helen Simoneau
Music: Jonathan Melville Pratt
Costumes: Kathy Grillo
"I am interested in the intricacies of human relationships. Through my dance making, I explore the ways of expressing and sharing a personal viewpoint and how we, as individuals, interact and relate to the larger group. I choreograph mostly for other dancers, but have recently taken an interest in placing myself back into my work. In the past, I have been the sole creator of movement material. I am gradually moving towards a more collaborative environment with my dancers in order to further utilize their curiosity and decision-making. Proximity, intimacy, and personal space have been current inspirations for me in the creation of my work. I am interested in the negative space between the dancers and within the shapes they create. Playing with different variables such as the distance between the performers, eye contact, size of the dancers, and gender, I explore the power dynamics established between two or several performers. My work begins with form with an underlying meaning emerging during the creation process. Intersecting patterns, crisp lines, and detailed gestures will usually find their way into my finished work."
Helen Simoneau
Helen Simoneau
Helen Simoneau is a native of Québec, Canada. She currently lives in Winston-Salem and creates with a group of dancers based in both NYC and North Carolina. Last Fall, she won The A.W.A.R.D. Show! 2010: New York City with her solo "the gentleness was in her hands." This work was also awarded 1st Place for Choreography at the 13th Internationales Solo-Tanz-Theatre Festival in Stuttgart, Germany in 2009. Simoneau returned to Germany in 2010 as one of three finalists for the Kurt Jooss Prize in Essen for her quintet "Flight Distance I." Her choreography has been presented in Austria, Brazil, Canada, France, Italy, Greece, Spain, Switzerland, and has toured throughout Germany and the United States. In 2007, she was selected as one of five choreographers for the Swiss International Coaching Project (SiWiC) in Zurich. Helen Simoneau is a 2010 North Carolina Arts Council Choreographic Fellow and has received funding from the Canada Council for the Arts, The Mary Duke Biddle Foundation, The Arts Council of Winston-Salem, The Puffin Foundation, and the North Carolina Dance Alliance. She has created new works for the Bessie Schönberg Residency at The Yard (MA), the University of the North Carolina School of the Arts (UNCSA), the Eisenhower Dance Ensemble (MI) and has restaged her work for The University of Oklahoma, Wake Forest University (NC), and Hollins University (VA). Simoneau earned a BFA from UNCSA and a MFA from Hollins University. She has served as adjunct faculty at the American Dance Festival, UNCSA, and UNCG. This past spring, she was a visiting assistant professor at Hollins University. She has taught as the Oklahoma Summer Arts Institute at Quartz Mountain and was an artist-in-residence at Bates Dance Festival in the emerging choreographers program. She is currently full-time guest faculty at UNCSA for the 2011-12 academic year.
Kristin Taylor
Kristin Taylor, a Durham native, holds a BFA from the UNCSA. She trained at Jacobs Pillow, and on scholarship at the Lou Conte Dance Studios with Hubbard Street II. In New York, she apprenticed with Urban Bush Women, and worked with choreographers Nathan Trice, Bridget Moore, Christal Brown, and Sidra Bell. Kristin performed with the Mexico City-based Tania Perez-Salas Compania de Danza and created and performed works for Yuxtadanza Compania de Danza of Venezuela. She has taught in UNCSA's preparatory program and as a guest of theTri-Cities Performing Arts School in Atlanta. Ms. Taylor received the Ella Fountain Pratt Emerging Artists Grant in 2011 to produce her first concert for KT COLLECTIVE. Currently Kristin works with nosiDANCE Theater, Helen Simoneau and is the Dance Educator for Riverside High School in Durham, NC.
Jonathan Melville Pratt
Jonathan Melville Pratt is a composer, singer, multi-instrumentalist, and producer. Highlights include composition, musical direction and performance of original scores for The Brothers Size at The Public Theater and The Abbey Theater All of Euripides' The Greeks at The Juilliard School, Keigwin and Company, Camille Brown, and Brian Brooks Movement Company. Last year, Jonathan was awarded the Sacatar International Arts Fellowship in Bahia, Brazil. He has made scores for commercials, "A Study in Colour" for Keller NYC, "Blue", commissioned by Kate Spade, and "Fruitlands "by Katie Workum. Currently, Jonathan is working on a few evening length scores for Brian Brooks Moving Company, Camille A. Brown, Keigwin and Company, and is very excited to begin work scoring the feature film "Very Well Maladjusted," directed by David Zuckerman, this spring. Jonathan is proudly sponsored by Electro Voice Microphones.
Kathy Grillo
Kathy Grillo has been a Costume Designer/Draper for the UNCSA School of Dance since 1996 when she began building costumes for their then new Nutcracker. Her work at UNCSA has included designs for the ballets Raymonda, Don Quixote, Rubies, Valse Fantasie, and The Nutcracker as well as numerous contemporary pieces by both faculty and guest choreographers. She has designed for the American Dance Festival, Carolina Ballet, NC Dance Theatre, American Ballet Theatre Studio, Ballet Tennessee, Ballet Spartanburg and Duke University. Before joining the Dance Department, Kathryn was a guest Costume Designer/ Draper/Faculty in UNCSA's Design and Production department for 18 years, starting in 1984. Since 1991, she has also been the Resident Costume Designer/Coordinator for Piedmont Opera, designing costumes for Turandot, The Light in the Piazza, Les Contes d'Hoffman, La Boheme and others. She has designed for the Opera Theatre of St. Louis, Virginia Opera and Opera Tampa, and she coordinated Opera Carolina's costumes for four seasons. Grillo holds a BA cum laude in Theatre Arts from Cornell University and an MFA in Costume Design from Carnegie Mellon University.
Hetero
Teita Iwabuchi & Kaori Seki (Tokyo)
26 minutes
From the Greek heteros (other). Two slender dancers shape-shift together with deliberation, furling and unfolding, entwining limbs, delicatly gesturing. Teita Iwaburchi and Kaori Seki move ever so slowly. Enveloped in sculptural lighting and silence, a dance transpires, composed of minute meditations on space, time, shape and relationship.
Choreographer: Teita Iwabuchi, Kaori Seki
Performers : Teita Iwabuchi , Kaori Seki
Lighting designer : Yuichi Kageyama
Costume Designer : Yoko Takeuchi
Teita Iwabuchi
Specialized in theater at Tamagawa University, studying Butoh and other performance arts along with theater. As a dancer, has performed in work by Mikuni YANAIHARA, Kim ITOH, Un AMADA, and Ko MUROBUSHI. Has been presenting original works since 2005. In 2008, was selected for the Saka-Agari Scholarship, a program supporting young artists chosen in a public competition and "The French Embassy Prize for Young Choreographer" at the Yokohama Dance Collection 2012. Works include "smoke, double", and "Tathata". He started the collaboration series with musician since 2010.
Kaori Seki
She began classical ballet from childhood and began contemporary dance from 18 years old. She has performed in the works of some choreographers, Un Yamada and Kakuya Ohashi. She has joined in various projects or events, We're gonna go dancing!! vol.10 (sponsored by JCDN), Lab 20 #18 and #20. She has received the prize, "Lab Award" from ST spot (Yokohama) in 2008 and "The French Embassy Prize for Young Choreographers" at the Yokohama Dance Collection EX 2012. She started to present her group works in 2009. Since 2010, she gets interested in the senses, mainly focuses on a "scent", and is piece the works including the sense of smell which approach each spectator's memory direct. Major works :"Yuki-chan" "ATAMANIA" "Osmerepision" "Paratika" "Marmont". She is member of "Mure" a group formed by artists of the same generation. She collaborates for other artists, Teita Iwabuchi, Minako Kimura.
Kairos
Su Hyun Kim / Pan (Busan)
28 minutes
An unavoidable situation that happens in a place and time we never know, and unforgettable memories from it! A man died in an eternal time. Through the movements from contact improvisation and intimate skinship, Su Hyun describes people living with a deep scar on their heart caused by apathy of others or lack of love.
Choreography : Su Hyun KIM /PAN
Dance : Su Hyun KIM / Jong Won HEO
Lighting Design : Sang Hyun SHIN
Music used: Carlotta, London Philharmonic Orchestra et A Little Prayer, Evelyn Glennie
Su Hyun KIM's main focus is 'love', specially 'love between a man and a woman'. For her duo pieces, Su Hyun KIM collaborates with her dance partner and husband Jong Won HEO. Through the contact improvisation and the intimate skinships, they find new faces and different movements which naturally develope again to another kinds. They make contact improvisation not only in between but also with the floor or the wall as a third partner. This couple exchanges and shares live emotions and movements which are in the cause and effect relationship. A movement brings a specific emotion and that again links to a new movement. Su Hyun KIM pays serious attention on the emotions which let movements come out of their bodies. With these procedures, Su Hyun KIM gradually set up the structure and narrative of the piece.
Su Hyun Kim
Su Hyun KIM got interested in street dance in her college days when she was majoring in the marine biomedical science. And before long, when she became 24 years old, she began to study contemporary dance as her new major in Busan University. Su Hyun KIM worked as a member of Jayu Dance Company and later she made her own company 'PAN' and 'BeTheSDa2010' as well. She has created and presented about 12 dance pieces like 'mark 1,2' 'Oblivion', 'The moment on the day', 'Building a nest', 'After' etc..
Jong Won Heo
Jong Won HEO, dancer and choreographer, is Korean native. As a former dancer of Xiamen Contemporary Dance Company of China, Jong Won participated in the productions of 'Grey' (Assistant Choreographer & Dancer) and 'Opening the red door' (Dancer). Currently Jong Won is actively working in the Korean contemporary dance field as a dancer of the PAN Dance Theatre. He has choreographed, and danced for, 'Be Selected', 'Bloody', 'Guest House', Now I got it', 'The Light', 'Ogamdo', 'Love Cantabile', 'Nostalgia', and 'A half man'. In 2012, he was awarded with 'Excellence Prize' and 'Best Actor Prize' by the Busan Dance Festival. Jong Won holds a BFA in Dance from Busan National University in Korea.