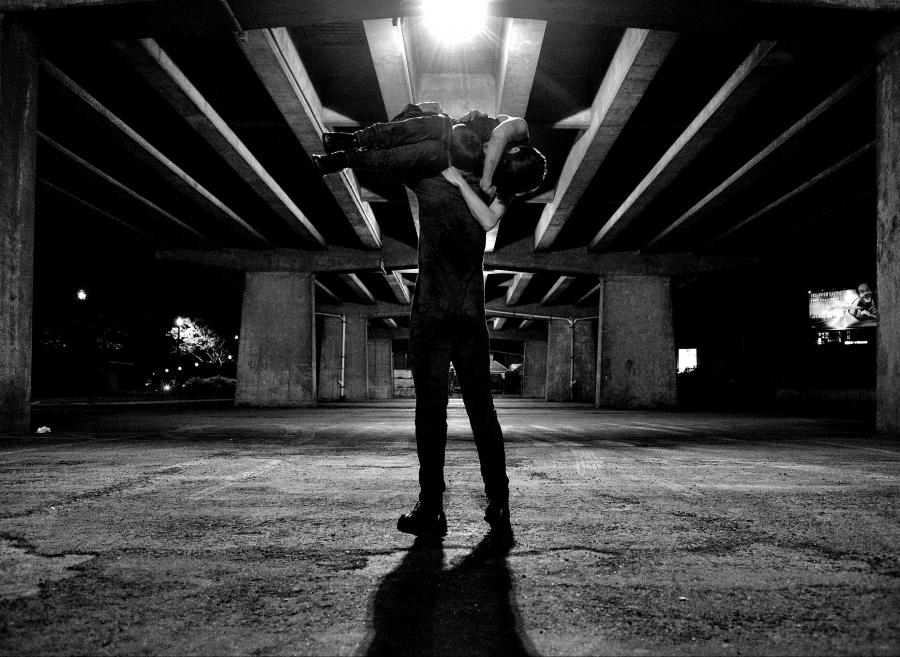 Connecting Forces
FEBRUARY 1. 2. 3 | 7:30PM
FEBRUARY 4 | 4PM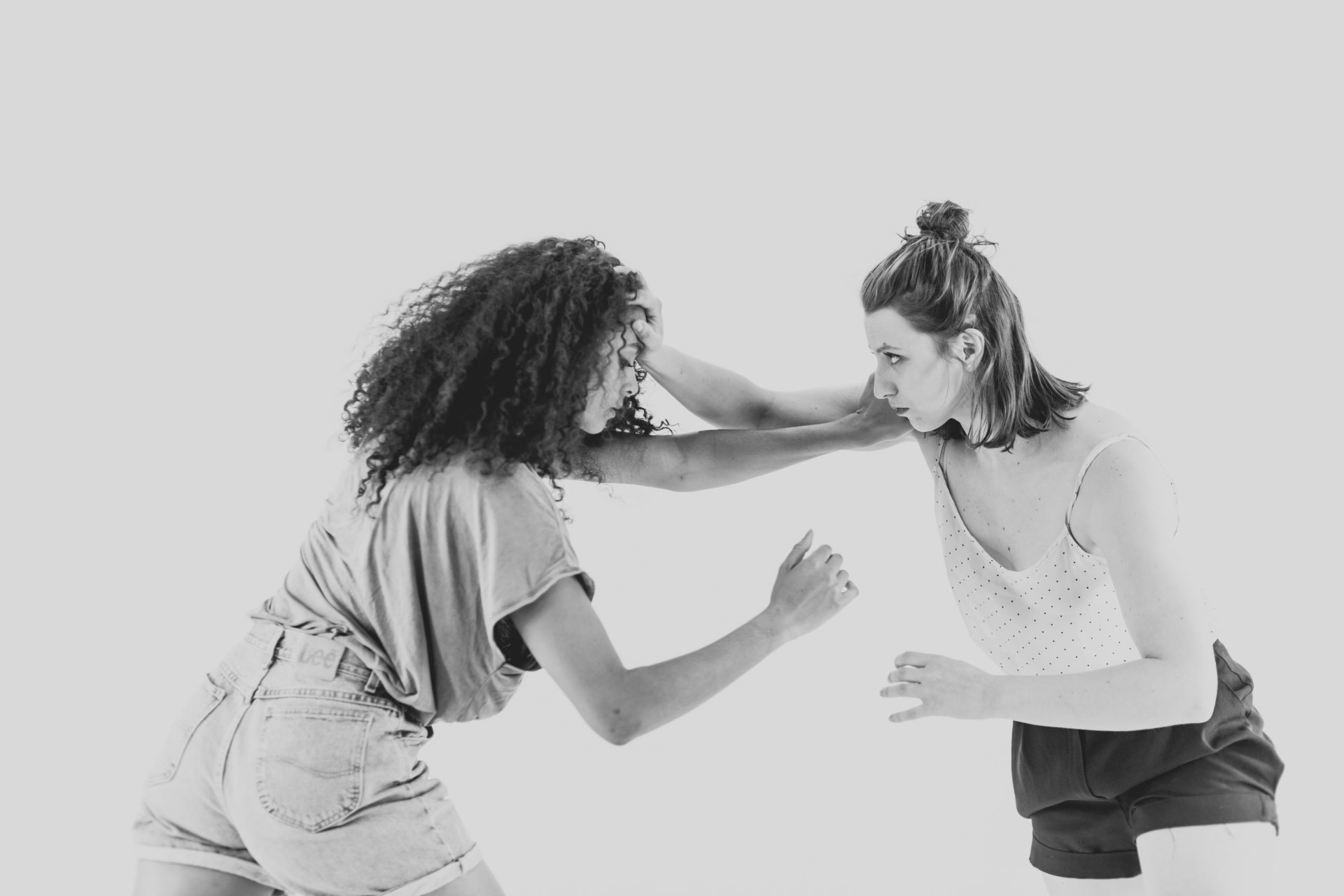 [decoherence]
Jessie Garon / Vazari Dance Projects (Toronto)
25 minutes
What on earth could a choreographic replication of quantum entanglement be? In this dance composition, two men are literally – and metaphorically – interpreting the subconscious interactivity between everything and everyone on an atomic level. Movement is mostly pre-determined, but timing is improvised. Throughout this intensely physical piece, you see reoccurring motifs of synchronization, vibration and falling. The dancers wear heavy and loud work boots, evoking a weighted and rooted aesthetic in which nothing is decorative. The composer samples and mixes this onstage noise in real-time. As the performers struggle to move forward together, moments of tension and care appear and disappear. Remaining intently connected, they move in and out of hard circles of light, as if microscopic organisms in a petri dish.
Choreography Jessie Garon with performers
Performance Jarrett Siddall, Guillaume Biron
Sound design and live composition Lyon Smith
Stage and lighting design Jon Cleveland
Costume design Som Kong
I believe that the collision of ideas and practices can create a fertile ground for innovative concepts. We always start with a morning practice that is about cultivating a creative space wherein we can be especially honest with each other. Any friction created is in service of a beautiful product. In this way the art is born of our individual and collective commitment and passion.
My aim is to create alternate worlds where we can share the collective experience of our bodies and their infinite curiosity, to fight against mulishness and celebrate the beauty and brutality of the mundane. Telling stories as a means of constructing a ritualized space that unites the performer and the spectator in a realm founded between the two parties.
The performer then becomes a powerful means of understanding the other by encouraging viewers to enter a new world and penetrate the mystery of the stranger in front of them.
Lyon Smith has received a Dora Award and multiple nominations for his sound work. Recent selected sound credits: Hamlet, All's Well That Ends Well, Taming of the Shrew and Liv Stein (Canadian Stage), Morro and Jasp 9 to 5 (Factory Theatre), The Last Donnelly Standing and If Truth Be Told (Blyth Festival), Elle (Theatre Passe Muraille), Venus' Daughter (Obsidian Theatre), Beaver (Storefront Theatre), Sheets (Veritas Theatre), the Millennial Malcontent (Tarragon), and A City (Necessary Angel).
Jarrett Siddall is a Dora nominated artist who began his career with the Ukrainian Shumka Dancers and Citie Ballet in Edmonton, AB. In 2012, Jarrett graduates from The School of Toronto Dance Theatre where he is awarded the Hnatyshyn Foundation Developing Artist Grant. After graduation, Jarrett is a company member with Toronto Dance Theatre for five seasons where he works with Stephen Andrews, Susie Burpee, Peter Chin, Thomas Hauret, Ame Henderson, Christopher House, Heidi Strauss, and Evan Webber. Independently, he has performed with Hit &Run Dance Productions, Joe Ink, and Vazari Dance Projects, where he is also a rehearsal director and artistic associate.
Native of Bordeaux, France, Guillaume Biron is a graduate of the National Circus School of Montreal, QC. After graduating in 2007, he participates in several festivals in Montreal with related artists before being approached in 2009 by Quebec company Les 7 doigts de la Main. There, Guillaume is a performer for three years in the show PSY. In 2012 he founds the company Tête d'Enfant with Naël Jammal and Florent Lestage. Their first creation titled Me, myself and us is created in 2013 and presented across Europe and North America. Today, Guillaume is still evolving in the circus sphere as the co-artistic director of Montreal company Throw2catch, but also in contemporary dance (Stéphanie Decourteille, Estelle Clareton, La Grande Fente, Vazari Dance Projects) and sound design. His versatility makes him a rich creative performer, able to use different mediums of expression.
Jessie Garon is a Toronto-based contemporary dance artist. She is a graduate of The Edmonton School of Ballet and The School of Toronto Dance Theatre. In 2013, she interns with Danielle Agami's 'Ate9 dANCE cOMPANY'. Independently, she has worked with 'Anandam Dance Theatre', Jennifer Dallas/Kemi Contemporary Dance Projects, Karissa Fyrrar/Polynomials, Lemi Ponifasio/MAU (New Zealand), Little Pear Garden Collective, and Serge Bennathan. In 2014, Garon co-founds the multidisciplinary company 'Vazari Dance Projects' (VDP) with Anastasia Shivrina. With VDP, she has since choreographed and produced the works #Hangman (co-creation with Anastasia Shivrina, 2014), [decoherence] (2015) and AS A BODY (2015). Her work with VDP has been presented across Canada and garnered residencies at The Winchester Street Theatre in Toronto and The Centre for Movement Arts in Calgary.
By The Skin of Your Teeth
Collectif [LE]CAP & Parts+Labour_Danse
30 minutes
Inspired by the event horizons of black holes, this duet plunges you into the moment between death and survival. The work takes a poetic approach, transposing the celestial to the corporeal and tangible. Embodying both fragility and a combative physicality fuelled by adrenaline, bodies surge, orbit, rise and fall, push themselves to their limits. This choreographic parable stretches the tipping point to reveal perilous moral questions.
Choreographers David Albert-Toth, Emily Gualtieri (Parts+Labour_Danse)
Performer and primary project manager Marine Rixhon
Performer and manager Anne-Flore de Rochambeau
Composer Antoine Berthiaume
Lighting designer Jon Cleveland
Project documentation Ariane Dessaulles, Marie Mougeolle, Milan Panet-Gigon
Costumes David Albert-Toth, Emily Gualtieri, Marine Rixhon, Anne-Flore de Rochambeau
B.T.S.O.Y.T is inspired by the frantic hunt between a predator and its prey. The work plunges into the matter of seconds that separate life and death, where both the prey can still escape and the predator grasp it. B.T.S.O.Y.T stretches this extreme moment, where one passes by the skin of their teeth to see their life shake, in a duet where the performers create tension between opposing forces : the corporeal and spacial tensions that keep Anne-Flore de Rochambeau and Marine Rixhon in a constant state of alert, in a constantly precarious balance.
Faced with this game of tightrope between balance and fall, between commitment and abandonment, Marine and Anne-Flore are called upon to appeal to their instinct, to listen to what dictates sometimes their body, sometimes their reason. More broadly, the play takes a look at the forces that are undergone and that influence our decision-making when the precarious balance of our lives is shifting. Are we beings of flesh or reason? How do they fit together when an event puts us face to face in extremis?
Exploring the social nature of the individual, Anne-Flore de Rochambeau's compositions reflect unconscious mechanisms that characterize our interactions. Investing space with a refined aesthetic, she uses an organic and intuitive language to engage a sensory relationship with the audience. Following her academic training in Paris, New York and Montreal (UQAM, BA dance 2012), Anne-Flore de Rochambeau is developing her practice as a performer and choreographer since 2013. In 2017, she finishes a triptych inspired by the fluid dynamics theory which the different parts have been present in Montreal (Quartiers Danses, ZoneHoma, Tangente), Toronto (Dance Matters) and France (Auteurs de troubles). In the meantime, she has co-created Alt-shift with the choreographer Liliane Moussa. This collective aims to develop in situ and immersive choreographic projects, including Entrelacs which has been successfully touring in Montreal, France and BC. The choreographer is now developing LORE, a participative work with 7 dancers questioning the encounter with the audience and our relationship with the body and FADEOUT, a solo questioning our relationship to our transformative and adaptable body through time.
From Belgium, Marine Rixhon lives in Montreal since 2009. After academic studies in classical dance and contemporary dance in Liege, Toulouse and Montreal, she develops her activities as a dancer with choreographers such as Soeurs Schmutt, Anne-Flore de Rochambeau, Liliane Moussa, Léa Tremblay Fong and Parts+Labour_Danse (David Albert-Toth and Emily Gualtieri), which she commissioned with Anne-Flore for the creation of the duet By The Skin of Your Teeth. As a dancer, Marine is exploring a wide range of artistic vision as she collaborates with diverse creators that bring her to perform in Quebec and abroad. Invested in the dance community, Marine is also a founding member of [LE]CAP, a reflective collective gathering contemporary dance artists.
Since being founded in 2011 by co-creators Emily Gualtieri and David Albert-Toth, Montreal-based Parts+Labour_Danse has held the mandate to invest in creating physically engaging experiences. Their work is preoccupied by questions of identity and morality: how do we define ourselves in relation to, in spite of, or as a result of the world around us? The duo continuously seeks to dive deeper into the formulation, creation, and presentation of contemporary dance, bringing these questions into their creative process. An underlying interest in transformative states and their effect on the body in movement are presently at the core of their focus. This interest is complemented by a desire to redefine partnerships in different modes of creation. To date, the company has presented its work extensively throughout Canada. Its repertoire includes The Calculated Risk Project (2010), In Mixed Company(2013) (Coup de pouce prize winner, VSLR Festival 2015), La chute (2013), noted as one of 2013's top ten Canadian moments in dance by The Dance Current and winner of the Audience Choice Award at Toronto's Dance: Made In Canada Festival in 2015, and La vie attend (2017) co-produced by Danse-Cité and presented by La Chapelle. They are currently involved in several new creations that will premiere over the next year.
David Albert-Toth is a dancer, choreographer, composer, and co-artistic director of Parts+Labour_Danse. A disposition towards eclectic artistic encounters has led David to perform throughout North America and Europe. Notable collaborations include work with Frédérick Gravel, Human Playground, Lemieux.Pilon 4D-Art and Peter Trosztmer, Emmanuelle Calvé, and Compagnie Destins Croisés. He has contributed to interdisciplinary works by CHA Collective, Thibaut Duverneix, Dominique Porte, Julie Favreau, Moment Factory, and Danse Danse (with Emily Gualtieri) in collaboration with the work of Olafur Eliasson and the Musée d'art contemporain de Montréal. He began a choreographic partnership with Emily Gualtieri in 2011, founding Parts+Labour_Danse. Their works include In Mixed Company (2013, Prix Coup de pouce, Vue sur la relève 2015), La chute (2013, Top Ten 2013 – Dance Current, Audience Choice Award, dance:made in canada festival 2015), and La vie attend (2017), co-produced by Danse-Cité and presented at La Chapelle. Parts+Labour_Danse is currently involved in several new creations that will premiere in the near future.
Emily Gualtieri is a Dora Award-nominated choreographer and dance artist working in both Montreal and Toronto. Since 2007, her interest in creation and craft has driven her to continually produce and tour new works every season. After several years spent choreographing independently, Emily began a creative partnership with David Albert-Toth, founding Parts+Labour_Danse in 2011. Their 2013 works In Mixed Company and La chute have won various awards. Emily and David's works have been presented nationally in festivals such as Dance: Made in Canada, Guelph Dance, Expanse Festival, Quartiers Danses, POP Montreal, VSLR, Dance Matters, and St. John Contemporary Dance Festival. Emily has participated in and led artist residencies in Montreal, Toronto, Banff, Halifax, Massachusetts, and Berlin. Emily created À la prochaine (2013), performed by Ginelle Chagnon and commissioned by Older & Reckless, Re:Pairing (2015), a DanceWorks CoWorks production, and Stealing Fire (2016) a commission for Mocean Dance. Emily recently premiered La vie attend (2017) with Parts+Labour_Danse, co-produced by Danse-Cité and presented at La Chapelle, and is currently working on several new creations as a choreographer and dramaturge.
Montréal guitarist/composer Antoine Berthiaume has been active on the jazz and improvisation circuits for over 15 years. His work has recently been enriched by collaborations with contemporary dancers, especially with Annie Gagnon, Thierry Huard, Aurélie Pédron, Audrey Bergeron, Louis-Élyan Martin, Audrée Juteau, Alan Lake and Louise Lecavalier. His work is documented on over ten releases featuring masters of improvisation such as Fred Frith, Derek Bailey, MaryClare Brzytwa, Takumi Seino, Elliott Sharp, Michel Donato and Pierre Tanguay on Ambiances Magnétiques and Audiogram (Québec), Vos Record (Japan), Starkland (USA) and Incus (England). With grants from the Conseil des arts et des lettres du Québec and the Canada Council for the Arts, Antoine has furthered his skills in the United States and Europe. Photographer Ralph Gibson recently included him in his review of 81 avant-garde guitarists, which has yielded a book and an exhibit at the Museum of Fine Arts in Houston, Texas. After completing a Master's degree in contemporary composition, he is currently pursuing a Doctorate in Composition and Sound Creation at the University of Montreal.