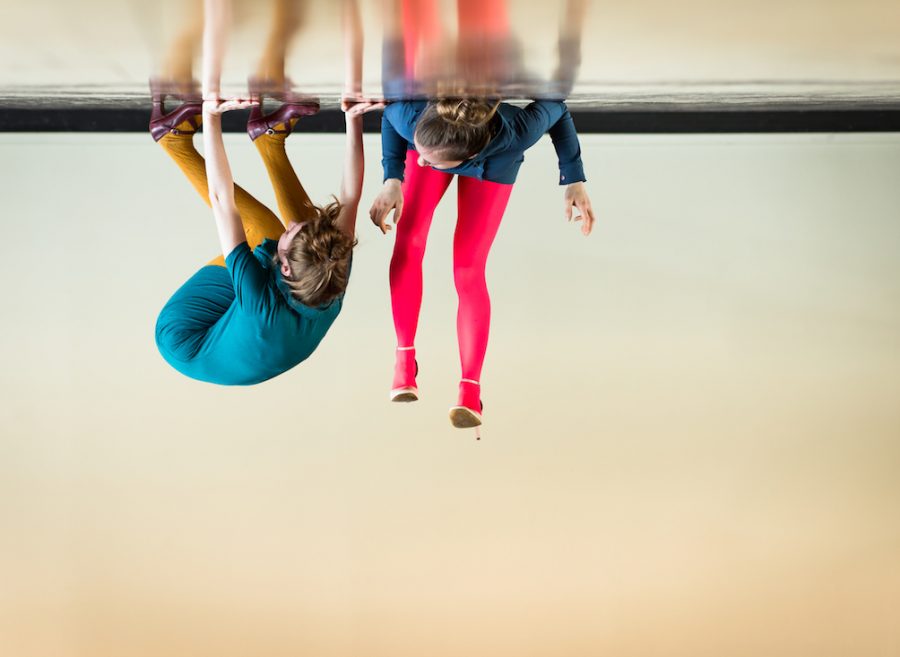 Ce qui émerge après (4kg) – Remix + Les mioles – Remix + En attendant le pick-up
DECEMBER 10. 11. 12 | 7:30 PM
DECEMBER 13 | 4 PM
Ce qui émerge après (4kg) - Remix + Les mioles - Remix + En attendant le pick-up
Sarah Bronsard & Nancy Gloutnez
60 minutes
Their pathways have crossed: rough drafts of mother-artists poised on four feet which mark, fill and listen to time. Textures, ornaments and silence, in suspension.
This evening proposes an encounter between two universes of sonorous bodies. Linked together by these expressive motors, they explore through rhythm that which lifts and transports them, leaving them on the look-out, waiting for the pick-up.
They are hungry; they can laugh about it.
The question remains, how to fulfill the still pending moment?
Choreography and performance Sarah Bronsard & Nancy Gloutnez
Les mioles — remix's performers Mélody Clermont, Louis Gloutnez, Anne-Sophie Leblanc, Jonathan Rousseau
Lighting designer Simon Deraspe
"En attendant le pick-up" would like to thank warmly La Otra Orilla company for the creation residency at the Pleamar studio, and the Maisons de la culture of Pointe-Aux-Trembles and Notre-Dame-de-Grâces for the access to their studios.
CE QUI ÉMERGE APRÈS (4 KG) — REMIX Sarah Bronsard,  remixage de Nancy Gloutnez
LES MIOLES — REMIX Nancy Gloutnez,  remixage de Sarah Bronsard
EN ATTENDANT LE PICK-UP Sarah Bronsard & Nancy Gloutnez
Hybrid in our respective work, we find common ground in the expressive exploration of the "corps sonore." Used to work where disciplines intersect, we plod along in this space "in between." This collaboration evolves in search for common denominators, more specifically through listening and waiting: we explore with rhythm what lifts and carries us, what leaves us waiting in suspension. Nourished by gigue and flamenco, we are interested in the rhythmic dialogue forging between two bodies through sounds, gestures and silences, while observing the rhythm's impact in the body.
Two women on stage juggling, with a precarious balance, with all the roles they try to play: artists, lovers, researchers, mothers, friends, they try to stay as close as possible to the center of that whirlpool in order to feel where their next step should be.
A time of shared attention, between us and with the spectator, in this fragile humanity, strong and complex.
Sarah Bronsard found fertile ground in dance, after a career as a painter in search of wider horizons in visual, numeric and electronic arts. Through various musical and choreographic collaborations she develops new dialogues, which take root in flamenco dance, playing with rhythm, intensity, contrast, and codifications. In her work, she seeks for the invisible to reveal and for what passes through the living in ephemeral shapes. Dance is the medium she prefers to call what is seen in spite of ourselves, both for the audience and for the performer. Sarah's passion for flamenco started in 2003 and after graduating in new media in 2009 (Concordia University), she trained in contemporary dance both in Montreal and Paris. In 2010-2011 she took part in Transforme-Se Prolonger at the Royaumont Abbaye (France), with a grant form the CALQ and La Fondation des Amis de Royaumont, to collaborate with choreographers and electroacoustic composers, spanning multiple creations. She also participated in different activities of Montreal's flamenco company La Otra Orilla, including the mentorship Paso a Paso in 2011. Her work was welcomed at Montreal's Studio 303, MAI, Studio FLAK, Studio Pleamar, as well as in France at the Royaumont Abbaye (Val d'Oise), Mains d'Oeuvres (Saint-Ouen) and in Wales at Chapter (Cardiff). In 2012, her first production 4kg was presented at Studio 303 and the MAI during the FRINGE Saint-Ambroise festival, receiving the prize « Best Original Creation » by Cirque du Soleil. Her new solo piece Ce qui émerge après (4kg) took part of the Dance Roads tour in may 2014 and travelled to France, Whales, Italy and Netherlands. She is currently working on two new creations, Le frottement du monde, with the cello player Emilie Girard Charest, and En attendant le pick-up, a co-creation with Nancy Gloutnez, while pursuing a master's degree in dance at UQAM since fall 2014.
Nancy Gloutnez is a choreographer, researcher, musician, performer and founding member of Bigico, a specialized presenter of contemporary gigue. Classically trained as a pianist, the musicality of the gigue is at the core of her artistic approach to choreography. Composer and step dancer, she understands and explores elements that are inevitably connected, the visual and the auditory, and reveals the subtleties and complexity of contemporary gigue in its authenticity. Her work bears witness to her passion for rhythm and her great respect for the gigue, which vocabulary she juggles with, always searching for a more refined form.