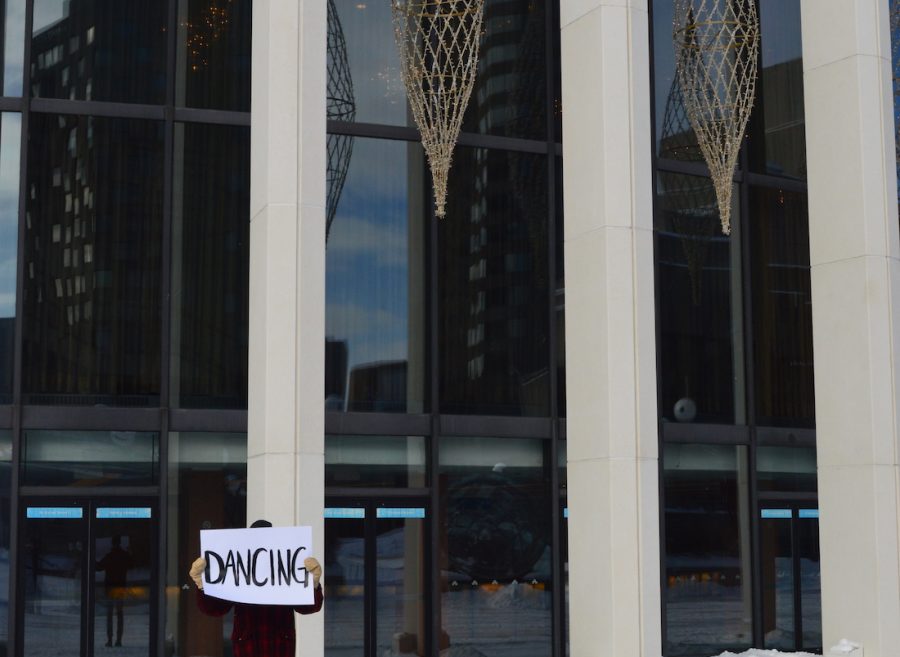 Car c'est par la fragilité que la révolution oeuvre
MAY 5. 6. 7 | 7:30 PM
MAY 8 | 4 PM
Car c'est par la fragilité que la révolution oeuvre
Adam Kinner & Noémie Solomon
60 minutes
What is the most fragile, here, is the most forceful.
A solo that is not a solo, this work unfolds as a series of relations in which audience, performer, and objects alike struggle to make it through and to bear witness to the unfolding situation in our midst. Here, fragility is a landscape of experience, a topography of movement that structures the spectral and the spectacular. The work presents a politics of nonsovereignty that simultaneously undoes and re-performs our tenuous togetherness.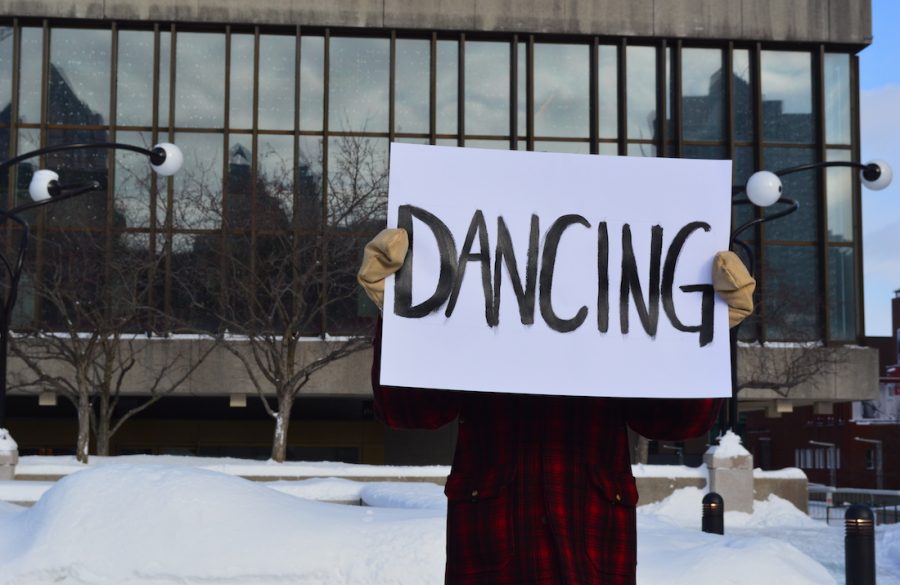 Co-creator, performer Adam Kinner
Co-creator, dramaturge Noémie Solomon
Lighting design Paul Chambers
Adviser on concept and sound Christopher Willes
Set up design Jonathan Inksetter
Executive producer LA SERRE – arts vivants
Adam Kinner and Noémie Solomon engage in a lengthy correspondence alongside the studio work. Bringing in different threads, different voices, and different movements, this practice of "writing with" the dancing serves not only to map out the work's scope, but also to challenge its claims. In bringing different kinds of knowing to bear on a process, we hope to expose and celebrate the fragility of our knowledge when it is forced to be recognized by another.
Adam Kinner is an American artist living in Montréal, Canada. He studied composition and music performance at McGill University, but since 2011 has been focused on making choreographies. In this time, he has worked with numerous artists in Montréal (Jacob Wren [PME-Art], Mårten Spångberg, Marie-Claire Forté, Ame Henderson, Lynda Gaudreau) and has presented works in Montréal and abroad. His performances, each in their own way, are concerned with discourse and how it comes to be inscribed in and on bodies. He is interested in showing that there is a lot at stake. He has presented work in Montréal at Tangente, Studio 303, OFFTA, Usine C and the McCord Museum, and abroad in Istanbul, Rotterdam, Berlin, Washington DC, New York and Edinburgh. His most recent work, The Weather In Times Square, Today (in collaboration with dramaturge Noémie Solomon), was presented at Tangente in May 2014. His work has been supported by residencies at the Banff Centre for the Arts (Alberta), Usine C (Montréal), Artexte (Montréal), iDANS (Istanbul), Forest Fringe (Edinburgh), and Dance4 (Nottingham).
Noémie Solomon works as a writer, teacher, performer, dramaturge, and curator in the field of contemporary choreography. She is currently Andrew W. Mellon Postdoctoral fellow in Dance Studies at Brown University, as well as faculty member at the Institute for Curating Performance Practices at Wesleyan University. She edited DANSE: an anthology and DANSE: a catalogue, which place into dialogue key texts on choreographic creation after 2000 between francophone and anglophone frameworks (Les Presses du réel, 2014; 2015). She worked as a choreographer and performer on the redoing of Allan Kaprow's 18 Happenings in 6 parts (Haus der Kunst, Munich 2006; PERFORMA, NYC 2007) directed by André Lepecki and which was awarded best performance in 2007 by the Association Internationale des Critiques d'Art. She initiated and collaborated on a series of dramaturgical and curatorial projects in the dance field internationally, including: Dance on Time with Gurur Ertem (iDANS, Istanbul, 2009); Self-Methodologies with Sandra Noeth (Tanzquartier, Vienna, 2011); the Photomusée de la danse with Tim Etchells (Festival d'Avignon, 2011); Solos and Solitudes with Jenn Joy (Danspace Project, NYC, 2012-13); Dancing is talking / Talking is dancing with Jenny Schlenzka (MoMA PS1, NYC, 2014).
Jonathan Inksetter is an interdisciplinary artist working in Montreal, his work is inspired by the invisible presence of soundwaves and the cyclical obsolescence of technology. He has attended creation residencies at the Banff Center, Grizdale Arts, UK, and most recently Atelier Mondial in Basel, Switzerland. His video work has been screened at the Centre Pompidou, Hyde Park Art Center in Chicago, and at numerous international film festivals. In 2000 he received a Golden Spire Award from the San Francisco International Film Festival for his series of video shorts MusicVideos. In 2014 The NFB presented his film Singchroma as a six story projection in Montreal's Quartier des Spectacles. He has collaborated on contemporary dance projects with Meg Stuart, Marc Boivin, Benoit Lachambre, and kg Guttman amongst many others. In the meantime he maintains a walking practice that engages with urban decay and the transformative elements of nature.
Christopher Willes is an artist based in Toronto and Montreal. He makes performances, exhibitions, concert works, site interventions, writings, and ephemera. He has presented recent works at The Art Gallery of Ontario, Intersite Visual Arts Festival, Summerworks, and The Rhubarb Festival among others. For the past decade he has been continually active in the fields of choreography and experimental theatre as a sound-maker, performer, and dramaturge. He is particularly interested in forms of institutional critique within performance practices, queer modes of spectatorship, and the affects of the untimely and unresolved. From 2011-2015 he maintained an ongoing collaboration with Dancemakers in Toronto. He works often with companies and artist such as Public Recordings, Small Wooden Shoe, Meryem Alaoui, Evan Webber, Ellen Furey, and Adam Kinner. He studied music and dramaturgy and received an MFA from Bard College (NY, USA). He is a 2016 recipient of a Chalmers Art Fellowship.
Paul Chambers is a Montréal based set & lighting designer. Collaborating on new dance works has always been a priority for him. Teaching workshops has also been an important part of his development as an artist and mentor. At Studio 303 he teaches a yearly lighting design workshop for artists, in addition to teaching aspects of production in dance at Concordia University. From 2008 until 2013 Paul is Technical Director at Tangente: Laboratoire de Mouvement Contemporains. In 2013 along with fellow designer & educator David-Alexandre Chabot, they inaugurate CHA a design collective aimed at creating & sharring design based works with artists from different disciplines. Recent design credits include work with Public Recordings, 10 Gates Dancing, Audrey Bergeron, Dorian Nuskind-Oder, Benjamin Kamino, Dany Desjardins, Katie Ward, Susanna Hood, Sasha Kleinplatz, Antonija Livingstone, Adam Kinner, Maria Kefirova, Thierry Huard, Parts + Labour Dance, Lara Kramer Dance, & Destins Croisés.