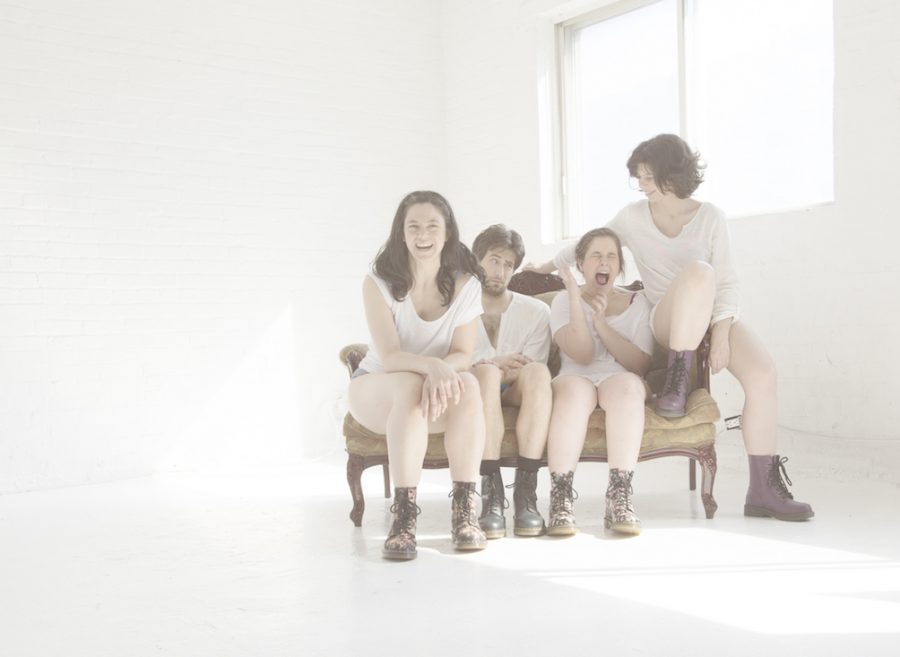 Avec pas d'coeur
MARCH 16. 17. 18 | 7:30 PM
MARCH 19 | 4 PM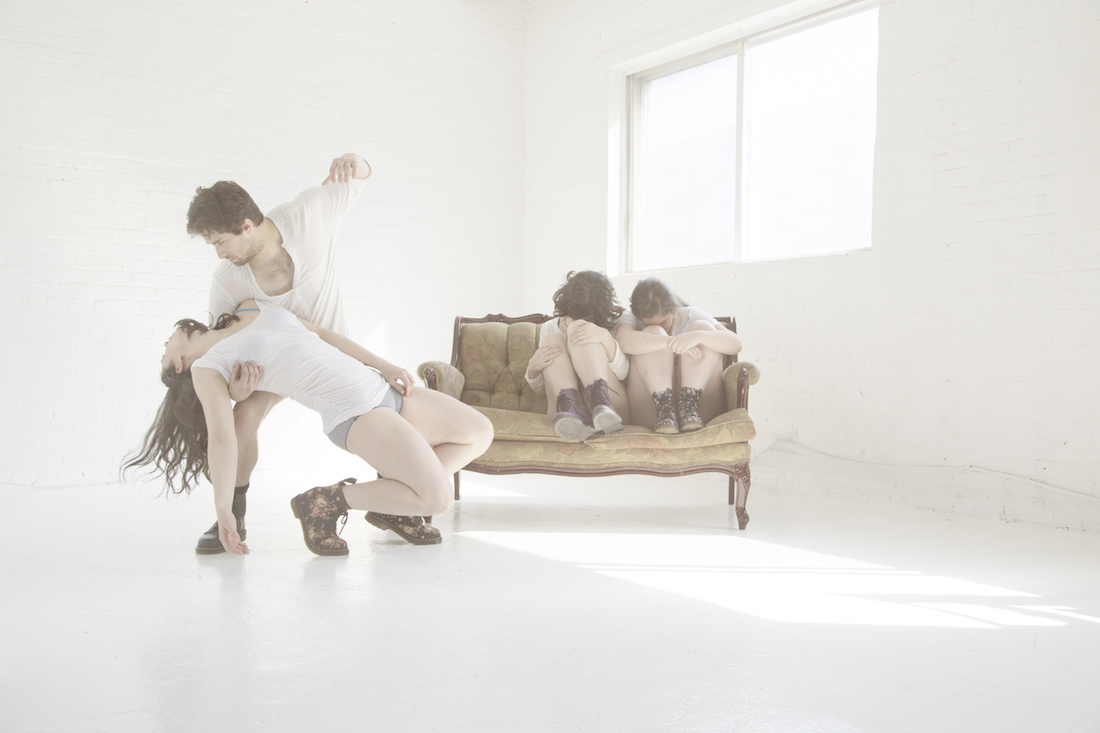 Avec pas d'coeur
Maïgwenn Desbois / Maï(g)wenn et les Orteils
60 minutes
Forbidding someone to make love would be just like denying human nature. The creation of Avec pas d'cœur hopes to contribute to the abolition of taboos around intellectually disabled people and their sexuality. Gabrielle has Williams syndrome, Anthony has Asperger and Roxane, Fragile X. These people who eat, sleep, laugh and cry just like all of us, and who have scarce access to a normal sex life. The work probes deeply into the intimacy of these three individuals, illuminating their desires and frustrations through gigue and theatrical contemporary dance.
Choreographer
Maïgwenn Desbois
Performers
Maïgwenn Desbois, Anthony Dolbec, Gabrielle Marion Rivard, Roxane Charest Landry
Original soundtrack and song adaptation Chloé Lacasse
Musicians Chloé Lacasse, Vincent Carré
Mastering David Laurendeau
Soung helping hand Louis-Simon Hétu
Lighting design Simon Deraspe
Rehearsal director and artistic advisor Nicolas Labelle
Rehearsal and vocal coach Maude Desbois
Vocal coach Hélène-Élise Blais
Rehearsal assistant Sébastien Provencher
Choreography advisor Emmanuel Jouthe
Bench and coat hook making Louis Gloutnez
Drama-therapist Maud Gendron-Langevin
Music credits Roxane Charest-Landry, Hélène-Élise Blais, Les Trois accords, Karkwa, La Patère rose, Les soeurs Boulay, Yann Perreau
"A powerful component of the Semaine québécoise de la déficience intellectuelle 2016, this stimulating partnership with the dance company Maï(g)wenn et les Orteils provides an opening to communities of both artists and individuals with intellectual disabilities, breaking down barriers and offering a place for talent and the discovery of previously unexplored ideas."
Created with intuition and incorporating input from the performers, their life experiences, their backgrounds and the relations that grow between them and the choreographer, each work aims to reflect on a specific theme, always in the context of our relation to difference. Every creation wants to arouse questions among the audience surrounding their perceptions of themselves and of others. To achieve this, a first step is inviting the performers to discuss and try to make the subject appear. The striking facts of these meetings then guide the work done in studio, giving pathways for organized improvisations.
The playful and unpretentious approach of the company towards creation gives every piece a truly raw and organic. The works do not aim for movement perfection, rather authenticity and truth. Gigue and theatrical interventions are then skillfully mixed to that.
After her training in classical dance with Alexandre and Daniel Seillier, Maïgwenn Desbois jumped into the contemporary gigue world with Marie-Soleil Pilette, dancing for her company for more than ten years. In 2009, Maïgwenn presented her first choreography, Quasispace, during the Biennale de de gigue contemporaine (BIGICO) at Tangente, choosing to work with marginalized professional artists (Williams syndrome, Asperger syndrome). Dans ta tête premiered in 2011, followed by Six pieds sur terre in 2013, both presented at Tangente's BIGICO. These two pieces were then included in the 2012 and 2013 editions of Vue sur la relève festival, at the Espace culturel Georges-Émile-Lapalme at Place-des-Arts and at the Théâtre du grand Sault at Ville LaSalle. Maïgwenn founded her contemporary gigue and dance company, Maï(g)wenn et les Orteils gigueux atypiques et contemporains, in 2012, leading her to tour in Switzerland in autumn 2014. Maïgwenn is also a dance teacher for kids, teenagers, and adults with learning disabilities (autism, intellectual disability, Williams syndrome, Dawn syndrome, etc.). She teaches classes both for leisure, and for artists in professional training programs at the Centre des arts de la scène Les Muses.
Anthony Dolbec trained professionally at the Centre des arts de la scène Les Muses since 2003, showing particular talent and interest for singing. He regularly performs as a lead singer, interpreting amongst other artists, songs from Robert Charlebois, Niagara, Luc de la Rochelière, and Les Coolocs, and singing alongside Johanne Blouin as well as Martin Deschamps on various occasions. He can be seen and heard singing in the feature film Gabrielle by Louise Archambault (2013). Anthony has been performing for Maï(g)wenn et les Orteils since the very beginning of the company in 2009. That is when Quasispace was created, the first duo made for him and Maïgwenn. Since then he has taken part in all the company's creations, following the crew on tour in Switzerland in autumn 2014. Anthony has also performed as an actor with Joe Jack et John theatre company, in the play AVALe presented at the Écuries in March 2014.
Gabrielle Marion Rivard has trained professionally at the Centre des arts de la scène Les Muses since 2003, with a great talent and interest for singing. As she has perfect pitch, she often performs as backing vocals in various shows, and recorded "Bravo Monsieur le monde," a song by Michel Fugain, with Yann Perreau for the Les duos improbables album. She also sings with Johanne Blouin as well as Martin Deschamps. In 2012, played the lead roll in the feature film Gabrielle, directed by Louise Archambault. Critical acclaim in numerous countries quickly brought the movie award nominations. Among other prizes and awards, Gabrielle was nominated for best female lead role at Prix Écrans canadiens (2014). She performs has performed with Maï(g)wenn et les Orteils since 2010 and took part in the creation of Dans ta tête and Six pieds sur terre, she also followed the company on tour in Switzerland in autumn 2014.
Roxane Charest Landry has trained professionally at the Centre des arts de la scène Les Muses since 2011, with a great talent and interest for dancing. She quickly proved to be one of the most advanced student of the group, working rigorously and progressing very fast. She demonstrated particular aptitude in a master class series with Emmanuel Jouthe in the framework of the dance classes at Les Muses. Her contribution to Avec pas d'coeur is her very first collaboration with Maï(g)wenn et les Orteils .
A graduate of L'Université du Québec à Montréal, Emmanuel Jouthe is the co-founder of Danse Carpe Diem company and distances itself as choreographer/performer. After four years of artistic codirection assumed by six choreographers and performers in the company, Emmanuel Jouthe became Danse Carpe Diem/Emmanuel Jouthe's sole artistic director in 1999. His unique choreographic vocabulary, mixing lively energy and dramatic intensity, quickly gained attention from national and international producers. He then began numerous collaborations and, within the last ten years, created more than fifteen choreographies. Constantly looking for new challenges, he does not hesitate in working with other choreographers and artists while searching for new ways of exploring other scenic territories (in situ) and relations of closeness between the spectator and the dance.
Hélène-Élise Blais trained in piano and harpsichord at Music Conservatory in Quebec city. She is also a graduate in music therapy from l'UQAM, as well as an author, composer, and performer. She is a teacher, accompanist, vocal trainer and has been working for 11 years at Centre en Arts de la scène Les Muses in Montreal. She also works as a writing coach (songs, poetry, biography, and so on). She played the role of arranger and choirmaster in the movie Gabrielle from Louise Archambalut.
Maude Desbois is graduate in Musical Theater at Collège Lionel-Groulx as well as having studied modern music at Taller de Mùsics academy in Barcelona. She danced with brazilian dances companies such as Oba Samba and Chicaboom before creating her own brazilian dance project in 2013. Maude sang with various vocal a capella quartet and then co-founded Kit4 a acapella group in 2009. She sang in the contemporary piece Chœurs et Chorégraphesat Agora de la Danse, and in several musicals such as The Slipper and the Rose and Daisy and the Wonder Weeds at Monument National. We could see Maude at the Segal Center in Dangerous Liaisons and in l'Archange at Théâtre Sainte-Catherine, on television in Le club des doigts croisés, 19-2 in English, Légendes urbaines, Crimes occultes as well as in movie theaters in Mirror Mirror, Y'en aura pas de facile and Dehors l'hiver, presented to the World Film Festival.
After studying theater, Nicolas Labelle is introduced to dancing in 2001 and pursues his studies at LADMMI, a contemporary dance school. Since 2009, he has had the great opportunity to collaborate with Hélène Langevin, Manon Oligny, Emmanuel Jouthe, Marie Béland, Sylvain Émard, Les Imprudanses and Lisa Phinney. In 2011, he joins the NTA team on a play written and staged by Daniel Brière and Évelyne de la Chenelière, assisted by Estelle Clareton for the choreographies. He danced in a Cirque du Soleil production, under the choreographic direction of Harold Rhéaume. He also participates to various young artists choreographic projects such as Amélie Rajotte, Menka Nagrani, Ghislaine Doté, Dominique Thomas and Raphaëlle Perreault among others. His experience as a performer leads him to work as well as a coach and a production director for different projects and companies.
Chloé Lacasse is a singer-songwriter from Montreal. Her songs, their sensitive lyrics and their enriched arrangements reveal pop, folk and alternative influences. She is rapidly noticed in different festivals and competitions such as Ma première Place des arts (2006) and the Festival international de la chanson de Granby (2008), until she wins first place at Francouvertes in 2011 which opens the doors to a first album. The eponymus album produced by Antoine Gratton is released in 2011 and brings her to perform all over the Province of Quebec as well as allowing her to participate to different European festivals. She is back in 2014 with LUNES her second album, bright, smelling like wet earth and fresh grass, exploring human fragility and the heart and mind grey areas. Among shows and creation, Chloé also collaborates in various plays, musical theater or dance shows as a composer or performer. In 2015-2016, she will take part in a project at Théâtre de Quat'sous and in the new creation of the dance company Maï(g)wenn et les Orteils as a musical designer.
Simon Deraspe has been revolving around dance for about fifteen years. He worked, among others, with Louise Bédard, Paul-André Fortier and the group Tangente. He is the technical person in charge and artistic technician for Accès Culture in Montreal City since 2006. He met the Maï(g)wenn et les Orteils company through BIGICO (Contemporary Gig Biennial). Attracted by the social and artistic mission of the company, he decides to join his toes to the group. Self-taught light artist, he creates the intimate atmosphere that let the performers quality of interpretation glow.
In co-presentation with