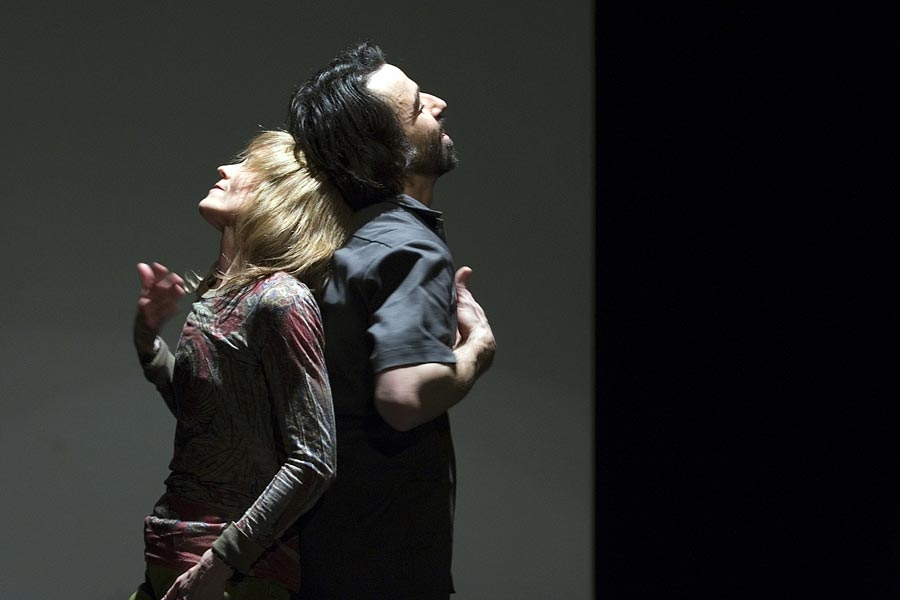 appartement #21
Sounding Bodies
appartement #21
Sandy Silva Collective
60 minutes
Sandy Silva and Julie Lachance have been collaborating together for fifteen years. Their common goals to legitimize percussive dance as a form of expression and to go past mere performance to include emotion, sensitivity and intention in movement and sound are at the core of their approach.
They began to explore these goals with My Dance in 2000. Over the course of the last ten years, this process continued, developed, deepened and became further articulated. The synthesis of this path debuted in 2009 with Do I Know You? and it is refined even further in the creation of Appartement #21.
This sixty minute piece for two dancers started with the desire to create a show with a small form which would work through a sustained creative period. Another motivation was to collaborate with Dominic Desrochers, an accomplice, performer and extremely talented dancer, in order to expand on the work which began with the creation of Do I Know You? Finally, one of the principle driving forces of this process was to tackle the creation of this piece in a more intimate and personal way. As such, the physical personality of each dancer was revisited and developed in a way to serve the creation of the piece and the dramatic journey of the two protagonists. Their maturity as performers was called upon extensively to bring authenticity to the emotional charge which drives this piece.
A man, a woman.
Bits of life that unfurl at random like a disorganized photo album.
Moments encapsulated in hurried, projected, suspended time; these scattered puzzle pieces open windows through which they are revealed.
Torments, delirium, mad laughter, desires.
Everyday situations which construct, propel, slow and, at the end of the day, see to it that they are what they are.
In the end, it's banal.
It's huge…
It's life.
Choreographer: Sandy Silva, Julie Lachance
Performers: Sandy Silva, Dominic Desrochers
Composer : Rick Hayworth
Lighting design: Bruno Rafie
Sound design: Félix Boisvert
Sandy Silva :
The universe of Sandy Silva is as eclectic as the different cultures and forms of expression that have inspired her journey and her creations for the past 25 years. On stages throughout Quebec, the Americas and Europe, on television and in the cinema, this dancer/musician has worked with renowned artists such as Bobby McFerrin, coming from the worlds of jazz, folk fusion, world music and pop. She has been part of Bottine Souriante since 1997.
The world of circus has also been a big part of her artistic life. During her experience teaching music and rhythm at the National Circus School of Montreal, she worked as the artistic coach for Cirque du Soleil. She has also worked on the Fibonacci project with Les 7 doigts de la main since 2007.
The year 2000 was an important turning point for Sandy Silva. In collaboration with Julie Lachance, she created and produced My Dance. As a result, she participated in many European dance festivals. Although her rhythm and percussive dance masterclasses bring her all over the world, creation is continually at the core of her work.
Continuing her collaboration with Julie Lachance, she created Do I Know You? in 2009 and Appartement #21 in 2011.
Dominic Desrochers :
Dancer, choreographer and musician, his virtuosity and musicality have brought esteem from collaborators such as Cirque du Soleil, Les 7 doigts de la main, la Bottine Souriante, Les Loco Locas, L'Auguste Théâtre, Max Film's film Dédé à Travers les Brumes, Bourask, Rapetipetam, Ouanani, Juan Sebastian Larobina and Sandy Silva's piece Do I Know You? He is the choreographer for the Collectife de folklore urbain Zogma, for whom he created Chantier and Rapaillé. He has choreographed for different amateur and professional dance companies throughout the country and also works in theatre, poetry and music. He continues to train and participates in various masterclasses, workshops and intensive programs.
Julie Lachance :
Coming from the dance world, Julie Lachance has been working in the Quebec circus industry for 25 years as a choreographer, director and pedagogue.
Her artistic journey has been very prolific. Whether in a large-scale show, a small show or a focused study with independent artists, she tackles creation with a global approach favouring the fusion of forms and styles.
Among her many creations, she has collaborated on Dralion (Cirque du Soleil), Chamelion and Syunfunia (Salto Natale, Switzerland), Ulalena (Maui Myth and Magic, Hawaii), My Dance, Do I Know You and Appartement #21 (Sandy Silva), Celui qui a des yeux (Productions à Trois Têtes), L'Arche (Arsenal à musique) and more than fifteen productions with the National Circus School of Montreal, most recently working on Messa.