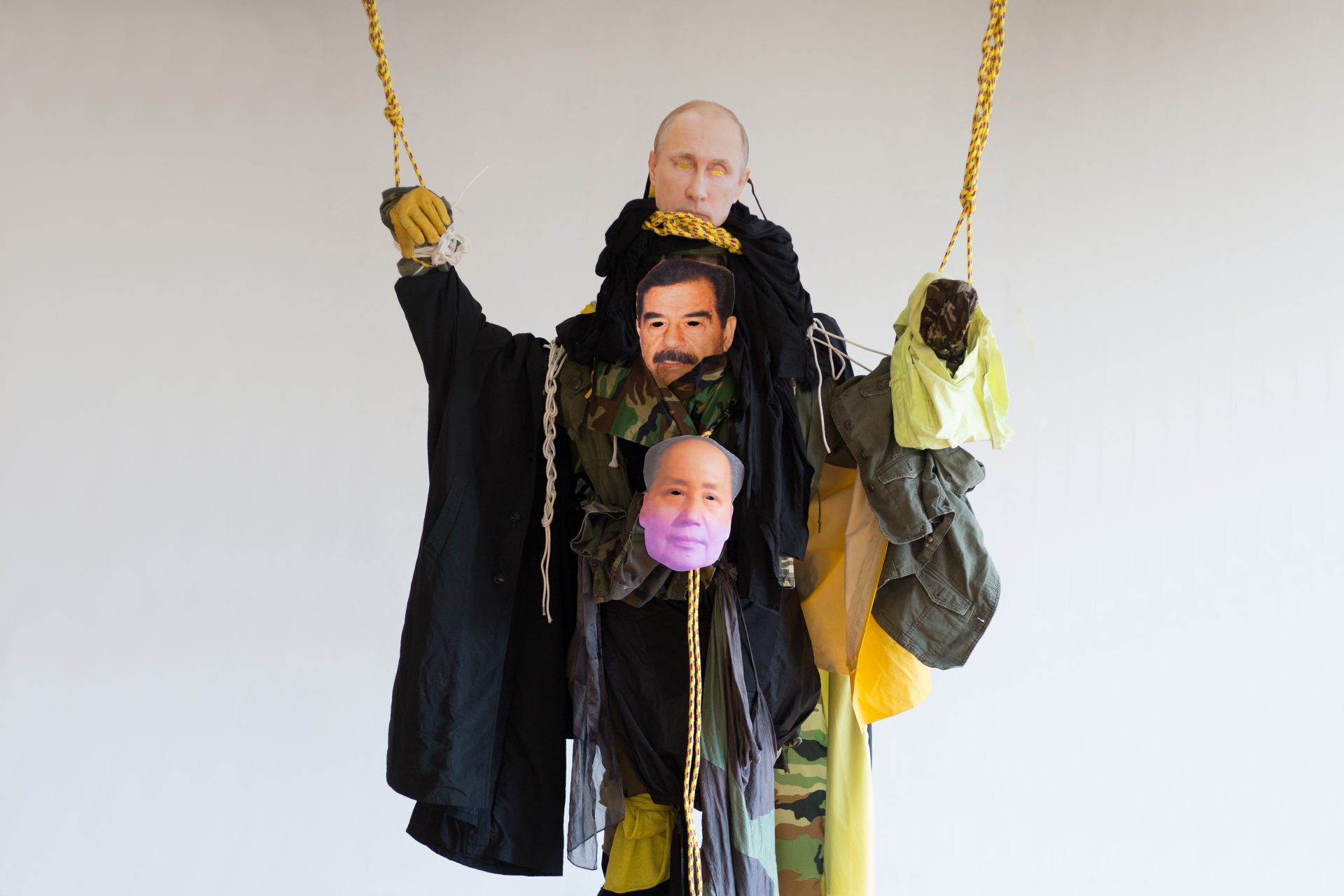 Double bill - The Wilder
OCTOBER 18. 19. 20 - 7:30PM
OCTOBER 21 - 4PM
-
DISCUSSION WITH THE ARTISTS AND BOOK TABLE ON OCT. 19
WE CAN DISAPPEAR YOU is a performance in the round for five performers. Inspired by the pictorial oeuvre of Jewish-American artist Leon Golub, this work dissects our humanity to shed light into its darkest recesses. In an amalgam of army clothing, images of current events, bondage techniques and masks, this choreography addresses power dynamics between individuals and groups of individuals. Through a sculptural, textural and methodical approach, bodies are transformed by their interactions with each other and their environment.
Please note that there will be strobe effect and that the public will remain standing.
Choreographer, costumer and scenographer Thierry Huard
Performers Angie Cheng, Karina Iraola, Silvia Sanchez, Andrew Turner, Simon Vermeulen
Composer Lucas Paris
Lighting designer and scenographer Paul Chambers
Rehearsal director Corinne Crane-Desmarais
WE CAN DISAPPEAR YOU is a performance project created by Thierry Huard, in collaboration with the associated artists. Inspired by the pictorial work of the American artist Leon Golub, the project dissects humanity to expose its darkest parts. WE CAN DISAPPEAR YOU is an amalgam of army clothing, news images, bondage techniques and masks that discusses relationships and power dynamics between individuals and groups of individuals. Through a sculptural, textural and methodical approach, the bodies are transformed through their interactions with each other and their environment.
A graduate of EDCM in 2008, Thierry Huard is a Montréal emerging choreographer who has stood out for his distinct artistic vision. Upon entering the professional world, he was involved in many local events and has presented his work many times at various venues in the city. His repertoire includes a dozen choreographic work, including his most recent, GENESIS, acclaimed by audiences and critics. Over the years, his work has been supported by several institutions, including the Cultural Action of Cirque du Soleil, CALQ, Circuit-Est, EDCM, Studio 303, Tangente and Usine C. Thierry is interested in how remains of ancient rituals affect the mores of our contemporary society. Through an improvisation process, he seeks to shed light on the ancestral memory buried deep inside the human psyche.
Originally from Ottawa, Angie Cheng is a Montréal-based dance artist. Collaborative creation processes ground her ongoing research in performance; investigating the liminal space between creative process and performance event, and between spectator and performer. The embodied and specific understandings that arise from these investigations shape her current questions and engagements both in her own work and with others: what other platforms are available for presenting work and examining how we present the different states of work? She has a history of creation with choreographers Tedd Robinson, Thierry Huard, MAYDAY/Mélanie Demers, Wants&Needs Danse, and Lara Kramer Danse. She is a member of the Cool Cunts, a creative collective. She is currently working with Kate Nankervis, Ame Henderson, and James Gnam. In 2017, she began a new solo project as well as a new collaborations with Winnie Ho and Chi Long.
Silvia Sanchez was born in Geneva, Switzerland, from Italian and Spanish parents. From the age of 7 to 12, she trains in classical dance. She then joins a pre-professional sport-study program at the Conservatory of Geneva. At the same time, Silvia indulges in other disciplines such as singing, theatre, and music, as well as other styles of dance: tap, flamenco, and cabaret. She discovers contemporary dance through workshops at the Conservatory and at Junior Ballet of Geneva, where she has the chance to work with Jos Baker, Ken Ossola, and Odette Hughes (Wayne McGregor), among others. In 2015, Silvia arrives in Montréal and starts her training at École de danse contemporaine de Montréal. For three years, she meets different artists who deeply change her perception of dance, such as Bernard Martin, Marc Boivin, Jamie Wright, Neil Sochasky, Linda Rabin, Sophie Corriveau, and Lucie Boissinot. She performs in pieces by Annie Gagnon, Sophie Corriveau, Sarah Dell'Ava, Andrew Skeels, Harold Rhéaume, Victor Quijada, Helen Simard, Lucy May and Manuel Roque. Silvia is filled with determination and isn't scared to undertake the journey that this profession has in store for her; she will always prefer risk over passivity.
Leaving studies in history and philosophy behind, Andrew Turner was inexplicably accepted to Concordia University's Dance program in 2001. He has performed extensively both at home and abroad, in collaboration with such artists as Marie-Julie Asselin, Marie Béland, Deborah Dunn, Milan Gervais, Sasha Kleinplatz, Pierre-Paul Savoie, and Paula de Vasconcelos, before joining O Vertigo full-time (2011-2013). His first choreography, Duet For One Plus Digressions (2008), received several awards (including Prix OQAJ, Prix OQWBJ) and has been presented in Belgium, France, Mexico and the United States, as well as in over twenty cities in Quebec. Now I Got Worry followed in 2010, also greatly appreciated by both press and public. In 2014, he created Speeds and Slownesses 1a, commissioned by the Ottawa Dance Directive, and in May 2015 he presented A Standard of Measure, Except Not Really at Tangente. He is currently pursuing a Master's Degree in Dance at UQAM.
Simon Vermeulen studied fine arts (Collège Jean-de-Brébeuf, 2008) and contemporary dance (École de danse contemporaine de Montréal, 2011). Passionate about a variety of other artistic mediums, he participates in an intensive acting program (The New York Conservatory for Dramatic Arts, Unites States of America, Scholarship Award, 2011), trains as a singer (London Tech Music School, United Kingdom, 2014) and as a screenwriter (L'inis, Louise-Spickler Excellency Grant, 2016). He makes his debut as a screen choreographer and executive producer in his solo dance film Der Untermensch (2013), notably nominated for Best Canadian Short Film at the Toronto International Film Festival and represented by Téléfilm Canada at the Cannes Film Festival. He is currently working on his second multidisciplinary short film.
An emerging artist in digital arts and electronic music, Lucas Paris has built digital instruments for more then 10 years in the pursuit of sculpting and engineering intangible sound and light in real time. Pairing a deeply considered and expressive artistic approach with high-tech digital synthesis networks and modular instrument design, Lucas Paris creates multi-sensory, immersive and emotional new forms of audiovisual performance. As a member of the projets Quadr and Betafeed, and with his personal projects Antivolume and Array, he performed at MUTEK MTL 2017/2016/MX 2017 and MUTEK ISEA Vancouver 2015, Akousma 2016, the BIAN 2014 and 2016, and at the TIES 2015. He was in residence at Eastern Bloc in Montréal in January 2015 and at VYV corporation in January 2018, is an invited artist in residency at Concordia University's Milieux Institute since September 2017, and is a member of the Perte de Signal artist centre. He studied digital music and digital instrument making at Université de Montréal.
Paul Chambers is a Montréal-based stage and lighting designer, educator, and co-artistic director of CHA collective. Collaborating on new dance works has always been a priority for him. Teaching workshops has also been an important part of his development as an artist and mentor. At Studio 303, he teaches a yearly lighting design workshop for artists, in addition to teaching part-time at Concordia University. From 2008 until 2013, Paul is technical director at Tangente. Recent design credits include works with Public Recordings, Amanda Acorn, Dorian Nuskind-Oder, Catherine Lavoie Marcus & Priscilla Guy, Maria Kefirova, Katie Ward, Parts+Labour_Danse, Lara Kramer Dance, and Destins Croisés.
In 2013, Arkadi gained access to the video archives of B'Tselem – The Israeli Information Center for Human Rights in the Occupied Territories, which contain thousands of hours of footage documented by Palestinians. This installation comprised of two synchronized channels examines the somatic influence of the occupation on the bodies of those administering it as Arkadi reenacts the violent gestures captured on tape. Although he focuses solely on the Israelis onscreen, the movements, voices, and viewpoints of the Palestinians behind the camera are present and dictate the viewing perspective.
Production Institut des Croisements
Choreographer Arkadi Zaides
Archive materials Volunteers for the Camera Project of B'Tselem – The Israeli Center for Human Rights in the Occupied Territories: Ahmad Jundiyeh, Issa Amro, Abd al-Karim J'abri, Abu Ayesha, Raed Abu Ermeileh, Iman Sufan, Mu'ataz Sufan, Mustafa Elkam, Oren Yakobovich
Videographer Amir Bornstein
Video consultants Effi & Amir
Artistic advisor Katerina Bakatsaki
Commissioned by Petach Tikva Museum of Art (IL)
In 2013, Zaides was granted access to the video archives of B'Tselem, the Israeli Information Center for Human Rights in The Occupied Territories. The archives contain thousands of hours of footage, documented by Palestinian volunteers for B'Tselem's Camera Project. Zaides' research resulted in two works: Capture Practice (video installation) and Archive (stage performance).
Capture Practice is a two-channel video loop, commissioned by the Petach Tikva Museum of Art in 2014. The work examines the bodies of Israelis as they were captured on camera, and focuses on the physical reactions to which they resort in various confrontational situations in the West Bank. The Palestinians remain behind the camera, nevertheless, their movement, voice, and point of view are highly present, determining the viewer's perspective. 
Capture Practice features Zaides as he dances in a studio, on one channel, and footage from the B'Tselem archives, on the other. With his gaze continuously facing the other screen, Zaides mimics the movements of the documented subjects. He uses his own body to tie together the occurrences on both screens. By creating a perpetuate choreographic practice, he examines the somatic influence of the occupation over the bodies of those administering it. As an Israeli choreographer whose work engages in the occupation, Capture Practice raises questions regarding Zaides' own involvement in the act.
Arkadi Zaides is a choreographer who works in Israel and Europe. Zaides completed the Amsterdam Master of Choreography at the Academy of Theatre and Dance and has worked as a dancer for several Israeli companies, including Batsheva Dance Company and Yasmeen Godder Dance Group. Since 2004 he has been creating projects of his own, through which he addresses social and political concerns. Arkadi Zaides' artistic practice aims to elicit critical debates by focusing on the body as a medium through which social and political issues are experienced with particular intensity.
Effi & Amir started working as a duo in 1999, while still in art school. After graduation, they co-initiated Artattack, an independent artspace on TV, which seduced them into video-making. When they left Israel in 2002 their new status as immigrants in Europe and outsiders in their own culture oriented them towards an ongoing investigation of the notion of place and collective identity. Their practice involves video, performance and participatory strategies, and often stems from documentary. Besides their artistic practice, they work as editors, cameramen and effect designers, and give video workshops to various audiences.