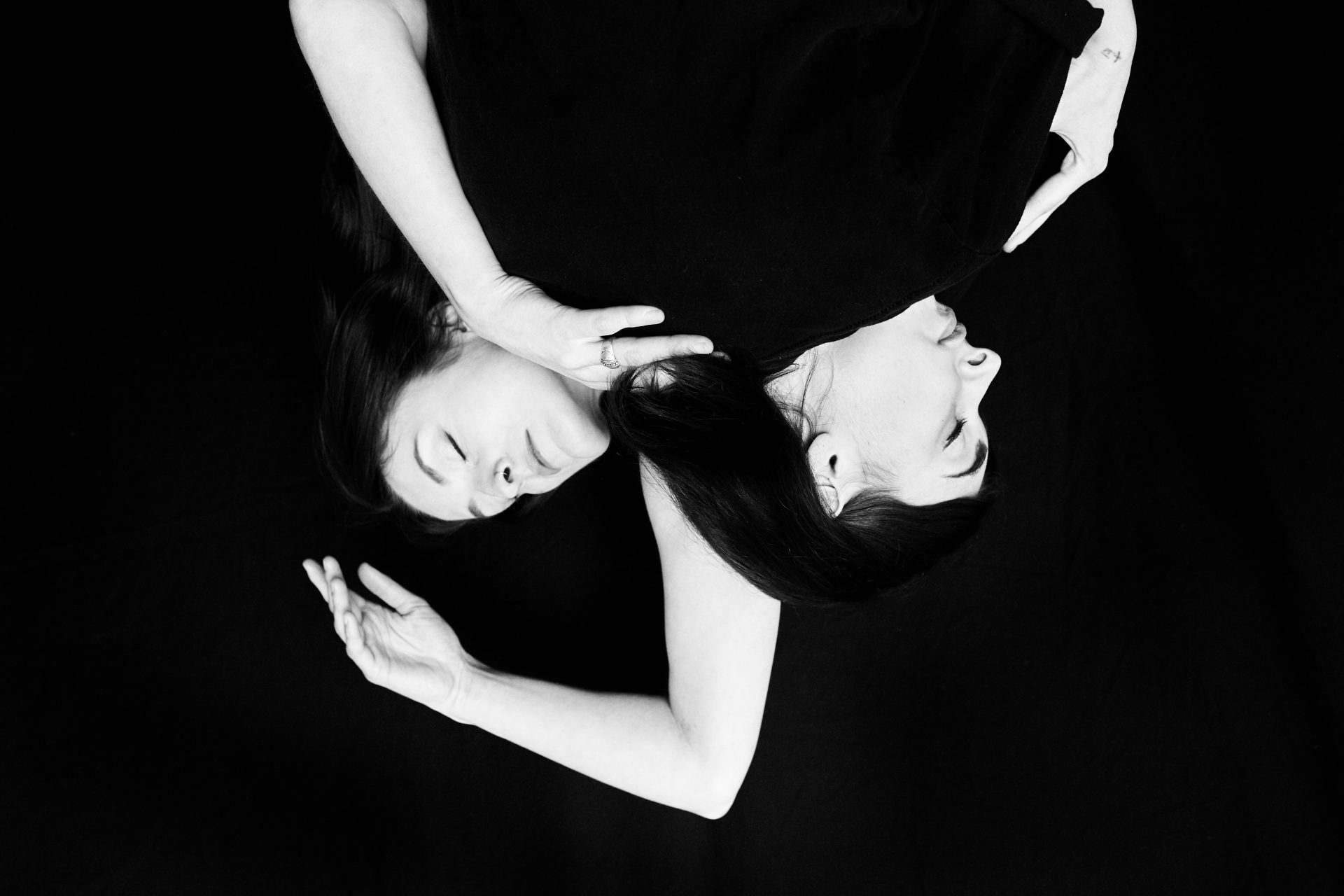 Double bill - The Wilder
OCTOBER 4. 5. 6 - 7:30PM
OCTOBER 7 - 4PM
-
DISCUSSION WITH THE ARTISTS AND BOOK TABLE ON OCT. 5
A woman and her mirror image. These beings move slowly and precisely, often in unison, listening so attentively to each other that the notion of self disappears. Time expands. They manipulate a white tarp, a transmuting object, at once dense and volatile. Microphones pick up every noise, animating the material world; as through poetry, everything becomes alive. On the borderlands between abstraction and dreams, this performance tests the limits of our perception of the self and our environment.
Production Collectif Anavolodine
Choreographer and performer Myriam Arseneault Gagnon
Choreographer Laurence Lapierre
Sound designer Jonathan Goulet
Lighting designer Hugo Dalphond
Trained in music and writing, Myriam Arseneault Gagnon graduated from the UQAM Dance Programme this year. She exercices her rigor and sensibility as an interpreter for various projects, including a motion research with the Matériaux composites company in 2015 and the reconstruction of Francoise Sullivan's Droit Debout in 2017. Inhabited by the idea of immanence and transcendence conveyed by the religious universe, she creates Virgin Weight, a solo that she performs at Passerelle840 in 2016. Carried by the benefits of community art, she has offered dance creation workshops as part of an internship in a shelter. Recently, Myriam joined Marc-André Cossette's master's project combining dance and new technologies. She can be heard singing in OPMEM's choir and soon for the film 20-22 OMEGA by Thierry Loa.
Laurence Lapierre obtains her BA in Dance in 2017 from the University of Quebec in Montreal, where she graduates as a choreographer and presents her piece De mémoires ignorantes. She obtained a DCS in Dance from Cégep de Saint-Laurent. As soon as she began cegep, she started creating group pieces as well as solos that she performed. In 2015, she presented Ta nudité m'ennuie et ta pudeur m'emmerde at Passerelle840. It is due to her imagination, her love for cinema, her consistant doubt, and a little bit of madness that she finds herself creating and peforming to this day. She has followed and continues to follow training courses, including one with Jose Agudo in Transformation danse (2016), with Axis Syllabus with the Nomadic College (2015), with the Je suis Julio company (2015), and with Isabel Rocamora at studio 303 (2014). When not in the studio, you can find Laurence on her bike or on a yoga mat. She has been practicing yoga for 7 years and will be completing her teacher training this year.
Hugo Dalphond questions the synergy between body, space and light by elaborating and building scenographic devices made to initiate meetings. It is principally by making spectators and performers coexist within the same space and by modulating their perception of that very space that he creates alternative sensorial experiences. This becomes a reason to engage in different qualities of co-presence, and thus to be made conscious of our interactions and our rapport with others. Since 2015, he tackles these questions in a PhD that takes light installation and the spatial opportunity it offers to rethink our collective states as its subjects. As well, he collaborates as a lighting designer and director of scenography on various projects in theatre and dance (projets hybris, Daina Ashbee, Collectif La tresse, Andre Pena, Anne-Flore de Rochambeau, Claudia Chan Tak, Sarah Dell'Ava).
Each day we draw thousands of pathways, traces of our parallel lives. More often than not, we walk in each other's footsteps rather than cross paths. In this dance, oblique lines and projections of the gaze materialize through futuristic bodies. Fashioned by acute listening to pauses and noises, to silence and strident sounds, it is a meeting place of compositional mediums: bodies, video, sound, scenography and light. This formalist choreography for four dancers and a pared-down movement palette investigates how topography and the geometry of the city impact our bodies. And, in turn, how our bodies shape space.
Choreographer Ariane Dessaulles
Performers and choreographic collaborators Ariane Dubé-Lavigne, Laurence Dufour, Kim L. Rouchdy, Jeimy Oviedo
Composer and sound designer Joey Zaurrini
Additional sound design and sound manager Kristelle Delorme
Video designer Emilie Allard
Scenographer Marie Lépine
Scenography advisor Robin Brazill
Lighting designer Darah Miah
Costume designer Jessica Boucher
Artistic advisor Katya Montaignac
Rehearsal director Corinne Crane
Promotional video excerpts David Goguen, Michel de Silva
Residencies Maison de la culture du Plateau-Mont-Royal, Studio Fleur d'asphalte, FLAK, Département de danse de l'UQAM et LA SERRE_arts vivants
Project supported by LA SERRE_arts vivants, Programme d'aide aux artistes du département de danse de l'UQAM
TOPO was born out of a desire to question the way in which topography and the geometry of space affect bodies, and how these bodies occupy the space. The project is inspired by the thousands of journeys made each day by each of us, by our parallel lives, by those who will not meet each other or who will walk in each other's footsteps. We are also interested in shapes, oblique lines, projections of the gaze and how they are embodied in futuristic bodies. TOPO was built with a lot of listening – to pauses, but also to noises – to the vibration of silence and strident sounds alike. Bringing together artists from many mediums, the project creates a dialogue between various compositions (physical, video, audio, scenographic, light) in a common space.
After studying in UQAM's Theatre Department, Ariane Dessaulles continues her studies in contemporary dance, completing her specialization in choreography in 2014 (BA, UQAM). In 2015 she presents her piece CONVENTUM at the Zone Homa festival and then begins working on two solos – OUTSKIN (2015) and Struwwelpeter (2016) – before returning to a group piece with TOPO. Her work questions spatial and proxemics as the engine of human dialogue while borrowing a minimalist language. Seeking to create enveloping atmospheres, her pieces also reveal a penchant for the strange and the ambiguous. As a dancer, she collaborates with Kim-Sanh Châu, Chloé Bourdages-Roy, Kim L. Rouchdy, Karine Théorêt, and Lorenzo De Angelis, and since 2014, she works with the Fondation Jean-Pierre Perreault as project manager.
Since 2010, Ariane Dubé-Lavigne embodies a variety of aesthetics proposed by young Montréal-based choreographers. Her practice involves digging into the concept of body state, improvisation and somatic practices. Mostly involved in projects as a dancer, Ariane also acts as an outside eye and develops her own choreographic work as a solist. Furthermore, she shares her research with a diverse clientele through movement classes.
Laurence Dufour graduated from the dance department of Université du Québec à Montreal in 2014. She works towards developing her physical and artistic versatility. Since graduating, she has worked as a performer with both emerging choreographers (Ariane Dessaulles, Andrea Peña) and well-established artists (Caroline Gravel, Danièle Desnoyers). Furthermore, she is curious about how dance and social intervention can meet, especially when working with women in difficulty.
Kim L. Rouchdy completes her studies in Contemporary Dance at Concordia University in 2015. As a multidisciplinary artist, Kim studied Set and Costume Design for Theatre at the National Theatre School and at the Cégep de St-Hyacinthe. She explores and unites diverse art forms, seeking to create immersive and complete experiences for the audience. She currently works in the emerging art scene in Montréal as a choreographer and performer. As a performer, she danced for emerging choreographers such as Teoma Naccarato, Hélène Remoué, Ariane Dessaulles, Chloé Bourdages-Roy and Catherine Laframboise Desjardins.
Jeimy Oviedo graduates from UQAM with a BA in Dance in 2014. She began her academic training in ballet at l'École Supérieure de Ballet du Québec and pursued her training in contemporary dance at the École de danse contemporaine de Montréal. After her BA, interested in discovering other ways of moving, Jeimy initiates herself to African dances, Colombian folkloric dance, urban dances, somatic approaches and performance arts. Jeimy touched a variety of repertoires and collaborated in different creative processes going from classical ballet to more theatrical and performative proposals. During her training, she worked alongside several creators/choreographers, such as Danièle Desnoyers, Frédérick Gravel, Sylvain Émard, Estelle Clareton, Edgar Zendejas, Zab Maboungou, and more recently Hanna Abd El Nour.
Joey Zaurrini is a Montréal-based music composer and sound designer working in a wide variety of fields, including film, theatre and dance. Using sound to facilitate narratives and create stories of his own, he spends most of his days immersed in a laboratory of noise and electronics, where every object is a potential instrument. His areas of interest include decoding the compositions of city soundscapes, playing with interactive technology, and merging socio-ecological concepts with his sound art. He can be found attending workshops and classes, collaborating with other artists, or roaming the streets and deserted hallways with a recorder in hand.
Emilie Allard is an interdisciplinary artist who lives and works in Montréal. Trained in visual arts and a graduate in graphic design, she blends drawing, photography, sculpture, film and writing as part of a practice that is centred around a personal inquiry into language, the unconscious, the human body, relationships and intimacy. Emilie also contributes visual elements to dance and literature projects as a member of collectif des Eaux de roche. Both her solo and collaborative works have been showcased in several galleries and festivals.
Robin Brazill is a set and costume designer from Petite Rivière, Nova Scotia. She has designed for a number of productions in Montréal and New Brunswick for theatre (La Cloche de Verre at Théâtre Prospéro, Fêtes, petites écorchures et effets presque spéciaux at 5e salle, Mélodie Millénium with Théâtre populaire d'Acadie), dance (TOPO at festival ZH), and opera (Le Petit Prince at Théâtre des Muses de Laval). A graduate from the Set and Costume Design Program at the National Theatre School of Canada, she is the recipient of the Ada Slaight award (2017) and of the prix de reconnaissance Essor for the project ESL Theatre Workshop (2016).
Darah Miah is a designer and visual artist from Winnipeg based in Montréal. Her work revolves around collaborative experimentation and intersectional feminism. Darah is a founding member of and lighting designer for the multi-disciplinary collective Daughter Product, with whom she recently remounted The Gentle Art of Punishment (Zone Homa, 2017) for the Calm Down, Dear Festival in London, England. Recent credits include set and lighting design for Peekaboo Didu (Vous Êtes Içi, 2017), and lighting design for Docile Bodies (Théâtre La Chapelle and Montréal Fringe, 2017). She is the technical director for the Revolution They Wrote Festival produced by MainLine Theatre.