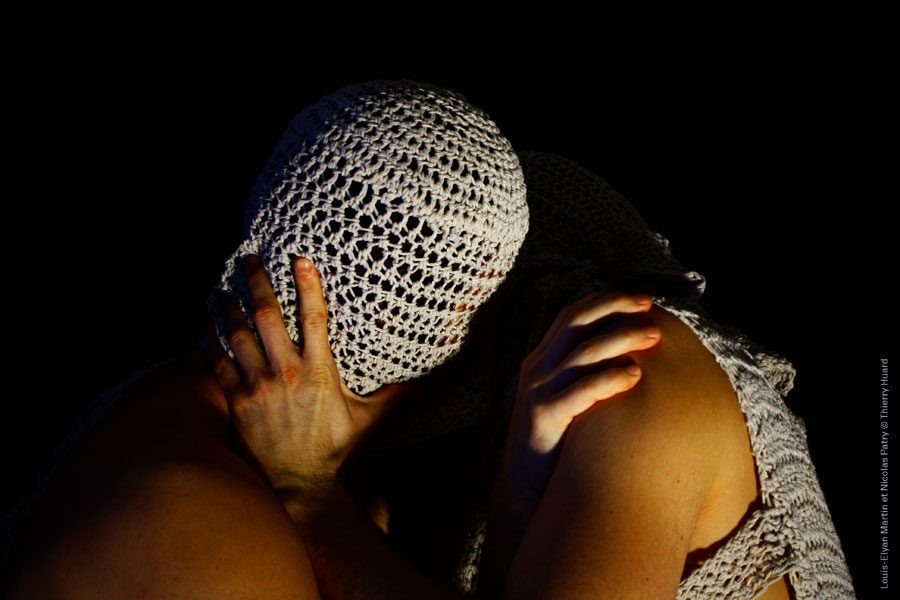 ♡Genesis♡
♡Genesis♡
Thierry Huard
50 minutes
"While many delight in the idea of abandonment […], it is also possible in the fusion of bodies to recognize a form of annihilation." – Ester Perel
There was a desire to take a fresh look from an androgynous, mythical and psychophysical viewpoint. Camouflaged by their costumes, two dancers in an instinctive rapport with one another, intertwine, push away and keel over. Moving from sexual to sexless. Even as they create an imaginary mythology of sentimental love, the story evolves in decrescendo. Passes from supernaturel to earthbound.
Creation by Thierry Huard in collaboration with
Performers: Louis-Elyan Martin, Nicolas Patry
Composer: Antoine Berthiaume
Lighting designer: Paul Chambers
Costumes : Thierry Huard
Created in residency at Studio 303 and L'École de danse contemporaine
This piece is constructed from specific instructions that were used to create a structure for improvisation. Research in studio helped establish three instructions: "hug", "push" and "faint", each with its own meaning, but also having a meaning depending on the response of the partner. For example, to hug someone means attachment and bonding, but the person who keeps on hugging the person who pushes her away plays a role of an harasser. My approach is then to show that an action itself can have different meanings depending on how the other person reacts. So I try, through this piece, to creat a variety of situations, concrete or more abstract, that links these different actions. Because my interest in the visual arts and my practice design, the gestures and body states, of my work often find support on the plastic aspect of the show. For this reason, I used the costumes, makeup and accessories as a channel through which I can develop actions and movements. As as the show progresses, the performers, sometimes united, sometimes divided, forsake layers of clothing, makeup and accessories to reveal a vulnerability in their encounter with the other.
Thierry Huard
In 2003, after obtaining a degree in visual arts, Thierry Huard starts his dance training which he continued at LADMMI, l'école de danse contemporaine, where he graduated in 2008. Upon entering the professional world, Thierry won the 3rd Prize of Ciné-Dance Competition, organized by Rendez-Vous du Cinéma Québécois and a summer residency at Studio 303, where he created and presented windhorse(2009). That year, he also was selected to participate in Danse Buissonnières_les Classes, at Tangente with Blessed is the fruit of your womb. In 2010, he was an guest artists for events such as Recommendation 63 organized by Normand Marcy and Short&Sweet and Piss in the Pool organized by Wants&Needs Dance. He also prensented fall/winter 2012: the Goddess' return, at Tangente during Danses Buissonnières_les Gradués. 2010 also marks Thierry's first professional collaboration, as a rehearsal director, for choreographer Martin Bélanger with his latest creation, A-maze. In October 2011, he was back at Tangente with Tested and approved for which he received the support of CALQ and Cirque du Soleil. His latest short work, Human Landscape Mishaps, was presented as part of Studio 303's series Involved in novembre 2011. Since Spring 2010 Thierry also takes part of the jury for the event Danses Buissonnières. Aside from his dance work, Thierry designs costumes and jewelry.
Nicolas Patry
Nicolas Patry discovers movement while attending L'école de danse contemporaine (LADMMI), 2005 through 2008, where he explores a variety of styles and techniques. Driven by different movement energies and their rhythms, Nicolas constantly pushes the limits of his interpretation. At the beginning of his professional carrier, he had the opportunity to collaborate with Ruddy Perrez (Californie), Chantal Caron, Lucie Grégoire, Thierry Huard and Lina Cruz for Fila 13. After, Nicolas participated to the event OSEZ! from Danse K par K. Through that experience, he meets Mélanie Demers, invited choreographer. Nicolas joined MayDay's team in 2009 for the new piece Junkyard/Paradise. He also worked with Le Cirque du soleil, Alan Lake, Deborah Dunn for Éros & Trial; Orlando and is an active member of "Les Imprudanses" since 2012. He is also a part of the latest creation of Pigeons International, Humanity Project. The year 2013 brings Nicolas to collaborate with young and passionate choreographer Amélie Rajotte and continue to explore the fascinating world of Thierry Huard.
Louis-Elyan Martin
Born in France, Louis-Elyan Martin studied English Literature and History at the Bristol University in England and University of New South Wales in Australia, and obtained a Master Degree in 2008. Eager to pursue his passion for dance, he interrupts his studies and the same year started a bachelor in contemporary dance at Concordia University, Montreal, Canada, in 2008. He pursues his training at l'École de danse contemporaine de Montréal, and graduates in 2012. In 2009, he works with Danièle Desnoyers's company Le Carré des Lombes through the Springboard Danse Montréal. Then in 2011 while in Tel-Aviv, Israel, he is initiated to the GaGa technique with the Batsheva Dance Company, Ohad Naharin, and starts to develop a real interest for this body language.Throughout his artistic growth he gets closer to dance theatre and performance art, which he especially affectionates. In August 2012, He joins the company O'Vertigo. He also works with independant choreographers such as Claudia Chan Tak and Marie Béland.
Dana Michel / Band of bless
Dana Michel is a choreographer and performer based in Montreal, Canada. Before studying contemporary dance at Concordia University in her late twenties, she was a marketing executive, competitive runner and football player. In 2011, She had the honour of being a danceWEB scholarship recipient, allowing her to deepen her research process at ImPulsTanz in Vienna, Austria. Her work has toured through North America (Montreal, Quebec, Toronto, Ottawa, Boston, Salt Lake City and New York City) and Europe (Austria, Belgium, Serbia & Switzerland) over the past six years. Dana's work has garnered numerous awards including the Montreal Fringe Festival "Best Dance Production" in 2005, the Globe and Mail's "Best Emerging Choreographer" in 2006, and a "Top Ten Choreographers" listing by the Montreal Mirror newspaper in 2007, 2008 and 2009. Most recently, the film version of her solo the greater the weight won the jury prize for the best performance at the InShadow International Festival of Video, Performance and Technologies in Lisbon. "Michel… is a killer soloist who tackles the warped, frenetic and fierce rhythms of her piece with precision and fiery authority…" (InfiniteBody, 2007)
Paul Chambers
Paul graduated from John Abbott College in the Professional Theatre Program, specializing in Design. Thereafter, Paul becomes an artist in residence at FACE school for 2 seasons. Soon after he begins designing lighting for theatre and dance productions. From 2008 until 2013 Paul is Technical Director at Tangente. He also collaborates with Studio 303 teaching lighting design workshops for artists. Paul works mostly with emerging choreographers. Working on innovative productions is a priority for him. In addition, he is currently enrolled part time at Concordia University in their Visual Arts program (specialization in Sculpture). In his free time Paul enjoys touring new Quebec dance productions to the far corners of the globe.
Antoine Berthiaume
Montréal guitarist/composer Antoine Berthiaume has been active on the jazz and improvisation circuits for over 15 years. His work has recently been enriched by collaborations with filmmakers and contemporary dancers. His first release for Ambiances Magnétiques featured him engaged in dialogues with Fred Frith and Derek Bailey. The next two CDs documented his work with new talents met while he was studying at Mills College: MaryClare Brzytwa, Norman Teale and Quentin Sirjacq. A tour of Japan in 2005 provided an opportunity to record with guitarist Takumi Seino, a session released on Vos Record. His fondness for guitaristic dialogues carries on with an album recently recorded with Elliott Sharp, his fifth release on Ambiances Magnétiques. Antoine is a founding member of the western-folk group Rodéoscopique, and he is also a jazz fan. He has been seen performing in Montréal with Pierre Tanguay and Michel Donato, with whom he has recorded his first jazz foray for Ambiances Magnétiques Jazz. He also works regularly with Philippe Lauzier, Pierre-Yves Martel, and many others. With grants from the Conseil des arts et des lettres du Québec and the Canada Council for the Arts, Antoine has furthered his skills in the United States and Europe. Photographer Ralph Gibson recently included him in his review of 81 avant-garde guitarists, which has yielded a book and an exhibit at the Museum of Fine Arts in Houston, Texas.