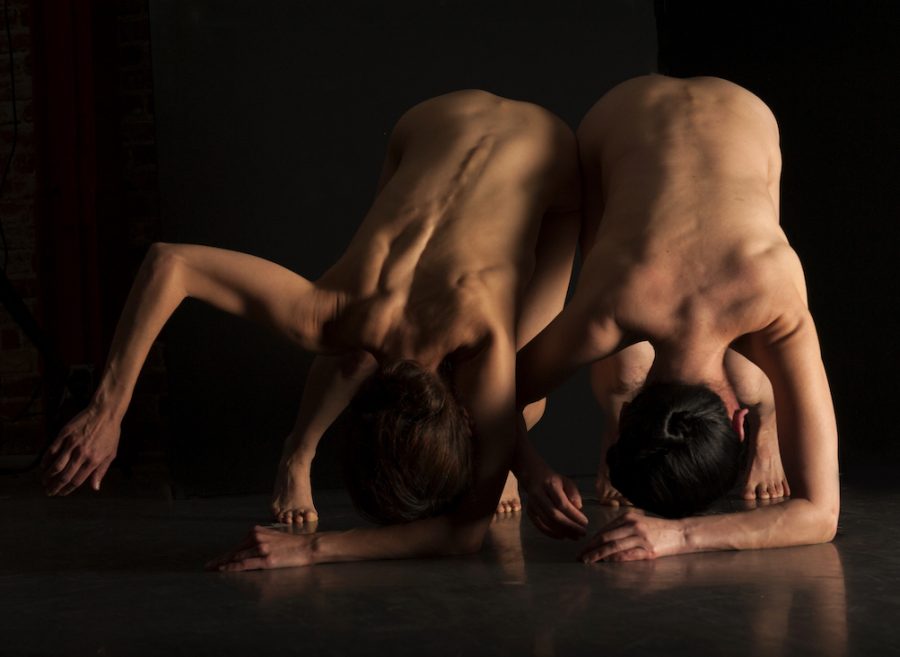 In the aftermath
Embodying life-changing events
NOVEMBER 23. 24. 25 | 7:30PM
NOVEMBER 26 | 4PM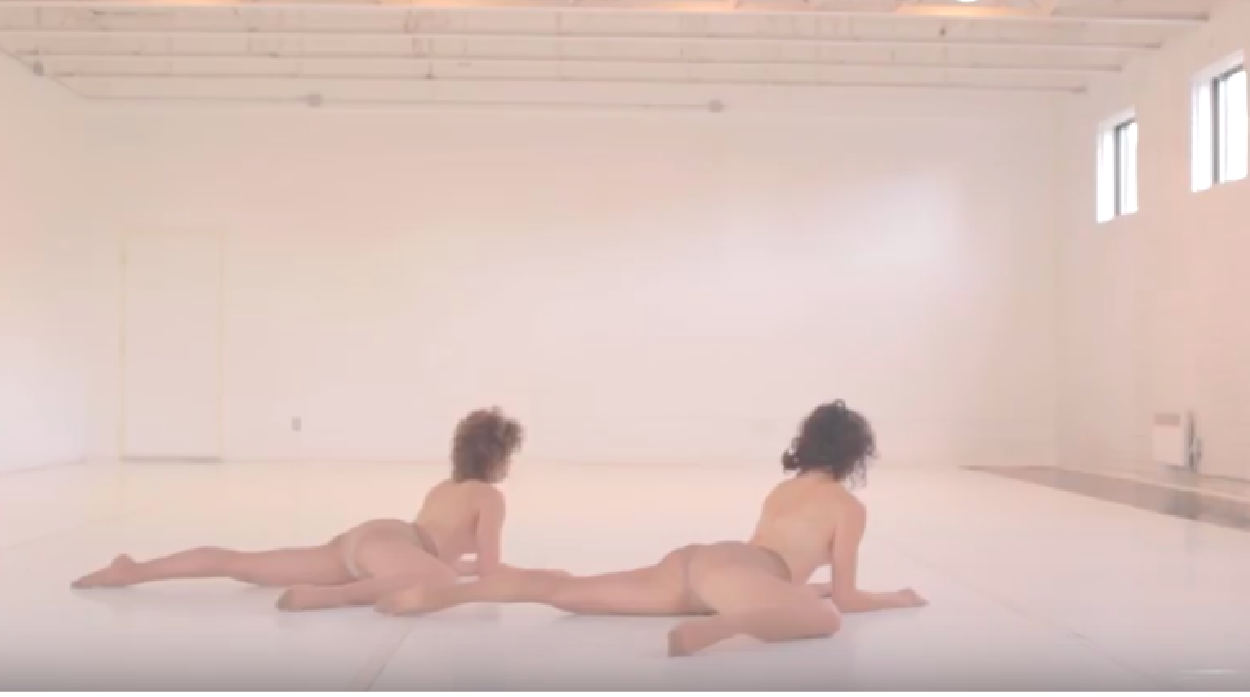 Corps Étranger II
Christine Germain / STEM (États-Unis)
25 minutes
Is it a mirage, or a mirror of our perceptions? There are abstract shapes transforming before us. They may seem extra-human but are still living things. Ever so slowly, they move to the sounds of their breath, our breath, and the electric noise of the nervous system. The body's strange and evocative plasticity invites us to reconceive our own physicality as a metaphor for evolution. The meticulous movement aesthetic draws from the study and practice of Contact Improvisation, phenomenology, and somatics such as the Feldenkrais Method. The latter inspires an exploration of Darwin's stages of evolution and how we are all creatures of habit adapting to new environments, leaving behind past identities to embrace new ones. How can we get on with our lives once we have faced the stranger in ourselves?
Choreographer and performer Christine Germain
Performers Diana Lara, Joyce Lu
Sound design Gretchen Jude
Lighting design Heather Basarab
Residency SAFEhouse Arts in San Francisco
Corps Étranger II encourages the audience to explore what happens when one is brought out of their comfort zone and parts of the self become unfamiliar.
The piece was created by experimenting and improvising with the somatic education methods of Feldenkrais and Body-Mind Centering. As the choreography evolves, the body transforms in conjunction with the environment to take the audience through a series of Rorschach-like mirages — slowly moving shapes that illuminate strangeness with light and shadow. As the piece evolves, the landscape changes and time becomes ephemeral.
Through careful, methodical, sensitive movements, Corps Étranger II takes the audience on a visually stunning journey that alters perception moment by moment.
Originally from Quebec, Christine Germain is a movement explorer, dancer, choreographer and Feldenkrais practitioner. Her work is inspired by principles related to somatics such as the Feldenkrais Method. Christine holds an MFA in Choreography from UC Davis, California, and a BFA in Contemporary Dance from Concordia University. Awards include Outstanding Choreographer Award from Bay Area Dance Watch for her work around social issues, which she has won from 2010 to 2014; the UC Davis & Humanities Graduate Research Award; Most Promising Choreographer Award at the 2012 Montreal Fringe Festival; and a DAAD scholarship from the government of Germany. Christine also works as a Dance Medicine Specialist in San Francisco.
Diana Lara is a choreographer, dancer, and educator from Honduras. She graduated from the Choreography program of the Center for Research and Choreography at the Mexican Institute of Fine Arts, from the Somatic Research and Participatory Arts program at Moving-on-Center in Oakland, and the Body-Mind Centering® certification program in Developmental Movement. She has worked for 20 years in collective dance groups with inspiring choreographers in Central America and in the San Francisco Bay Area. She has presented her work in Mexico at Los Talleres, Teatro de las Artes; and in San Francisco at NohSpace, Dance Mission Theater, and Counterpulse.
Joyce Lu is a Los Angeles-based performing artist, educator, and Feldenkrais Method practitioner. She is a member of Body Weather Laboratory (BWL), directed by Naoyuki Oguri and Roxanne Steinberg, and has performed with BWL in various collaborations with Hirokazu Kosaka and the Arcane Collective at venues such as the Guggenheim and Getty museums, the REDCAT, and the Japanese American Cultural & Community Center. Joyce also practices Balinese dance with Burat Wangi, directed by I Nyoman and Nanik Wenten. She currently teaches in the Department of Theatre and Dance at Pomona College.
Gretchen Jude is a performer and composer born in Idaho and based in Hawaii, whose eclectic works have been heard from Seoul to Helsinki. Gretchen sings, plays koto, and engages extensively with both audio electronics and improvisation. She loves to collaborate with dancers, reflecting her interest in the body, its materiality, and its relationship to the contradictions and conundrums of contemporary human life.
Je suis la fille
Geneviève C. Ferron
30 minutes
A mother, a daughter. Emptiness and fullness. What is left. There are life events for which we are often not prepared, like the death of our mothers. This intimate creation has become, for the artist, a melancholic space for mourning. She returned to old photos, movies they watched together, objects her mother favoured. In the stormy atmosphere of a summer night, with powerful baroque music, the choreographer invites us to plunge into a sincere, sacred and universal world. It is a performance of gender in which her mother's portrait remains open as her own memories of their time together mix into the composition. Absence is strangely present in every elegant gesture and pose. Bodies become a site for commemoration, the dancing a ritual, the stage a cathedral.
Choreographer Geneviève C. Ferron
Performers Gabrielle Surprenant-Lacasse, Anouk Thériault
Residencies Circuit-Est Centre chorégraphique, Département de danse de l'UQAM
My mother passed away on February 12 2016, 9 months after receiving a diagnostic of terminal lung cancer. I have chosen to make a piece through her, that speaks of her through me. Starting with my usual principles and tools, I paint an impressionist portrait, fragmented in multiple faces to better show the staggering scope of my own flawed gaze on her, my mother, Hélène Caron. I have picked and plucked her memories, movements, compulsions, postures, her hidden notes written for me in hidden notepads.
Having studied visual arts and contemporary dance, Geneviève C. Ferron is a choreographer based in Montreal. Themes of intimacy and the ethical conscience intrinsic to the artist's body are at the heart of her research, as well as a constant calling into question of our perception of the female body and the ambiguity of new aesthetics and identities. Since 2010, her work has been presented in New York and Montreal.
Gabrielle Surprenant-Lacasse graduates from UQAM as a performer in contemporary dance in 2010. Since then she had the opportunity to work with Louise Bédard Danse, George Stamos, Les Sœurs Schmutt, Danse Carpe Diem/Emmanuel Jouthe, Sarah Dell'ava and Geneviève C. Ferron. She is also involved in choreographic research projects, in particular with Bouge de là et Système D/Dominique Porte. As a performer, but also as a teacher and as a choreographer, she believes strongly into the power of empathy and communication of dancing. It is with those convictions that she is a member of Ballet de ruelles, an in situ dance collective.
Anouk Thériault studied in Quebec City, where she completed a classic contemporary dance training, and currently lives in Montreal. She has had the chance to work with George Stamos, Lynda Gaudreau, Andrew Tay, Sasha Kleinplatz and Geneviève C. Ferron, among others. Mainly working as a freelance dancer, Anouk developed an interest in choreography where she questions the function of dance itself and wants to address movement and energetic work as a way to design space, both intimate and social. In 2015, she also had the chance to take part in danceweb, a scholarship given by ImPulsTanz, a festival in Vienna.